A Renewing Cycle
October 4, 2022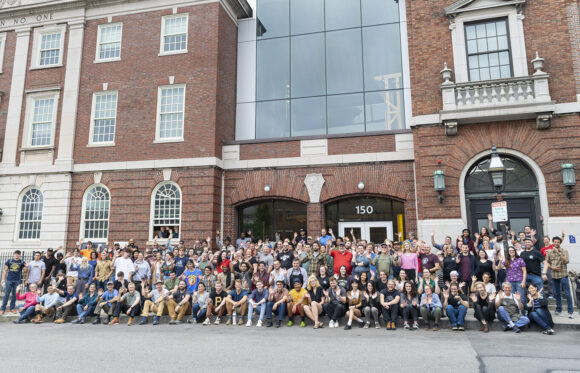 Welcome back to the school year and the start of another fall season. In our first few days of training, we were able to capture the voices of our students in this short but compelling video… and to me, it says it all: commitment, optimism, community, and diligent work. Meeting our newest crafts- and tradespeople has been so energizing—each interaction helping to create and renew the story of our School.
Hearing from students and faculty about their daily lives informs larger conversations I have in regional and national efforts, with wide-ranging partners in craft and trade. Last month, the Center for Craft published the findings from its most recent think tank, Craft Can, a convening that brought our School's influence to scientists, designers, health advocates, and artists, as well as craft leaders. In discussing what agency craft has—what craft can 'do'—there is a rising interest in the role of trades, and I was proud to speak of the work, both practical and inspiring, of our students and graduates. The connections made at this session also brought new voices to our In the Making series, allowing participants to visit NBSS, albeit virtually. The Center's report will go further in spreading the word, as it's made available to the public, as a part of a commitment to public research.  
In another instance where our experience in the intersection of craft-trade was sought was the inaugural Maxwell/Hanrahan Foundation Awards in Craft. Modeled in part on their field biology awards and administered by United States Artists, this national award recognizes commitment to material mastery, living cultural traditions, the unique insight of materials, and the advancement of craft—all things true and dear to our School community. I was honored to be on the selection panel for the award, helping to review the applications and advance the conversation about the role of trades-based work. 
And finally, as summer closes and the days get busier, I'm turning again to an amazing video series that shows the natural and beautiful balances of craft, trade, and life. Taking place in Gusar, Azerbaijan, this straight-forward filming of family life was made by a son (Amiraslan Ramikhanov) as he returned home during the pandemic. It is an intimate and loving document of the daily life of creative, hard-working people with a care for their surroundings and home. Who doesn't want to be lulled and relaxed by watching homemade baklava made outside?  
As you go through this new season, I hope you'll stay tuned for the surprising and simple ways that good work and work-with-care shows up in daily life. Let us know: it's a renewing cycle and relies on all of us to keep it moving, each in our own way. 
Sarah Turner
President