Our Students Are Our Inspiration
August 2, 2021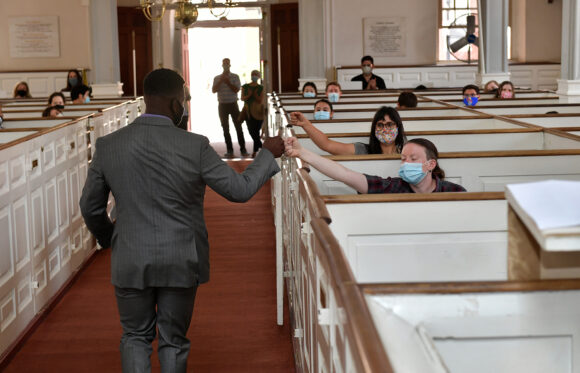 In late July 2021, we held the second of our graduation ceremonies for the year, and it felt like more of an accomplishment than ever. After this strange year, we were so proud to (finally) celebrate the courage, care, and hard work of our students, faculty, and staff—together, in the Old North Church.
Some of our graduates started before COVID and weathered an abrupt closure with us, staying the course and not losing focus. Some of them came to NBSS in the midst of the crisis, seeing an opportunity for growth and change. Our students are our inspiration.
The quieter and more careful year has provided the School a time to reflect on our values, our history, and where, as NBSS turns 140 years old, we will go next. This will build on the awareness of the year, and the new skills that have developed. We've embraced technology, we've combined the tried-and-true with the experimental, and we've opened up deep work about the culture of our School and the fields for which we train.
While we've looked within as a School, we've also been reaching out, expanding ways for more people to be a part of what we do. Like so many, we engaged online, bringing NBSS together with people from other fields, other places, and other points of view. Later this summer, we'll begin mapping a new strategic plan, and our renewed work on diversity, equity, and inclusion will be a through line for this next chapter.
As we anticipate the fall and improved community health, we look forward to teaching and training with a little more ease, and returning to a more open and fuller in-person School. Restarting and expanding our community programs will be a priority, and across NBSS, we'll advance what has worked well this year, continuing the success of our virtual events, technology-assisted teaching, and online efforts. And still we'll show up, every day, to work in person, by hand. Thank you for being a part of it.