Giving Pianos New Life
December 23, 2019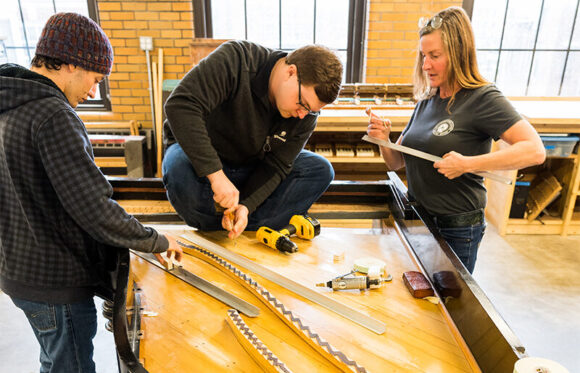 Nearly every week, someone calls the Piano Technology faculty at NBSS offering to donate an old grand piano for the Advanced Piano Technology (PA) students to rebuild. But in an entire year, only a select few make the cut. Usually, they're Steinways.
A Steinway was the piano, when pianos were a part of every household," says instructor Louis del Bene PT '06, PA '07. The American company earned its reputation for craftsmanship in the pre-radio, prerecord-player days, when a piano in the parlor was a staple of home entertainment.
The Steinway "recipe" for a quality piano remains constant. "The product they made in 1890 is more or less what we're still trying to produce when the PA students tackle a rebuilding project," Louis says.
"It starts with a good teardown," he continues. "An object tells its own story. The piano — if you measure it and examine it and disassemble it carefully — tells you how to put it back together."
For Louis and his colleagues to wring the most educational value out of the rebuilding experience, a chosen piano must need everything replaced but the case, plate, and (usually) keys. With careful instruction and guidance, using woodworking hand tools, power drills, and machines such as planers — often practicing first on mockups — the students replace all of the piano's action parts.
"Hammer shanks, hammers, wippens," says Louis. "We replace the damper action, sound board and bridge caps, and put in a new pinblock — and there are all kinds of smaller tasks that go along with those big items. We're basically making the instrument like new again, giving it a new life span."
The School sells the end product (with the funds going to support students' education) to knowledgeable clients. Example: former NBSS instructor Christine Lovgren PT '80, PA '81 recently bought a rebuilt 1926 Model M Steinway from the program, and also donated to the School her circa-1890 Steinway that was in desperate need of rebuilding. It seemed like the right alternative to buying a new piano or waiting for months for the one she already owned to be rebuilt.
"At some point, someone's going to get a beautiful piano when that one's done, and I have one now," Christine shares. "It worked out great — I loved my Model M right away. A few friends have tried it too, and everybody comments on how nice it is to play."
Most of the students won't go on to rebuild pianos for a living. "That's the less common path," says Louis (though he got hooked on rebuilding when he was a student at NBSS). The point is to gain greater familiarity and comfort with this "big and awkward" instrument, so that they can solve problems as technicians. "If a pinblock is failing, you want to have held a pinblock in your hand," Louis shares.
As an NBSS graduate and former instructor, Christine understands there are limits to what students can learn. "NBSS can't teach them everything, because that would be impossible. They have to be detail-oriented, creative, and resourceful, but students will graduate with the knowledge and skills to handle whatever path they gravitate towards."
She shares that there's another an upside to all their intensive training. "NBSS students have chosen a wonderful profession. There's an endless variety of pianos they will see — and people they will meet. They'll never have a boring day on the job. "
---
This article is from our 2019 Annual Report. See all the stories here, or view more issues.