Special Edition NBSS Tool
November 13, 2014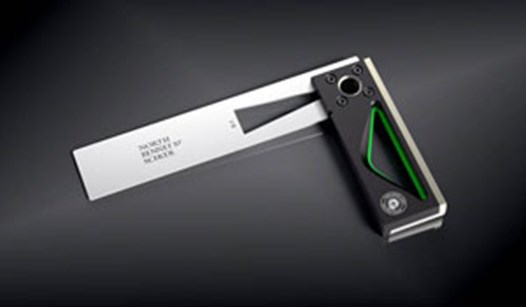 John Economaki of Bridge City Tool Works designs the highest quality woodworking tools.
His work was exhibited at the Museum of Contemporary Craft in Portland, Oregon and NBSS is working with John to bring the exhibit to NBSS in March 2015. You can support the exhibit and own a special edition Bridge City Tool Works TS-1 square for a contribution of $250 or more.
To help underwrite the costs of the exhibit, Quality is Contagious, Economaki designed a limited edition TS-1.5 Try Square. The tool is 6.5″ long, just under 4″ in height and features a stainless steel blade with an 8:1 internal cutout for laying out dovetails. The innovative handle design interjects a fun combination of colors giving it a unique voice in the tool world. Individuals who contribute $250 or more, receive the NBSS square, sure to be cherished for generations to come. For contributions of more than $400, supporters receive both the tool and a copy of the exhibit book.