The Key to Collaboration
July 24, 2019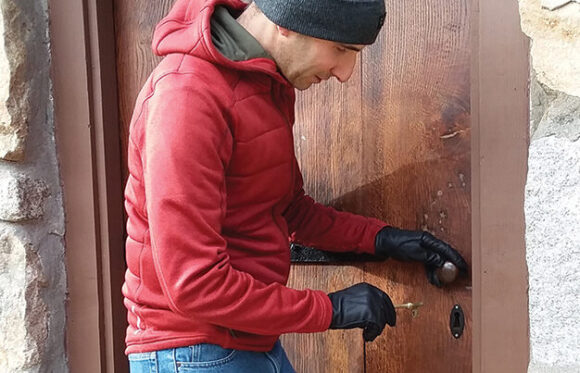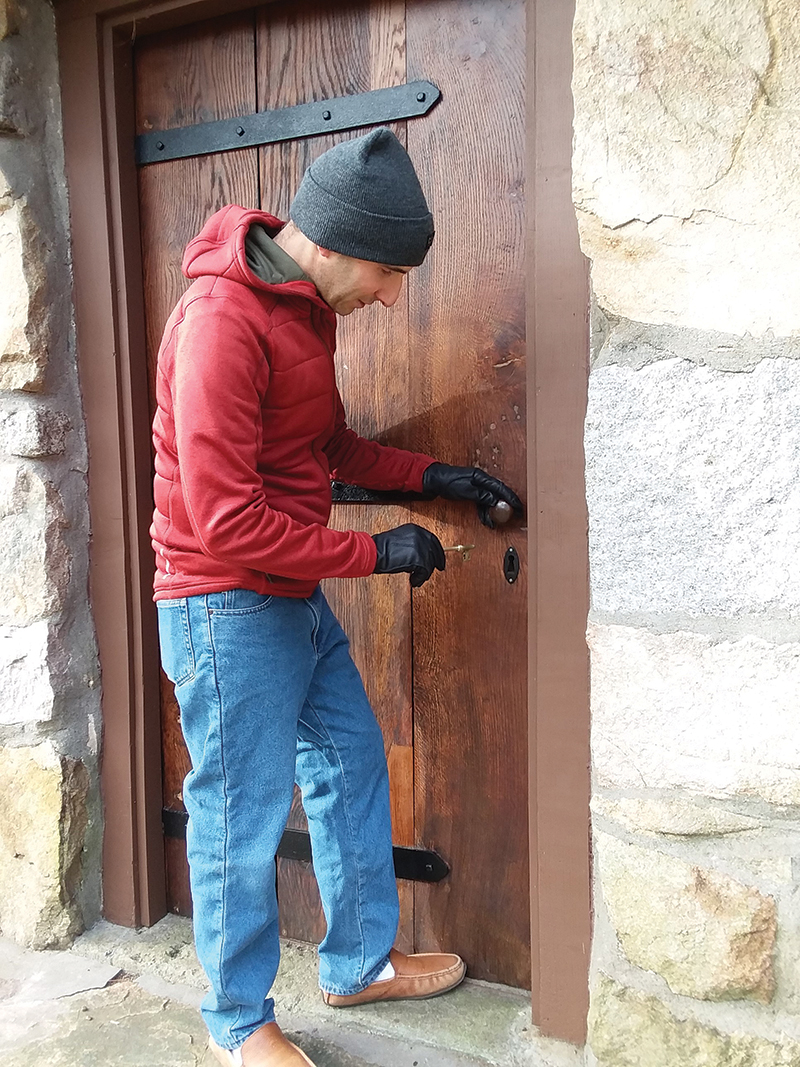 When it came time to restore a stone cottage – originally built by a World War I general – on his property in Westwood, homeowner Yanni Tsipis turned to Steven O'Shaughnessy PC '99, Preservation Carpentry (PC) Department Head, at North Bennet Street School.
"Steven was more than just the right person for the job, he was a god-send. He knew instantaneously about the wood, the roofing, and every other component in the building. In this day, with so much focus on replacement, we really appreciated Steven's focus on restoration and preservation of the millwork structure, the windows, and the beautiful door," says Yanni.
As detailed in Michael E. Shay's 2011 book Revered Commander, Maligned General: The Life of Clarence Ransom Edwards, 1859–1931, the stone structure is a 1920 reproduction of the field station in France from which the major general commanded the 26th Division. Steven was tasked with replacing the roof, restoring the original wood casement windows and door, and doing other exterior and interior repairs.
"The original roof may have been wood-shingled, but the building is nestled under a canopy of trees, so we thought a new wood roof would eventually rot. We pulled off an asphalt roof from the 1970s and put on a new roof using architectural asphalt shingles that look much better with the building's stonework," says Steven.
While work on the new roof and other structural repairs went smoothly, Steven quickly realized that the project's biggest challenge was the building's over-sized door. "You had to take a run at it and risk injuring your arm and shoulder just to get it open. The house had been mothballed for quite a while, mainly because of the door. General Edwards must have wanted something it would take a battering ram to get through, because the only door is made of two heavy slabs of oak joined together by wrought iron brackets," explains Steven.
Before long, Steven, with assistance from students and alumni Dan Brownwood PC '18, Christopher Dowd PC '09, and Christopher Laudolff PC '19, got the door off its massive iron strap hinges and presented Yanni with options to address its warping and sagging – one of which was to replicate the door with a new version.
"Yanni vetoed that idea, so I changed the door jam and stops to account for the current shape of the door," recalls Steven. "I agreed with his decision because, as someone who teaches preservation, I understood that saving 80 to 90 percent of the original door was the right thing to do."
North Bennet Street School is an extraordinary resource for any good steward of historic architecture," says Yanni. "The Stone Cottage project is a beautiful illustration of that."
Once the door's restoration was complete, which further involved replacing rotted sections with matching white oak patches, attention shifted to its antique box lockset – and missing key. Steven turned to both a member of his Preservation Carpentry Program Advisory Committee and an NBSS faculty colleague for advice.
"Robert Adam founded the PC program at NBSS in 1982. He is an authority on historic hardware and fasteners, so I sent him photos of the lock and he said it was from the 1850s. Then I took the lock box off the door and brought it in to Barbara Baker LK '04, Department Head of Locksmithing & Security Technology," says Steven.
Along with her expertise, Barb brought her appreciation for old locks to the ad hoc project team. "I could see it was very old and would be a challenge, especially to find the right blank. What I did first was create an approximation of a key blank using a pipe, onto which I soldered some brass."
"The pipe was the post, and the square of the brass represented the bit – or what looked like a little flag," she continued. "We had a good laugh at the crudeness of the approximation," says Barb. So she turned to Ed Maestranzi at Boston Lock & Safe Co., which has been in business for over 200 years.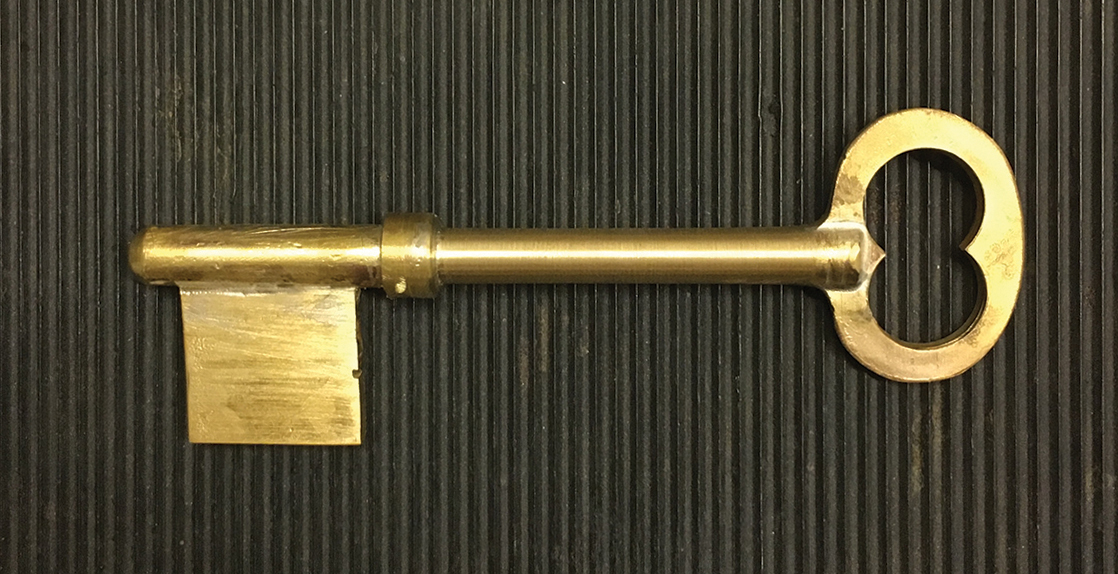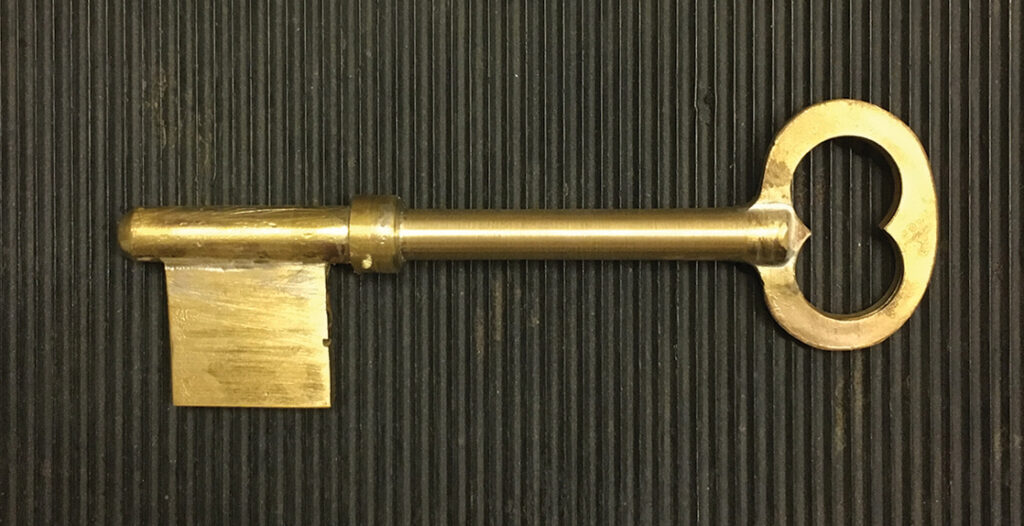 "Ed loaned me a couple of key blanks and when they didn't work, he had one of his technicians use a lathe to hand-make a single custom key blank, welding on a bit and adding a bow, which is the part of the barrel or skeleton key that you grasp. Ed donated the key blank. He's a supporter of NBSS and believes in what we do," says Barb, who was joined in the work by Anthony Giso LK '19.
"Anthony is one of the best students I've ever had. He was an equal partner the whole way and did a fantastic job," says the proud instructor. "We had to take our time too, because we had only one key blank, and only one shot to get it right."
Working in her spare time, Barb also had help from faculty colleagues. "Bookbinding Department Head Jeff Altepeter BB '99 provided board stock for drawing and cutting key facsimiles, and Ann Cahoon JM '02, Jewelry Making & Repair Department Head, showed me how to use a jeweler's saw to shape the final bit and complete the key."
Steven recalls the moment when he told Yanni he could now lock the restored door. "I said to him, 'Do not lose this key, Yanni. It is truly one of a kind.'"
Yanni, an executive with Seaport WS Development, who served as project manager for the new NBSS building while previously with Colliers International, says his respect for NBSS has only deepened. "North Bennet Street School is an extraordinary resource for any good steward of historic architecture," says Yanni. "The Stone Cottage project is a beautiful illustration of that."
This story is part of the Summer 2019 issue of Benchmarks magazine. See more Benchmarks stories, or download a pdf of the entire issue.