On the Make
July 26, 2023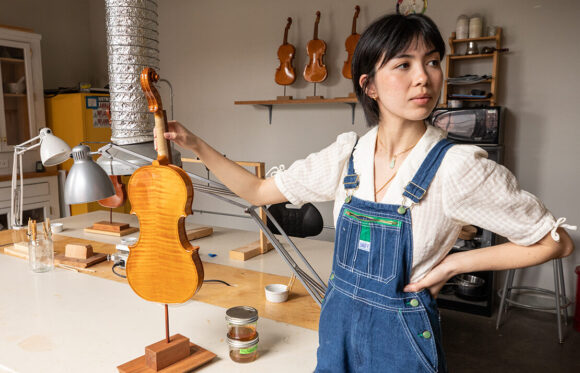 Our Violin Making & Repair students were featured in the July-August 2023 issue of Strings Magazine. The article, "On the Make: Students at North Bennet Street School talk about making their first instruments," by David Templeton follows the path of three current students as they craft their first violins in the program: Rhea Burdick VM '25, Eric Rodriguez VM '25, and Emmeline Nguyen VM '25.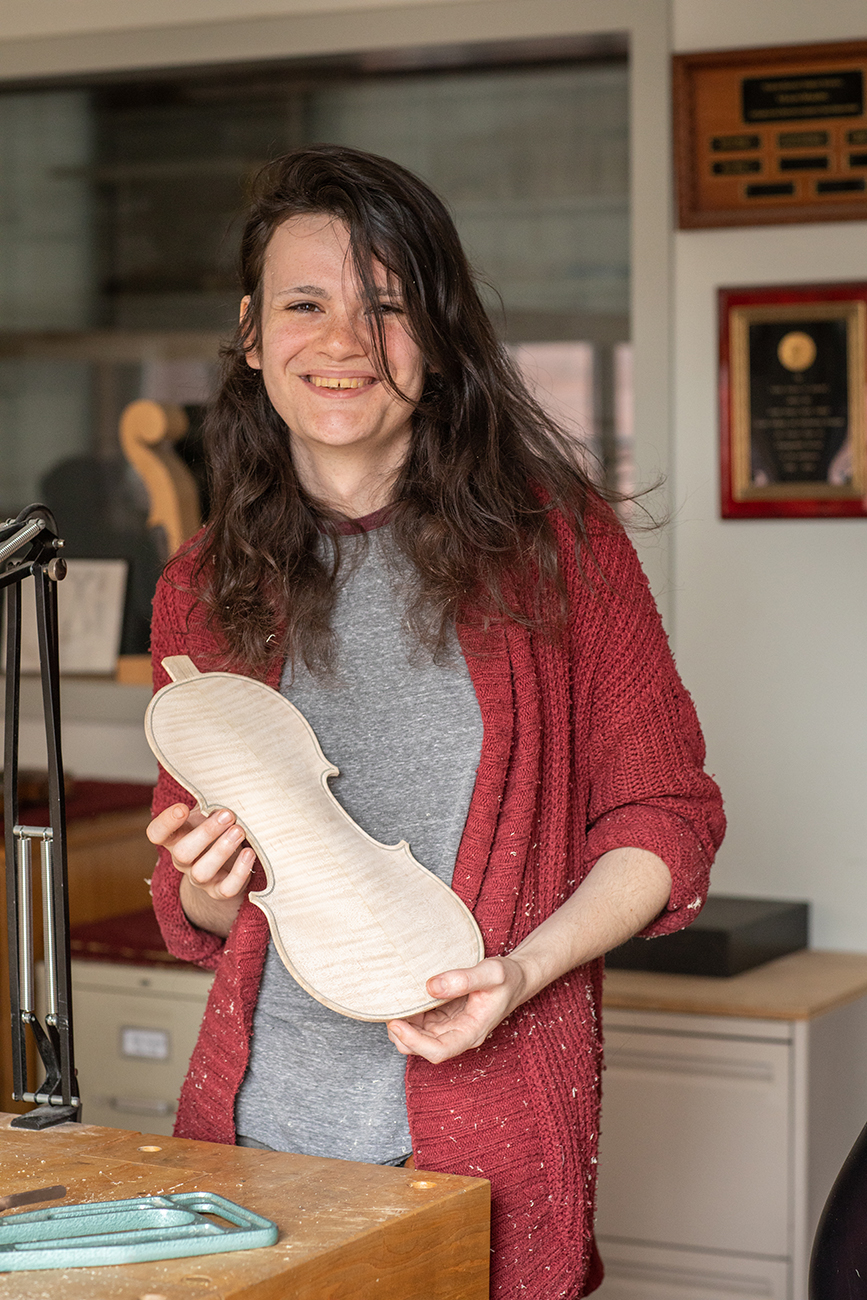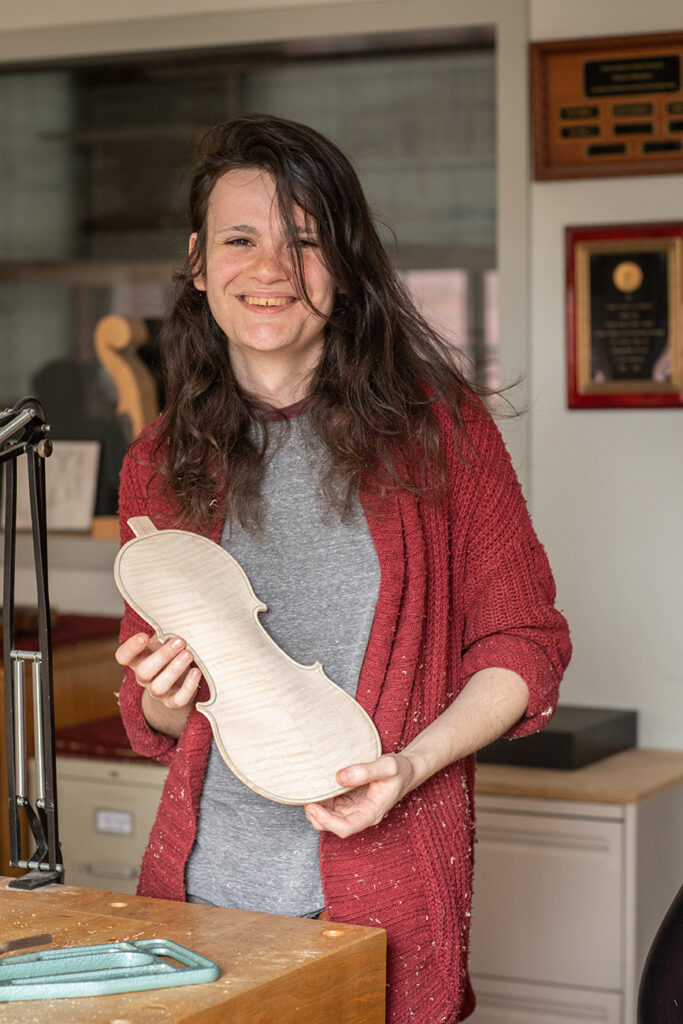 Here are a few excerpts from the article:
"'It's been an exciting journey,"'says Rhea Burdick. 'With that first violin, I went in thinking it was going to be hard, and it turned out to be every bit as hard as I thought it would. It's very time consuming—that's the first thing you learn. There are just so many steps, so many details, so many parts.'

…For Rhea, the best moment of building that violin was when the neck went on. 'It was this very emotional moment,' she says. 'As someone who's been playing my entire life, it was so cool, that moment when I could look at this instrument and say, 'This is so cool. I can't believe I made that.'"
---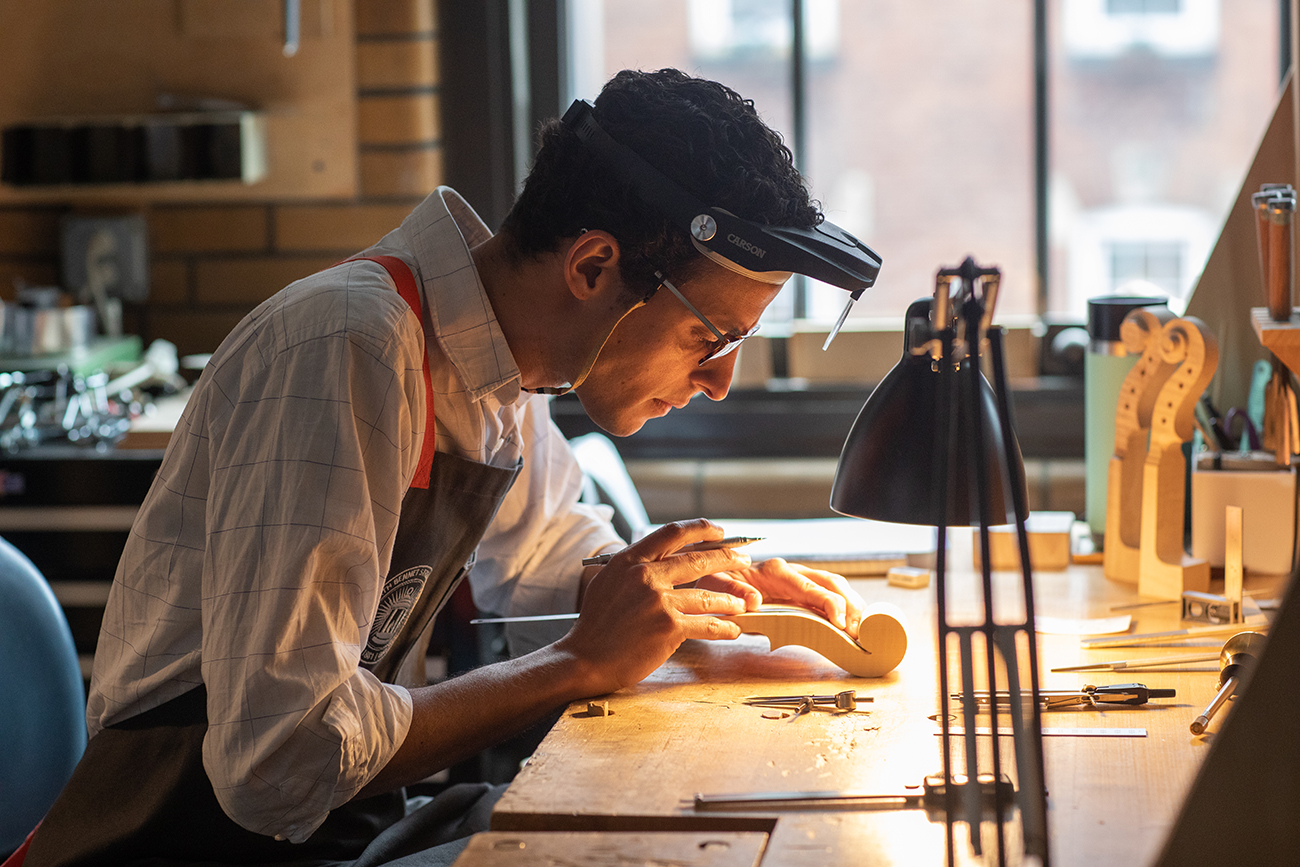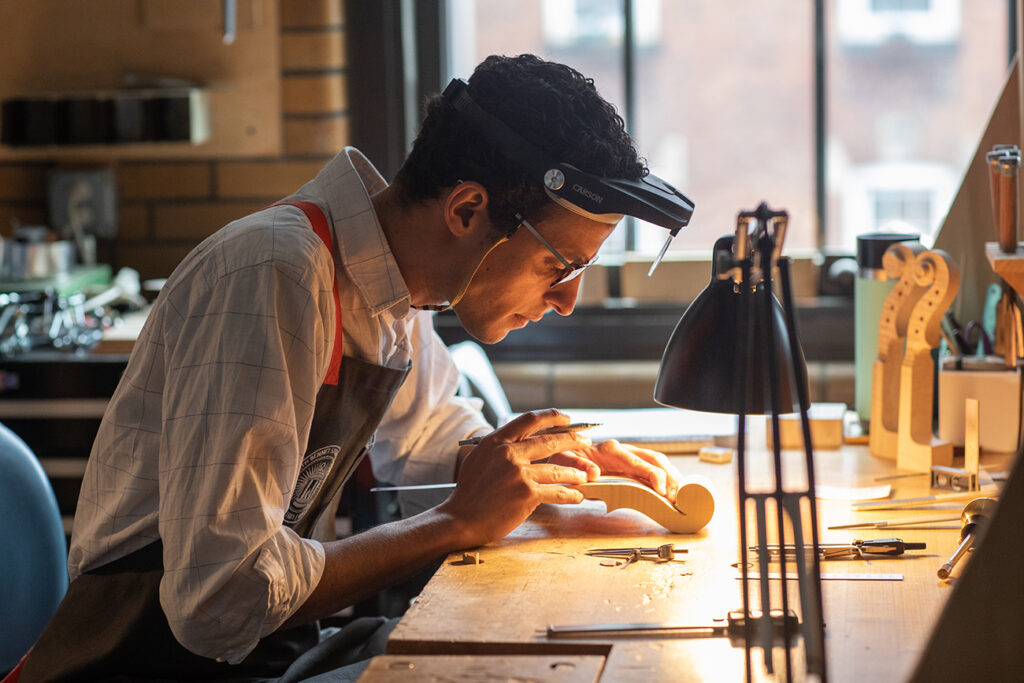 "…Seeing the different parts of the violin emerge slowly from solid blocks of wood has been very rewarding, Eric Rodriguez notes. 'While building my first instrument, I have had the opportunity to practice a variety of skills as well as learn many historical aspects regarding the design and the construction of a violin," he says. "The experience has been incredibly rich, fun, and humbling.'
A class at North Bennet Street is very much a hands-on experience, he points out. 'We learn through a series of demonstrations and thorough explanations that are often complemented with pictures, lectures, and anecdotes,' he says, adding that, though he is only just starting out, he feels that he's already getting the hang of it. 'I have surprised myself with the level of precision I have been able to achieve when it comes to measuring and shaping during certain steps of the violin making process."'
---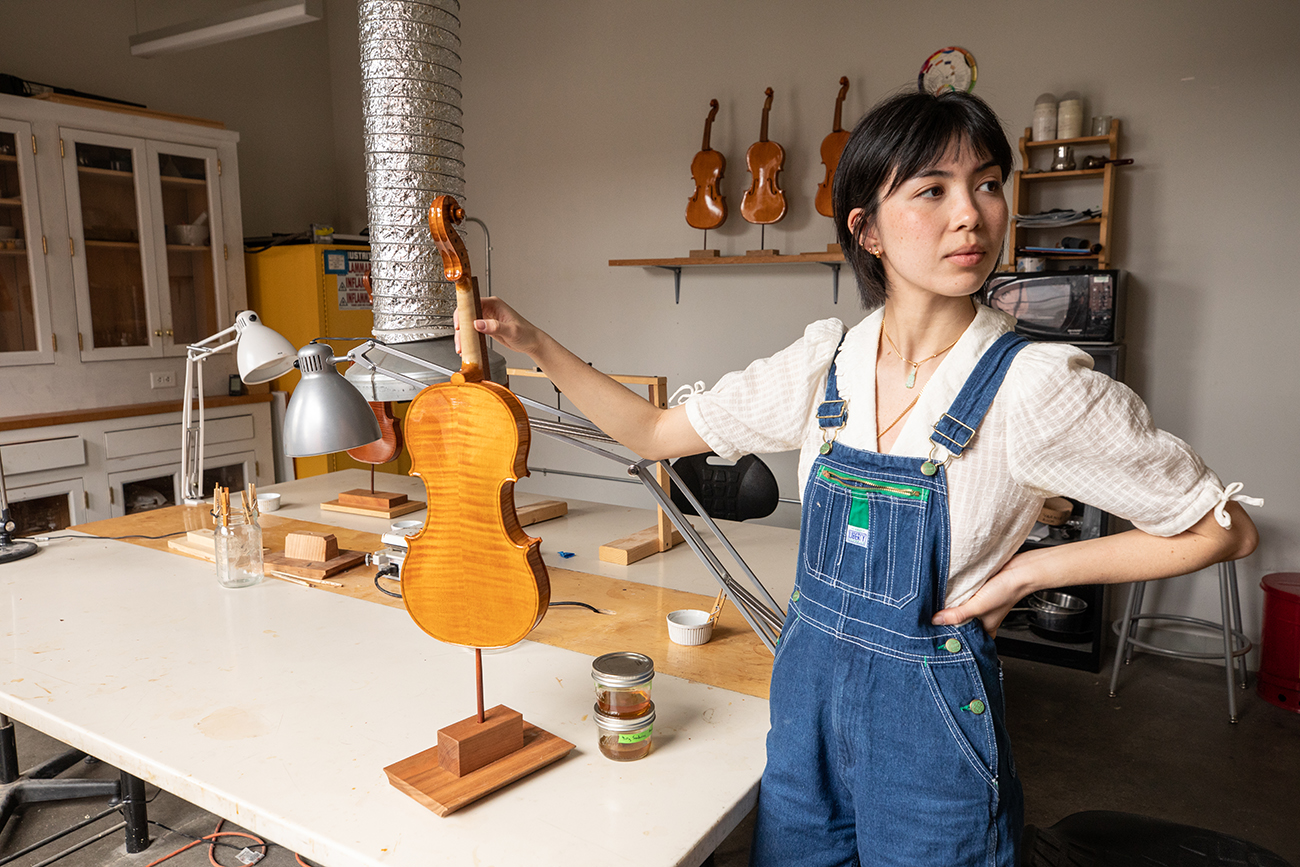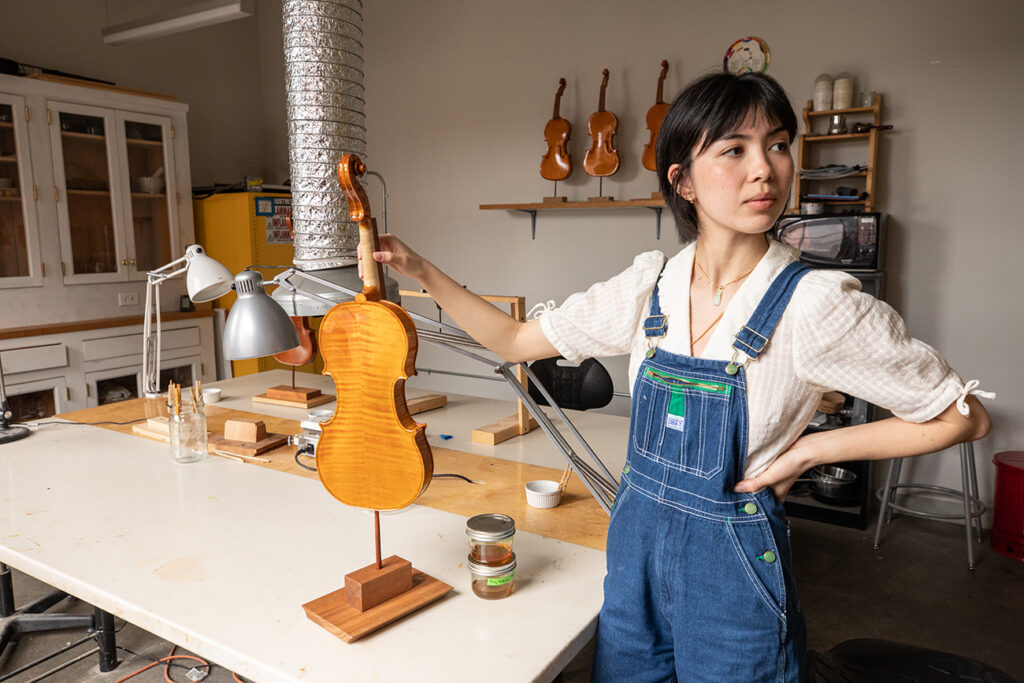 "'There is something about learning to make a violin that is both formulaic and artistic,' Emmeline Nguyen explains.
"'There is a lot of historical precedent to everything you do, which is nice. We are very guided by tradition. But there are plenty of openings for creativity—there are things you can tweak and new problems to solve. For someone like me, who requires a lot of mental stimulation, it's a really good place to be in terms of a job.'"
(Emmeline was also interviewed for a segment on the Violin Making & Repair program on WCVB Channel 5!)
---
Read the full story, or download a copy (pdf) of the article.