From One Seasoned Instructor to Another
December 19, 2022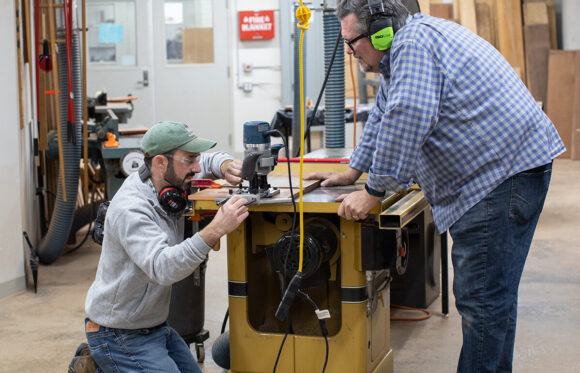 In the NBSS Store/Gallery, a stunning cabinet on stand sits on display, featuring a colorful inlay of the School's lantern logo. It's a remarkable piece, not only for its looks, but also knowing it's a model project for students in the intro-level Three-Month Furniture Making Intensive in Community Education (CE).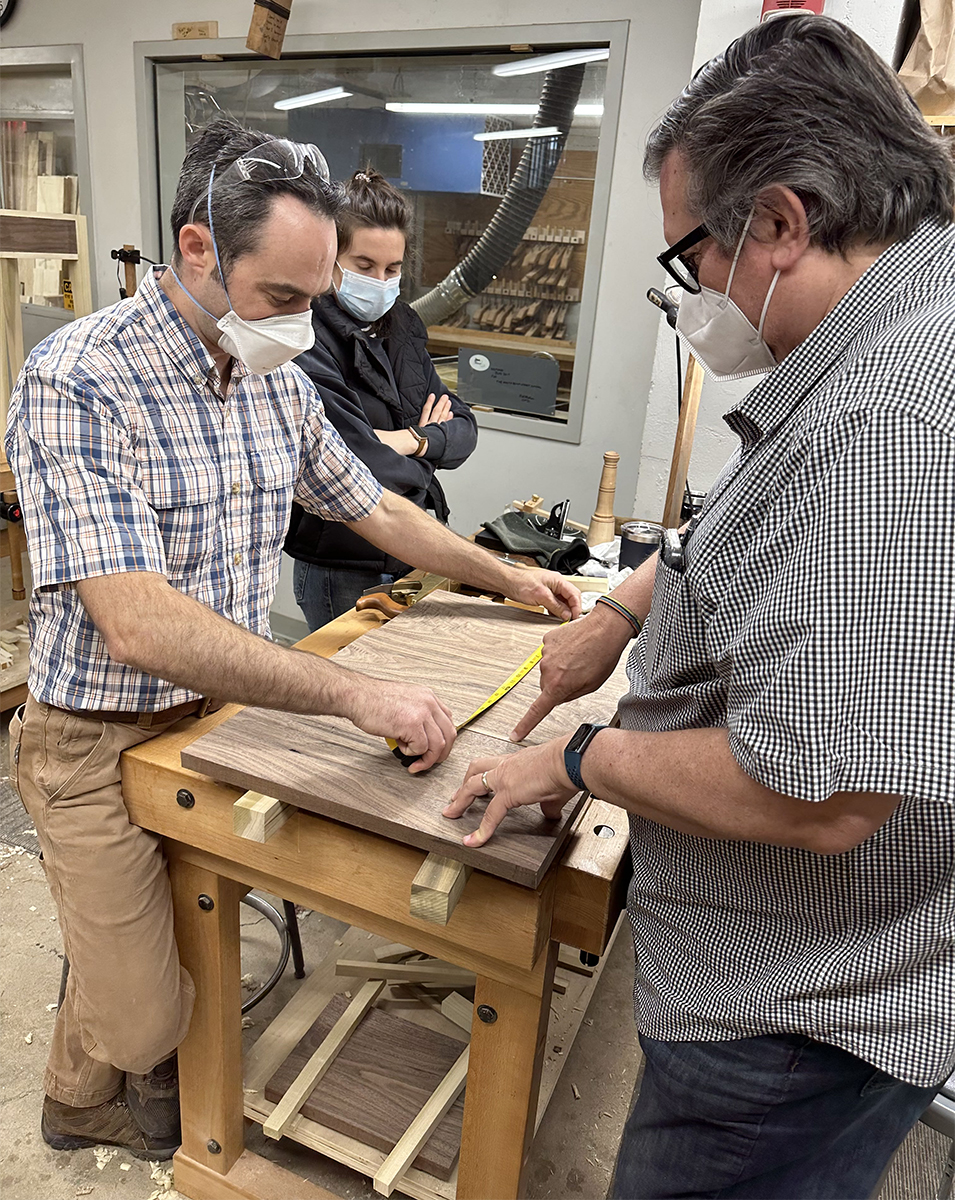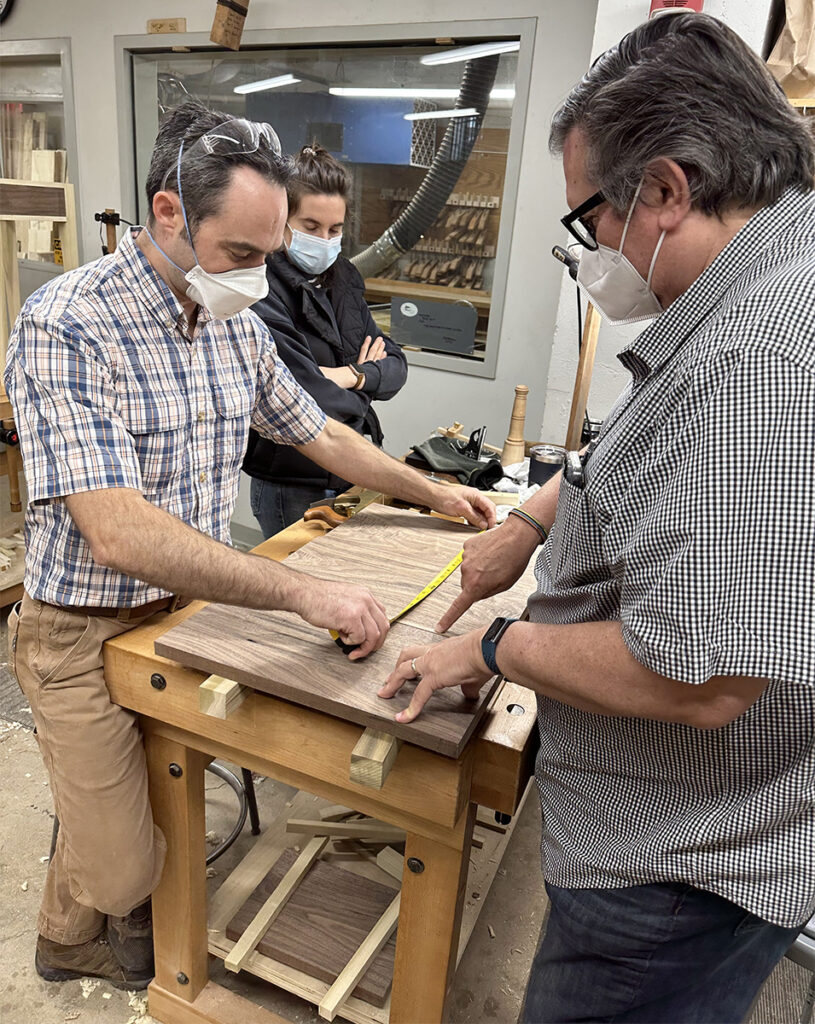 The makers behind this showpiece are Eli Cleveland CF '09, a longtime instructor of the Three-Month, and Nick Maraldo CF '07, the class's newest instructor. Recently, Eli led a thoughtful onboarding process for Nick during the summer session, when they overlapped. The course transition between the two seasoned instructors was meticulous and collaborative, as well as creative and fun—just like their cabinet on stand.
"Nick was such an easy fit," says Eli, who was involved in the hiring process. "He already understood the way we approach woodworking, so it was more about acclimating him to the specifics of the Three-Month." The class operates on a full-time schedule while in session, making it intensive not only for students, Eli explains, but also for the instructor. With Eli preparing to take parental leave and focus more on commissioned work, the timing was perfect to bring in another instructor.
There is a lot to cover in the class, but the key, Eli told Nick, is pacing. Nick decided one of the best ways to understand the class was to become a student of it. "I actually grabbed a bench amongst the students," Nick says. "Eli loved it because he could lecture while I ran off and got demo parts done." Eli notes, "Nick's knowledge is unbelievable. He embodies North Bennet in that he has a very high standard, but he's friendly about it." 
"CE is great for instructors because, just like for students, it can transition you into the School," Eli says. Nick and Eli never overlapped as students, but both started their NBSS journeys in the Three-Month class before being accepted into the Cabinet & Furniture Making (CF) program. "We have the same foundational knowledge from NBSS, but like anything, we also have different approaches," Nick says.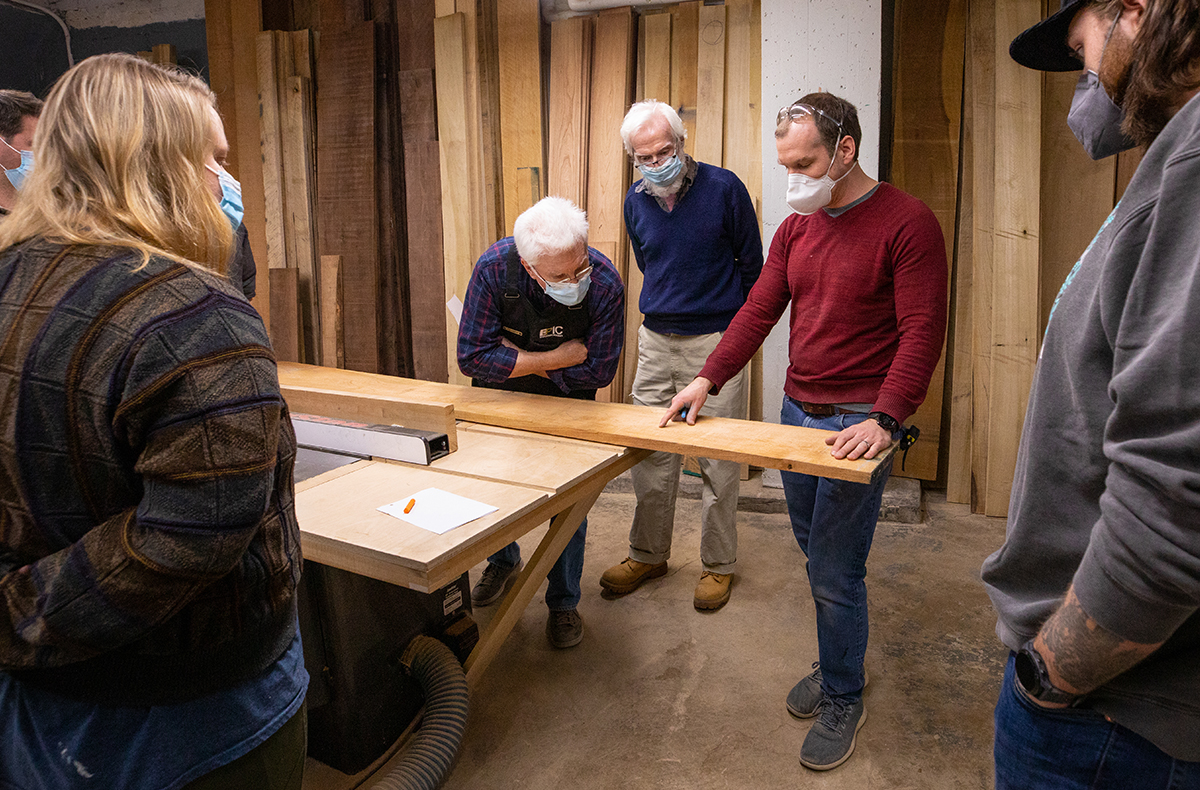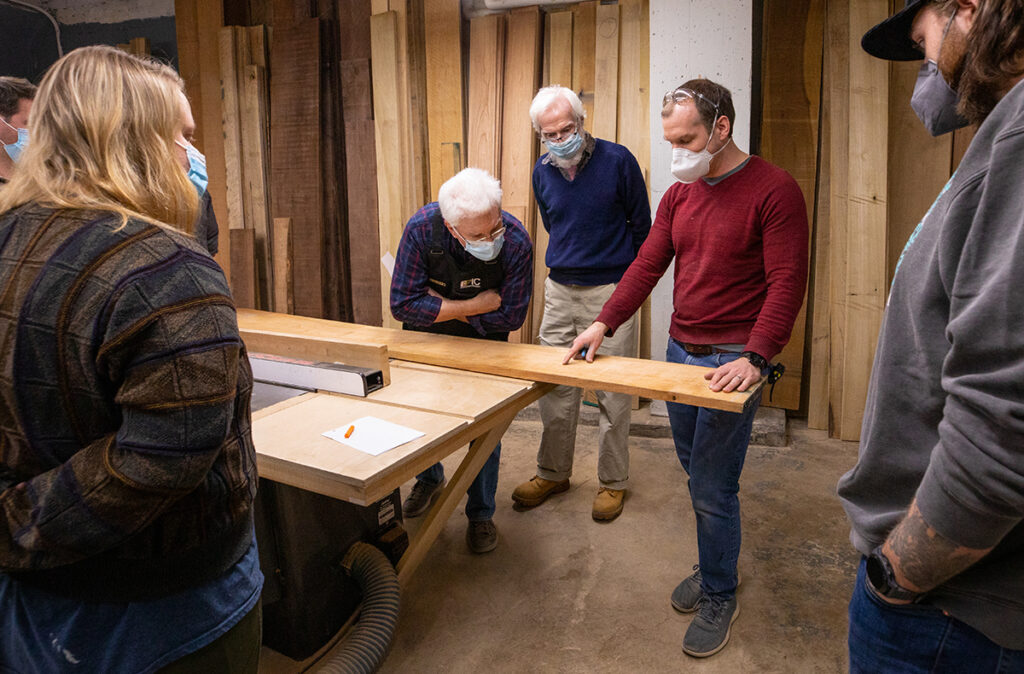 Following graduation from the School, Nick started his career at a high-end shop doing cabinetry and architectural millwork. When the recession hit, he joined the U.S. Navy. For eight years, he traveled the world on active duty, working in electronics and intelligence. But on each ship, word inevitably spread of his woodworking skill. Once, a nerve-wracking call to the captain's office turned out to be a request for a wooden display case, he laughs. While serving, Nick particularly enjoyed mentoring and training.
After the Navy, Nick returned to woodworking, studying for three years at the Furniture Institute of Massachusetts under the late Phil Lowe CF '74, a beloved former NBSS Department Head and highly acclaimed expert in his field. Nick has grown his portfolio through his business Wicked Creek Woodworks, making fine custom pieces on commission. Over the years, he has also led many workshops across New England. Most recently, he taught alongside Phil before his passing in 2021. "On my first day as an NBSS instructor, I walked in the door, turned the corner, and saw Phil's samples," Nick smiles. "I thought, 'Alright, he came with me. I'm in the right place.'" 
Eli arrived as a student at the School fresh off earning a bachelor's degree in math from the University of Georgia. He had been headed for a career in insurance, but that changed senior year when he found himself rushing home after class to tackle his latest woodworking project. Eli teaches both CE courses and is a guest instructor in the Career Training programs, often focusing on SketchUp, a 3D design software. In addition, he creates custom pieces for clients through his business, ESC Furniture. For five years, he worked on the television series "Rough Cut: Woodworking with Tommy Mac," which aired on PBS. "It was like a cooking show, where you put something in the oven and immediately pull it out," laughs Eli, who built more than 60 pieces, three to four times each, for the show.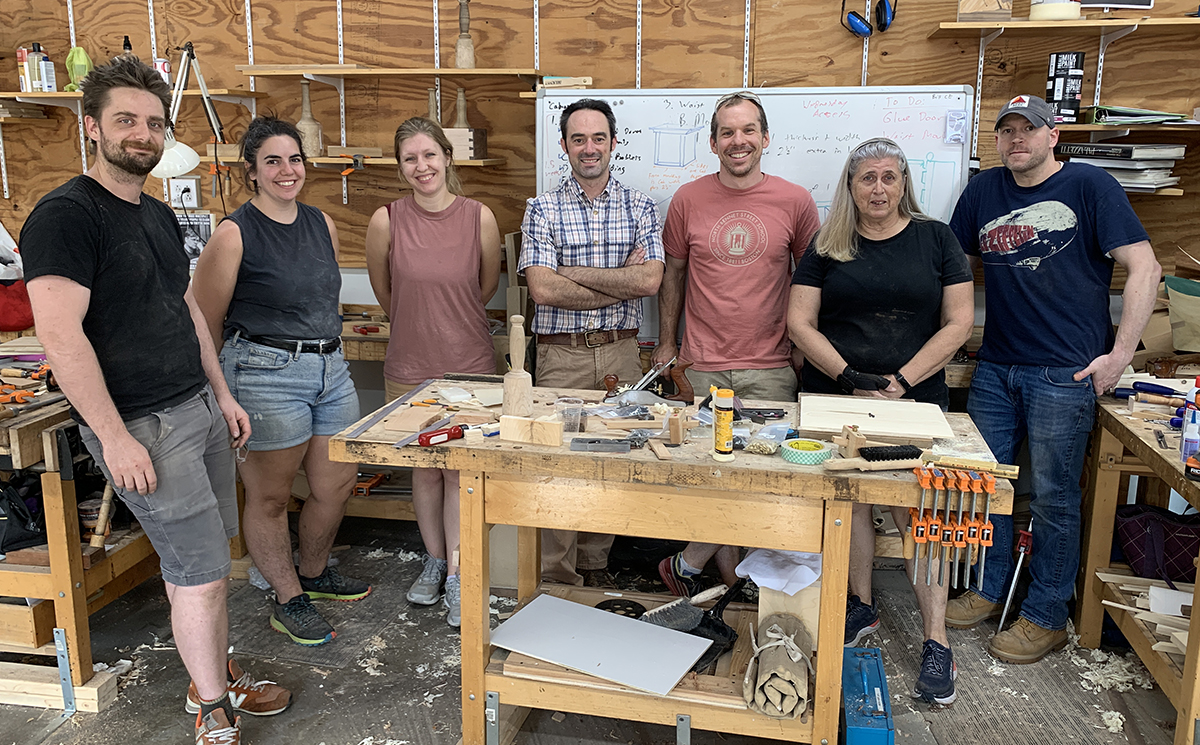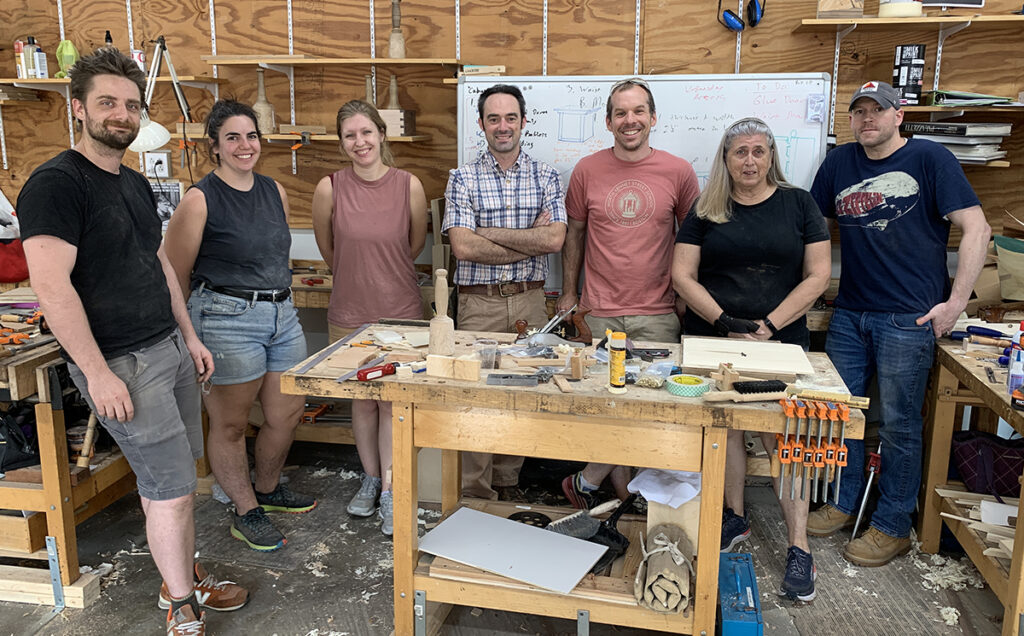 Nick and Eli say they gained a lot from each other's varied backgrounds. "And students said it was fun having two different perspectives, or hearing a concept explained in different ways," Nick says. "We may revisit that when Eli's back and trade off the same class at some point."
Nick has been busy teaching the fall session and setting up the newly expanded Three-Month bench room, which can now accommodate two additional students. He's also considering ways to add his own stamp to the class, like bringing in specialized cameras that allow an instructor to zoom in on a demo and project it on-screen for students—something he's seen used successfully elsewhere. "There's definitely the North Bennet way," Nick reflects, "but any time new people come in, you want to bring some new things in with you. I'm excited to add my spin to the class."
Exploring the Cabinet on a Stand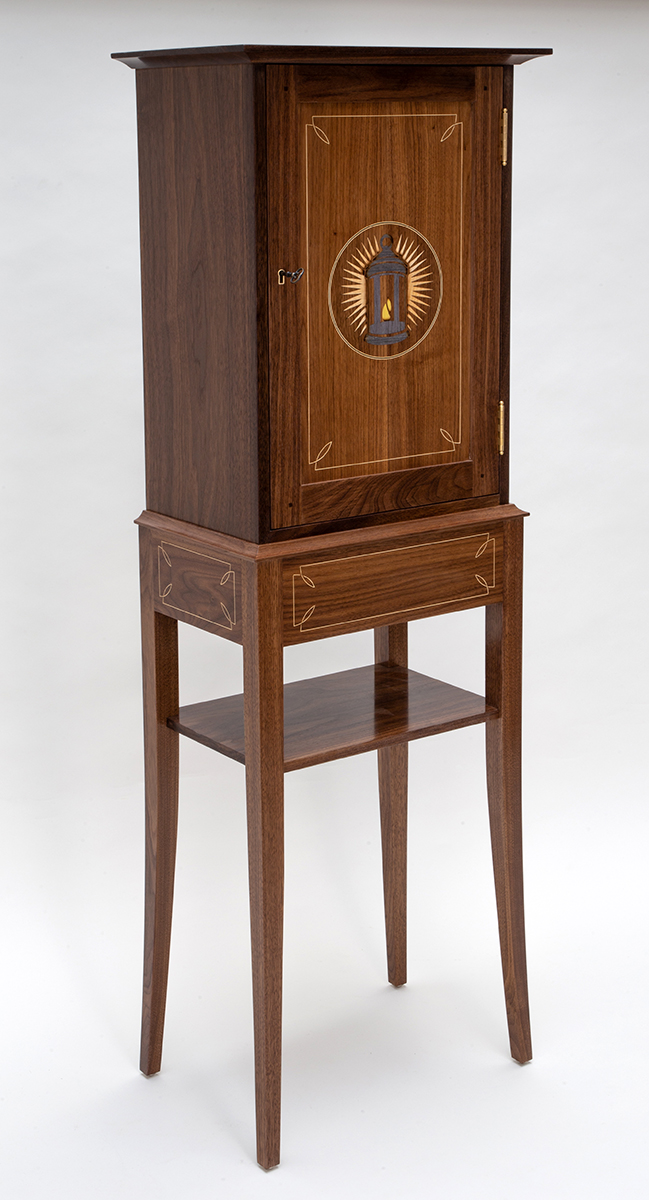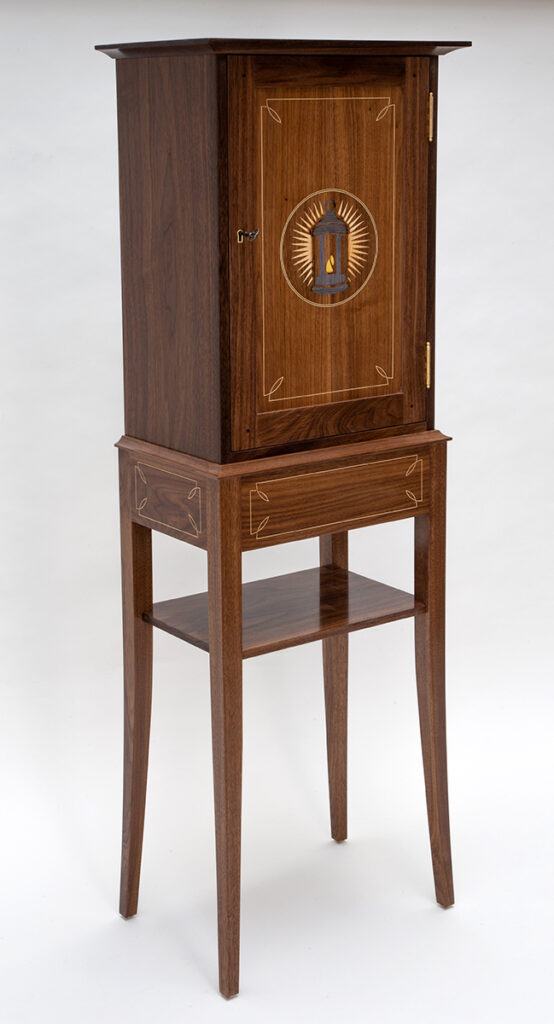 Demo pieces are crucial teaching tools, showing students examples of excellence in craft. The CF program already had a beautiful cabinet on stand, but it was made from reclaimed fir, which can be hard to come by, Nick says. "We wanted a demo piece we could point to and say 'Yes, you can make that in this course.' We may have gone a bit overboard with the inlay, but a very motivated student could pull it off."
Nick and Eli primarily used black walnut, adding in some poplar, mainly on the back. They chose old holly veneer for the decorative string inlay. "The door marquetry was done on a 'chevalet de marquetry,' or 'marquetry donkey' as we call it, that was made and owned by Phil Lowe," Nick says. "I've spent a lot of time on it in the past, so it was like a familiar friend. The students got to see how it operates—it's essentially an 18th-century scroll saw."
"Nick is extraordinary with inlay," Eli notes. "It's always fun to work with someone else, especially someone who complements what you do." Nick adds, "Eli did the bulk of the lecture and demonstrated the techniques for each part. I was able to do the lion's share of the laborious tasks, as I took on more of a 'student' role at times—which helped me understand the project so I could better teach it going forward." 
The project was also a unique way to get to know each other as fellow instructors and makers. Nick says, "In the end, it became a small game of, how far can we take this without going overboard?"