Trade School Careers in the Security Field
June 14, 2021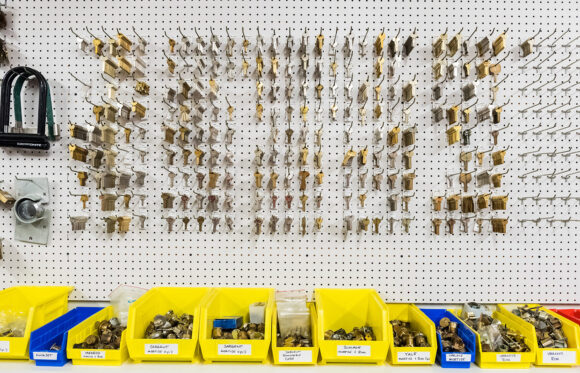 When you think of preparing for a future career in the trades, what comes to mind? Probably areas such as carpentry, automotive technology, HVAC, and construction are a few that you're most familiar with. But have you ever thought of the security field? While sometimes less visible in course catalogs, locksmithing and security technology have a lot to offer as prospective career paths.
When it comes to locksmithing and security technology, demand is strong. CareerOneStop, a U.S. Department of Labor site, projects a bright job outlook over the next 10 years for security systems installers across the U.S. Locksmithing and security technology are also interesting and mentally engaging areas to pursue, requiring a combination of critical thinking, mechanical, and people skills.
The days of the tiny, cramped locksmith shop are all but over, and today's security professional is as likely to design security systems as replace lost keys. Many locksmiths choose to work out of mobile storefronts in the form of a vehicle that can travel to serve customers wherever they are, supported by today's online and mobile technology to connect with clients anywhere, at any time.
Aside from owning a small business, locksmiths may operate out of a home improvement store or work on-site at a college or university. Other possibilities are working with high security facilities such as medical labs, technology firms, or government buildings—wherever access needs to be controlled and property protected. If you are looking for an in-demand career that is flexible, security technology may be just the right fit for you. And the path to your new career may be shorter than you think.
NBSS is proud to offer a comprehensive Locksmithing & Security Technology program that students can complete in just nine months and graduate ready to immediately launch their new career. Students reinforce what they learn through classroom theory, lectures, and demonstrations with hands-on benchwork and installation. The curriculum covers everything from learning how to use key machinist tools, to lock servicing and repair, various types of mechanical and digital locks, servicing safes, access controls, and more. Plus, our students are outfitted with a full set of their own tools, and even learn the basics of setting up their own business.
You owe it to yourself to explore all your options in the skilled trades so you can choose your best career path. Want to know more about a career in security technology and whether it might be a good fit for you? Get in touch with us here.