Truly a Conversation
November 2, 2017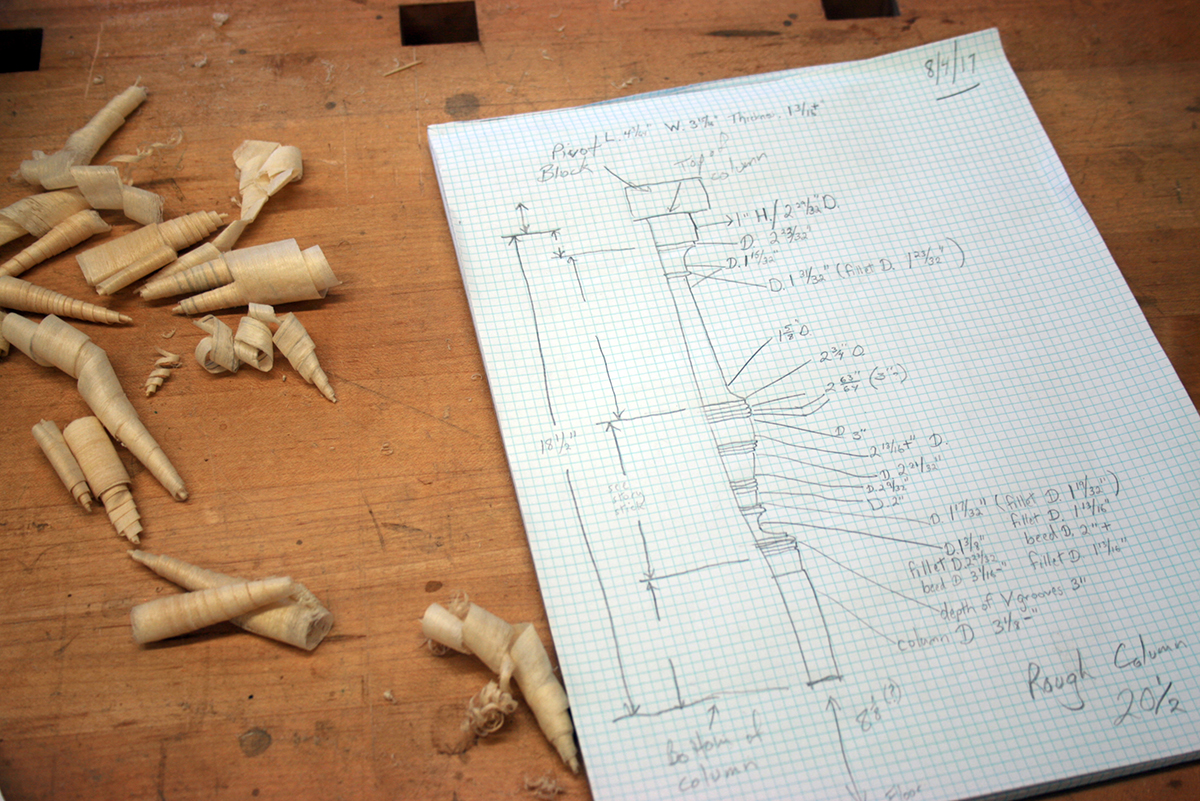 By Christie Jackson, Senior Curator, The Trustees of Reservations
When this exhibit was first conceived as a collaboration between curator and artisan, it didn't take too long for the word 'Conversations' to find its way into the title. And boy, has this word turned out to be accurate! The concept for this exhibition was simple: working with furniture makers from North Bennet Street School, we wanted to create a dialogue between historic objects and new interpretations to celebrate the rich legacy and continuing tradition of New England craft.
I am fortunate to work with a truly diverse and personal collection at The Trustees. Our organization is one of Massachusetts' largest non-profits, as well as the nation's first conservation organization. Today, we care for 116 special reservations—which includes farms, gardens, and a more than a dozen historic houses. The majority of our collection came to us as part of a larger estate, meaning not only the house and its contents, but land, family archives, and personal objects.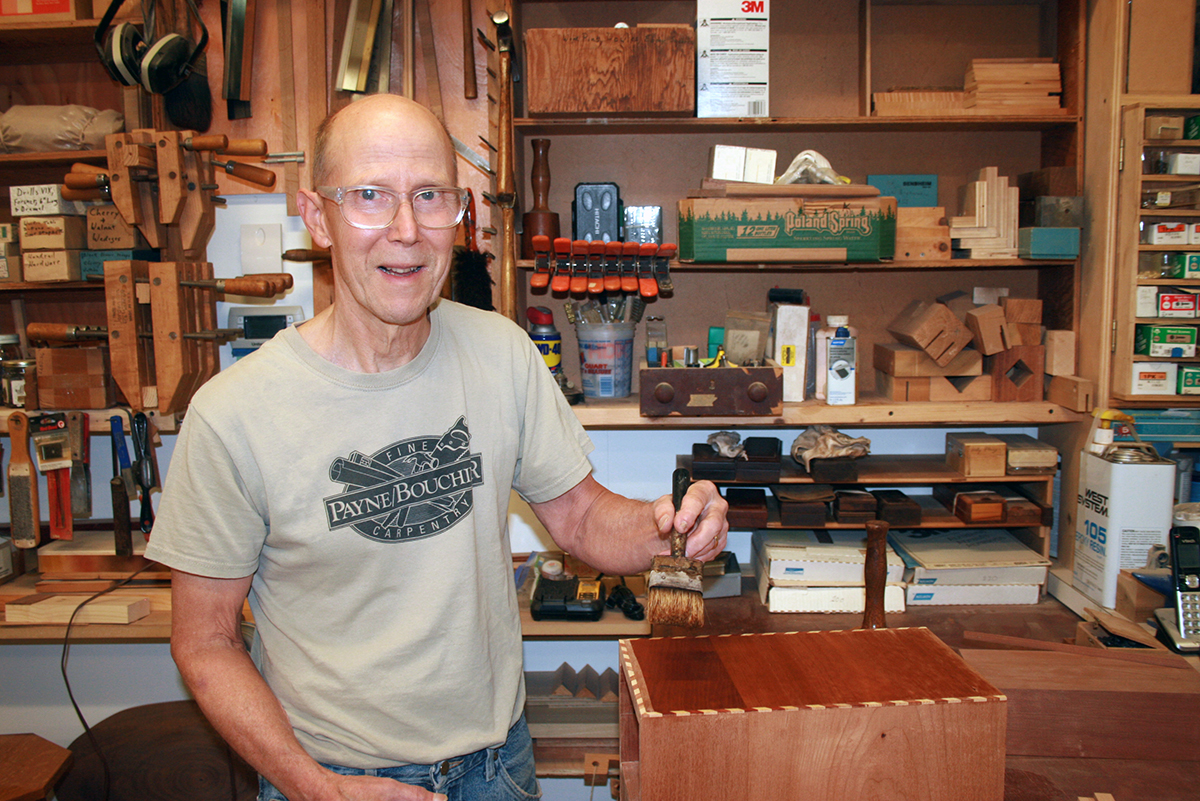 Many of our artifacts have wonderful stories attached to them. When I selected the objects for the NBSS artisans to choose from, I not only picked items with unique construction techniques and intriguing details, but also pieces that had engaging personal histories and provenance. I hoped what I saw in these pieces would also excite my NBSS colleagues. So, it was especially gratifying to see (and hear) their excitement upon first viewing the culled group of objects. I'll never forget Alex Krutsky CF '81 saying "Holy Cow! It's amazing!" when he first saw the 19th-century secretary he ultimately chose to work with.
Early on in the exhibit process, I met with each artisan and walked them through the objects I selected, sharing with them what excited me about each. These meetings turned into wonderful conversations. On more than one occasion, we got on the floor to crawl under tables, turned drawers over to look at their construction, and all leaned in to hover over and admire a small decorative detail. It was a study in looking, listening, and discovering.
When Ron Trapasso CF '69 and I looked under the Queen Anne table that was used in the 1843 Utopian experiment at Fruitlands, we discovered a burn mark from a pot on its underside. This detail was a new discovery. The table has been published in books and articles countless times, and its history of having the Alcott, Emerson, and Thoreau families gathering around the table has always been lauded. But no one had thought to crawl under the table and look at it from a new perspective. Ron and I debated the source of the burn mark. It was an engaging conversation and a good reminder that there is always more to learn about historical objects.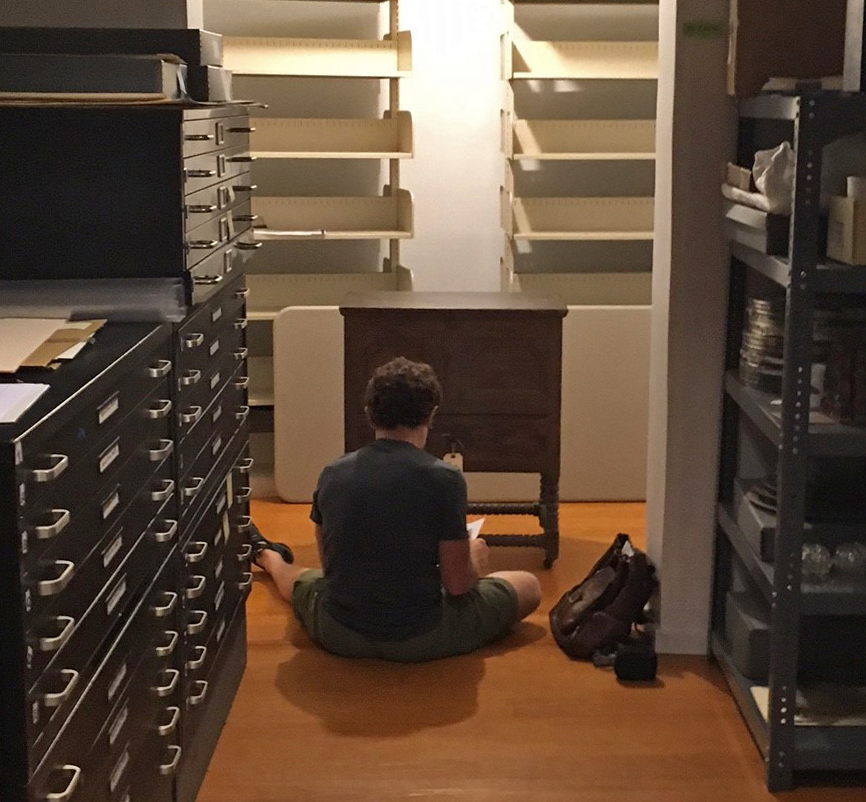 This scenario was one repeated over and over during the course of preparing for this exhibition. Working with William Locke CF '95, we took a very close look at a 17th-century dressing table from The Trustees collection of Greenwood Farm in Ipswich. The dressing table has always been one of our most prized early pieces, but this exhibit allowed us to do a very deep dive into its history. William studied the piece at our research center for quite some time. He commented how wonderful it was to study an object so closely, to really see its detail.
I also took the opportunity to delve into the archival materials of Greenwood Farm, an enormous collection containing 90 linear feet of material. Lo and behold, I discovered an early hand-written 1917 inventory by the family of their furniture, which noted clues to this particular chest's ownership. The list was tucked inside some journal materials. Following its clues, we realized the chest could be traced back many generations and to Amesbury. This research also shed light on a mysterious and very faint inscription on the table's top which noted the word: 'morriell.' It appears the Morrill family of Amesbury may have been early owners of the piece. What a remarkable moment, to uncover history like this. This exhibit is all about conversations. The conversations that William and I had about this piece helped us both to better understand its construction, the maker's intent, and its history.
Studio visits to see the cabinetmakers in action often wandered into sharing our personal stories of career paths and passions. My excitement for seeing the objects come alive seemed to drive their excitement for creating the piece. Laughs were shared and questions about the historic objects pondered. The historic objects were the entry point into a larger conversation about history, craft today, and the extraordinary men and women who continue this tradition.
My hope is that you can come visit the Conversation in Craft exhibition at Fruitlands Museum and see the remarkable pieces that members of the NBSS have created. This exhibit is a celebration of these men and women, of history, and of the future of the craft. Come join the conversation!
---
Conversations in Craft: Furniture from The Trustees Collection and North Bennet Street School Artisans
Saturday, November 18, 2017 – Sunday, April 29, 2018
Fruitlands Museum, 102 Prospect Hill Road, Harvard, Massachusetts 01451
Exhibit Events
Exhibiting Artisans
Greg Brown CF '10
Steven Brown CF '90
Eli Cleveland CF '09
Daniel Faia CF '94
Paula Garbarino CA '80, CF '88
Miguel Gómez-Ibáñez CF '99
Matthew Huffman CF '99
Ellen Kaspern CF '03
Alexander Krutsky CF '81
William Locke CF '95
Robert Miller CF '11
Lance Patterson CF '79
Ronald Trapasso CF '69