Tuning for the Van Cliburn Competition
June 9, 2017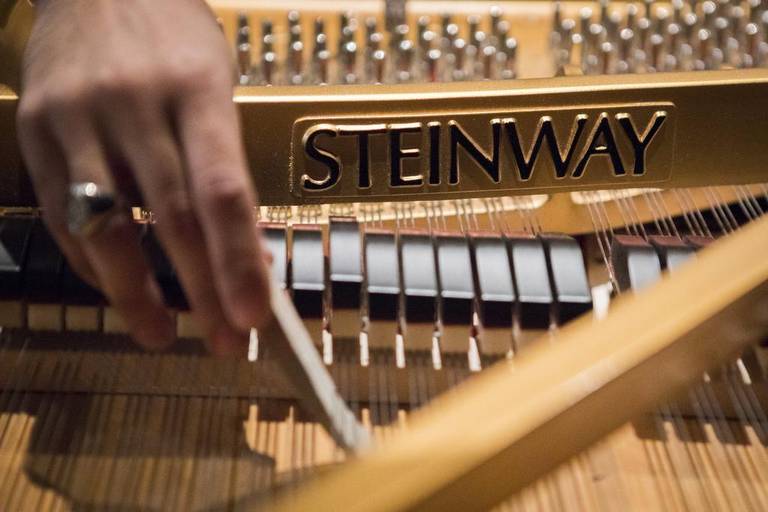 Nowell Gatica PT '10, PA '11, Chief Piano Technician for Steinway Hall Dallas, is also the lead piano technician for the quadrennial Van Cliburn International Piano Competition, one of the most illustrious piano competitions in the world. It is intended to and launch and support the careers of young artists from ages 18 to 30. Thirty pianists played in four rounds of competition, and the three winners were announced on Saturday, June 10, 2017: Yekwon Sunwoo, Gold; Kenny Broburg, Silver; and Daniel Hsu, Bronze.
Ismael Cunha, a New York Steinway piano technician with 30 years of experience was featured in a Dallas Star-Telegram article about this year's Van Cliburn Competition, and Nowell was also mentioned in the article. The work was significant, stated journalists Judy Wiley and Andrea Ahles:
"A Steinway piano has more than 12,000 parts, said Nowell Gatica, the Dallas piano technician who is handling more than 40 other pianos needed for the Cliburn.
The 30 competitor host families each get a brand-new Steinway shipped from New York. Two or three other pianos are in the McDavid Studio and the Van Cliburn Recital Hall at the Maddox-Muse Center, for performances and two Steinway Spirio player pianos are in the Bass Hall grand foyer. The rest are positioned backstage for use as warm-up pianos, or for the Cliburn jurors — who are all pianists — to practice on.
Gatica estimates he will do 350 tunings before it's all over with Saturday."
Read the rest of the article here.
Photos by Andrew Buckley.
Nowell's work was also featured in this 2016 article in the Lewisville Texan Journal.
Learn more about our Piano Technology Program