Up-Close Look at American Period Furniture
November 14, 2019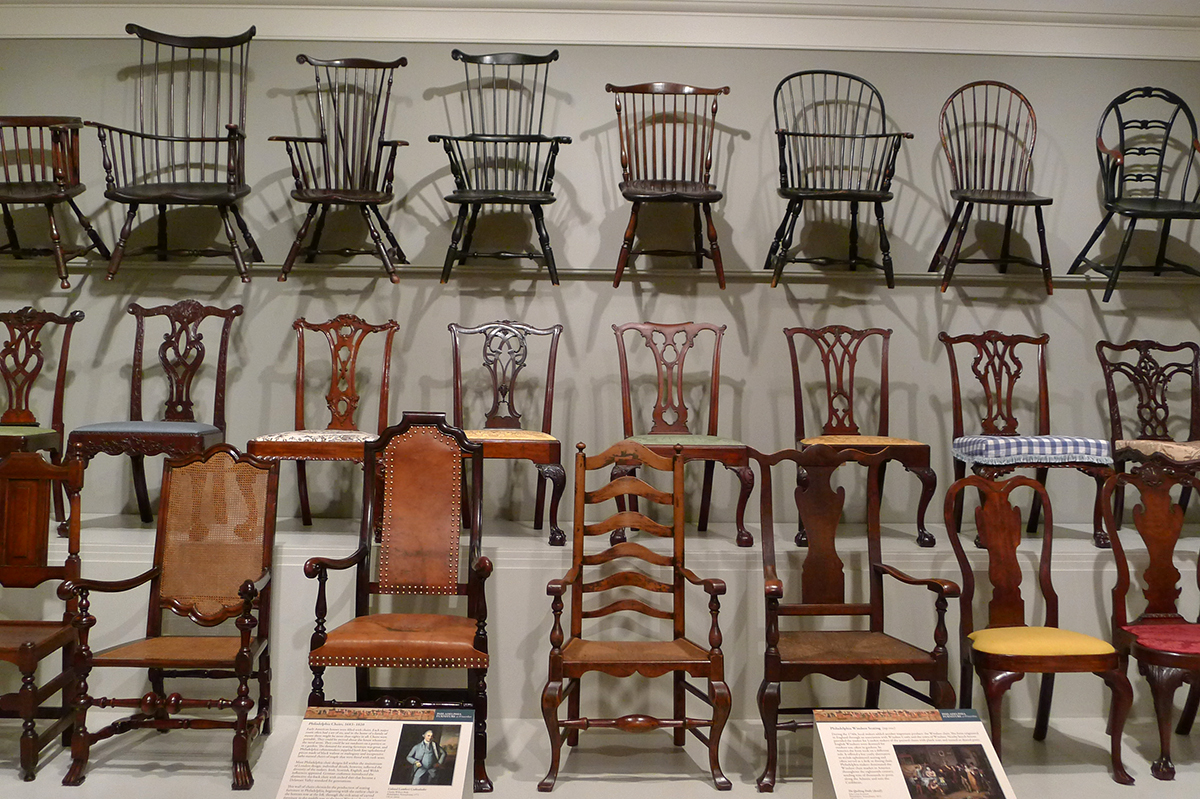 Most museums caution visitors not to touch the exhibits. Students from the Cabinet & Furniture Making (CF) program are encouraged to do just the opposite, however, on their biennial field trips to Winterthur Museum, Garden & Library in Delaware.
The 175-room childhood home of renowned collector and horticulturalist Henry Francis du Pont (1880–1969), Winterthur features more than 90,000 American decorative-arts objects made or used in America between 1640 and 1860, approximately 3,700 of which are furniture pieces.
This past spring, long-time NBSS Instructor Steve Brown CF '90 led his ninth field trip to the famed residence, where students spent two days getting an up-close look at objects from what is perhaps the largest collection of American period furniture in the world.
"Winterthur provides our students access to some very special pieces and all different styles of furniture, which they can measure and study at close range. I want CF students to be aware not only that Winterthur exists, but that it is a resource," says Steve. "I want them to see as much of the furniture as possible, visit the research library, and hear from the conservators on preservation."
Winterthur's Curator of Furniture Josh Lane is only too pleased to have NBSS students avail themselves of all the museum has to offer, continuing the longstanding relationship between the two institutions.
"As a teaching museum, we are able to use the collections in settings that allow for greater scrutiny," he explains. "So I enjoy bringing objects on view in the house into a classroom where students can examine them. They learn what materials were used and how engineering problems were resolved, and they also see evidence of the maker."
Along the way, the students – like Eve Radovsky CF '20, who was on this year's trip – also often find themselves developing a deepened respect for period furniture.
"Prior to starting at NBSS, I earned my BA in Early Childhood Education and Anthropology at UMass Boston," says Eve. "When I applied to the CF program, I didn't have a lot of experience with period furniture. I just knew I was interested in making furniture."
The field trip to Winterthur helped then first-year student Eve broaden that interest.
"Being able to see pieces from the 17th to 19th centuries, so many of which we discuss in school, was one of the coolest things ever. There was no way to keep track, but we probably looked at over 1,000 objects," says Eve. "After seeing it all in context, I'm more interested in building reproductions of period furniture."
"Just by fielding their questions, we at Winterthur get a new level of understanding from the students because they know the shop practices and labor involved in furniture making."
And while Eve found the museum's furniture collection "staggeringly and impressively large," it was she and her fellow students who impressed Josh.
"The NBSS students are really enthusiastic and inquisitive. From the moment they arrive, they're champing at the bit, hungry for the access we provide them," he says.
According to Josh, the students aren't the only ones who gain insight during an NBSS visit.
"Just by fielding their questions, we at Winterthur get a new level of understanding from the students because they know the shop practices and labor involved in furniture making," he relates. "And when you have several pairs of their eyes on an object, you get questions that make you think in a new way."
"This kind of collaboration with members of the craft community helps keep the museum relevant," he says. "It's also important because the students become ambassadors for Winterthur – carrying forward what they learn here."
Read more about a set of "Follies," or decorative outdoor structures, created for an exhibit at Wintertur by Cabinet & Furniture Making alumnus Rob McKeown CF '88.