Veterans Jumpstart New Careers
November 10, 2014
North Bennet Street School has a long history training veterans for new careers.
At the recent preview film screening of the new Craft in America episode 'Service' in Windgate Gallery at North Bennet Street School, those in the audience learned how meaningful hand skills and craftsmanship have been for the veterans featured. In the audience were several veterans who are currently training for new careers at North Bennet Street School.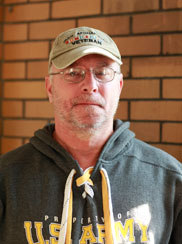 Bruce Cain is a veteran with a 34-year career in the army. He is studying in North Bennet Street School's cabinet and furniture making program. Bryan Worley, a wounded warrior, is studying to become a luthier. Even before he completed the locksmithing program in June, Jonathan Issa started Jon's Lock, a business in Rhode Island.
Bruce, Bryan and Jonathan speak eloquently about the value of working with their hands and the satisfaction they get from learning new skills that they can use to transition into meaningful work and new careers after their military service.
North Bennet Street School, located in Boston, has been teaching professional trades for more than 100 years and training veterans since the end of the first World War. More than 1,200 vets trained at the school between 1946 – 1977 and enrollment by veterans has risen steadily since 2010. The eight hands-on training programs are great for veterans who want to jumpstart new careers.
The full-time programs qualify for veterans' educational benefits through the Montgomery G.I. Bill, Chapter 30 and the Post-9/11 G.I. Bill, Chapter 33. In addition, North Bennet Street School was added to the 2014 Military Friendly Schools® list that honors the top 20 percent of colleges, universities and trade schools in the country that are doing the most to embrace America's military service members, veterans, and spouses as students and ensure their success on campus. Thirteen students, 8% of North Bennet Street School's full-time enrollment in the 2014-2015 school year, are receiving veterans benefits.
NBSS offers full time programs in carpentry, locksmithing, jewelry making and repair, piano technology, preservation carpentry, violin making and repair, bookbinding and cabinet and furniture making.
Learn more about veterans at NBSS .