Visual Curricula: Differentiated Instruction at NBSS
July 15, 2016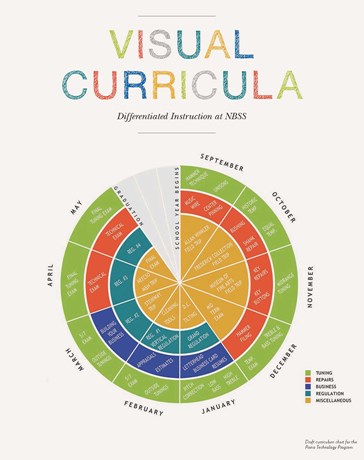 NBSS is unlike traditional colleges and universities on multiple levels, but especially in academics; we teach traditional trades and crafts at a very high quality, with a defined mission of education for employment.
Our student body, just as unique, is comprised of diverse learners with varied backgrounds, levels of experience, and challenges. In order to address the many ways in which NBSS students learn, our faculty utilize a number of approaches, from lectures and demonstrations to one-on-one instruction.
Most faculty members are comfortable teaching the same style in which they themselves learn, and so it's extremely valuable for them to understand the multiple ways in which their students comprehend and retain information. To this end, NBSS has hosted professional development seminars on the specific tools and approaches necessary for differentiated instruction.
In addition, both faculty and students utilize questionnaires to become more familiar with their own styles of teaching and learning. This knowledge has an impact across departments, improving conversations both inside and outside of the classroom. The faculty utilizes questionnaires so that they can become more familiar with their own teaching/learning styles. Students also have access to these same documents so they can self-identify the unique ways in which they learn.
A priority for Provost Claire Fruitman CF '96 has been to help students understand what to expect of their program: What will they learn while at NBSS? Which projects should be completed each semester? What skills should they master? Knowing that text-heavy lists of topics wouldn't be helpful for the majority of students, NBSS faculty are working to develop visual curricula that represent each of their programs.
Known as data visualization or infographics, such representations are intended to present information quickly and clearly, and have been shown to improve cognition and memory recall. This method of organizing information has grown increasingly popular in recent years, and comes in all forms, including charts, maps, cartoons, icons, graphics, and more.
The range of ideas put forth by NBSS faculty—even in their earliest drafts—offer fascinating insights into what each program believes their students will find useful and interesting. There are as many ways to visualize the curricula as there are instructors thinking about it: acronyms for ways of thinking, pictures that represent skills or project sets, flexible calendars that can ebb and flow with the program, and a pie chart of color-coded concentric rings. There's even a puzzle, in which each piece represents a portion of the curriculum, and which creates a house when "complete."
In addition to these visual curricula, instructors are updating handouts with more pictures and graphics, from charts to help students plan their time better, to checklists that ensure students move through their curriculum appropriately. Though all of these efforts reflect new insights into teaching and learning, the School remains true to its historic mission: to provide vocational training in traditional crafts and trades so that our students can achieve self-sufficiency and a meaningful, productive life.