What We Are Learning Today
April 2, 2015
Every day is different at North Bennet Street School. In each program, students are practicing new skills and focused on projects. Even on the first day of April, there was very little fooling around… just happy, focused, learning.
In bookbinding, second-year students are working on their set book project. All second-year students design and make a binding and leather cover for the same book. This year it is Rubaiyat of Omar Khayyam, a selection of poems originally written in Persian. Jackie is shown here working on her cover, doing parchment onlays on leather.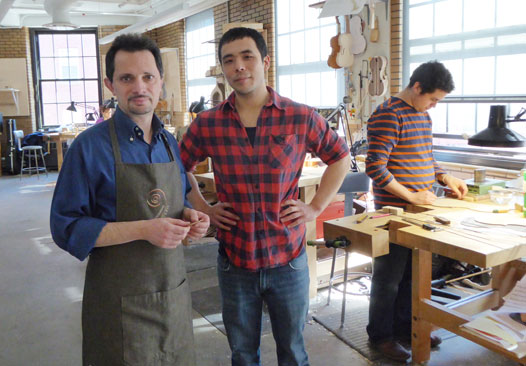 In violin making and repair, guest instructor Marco Coppiardi (left) is shown with violin students. Coppiardi makes violins using the methods, tools and materials of 16th-century Cremona, Italy and has a studio in Boston. Guest instructors are a valuable addition to the learning experience, complementing the full-time master faculty.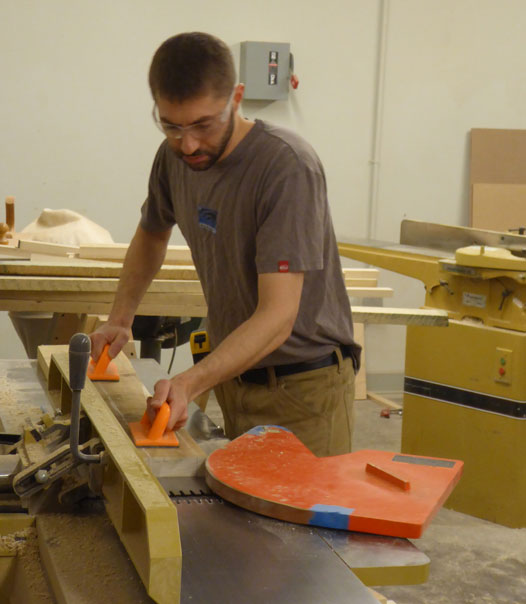 The carpentry students are anxious for warmer weather when they can work outside on bigger projects. In the meantime, they are learning valuable drafting and joinery skills, making router cabinets.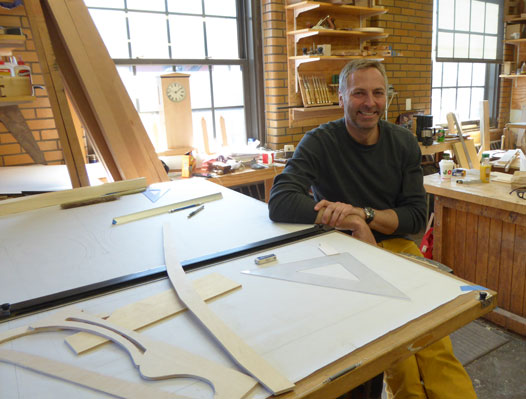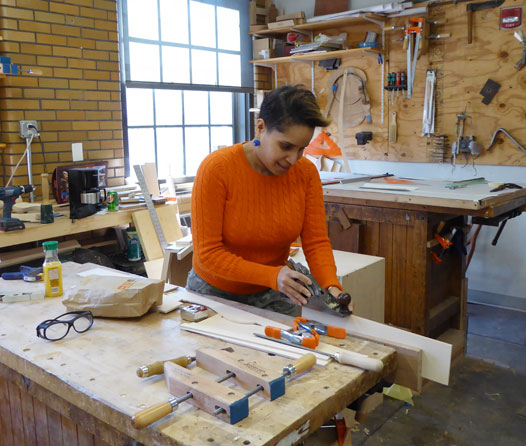 The cabinet and furniture making program is the largest program with 39 students. Students in the two-year program are enrolled in September and February which means that at any given time students are working on a wide variety of projects. New students may be drafting and learning how to sharpen tools while more advanced students are working independently. In these two photos, second year students Greg and Kamala are making templates for their Chippendale chairs.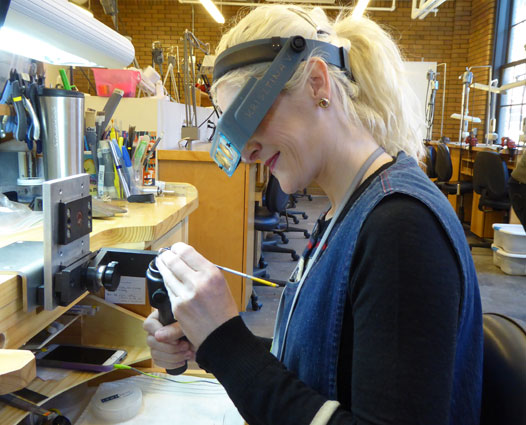 As with cabinet and furniture making, students in the two-year jewelry making and repair program work at their own pace, especially after they advance in the program. Second-year student Krisztina is getting ready to attach the head to the shank of a ring. She will then set a stone in the head. There are only a few full-time professional bench jewelry schools in the country and, combined with a shortage of bench jewelers, these are timely skills to learn.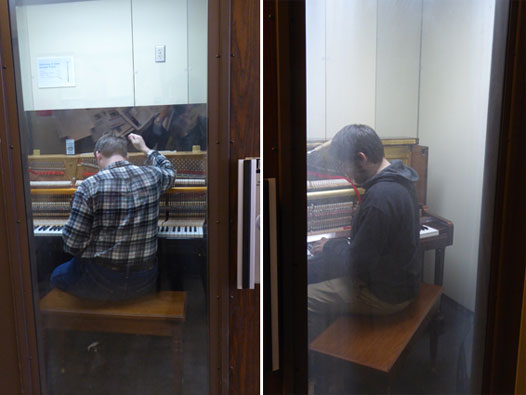 Students in the nine-month basic piano technology program can often be found tuning pianos. The school has many makes and models of pianos for the 16 students to use to practice tuning. Some pianos are in individual rooms and some in sound booths. Students are shown here in the sound booths (likely unaware that they were being photographed).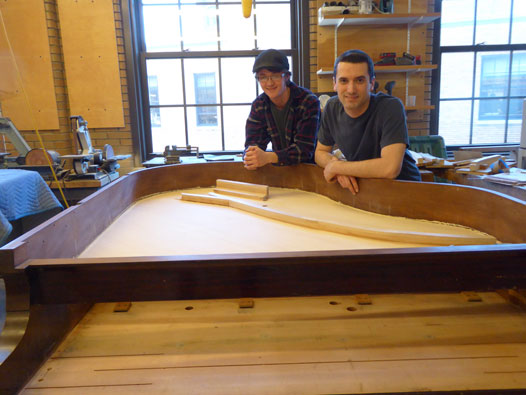 Students who attend the advanced piano technology program work in teams completely rebuilding grand pianos. Micah and Joe have just installed the new soundboard they made into this Mason & Hamlin AA grand piano.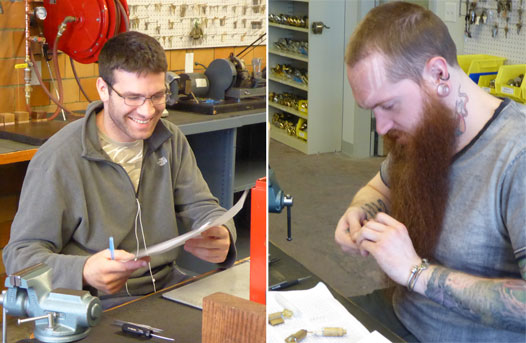 Locksmithing students spend the majority of time working on mechanical locks and systems although they also learn about digital security technology. Corey and Dan are shown here designing master key systems.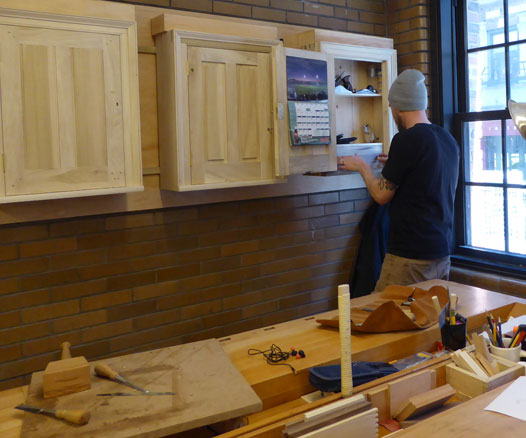 Preservation carpentry students are also restless and ready to get back outside. While they wait for the weather to break (it's imminent), there are many shop projects and skills to learn. First-year preservation carpentry students are building wall cabinets and learning traditional joinery.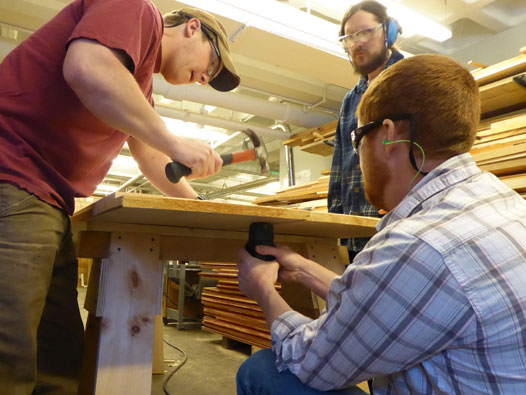 Second-year students are building new doors for the Eastfield Village Tavern in Glenmont, NY. They are shown here 'clinching nails' A process that involves driving a nail through the wood and using pressure underneath to curl the tip of the nail back through the wood. Clinch nailing was done prior to the invention of screws to keep two or more layers of wood from separating.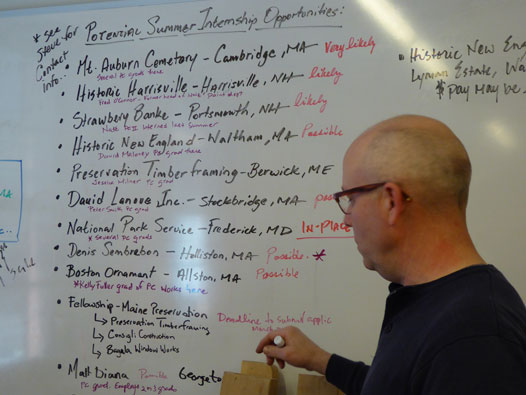 It is also the time of year when students start planning for the summer and, if they are graduating, the next move in their career. NBSS is committed to helping students find internships and jobs when they are students, after they graduate and throughout their careers. Preservation carpentry instructor Steven O'Shaughnessy is shown here with a list of summer internship opportunities — ideal for first-year preservation carpentry students who will return to complete the program in September.
Learn more about the full-time accredited programs.
Learn more about workshops and short courses.