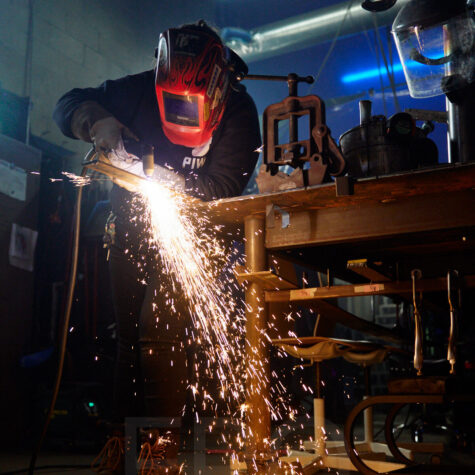 In the Making: People's Inclusive Welding
Thursday, October 12, 2023 4:00pm - 5:00pm
Virtual, live streamed from NBSS
People's Inclusive Welding offers a safe and supportive environment for underserved and underrepresented communities to learn a skilled trade and become empowered blue collar workers.

Offering structural welding intensive courses with resources for job recruitment in South Portland, Maine, they aim to reshape the culture and demographics of New England's blue collar industry by guiding well trained tradespeople into employment where they can find career success and become healthy and happy human beings. Their staff includes recent Jewelry Making & Repair graduate Audrey Gourlie JM '23.

Join us with lead instructor Jo Remillard, to discuss the organization's history, their successes, and goals for the future.
Live streamed from NBSS
Virtual, free, and open to all
This conversation is part of In the Making, a public programs series where we connect with a range of new voices, fields, and perspectives. Learn more on the series homepage.
---
Photo courtesy Downeast Magazine