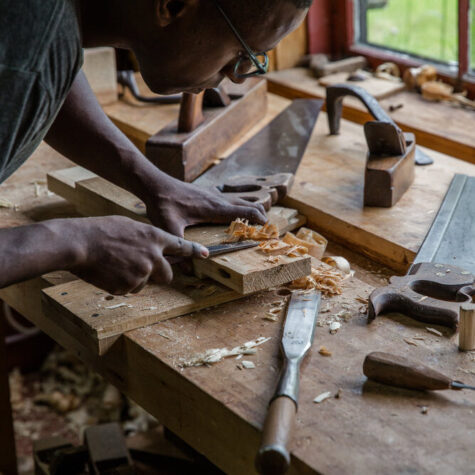 In the Making: Robell Awake and Dr. Tiffany Momon
Thursday, February 9, 2023 7:00pm - 8:00pm
Virtual, live streamed from NBSS
Craftsperson and furniture maker Robell Awake and Dr. Tiffany Momon of the Black Craftspeople Digital Archive (BCDA) will join us to discuss Robell's latest research project. Robell, working with NBSS graduate Charlie Ryland CF '14, is a 2022 recipient of the Craft Research Fund Artist Fellowship from the Center for Craft. Their project aims to gather a more accurate understanding of the period furniture and green woodworking contributions of Black and Indigenous makers throughout our history.

Black Craftspeople Digital Archive seeks to enhance what we know about black craftspeople by telling both a spatial story and a historically informed story that highlights the lives of black craftspeople and the objects they produced.

After years in the trades led to a specific interest in design and craft, Robell apprenticed with a local furniture maker, and also took an introductory fine woodworking class through the NBSS Community Education program. Through his practice, Robell is focused on bridging woodworking's opportunity gap, and more importantly, redefining the limited and Eurocentric scope of "period" and "fine" furniture. Through countless hours in the shop and on job sites, he continues to cultivate his craft.

Live streamed from NBSS
Virtual, free, and open to all
This conversation is part of In the Making, a public programs series where we connect with a range of new voices, fields, and perspectives. Learn more and view a full list of participants at the series homepage.