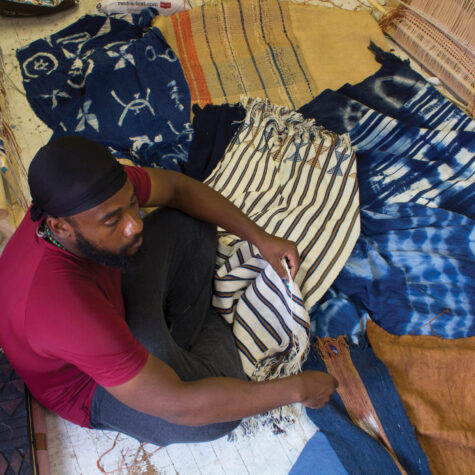 In the Making: Stephen Hamilton
Thursday, October 26, 2023 4:00pm - 5:00pm
Virtual, live streamed from The Royall House and Slave Quarters
Stephen Hamilton is an artist and arts educator living and working in Boston, Massachusetts. Stephen's work incorporates both Western and African techniques, blending figurative painting and drawing with resist dyeing, weaving, and woodcarving. Each image is a marriage between the aesthetic perspectives and artistry of both traditions. 

Join us in conversation with Stephen and Ja'Hari Ortega JM '24, In the Making Exhibition curatorial intern and NBSS Jewelry Making & Repair student. Live streamed from The Royall House and Slave Quarters in Medford, Massachusetts, where Stephen recently completed his inaugural "Reclaiming Our Hands" summer program—a paid art program for youth of African descent ages 14-19 to learn histories and techniques related to traditional African textile, and their relationships with histories of slavery in the Americas.
Live streamed from NBSS
Virtual, free, and open to all
This conversation is part of In the Making, a public programs series where we connect with a range of new voices, fields, and perspectives. Learn more on the series homepage.