Creating the Finest Instruments
July 10, 2023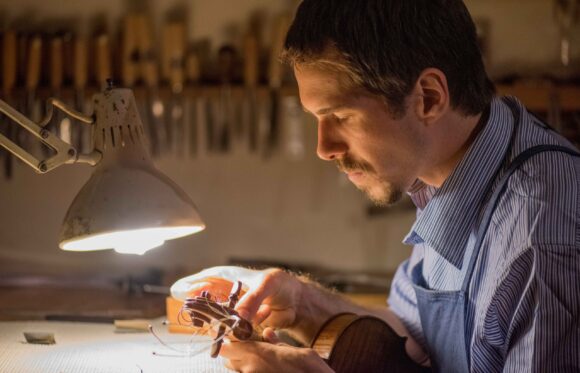 NBSS alumni were among world's finest instrument makers in a recent luthier competition.
At the most recent biennial International Competition of the Violin Society of America (VSA)— the largest violin making competition in the world—a number of North Bennet Street School Violin Making & Repair alumni received high accolades. 
Notably, NBSS alumnus Justin Hess VM '11 won a double gold medal for both tone and workmanship for his violin—a rare feat. And Justin wasn't the only graduate of NBSS to take home an award: Evan Davenport VM '16 won a gold medal for his bass, Peter Bingen VM '05 received a certificate of merit for tone for his cello, Edwin Halloran VM '02 was awarded a certificate of tone for his viola, and Christopher White VM '88 received a certificate of merit for artisanship for his violin. Additionally, Andrew Ryan, a Program Advisory Committee member for the Violin Making & Repair department, also won a certificate for artisanship for his violin.
The event, held in Anaheim, California in October 2022, was also the VSA's largest competition to date, featuring more than 258 makers from over 20 different countries, bringing with them more than 430 violins, violas, cellos, and bows. The event hadn't been held since 2018 due to the pandemic, and attendees were thrilled to be back in person.
Justin began making his award-winning instrument in the spring of 2022, as an example violin to show and discuss with clients, and also to contrast an instrument he made in 2018 for the same purpose. His previous violin won a gold medal in the 2018 violin competition. He describes his latest award-winning creation as big, full, rich, and very colorful, while also being snappy and precise. It is a Guarneri 'Del Gesù' model, which he says has agility akin to an F1 race car: crystalline in the upper register and with a growly low end.
"I've always been sort of a perfectionist by nature," Justin says. "I've always liked working on small things, and focusing on the details." Justin credits the foundational instruction that he received at North Bennet as a student and remembers fondly, where he made seven instruments altogether in three years. 
He really took to Department Head and Instructor Roman Barnas' teaching philosophy and approach. 
"Roman has a real focus on accuracy and precision. I appreciate his push for us to dial in precision as well as you can early on, and then from there, you can let yourself loose more creatively."
Roman says he aims to incorporate lectures and hands-on practice with his students. "My educational philosophy is a little bit of teaching mixed with training. If you're training for a sport or learning how to play an instrument, you have to have both of these things. In this respect, violin making is like a professional sport, where a person moves with skill, but the trainer evaluates them and communicates what still has to improve. In order for them to perform their best, you use individualized approaches," he says. 
He asks students to create six violins and one viola, so that they can feel confident in their abilities of making instruments on their own after graduating. This involves a lot of specific skill sets, given that creating a violin embodies so many different aspects of woodworking including inlay, bending, carving, planing technique, and joinery.
In addition, he says he tries to teach students another important lesson: "Being a good violin maker is about how to use the tools, but it's also about how to look. If you know how to look and examine, you can learn from the masters or even a current maker who does great work, and you will be more successful with your own instruments."
Justin also says going to NBSS solidified his resolve and work ethic, where he burned the midnight oil working late nights with fellow students. But he stresses that once a foundation is established, his advice to aspiring violin makers is "to continue pursuing knowledge and experience fiercely, whether in a shop with good work and fine instruments to study, or with the right mentor whose philosophy and vision you align with." That's one of the beautiful things about violin making, he explains—that it can be a constant, intentional, life-long evolution.
Evan Davenport, a 2016 graduate, agrees that the community at NBSS was energizing; a place that instilled in him how to work hard. "Being in an atmosphere and environment where everyone around you is working as hard as they can, to be the best they can, is really inspiring. It's kind of a springboard for the rest of your career," he says.
He notes that that drive wasn't exclusive to the Violin Making & Repair program either. "It's everybody—I felt it being around the Cabinet & Furniture Making students who are aspiring to make the best pieces of furniture, and the Preservation Carpenters who are trying to be the best at what they do."
Evan, who won a gold medal for artisanship for his bass, says winning this award was a lifetime dream. The bass took him about five years in total, and he worked on it in between client orders. His vision was to create an instrument that appeared to be made by Russian masters from the 1500s, but that had been lightly played and worn for hundreds of years. The resulting work is a heavily decorated instrument covered in gorgeous inlay and detail.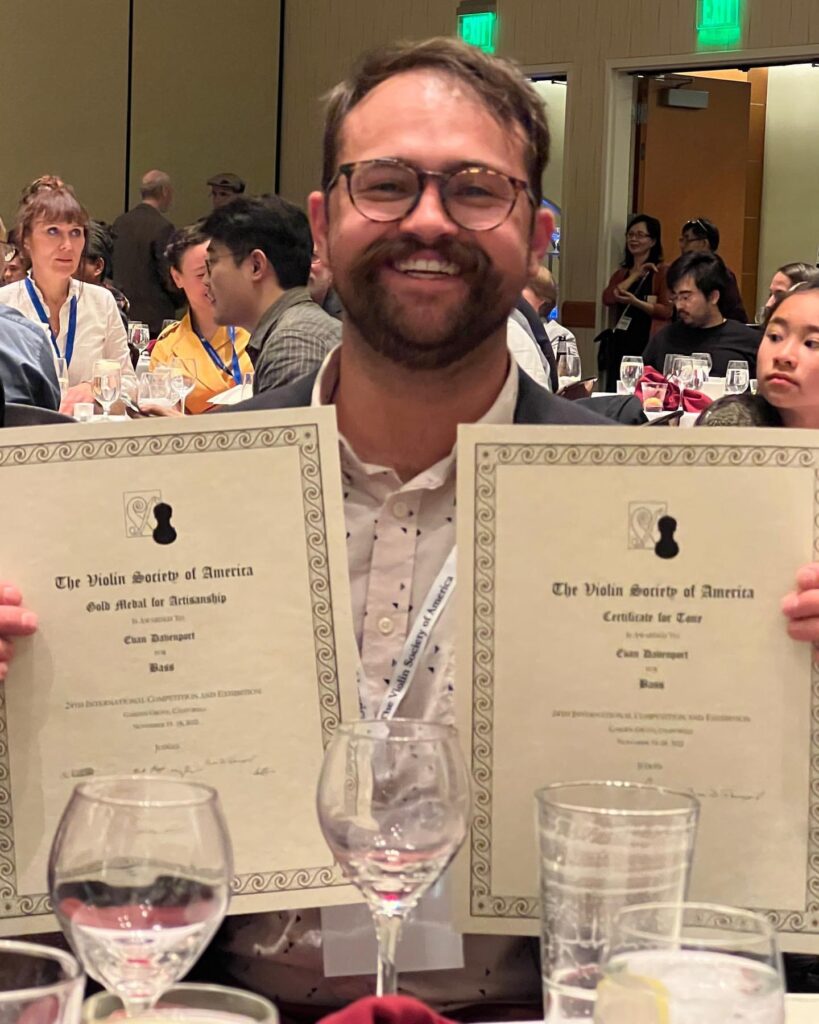 Marilyn Wallin, a former longtime board member and president of the VSA who taught at NBSS for 12 years, commended our alumni who were spotlighted in the 2022 competition. She remarked on Justin's win especially, saying that there are only a handful of double golds in the entire history of VSA. 
In her view, what makes the North Bennet Street School experience unique is "the small class size, the high quality instruction, and being in Boston—where you can be around lots of musicians and more concerts than you can ever attend."
She says since the founding of the VSA in 1974 and the beginning of competitions the following year, the organization has been committed to supporting string instrument makers and repairers, out of the need to preserve old masterpieces and foster education and awareness about violin and other string instrument making techniques.  
"The organization's goals are to help makers create instruments that are well made and wonderful-sounding, and to support those goals in the industry at large," she says. "Instruments in the competition are judged independently by a panel of making experts who evaluate and score for artisanry. The entries are also evaluated by a second panel of renowned players and are selected for the way they feel, the way they sound, and the way they behave under musicians' fingers and under the bow arm. It's like selecting their other voice." 
It's clear that these NBSS graduates have taken their strong foundation and are continuously growing their skills—and are on their way to becoming master instrument makers themselves.