At The Bench with Ann Cahoon JM '02
July 12, 2018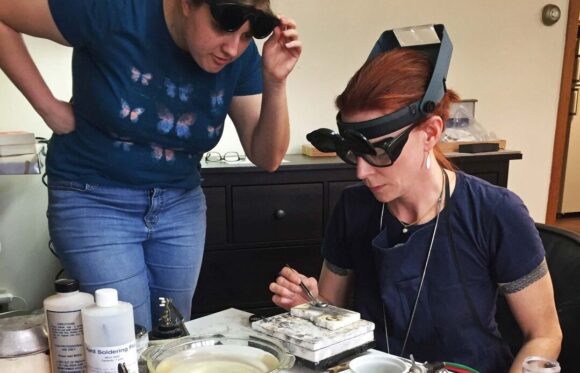 Ann Cahoon JM '02 has been working at one bench or another since she was 15 years old. "My interest was absolutely in jewelry," says Ann, now the Jewelry Making & Repair Department Head at North Bennet Street School, "I've always been fascinated by jewelry as objects."
Ann began her jewelry making journey at her local community arts and crafts center, then went on to earn her BFA in Metalsmithing, Jewelry and Ceramics at the Maine College of Art. After spending a few years working in the industry, Ann decided to go to NBSS to develop her practice, "I didn't have the technical skills I wanted or needed to actually realize my own creative vision, so I came to NBSS in 2000 as an alternative to graduate school," says Ann.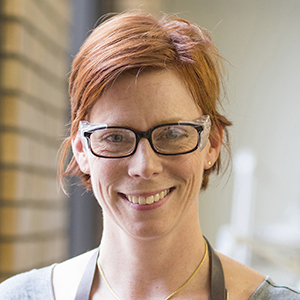 She learned all she wanted and more during her time at NBSS, under the direction of former Department Head, Rosemary Trainor. Today, Ann shares her expansive technical and business expertise with a new generation of jewelry makers.
"Anything I do at my bench or anything my students do at their bench, will always relate back to a core group of skills. One of the cool things about NBSS is the overarching educational philosophy. We do things in very specific ways and it leads to a well-developed practice."
Today, Ann passes these understandings along to her students and utilizes her unique skill set at her bench away from NBSS.
"At this point in my career, I'm an absolute worker bee. I am a solid number two in my organization. I work in my family business." That family business is Flying Marquis Studio, a one-of-a-kind and limited production jewelry design company.
Though it seems less and less people choose to marry each year, and even less are purchasing celebratory jewelry pieces, business at Flying Marquis Studio is going well, which keeps Ann busy at her bench and beyond. Depending on the day, Ann could be setting pricey stones under a microscope, or helping a lucky couple design and make their own wedding bands from scratch.
"Couples are way more interested in seeing a wedding band that is an expression of themselves and their partnership." says Ann "If people are looking for something different, they come to us."
Because of these changes in the industry of wedding jewelry and intricate design requests of eager customers, Ann's bench looks a bit like the corner of a microbiologist's lab, "The microscope is starting to play a really big role in the industry in general. A lot of people have started setting under microscopes. Magnification is king around here."
Ann speaks fondly of the satisfaction born from helping couples through this new semi-DIY trend in wedding jewelry. However, according to Ann, nothing quite beats the feeling of watching her NBSS students move from amateur makers to full fledged goldsmiths, "My favorite thing is watching students come to that moment of realization where they understand they can solve their problems – when they've gone past the point of just being a student and transitioned into being a goldsmith," says Ann "Sometimes it can be a crisis that tips that balance and sometimes it can be a success."