Building on Tradition: NBSS in Early American Life
March 1, 2021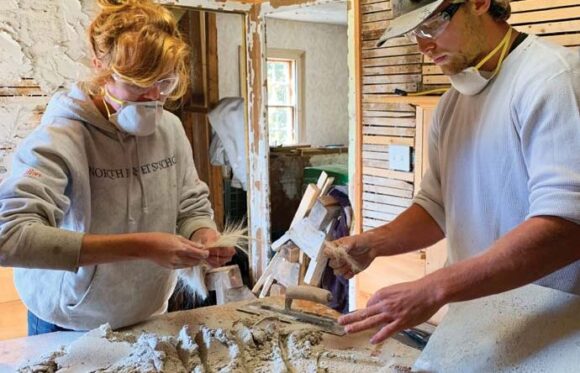 NBSS was featured in the January/February 2021 issue of Early American Life Magazine, in an article titled "Building on Tradition."
They highlighted our 140 years of vocational training and how we reopened the School in September, now working in an enhanced safety environment using integrated video technology, masks, Plexiglas barriers, and physical distancing. The piece also includes interviews from Director of Admissions & Enrollment Rob O'Dwyer and Provost Claire Fruitman CF '96.
The article begins:
"Founded 140 years ago to give students a path to meaningful lives and livelihoods, Boston's North Bennet Street School has continued that work despite the pandemic, hosting on-site and remote training in nine enduring crafts.
The vocational school prepares students for careers in traditional trades that use hand skills together with evolving technology, with a mission to preserve craft traditions and promote a greater appreciation of craftsmanship. The students' success has earned the school national and international recognition.
Thanks to its workshop environment with long-practiced safety protocols, NBSS was able to bring full-time students back last September to finish coursework they began in the spring, noted Rob O'Dwyer, director of admissions and enrollment.
"We have a deeply ingrained culture of safety at NBSS—things like wearing goggles, following health guidelines, self-reporting any issues, and so on," he explained. "Wearing face masks and maintaining physical distance became just another part of the training for our students, which they will be expected to follow when they enter the workforce."

Read the full article here (pdf).
Shared with permission, Copyright © 2021 Firelands Media Group LLC, as published in Early American Life, February 2021