Engaging Technology: Dovetailing Hands-On and Remote Learning
January 4, 2022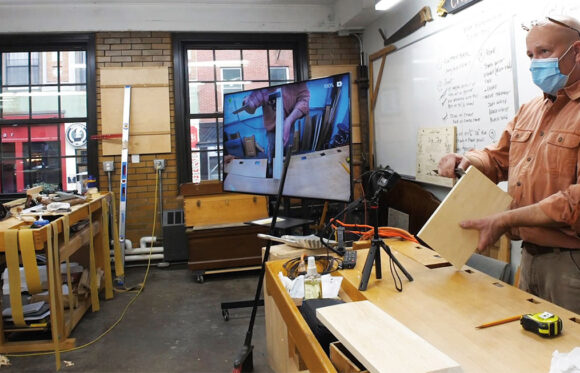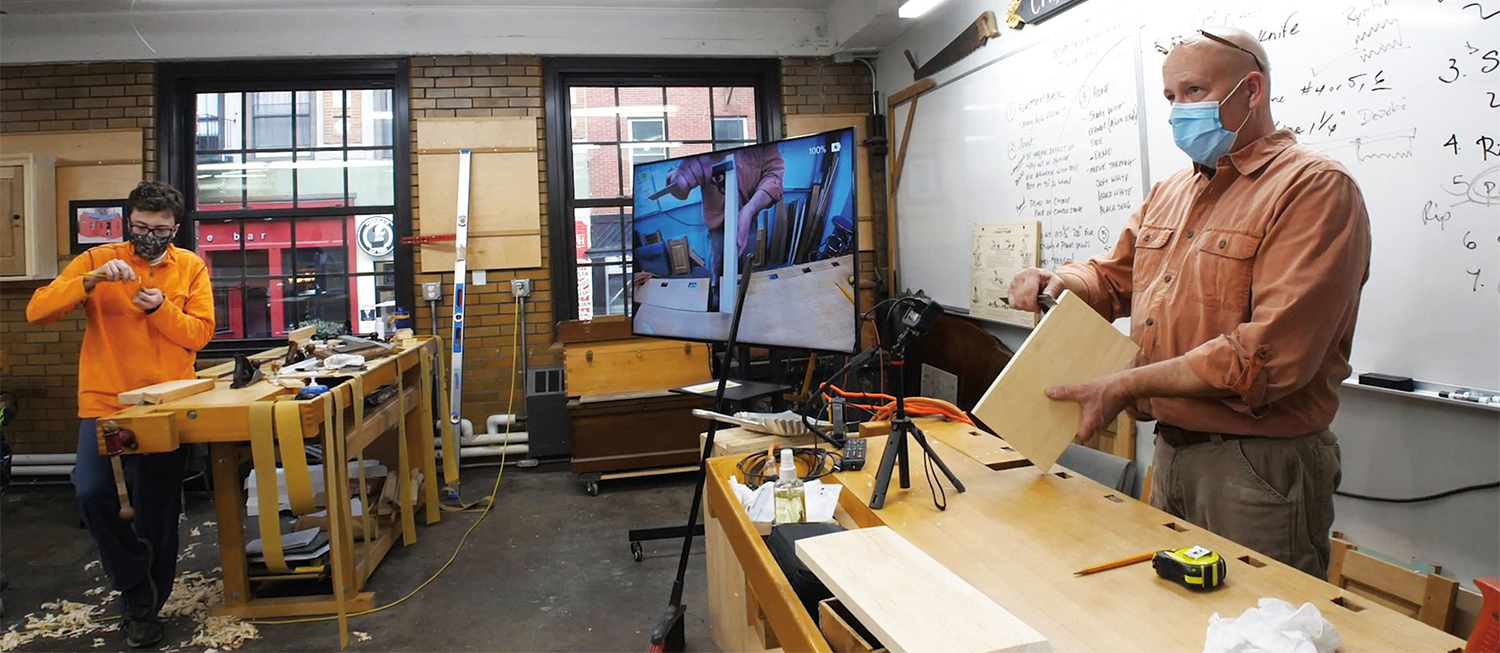 Dynamic events and unexpected partnerships developed during 2020, and the NBSS mission of "using hand skills in concert with evolving technology" was put to the test.
As we began to reopen, we used our hands to hold lathes as well as video cameras, to sew book bindings and log into Zoom conferences. We took age-old craft traditions and dovetailed them with current technologies. The School, its staff, and its students evolved. We connected. We persevered and created. We increased our literal and figurative bandwidth.
Yet even while our physical doors remained closed, we expanded our reach, extending far beyond the boundaries of our brick and mortar home, to connect through the wired world. The entire planet became our studios, classrooms, and workshops.
2020 Open House
The 2020 Open House was unlike any other, as the School piloted an all-virtual format. A small, behind-the scenes team managed technical operations while the live program took place at NBSS and beyond. Using just their personal phones, Rob O'Dwyer, Director of Admissions & Enrollment, and Kristen Odle, Retail & Exhibit Manager, acted as camera persons, producers, and co-hosts to three days of building tours, interviews, and demonstrations for prospective students and the public.
"Pivoting to an online Open House event was a very conscious way to continue recruitment efforts within a virtual environment," Rob explains. The event provided an insider's look, with up-close introductions to faculty and students, their tools, process, and finished work. "It was so much fun," he added. "We wanted it to be candid, and humanize the spirit of NBSS."
The 18 hours of programming were potential students' only real access to the School prior to enrolling for 2021, and the stakes were high. "The Virtual Open House let guests see what was actually happening inside the School, and demonstrated how our training is a process, a journey of a thousand steps," Rob shared. "At NBSS, student work is absolutely stunning; seeing it in progress shows how students learn by doing, and makes training here accessible."
For students, as well as alumni and staff, the expansion of technology has had reach, sometimes profound. Due to Covid-19 restrictions, Cabinet & Furniture Making student Jeremy Wiley CF '23 wasn't able to visit the School prior to enrolling. The virtual Open House was his only window into the School, and it was enough to convince him. "When the Open House tour entered the shop, there was a glimpse at some of the chair leg patterns hanging on the wall. After seeing the beautifully turned cabriole legs, I knew."
Some of the biggest surprises over the past year and a half came during remote learning opportunities. The level of engagement, possibility, and human interaction was elevated in ways that were hard to imagine in advance, and the atmosphere of inclusion and intimacy created would have been impossible to predict.
live Open House attendees
YouTube views and counting
Questions answered live over Zoom
Virtual Piano Technology Conference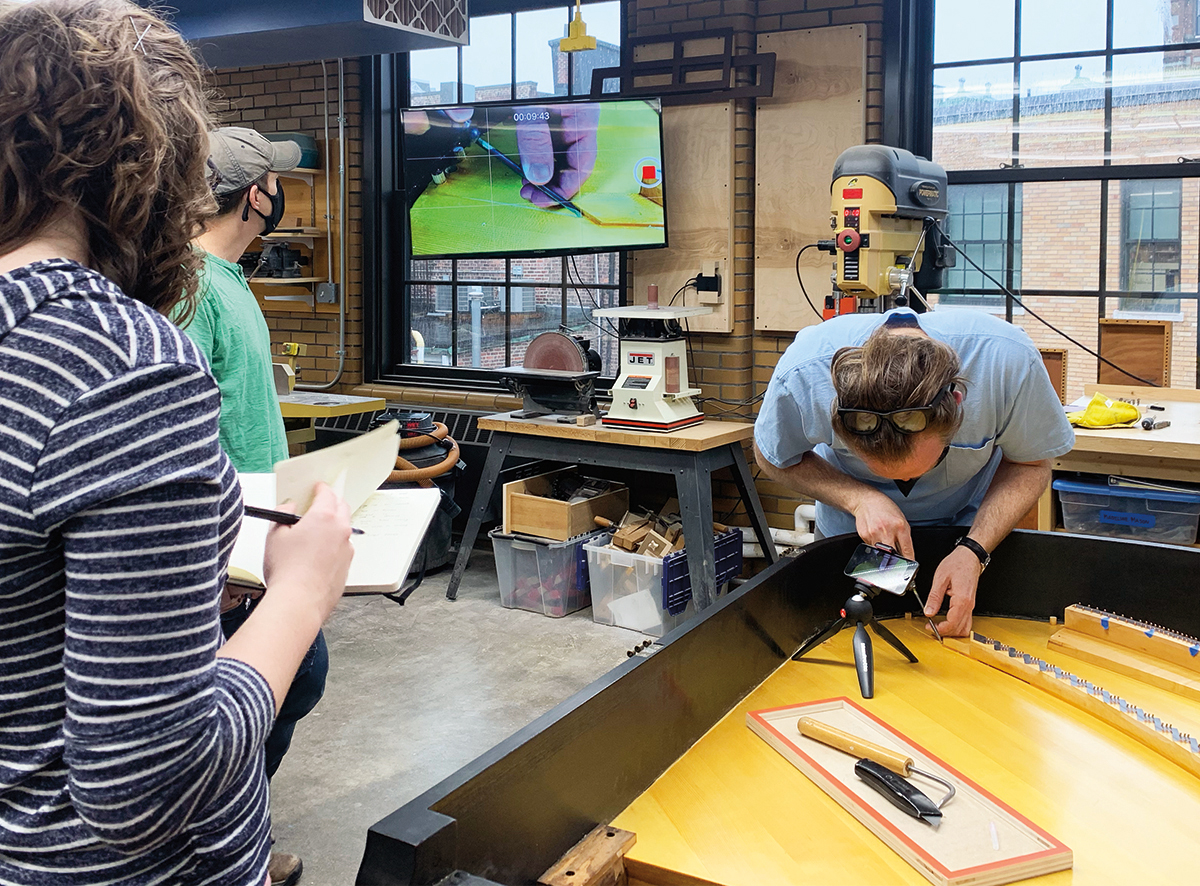 Piano Technology students and faculty often travel to annual regional conferences, but all were disrupted during the last academic year. In a feat of inspired collaboration, instructor Emily Townsend PT '07, PA '08 crafted an extremely well-received virtual conference for 85 students and alumni from nine countries and 24 states.
"Our grads are a great group of folks," Emily said. "It was a real testament to the department's philosophy of lifelong learning. A lot of these people have been in the field for 20 years or more, and they still show up to learn." The attendees were separated by space and multiple time zones, yet, as she recalled, the event held an unexpected intimacy. "The attendees shared great advice, wisdom, and stories about why they still love this work after many decades, and what continues to make it all worthwhile."
Hybrid Learning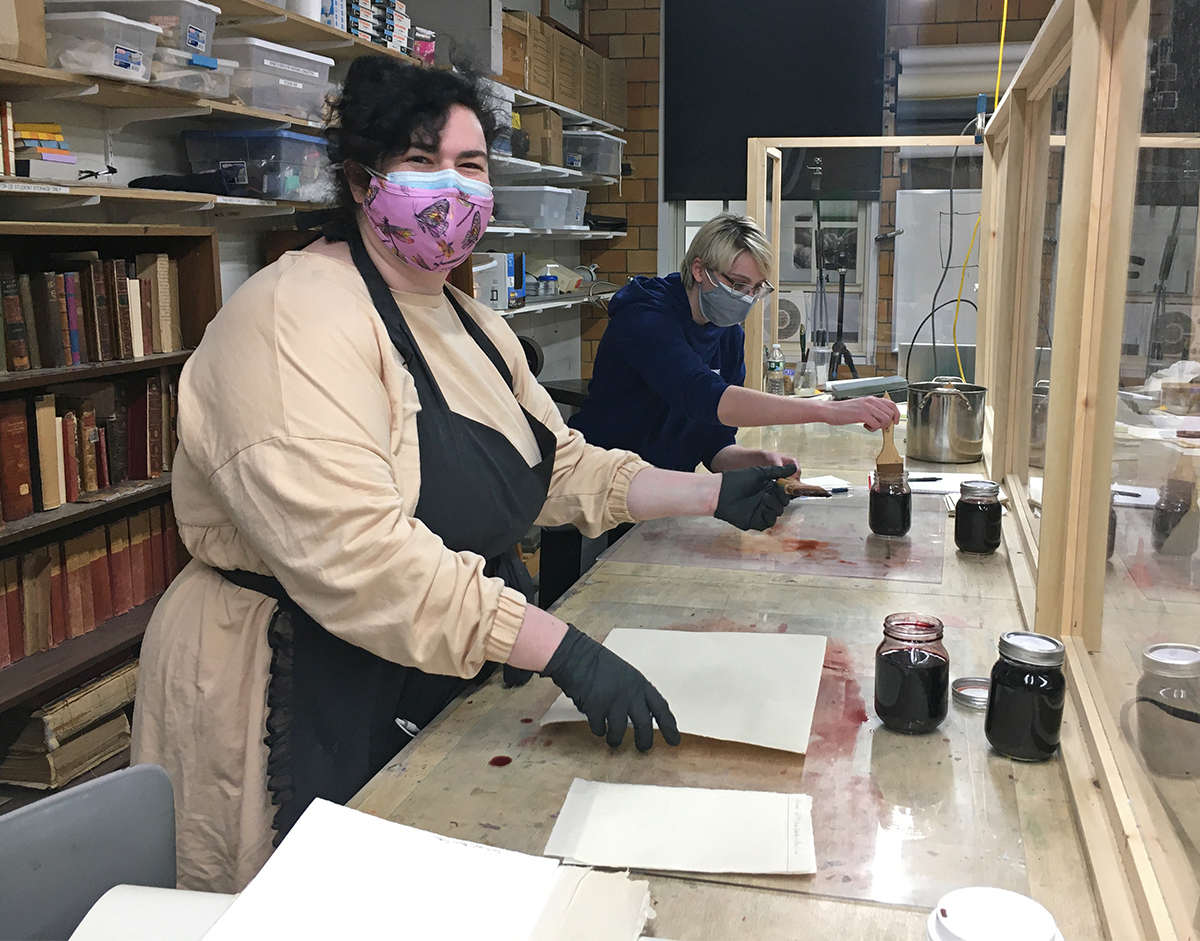 Remote and hybrid learning were offered across the School. Radha Pandey, an Indian bookbinder living in Norway, held a hybrid Zoom workshop for Bookbinding students in March 2021 to explore Eastern and Indo-Islamic papers. Radha teaches in the US, Norway, and India, and has previously been an on-site guest instructor at NBSS. Her three presentations included lectures and demos, followed by students working independently in the bindery.
"Radha's workshop was a highlight of the year in the bindery," says Jeff Altepeter BB '99, Bookbinding Department Head. "She presented virtually each morning and then we did hands-on practice. It was a successful experiment with a lot of connection on our end. We were so appreciative of the opportunity to engage with somebody who literally couldn't be with us in person."
In the Making
Similarly far-reaching in its scope, the School's In the Making (ITM) interview series has opened virtual doors from Boston, US to Kerala, India. "This platform enabled an easy transition into the more global conversations that ITM has become," explained host Kristen Odle, Retail & Exhibit Manager. "We're able to go beyond our community to connect with tradespeople and craftspeople all over the world."
The series' warm, upbeat approach to new voices, fields, and perspectives caught on, and it blossomed into a platform for thoughtful conversations on anything from make-shift work benches to a favorite bread recipe. The series had a deeper goal as well, to spotlight and elevate those from backgrounds underrepresented in their fields. After 18 episodes, the first season closed last May with a woodworker in Venice, Italy.
President Sarah Turner has written about "the generative opportunities that come with change." Nobody will deny that 2020 demanded change in myriad ways, and NBSS also had the ambition to evolve, holding to the past and stretching into the future. Each day presents an opportunity to be enriched, perhaps as never before.
This article is from our 2021 Annual Report. Read more stories or view more issues here.