Floor to Table
May 9, 2023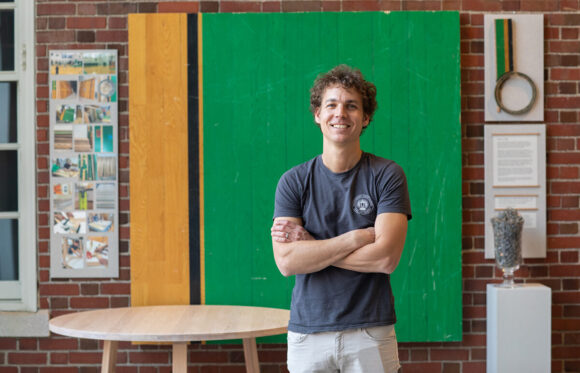 Farm Floor to Table
When he was 22 years old, over the course of two years, Sandy Weymouth CF '18 worked alongside his dad to build a log cabin in the deep woods of Maine. That experience was notable not only because it tapped into his interest in the natural world (he was a geologist-turned-environmental engineer at the time), but also because it foretold a future he didn't see coming.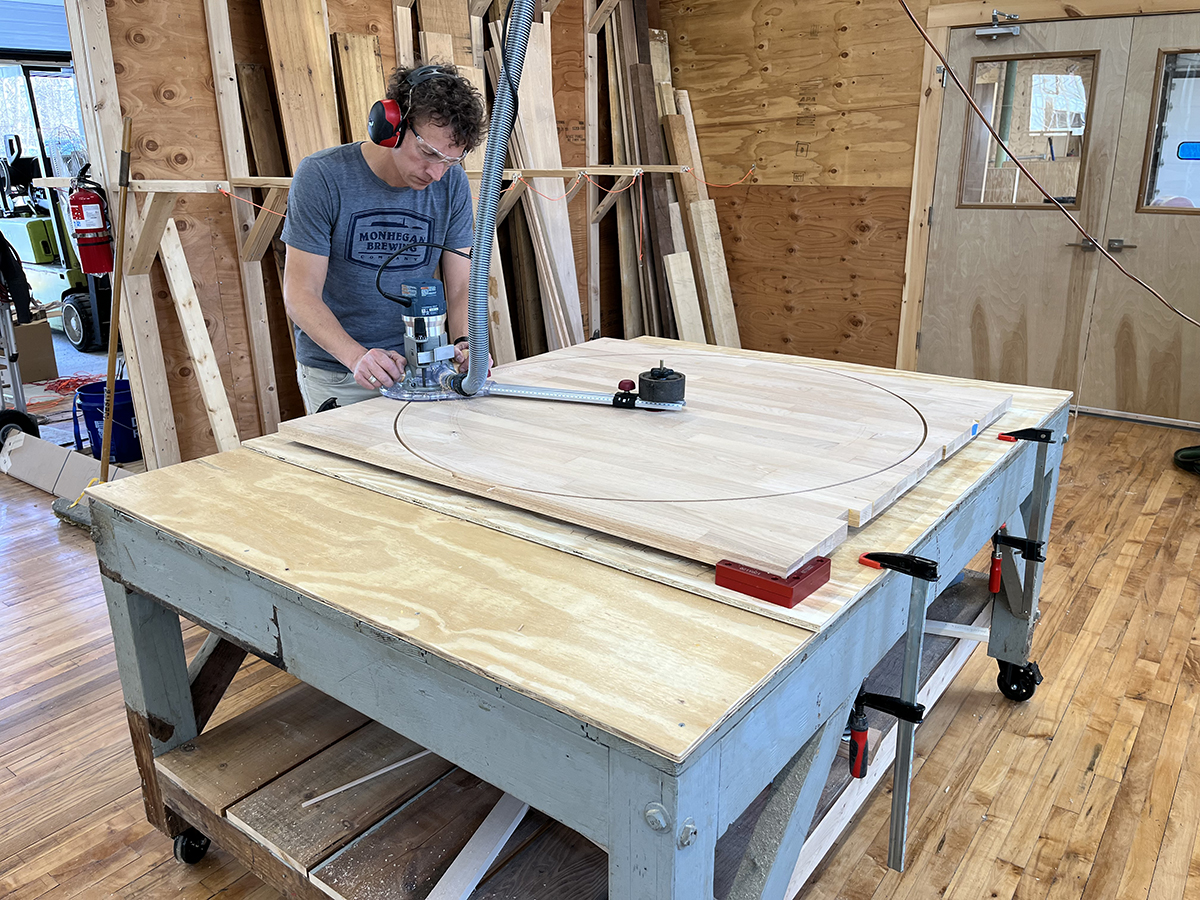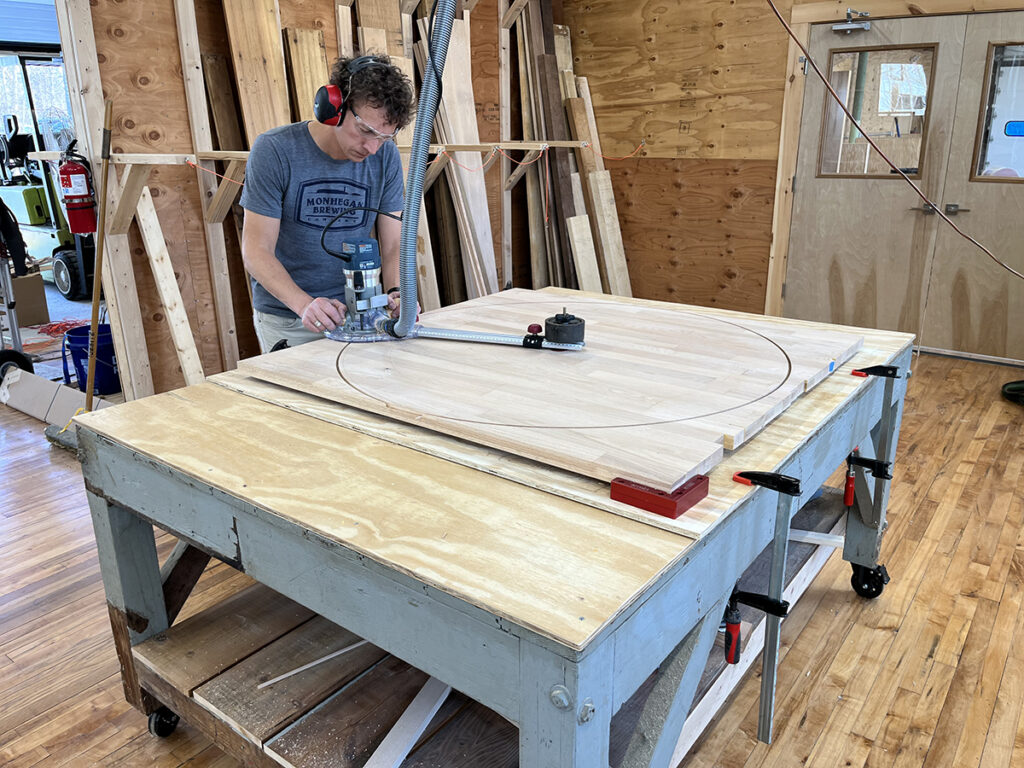 Several years later, an everyday experience summoned fond memories of that time laboring in the forest, and helped ignite what he refers to as a "craving to make things" with his own two hands.
Sandy reflects, "When I started buying nicer furniture in my early 30s I was shocked at how much 'good design' actually cost. As my wife can attest to, my first response when seeing the price tag of a walnut armchair was to say 'I could make that for much cheaper!'" he says with a laugh. "Of course, I had zero knowledge of furniture making at the time, so I didn't really know what I was talking about. But it set the wheels in motion."
By his late 30s, Sandy had dabbled in woodworking, including taking a short class at the Eliot School in Jamaica Plain. At the recommendation of his instructor, Sandy looked into NBSS and was immediately drawn to the School's Three Month Furniture Making Intensive. After completing the course, he secured a short internship with an NBSS graduate, who encouraged him to enroll in the School's Cabinet & Furniture Making program. Within three years of his first woodworking class, with an NBSS diploma in hand, Sandy officially started his newfound career. 
Today, his Hingham-based company Sawtimber crafts furniture for private clients, and importantly, helps them "connect the oak tree in the woods and the table in their dining rooms, to better understand the importance of sustainability." 
An opportunity presented itself in late August 2022 that would draw upon Sandy's training at NBSS, and reconnect him with the School.
Kristen Odle, NBSS Retail & Exhibition Manager, received an email from Select Demolition, who was hired as part of the demolition of the Boston Celtics Training Facility in Waltham, MA. They felt that the basketball court's oak flooring had too much historical significance to end up in a landfill. So after carefully dismantling and salvaging the material, they wanted to share it with a number of local vocational schools, including NBSS, to highlight both sustainable practices and the ingenuity of tradespeople.
Kristen knew just the furniture maker to contact for this one-of-a-kind opportunity.
"When I first saw the flooring in a storage facility, I knew that if anyone could take on this kind of work, they'd be an NBSS grad. Sandy—with his refined and modern design eye—immediately came to mind as the person to update and elevate that material into something completely transformed."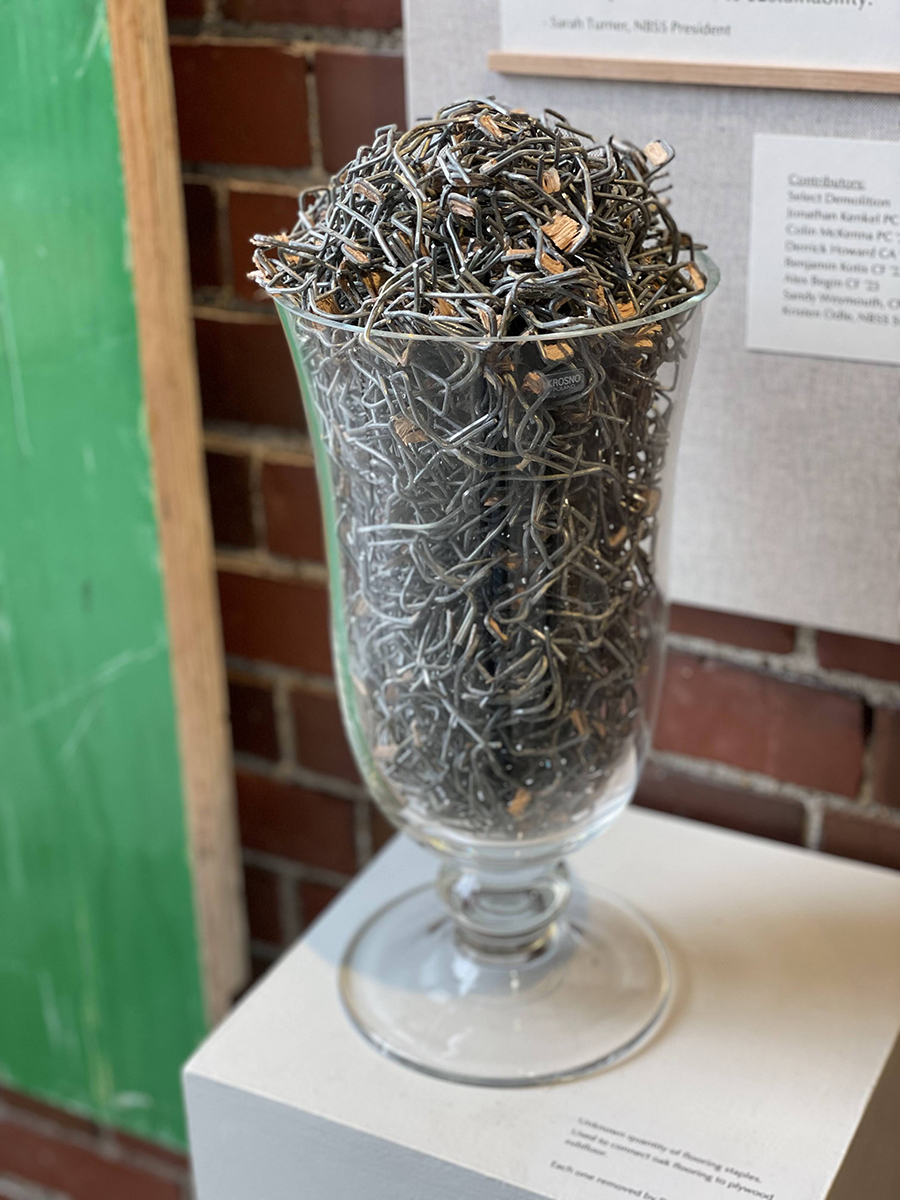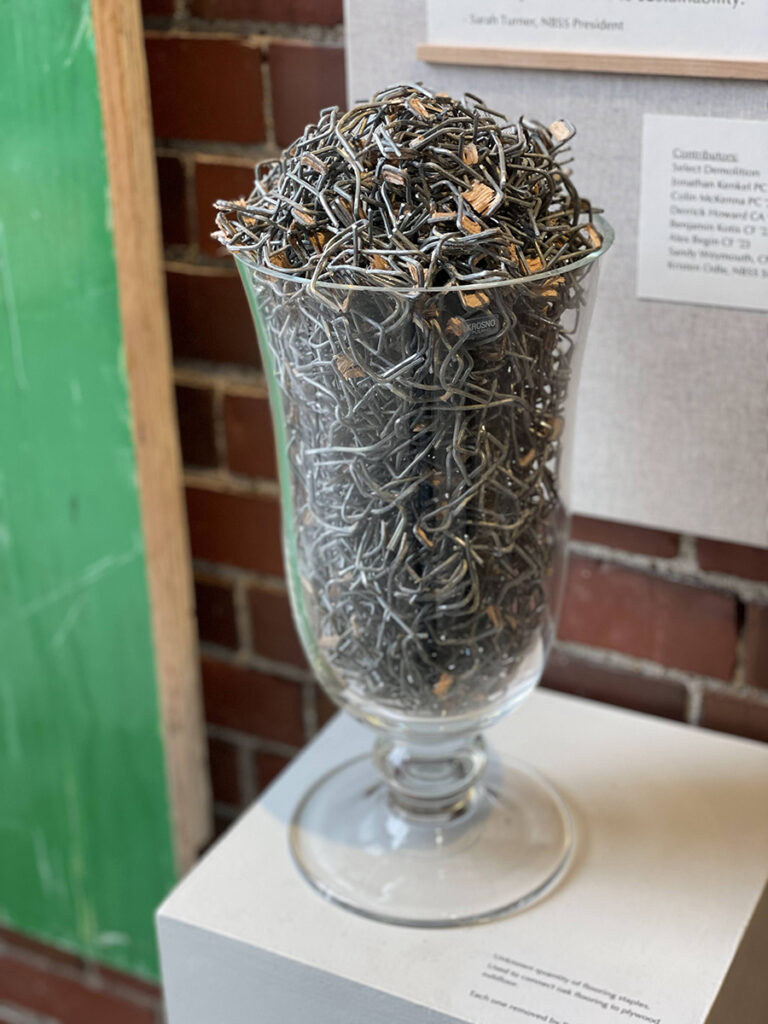 At first, Sandy was hesitant to accept the commission. "I didn't have any experience working with reclaimed wood and this particular lot looked challenging. It was splintered, full of thick staples, and coated in a heavy varnish, not to mention the deep green Celtics paint," he remembers. Together, Kristen and Sandy developed a plan to "remediate" the material and prepare it for a second life.
With contributions by seven students and staff over the course of several months, the flooring was detached from a subfloor, hundreds of staples removed by hand, and the wood was milled, jointed, glued, milled, and jointed again. 
Sandy was floored (pardon the pun) when he saw the finished product. "The milled wood looked like any normal batch of white and red oak that I would get from the lumber yard. It was simply my inexperience with reclaimed wood that led to my initial inability to see its potential," he shares. An unrealized design from Sandy's portfolio was selected for the project: a Scandinavian-style, three-legged kitchen table with intricate joinery and a modern aesthetic. After working out the details in Rhino, and prototyping a scale model in his workshop, he felt ready to begin. 
Sandy notes, "There was no room for error here. We had just enough wood to make the table, and so I wanted to get it exactly right."
And right he did. The resulting piece is unrecognizable from its previous purpose, with its modern lines and pickled white finish. Notably, Sandy made sure to put the wood grain on display, not only as a reversal of that Celtics green, but also to connect the table to its natural origins. He relates, "My ultimate goal with Sawtimber is to move towards creating my own line of furniture that would include this Breakfast Table along with several other pieces I have already made."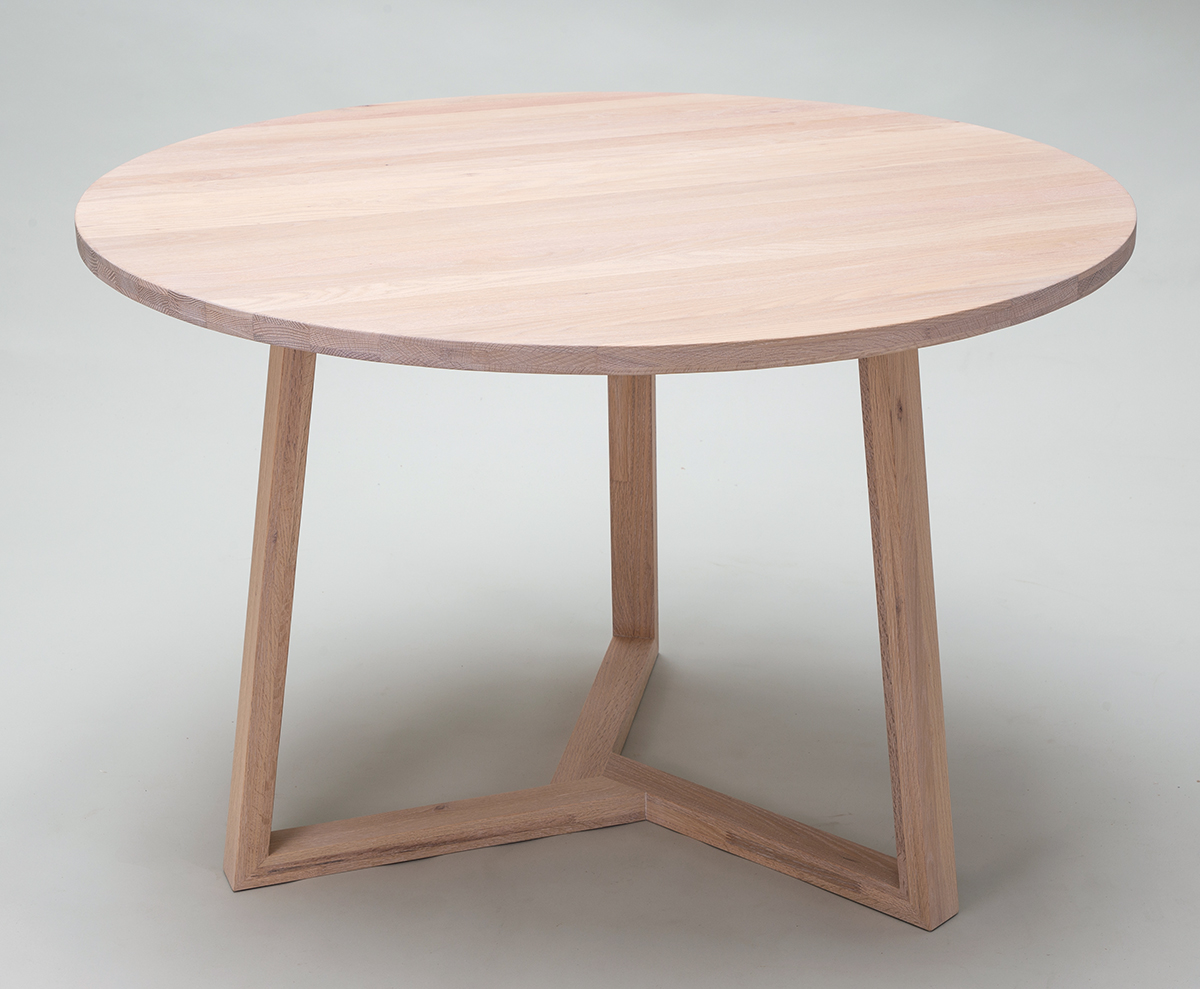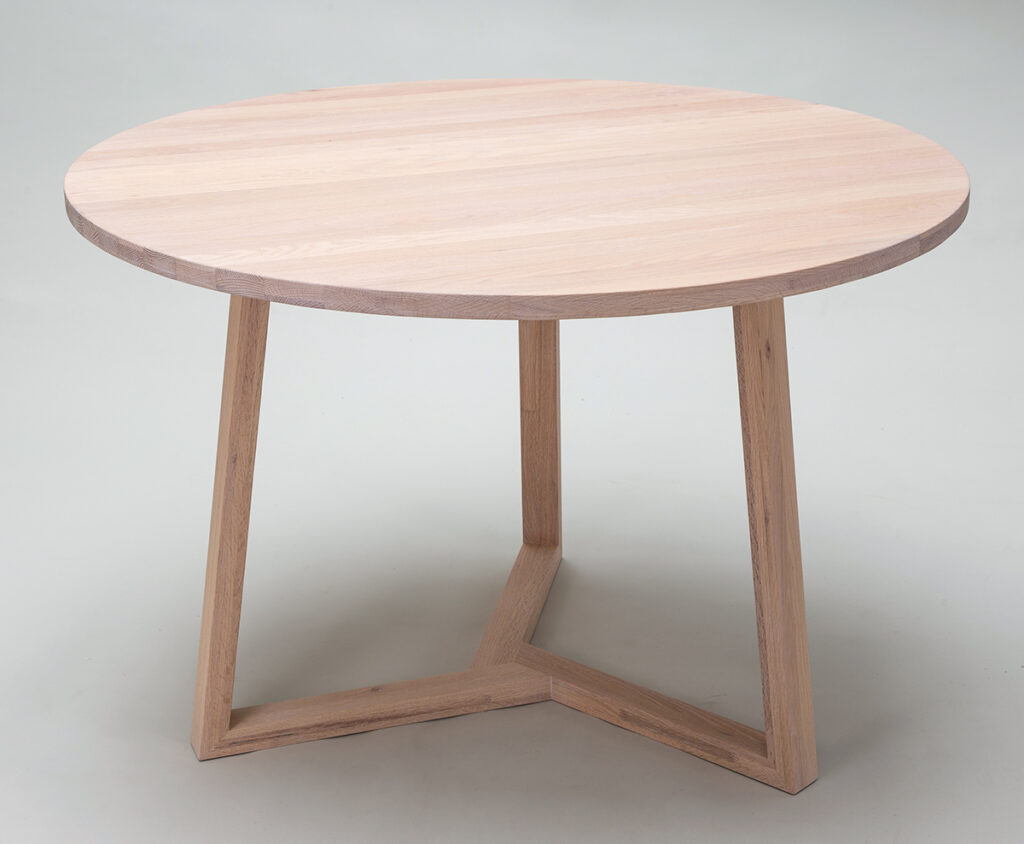 Kristen shares, "We set out to completely transform the donated flooring. What we found was a creative challenge—and proof that by applying the right skills, energy, and time, landfill-bound material can be converted into high-end, livable furniture. I'm so excited to be able to share Sandy's work as part of our 2023 Exhibition: Continual Craft."
Reflecting on both this project and his experience at NBSS, Sandy shares, "I am thrilled that Kristen invited me to work on this unique project. I enjoyed the challenge of not only designing a new piece of furniture, but also figuring out how to make it," he says.  
"Of course, I could not have taken this on without my training at North Bennet.… While I have much more to learn on my woodworking journey, I know the School's network of instructors and alumni will always be at hand, and I'll always be a part of the NBSS community.
The Breakfast Table was made possible through the donation of materials from Select Demolition, LLC, and the transformative work of NBSS community members:
Jonathan Kenkel PC '22
Collin McKenna CF '20, PC '22
Derrick Howard CA '22
Benjamin Kotis CF '23
Alexander Begin CF '23
Kristen Odle, NBSS Staff
Sandy Weymouth CF '18
---
View the Breakfast Table along with 50+ other sustainably-minded works as part of North Bennet Street School's 2023 Exhibition: Continual Craft. On display Friday, May 5 through Friday, August 12, the exhibition explores how NBSS students and graduates are contributing to a more lasting future by crafting objects with care, using materials considerately, and repairing the world around us. 

North Bennet Street School gave away the Breakfast Table this summer during a special raffle!