2023 Graduation Ceremony
June 4, 2023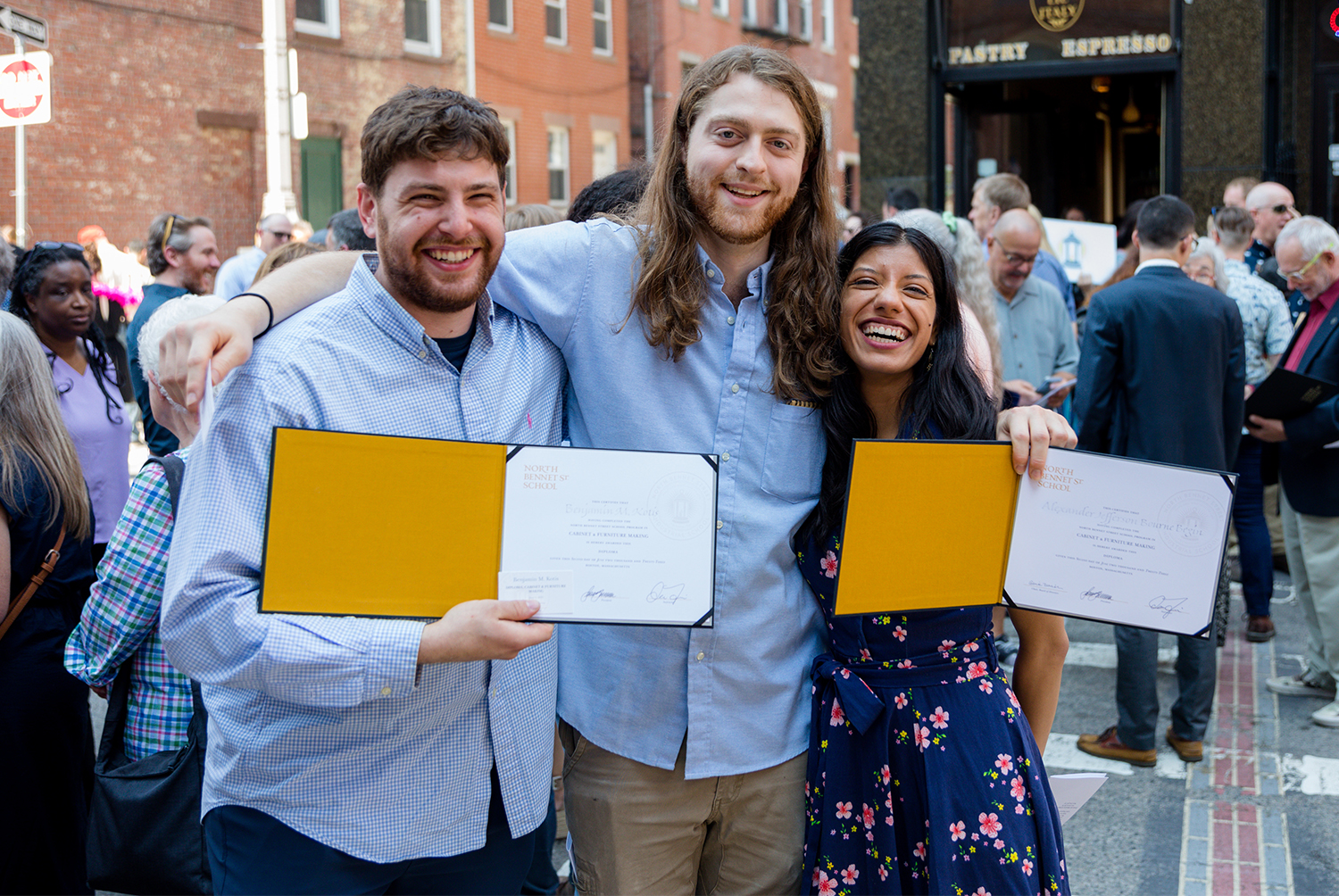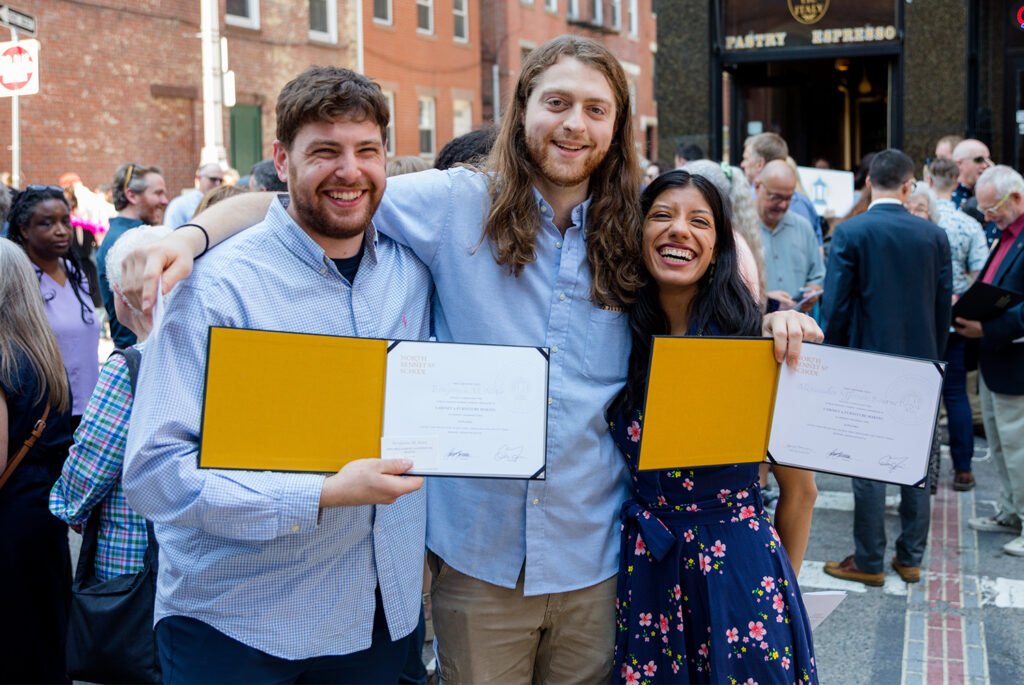 Finishing the requirements for graduation at North Bennet Street School takes hard work, commitment, and dedication at the best of times. Our 2023 graduating class demonstrated these qualities and more, staying the course through the significant challenges of the last two years. We couldn't be more proud of all that they have accomplished.
On Friday, June 2, our assembled faculty and staff—along with family, friends, and supporters—celebrated the joyous graduation of 85 students at the historic Old North Church. We were honored to have the Greenway's Chris Cook deliver an inspired commencement address, and also delighted to hear our Distinguished Alumni Award winner Ilah Cibis JM '05 share her insights in a moving speech to graduates.
---
Watch the Full Ceremony
Hello and welcome. My name is Sarah Turner, I'm the President at North Bennet Street School—and it is always such a special day when we get to be here, together, in the Old North Church. This is a group of do-ers and makers—active people—but I hope you'll take a moment to be still in this amazing building, with such history and legacy, and feel the accomplishments of your day, recognizing the shared work of all gathered here. We're here in a church built in 1723 that has seen incredible history. We know it most for its role in the American Revolution, but there are so many stories of people's lives entwined with this place.  

The Church is doing a wonderful job of sharing that history, and looking honestly at it. I encourage you to read more on their site: there's a moving series describing the people who sat in these pews many years before you. After all, history and progress and the evolution of community is made by individuals, by people, often in collaboration and partnership, which seems worth reflecting on today.   

Our collaboration this morning is to celebrate your efforts: our 2023 graduating class, 80+ new NBSS graduates celebrating with families, friends, and fans. For those of you not able to join us in person, thank you for joining from a distance. In recent years, we've had people tuning in from around the country and around the world, to cheer on their loved ones. Thank you to the extended teams who helped make this day possible for our graduates—we know that you deserve our appreciation too. 

Perhaps closest to our students here, in the shop, in the field, at the bench, is our faculty. Last winter, I had the occasion to write to each member of the faculty, to recognize that their work represents the highest level of skill and expertise in our very specialized fields. And that their role asks them to be, all at once, excellent craft- and tradespeople, leaders and practitioners in their discipline, and sensitive student-centric educators. Their work is balance to both preserve and to advance—and that's our mission at NBSS: we are committed to preserving and retaining craft and trade knowledge, and at the same time, we, like all places, also need to adapt, change, and advance. We look to our faculty to do this—inspired by our students—and they deserve so much credit for all the ways they rise to this challenge. 

They don't do it alone. Thanks are due to our Teaching Assistants: a fairly new group of talent at NBSS. Our TAs are short-term assistant appointments that help us give opportunity to recent graduates, develop a new and diverse pool of talent, further supporting students, and the faculty. Thank you, TAs, for your work and the experience that you'll take into the field.  

My appreciation also goes to our staff: every day the staff makes the parts come together to connect the strengths of our programs. You bring new voices and new people to us, you link us to craft and trade partners and supporters, you help our students navigate the balance of life and school, and you always have an eye for how things can be better, what opportunities exist, and how NBSS can truly function as a whole community. North Bennet's work never happens alone; we are always looking for mutual benefit and the staff has such a key vantage point to drawing those connections and collaborations. 

It is always a pleasure to thank Tony Malionek: our organist today. Tony is a graduate of both our Basic and Advanced Piano Programs. Having Tony play, having a fife and drum walk us through the North End: these are important markers of NBSS tradition and celebration, creating a very special ceremony. Thank you, Tony. 

Every spring, when we gather to launch graduates into their next chapters, it's a moment that the whole community comes together to celebrate, and so: I become keenly aware of all the work, people, and partners it takes for us to get to this day. In addition to the groups I've mentioned, also key to the success and longevity of our student's work is how you take it out of School, into practice, into application and service—into community.  

And you're ready to do this. Through relationships built here and your own initiative, you'll be taking your skills all across the county to share your expertise. You'll go to New York to work for Faust Harrison Pianos. You'll be moving to Minnesota, Ohio, Los Angeles to start our own business. Some of you will stay close by: taking positions at the Northeast Document Conservation Center, a long time NBSS employer partner. You'll work at Mass Lock in Malden and at a retail jewelry store with national reach. You'll build for people, working for Platt Builders, Columbia Construction, and others. And you'll share what you've learned, several of you will go on to teaching positions—jobs already secured.  

We've talked this year about North Bennet's role in the educational ecosystem. We're unique and specialized, yes, but we're not isolated and we're not apart. So much of what we're able to offer students, readying them for next steps, is done in partnership. Clients who hire our students to build sheds that will move to their homes; employers and companies that host us for field trips: going to places like Assa Abloy, Starrett Tools, Mason & Hamlin Pianos, Autodesk, and working in places like Memorial Hall in Charlestown, a historic home in Norwell, the Boston Public Schools…and even in City Hall to tune Mayor Michelle Wu's piano. There are so many partners that extend our reach, and they are made possible by the School's network, connecting us to our graduates, our fields, our next opportunities. 

This exists because NBSS is truly in a dynamic and generous community that wants to see our students succeed: an extended group of volunteers and champions who help to make so much possible. So, before we send our graduates forward, let me thank the Board of Directors and our Advisors for always being on hand, smartly guiding and planning how NBSS will grow and thrive.  There are so many things that can distract during a year, but the Board is always clear-eyed about progress for students, supporting faculty, valuing staff. They keep us focused, with a larger context for all of us in mind.  

And with all that surrounding you, graduates, all that wind in your sails: congratulations on the hard work you've put in, day after day, with your classmates, your faculty, all of us. You've built to this moment and we're so proud to think of you as our next group of alumni, the group that will now provide skill, opportunity, and growth for others. We're so glad to have you becoming North Bennet in practice, in service, in community.
Congratulations graduates!

I imagine you feel incredibly proud of all the accomplishments that bring you here today. The challenges presented by instructors, the discoveries in materials and techniques, the high standards you mastered, the frustrations that surprised you, the victories that made you smile, and the challenges behind the scenes which no one saw, are all what we celebrate today.

And today, as you transition from student to graduate, you join our talented alumni who will now be your colleagues for life. I encourage you to seek out, learn from, and even teach fellow alums. Don't be shy. Make that effort to forge connections. Whether now or decades from now. And even if you build your network slowly, don't feel pressure to create a perfect path. Journeys with zigs and zags, and detours I think can be the most fulfilling. You've been trained and educated in more ways than you might realize. And relish what you gain today: the support of talented alums who just might become a valuable connection, colleague, or friend.

In that spirit of valuing and recognizing talented graduates, I now introduce the recipient of the 2023 Distinguished Alumni Award: each year awarded for professional accomplishments, contributions to industry, and work with schools and organizations to promote excellence in craft.

This year's award goes to Ilah Cibis, a 2005 graduate of the Jewelry Making & Repair program.
Ilah, the owner of Ilah Cibis Jewelry, works with recycled gold, silver, and platinum as well as responsibly sourced stones. She has specialized in lab-grown diamonds since 2014 and is the only jeweler in New England to offer Aether Diamonds, the world's first carbon negative diamonds made from carbon dioxide extracted from the atmosphere.

According to Ann Cahoon JM '02, Jewelry Making & Repair Department Head, "Ilah is a successful business owner, with exceptional skills as a traditional bench jeweler which she uses to drive her business and brand. She has long focused on sustainability and was an early adopter and thoughtful user of ethically manufactured, lab-grown diamonds."  

We hear companies and individuals say they hope to leave the world a better place: and for Ilah, this is a core value. She strives to make her business a space in which all are welcome. Her priority is to create an inviting, inclusive experience, and thoughtfully and intentionally push back against toxic norms in the jewelry industry. 

She says proudly, "I make jewelry for everybody and every body. However you present, whatever your gender identity, sexual orientation, size, age, race, or ability—I want to give you the shopping experience you deserve and make pieces that speak to your uniqueness."

Ilah uses her platform to open the door for others who might otherwise have been shut out. She finds innovative, safer solutions to create beautiful pieces of work. Ilah is an involved member of our community: a guest speaker, instructor, Program Advisor Committee member, and a helpful resource to many current and former students. She was also a driving force behind bringing computer-aided design into the Jewelry Making & Repair curriculum.

And for all of her accomplishments and talents, we are honored to claim her as a graduate, and proud to honor Ilah Cibis with the 2023 Distinguished Alumni Award.
I am very honored to be receiving this award. I care deeply about this School and have always been a proud graduate. The programs you all just completed are incredibly physically, emotionally, and intellectually difficult. Learning to work with your hands and craft with a high degree of excellence is not something that everyone can do, and you should all be immensely proud of yourselves.

However you choose to use your training, I think you will be surprised by how well North Bennet has equipped you in ways beyond just hand skills. Before coming to North Bennet, there were very few times in my life that I truly had to "start over." In school, you write a paper, you edit it, you get a grade. In all of these programs, there is room for editing and tweaking, but more than a few times I was told by my instructors that I had to start over. Materials had been over-worked, or a small mistake early in the process had cascaded through every step.

When you are making things, sometimes you just have to start over—which on the surface when I got here, felt like failure. But Rosemary (Ro), Lisa, and Megan, my instructors, taught me that starting over is always an opportunity. You can only know when to start over when you understand your mistakes—and it is the point at which you both decide that you are capable of doing better and give yourself the grace to move on. I have never once regretted starting over. Sometimes it stinks, but it has always been the right decision. It has never been failure or defeat.

So, my best advice to all of you is to do everything you can to take care of your physical and mental health. You only get one body and life is short. For those of you who represent minorities within your field, don't be afraid to take up as much space as possible, because each of the crafts represented here benefits from the diversity you bring to it, and don't let anyone tell you otherwise. Take the lessons you learned here to heart, and most importantly, remember the projects where you had to go back to step one. In business, relationships, and especially with your craft, the second (or sometimes third) try is when you get really good and usually make the things you are most proud of.

Along with my amazing instructors, Ro, Lisa, and Megan, who sadly we lost earlier this year, I just want to give a shout out to my Mom, who has always been my rock, and my Dad, who would have thought this was pretty cool.  
Each year, when I gather up names from the faculty, staff, and Board to give ideas for graduation speakers, I'm always thinking about who can feel like a gift to graduates. Someone who can set your sights a little farther, put your work in a broader context, and help us all see a new way of giving to our community in meaningful ways through skill, passion, commitment, and service: all the things you've been working on at NBSS.  

Right at the season of thinking of who to invite, I heard Chris Cook speak. He was sharing an update from his perspective leading the Rose Kennedy Greenway—a space all of us access in one way or another just to get to School. As he spoke about the Greenway's work, I heard someone who was thinking on a community scale, a city scale, and a historic scale. I heard someone who understood how Boston is evolving; the big moves that have been made to open the City to more people, and the moves that are needed now to reactivate it. I was so glad to know that Chris and his team at the Greenway are central and key to how people live in and experience Boston. 

For those of you not from Boston or here to visit your graduates, the Greenway is, in part, the beautiful green ribbon running from Chinatown, all the way up here to the North End. It is a park, yes, but it is also activity and art and performance and food and fountains and most of all: people. It is a place that is a true agent for change and vitality, for opportunity and those most rare things: reflection, relaxation, and active rest.   

When I heard Chris speak, I could hear his past experience working for the City as the Chief of Environment, Energy and Open Space. And I heard someone who cares, deeply, about Boston, and knows that his work is to give access, to give opportunity, to partner, and to be in concert with other talent in order to benefit the people who live and visit here. And so, it's easy to think of Chris as a gift to graduates. Because this will become your work too: taking what you have learned and using your abilities to improve where you work, where you live, where you come together with others.  

Please welcome, Chris Cook. Thank you for all you do and for being with us today.
Congratulations to you, graduates. 

And thank you to the Board of Directors and Board of Advisors, the faculty and the staff of North Bennet Street School, and to all the supporters—they're very important. This has been a tumultuous few years for all non-profit organizations; adaptation and survival require dedication. As a community of leaders committed to the success of this School, you should be proud of your efforts. The School is here, and it is thriving. And this School has never been more important. 

To the graduates: congratulations! Seriously and sincerely, this wasn't easy for you. Be proud. Thanks to the supporters of the graduates, whether family or friends, here or not—this success is also yours. You can give them a round of applause as well.

And today, while we know that it wasn't easy for anyone, it may have been harder for some. There may be some of you for whom the struggle might have been silent but immense. Those who are impacted by addiction, mental illness, financial stress, family loss, or countless other burdens that sometimes can present as barriers. You got through them, to today. Be proud. 

We live in a time where completion of work is becoming more vague. Electronic channels of communication, information dissemination, and too often, information distortion create an environment where people's work or days can seem taskless. Too many of us live in a world of noise. 

We are disconnected from our shared reality—but not you all. You have learned and completed. By doing so, you have connected. Connected to artisan traditions, cultural heritage, teachers, classmates—and the recipients of your crafts and skills. The completed task is done, but lives on in its created connection. 

The book bound is knowledge preserved.
The furniture restored is an heirloom uniting generations. 
The wall framed is shelter given.
The stone set is a promise made.
The secured lock is a loved one's protection.
A piano tuned is memories to be made.
And a violin created is pure magic. 

Connection is fundamental. You are connected to your founder, Pauline Agassiz Shaw, to her commitment to immigrant communities, women's rights, and to the children of this city. You are connected to those who have learned from this school, and those who have benefited from those skills and trades and crafts. You are connected to Ilah. 

You have learned in an extraordinary place, and are connected to it. Boston's North End is Boston's first neighborhood. You're graduates of America's first trade school. We celebrate today in America's oldest church. And as critical as it is to our nation's history, it is far more important as the place of celebration and remembrance to countless community members over its 300 years. And you have helped take care of it. 

Before this place was the North End, it was the Shawmut Peninsula and home to Indigenous people. As colonialism grew to neighborhoods and waters were filled in to grow a great city, this North End only grew in its impact, especially as an immigrant neighborhood. Immigrants whose contributions were made stronger by institutions like North Bennet Street School. 

How devastating then that in the name of progress, when the construction of the John F. Fitzgerald highway destroyed more than a thousand buildings and displaced 20,000 people from their homes, it cut off an entire city from its waterfront, contributed to the near eradication of the great West End, and deepened isolation of Boston's Chinatown. 

But what is the power of connection? 

Today, a park named after another North End resident, Rose—daughter of the very highway's namesake—reunites a city with its waterfront. Connects neighborhoods back to each other and people through ecological horticulture, community-driven programs, and diverse, world-class public art. The Rose Kennedy Greenway is a Commonwealth asset, and so it should provide for all, should be welcoming to all, and inclusive to all. By connecting to as many people as possible, we do not dilute our strength, but we strengthen it. 

We tell the story of the Big Dig, but also the environmental struggles of Chinatown. We learn the lessons of the Freedom Trail, but also we learn of Zipporah Potter Atkins, a free African American woman who owned her own home right here, on the Mill Pond, a hundred years before the signing of the Declaration of Independence. We do not diminish Longfellow's poem by telling a more complete story of this building. We celebrate people who were always here. We are connected more fully, more authentically, and our community is strengthened. You are all part of that community. 
"You create, literally, the physicality of our humanity. You use tools and create what is needed, what is wanted, and what is given. As your craft passes to these objects, you connect to the recipient… In doing so, you protect our shared humanity."
You create, literally, the physicality of our humanity. You use tools and create what is needed, what is wanted, and what is given. As your craft passes to these objects, you connect to the recipient. You will have an opportunity to teach your skills. Sometimes formally, sometimes informally. Always take this opportunity. In doing so, you will help protect our shared humanity. 

If you're comfortably able to do so, please bring your hands together. And what I want you to do is close your eyes. I want you to think a thought: one thought of what you'd like to say to next year's graduating class. If you can impart one word of wisdom to them. Now start rubbing your hands together as fast as you can. Create the friction. It's already warm in here, but when those hands get hot, I want you to keep that thought in your head, and touch the wood of this great building. When next year's students enter here, they will be warmed by your energy and by your thoughts. 

Congratulations!
From longstanding remarks given by former NBSS Associate Director, Walter McDonald.
We may be almost finished here, but it's far from over.
There's a lot more to do. There will be mistakes from which you will learn. There will be customers you hope never to see again. New methods, equipment, and materials will change the way you work. You will get better and faster.
If you don't get it right, you have a chance to do it better the next time.
There will be wonderful customers for whom you will do work over your entire career, and they will recommend you to their friends, and they will become your friends because of your work.
There will be a time when you finish a job, look at it and realize that a short time ago you could not have done it, and you would not have even known where to start. And you will realize how far you've come.
So in closing: May your tools stay sharp. May your work be scheduled a year in advance. May your customers always be satisfied, pay in a timely manner, and without argument.
You have skills and knowledge that few people share. You can use these skills to make life better for others. You can be justifiably proud of jobs well-done.
Now we're finished here. It's time for you to go out there and do great work.