Headed to the Shop, Not the Stage
September 27, 2017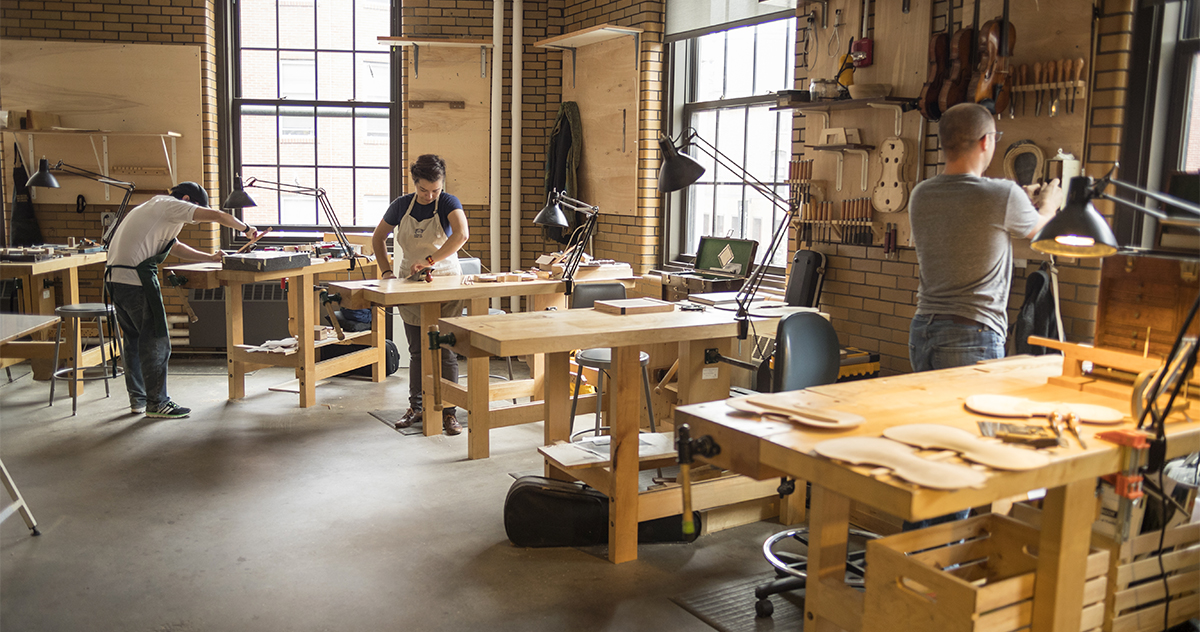 NBSS was featured in an article in Strings Magazine in their September issue. The article titled, "Students at the North Bennet Street School Are Headed to the Shop, Not the Stage," by Cristina Schreil, follows the path of one of our current students and outlines the program's curriculum and benefits.
"Twenty-six-year-old Nick Gerald began playing the cello in the fourth grade. He pursued it head on, first at a boarding school for the arts and then at university in North Carolina.
Halfway through college, something shifted. "I decided I didn't really want to be a performer," he says. "I still wanted to be involved in the music world." Eventually, he found a new path: violin making. "Just the way that my brain works, I thought the visual aspect, the craftsmanship aspect, would be more satisfying to me personally than performing." He said it was a gamble; it's hard, he asserts, to really know what it's like without diving in.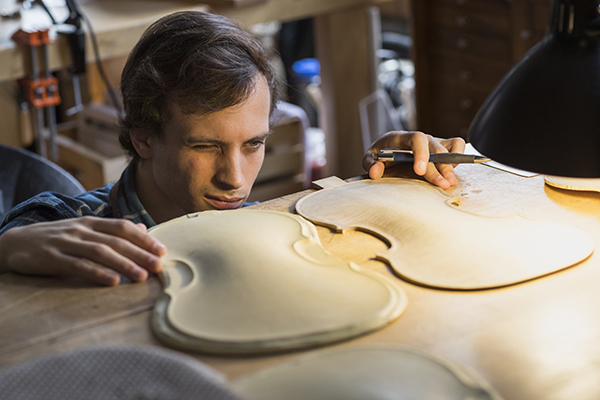 Growing up a Boy Scout, he'd tackle the occasional woodworking project—but nothing that garnered significant experience. Painting himself as balanced between a mathematically inclined, punctilious mind with an artsy side, Gerald considered several United States–based violin-making programs. He wanted something full time, and eyed such top programs as the Violin Making School of America in Salt Lake City and the Chicago School of Violin Making. But after visiting the North Bennet Street School in Boston—a smaller program of only 12 spots—he decided it was the only one he'd apply to.
"My honest first impression was that it was somewhat magical, akin to Santa's workshop," he recalls. Boston's rich music community was also appealing. Another attraction: the cost of materials was built into tuition, which means students own the instruments they create.
The North Bennet Street School offers a three-year, full-time program. The Boston institution, founded in 1881, trains students for several traditional trades: violin-making students interact with aspiring locksmiths, piano technicians, bookbinders, carpenters, jewelry makers, and furniture makers. The violin-making program launched in 1983. The bench room has a library, a drawing area, and a new tool-sharpening station. There's only one teacher: maker and violin-restoration expert Roman Barnas, who's taught there since 2004. Barnas honors the aesthetic and geometric principals of 17th-century Italian violin making.
Barnas was a draw for Gerald. "He's an amazing teacher and a great maker," he says by phone. And Boston's extensive community of luthiers provides vital connections—musicians, many from the nearby New England Conservatory of Music, test instruments. Nearby shops, auction houses, and museums make for illuminating field trips. Guest instructors have included Andrew Ryan, Philippe Raynaud, Paul Wiessmeyer, David Hawthorne, and Marco Coppiardi, plus alumni Christopher White, Kevin Kelly, and David Polstein."
Read the rest of the story here, or download a copy (pdf) of the article.