Machine Woodworking Tips from Ellen Kaspern
November 30, 2017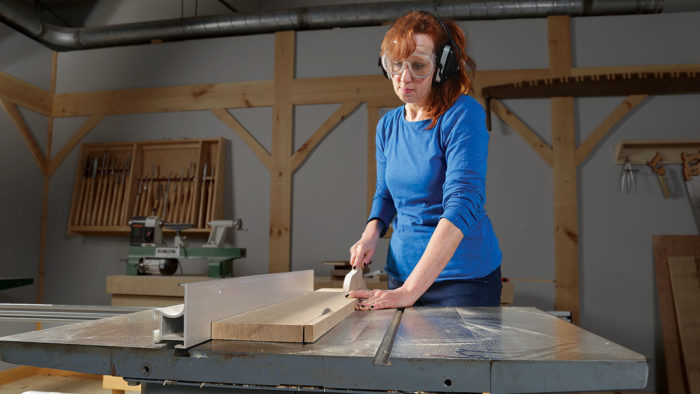 Ellen Kaspern CF '03 has a lot of expertise to share on how to get the most out of woodworking machines like routers, tablesaws, bandsaws, and planers. She recently published two great how-to articles on Fine Woodworking.
"Most of my projects revolve around a tablesaw. When it's working well, I can make accurate rips, crosscuts, and even coves. All are safe and efficient with a well-tuned saw. But a tablesaw needs regular maintenance; otherwise, using it is at best frustrating and at worst dangerous. If you run through three simple but crucial steps to tune your tablesaw, you'll be back to accurate and safe woodworking in no time."
"One of the most useful tools in my shop is the push stick. It keeps my hands away from the sawblades and cutterheads and allows me to hold the workpiece securely when passing it over a variety of machines. I use the same push stick on the tablesaw, bandsaw, jointer, and router table. The push stick that I find to be the safest and most efficient is one I make myself. I first came across this push stick when I was a furniture making student at NBSS."
---
You can learn from Ellen in person in a Continuing Education class as well! Ellen regularly teaches Fundamentals of Machine Woodworking and Introduction to the Router classes, as well as other more specialized topics like Table Saw Techniques, Danish Plant Stand, and Picture Frames. See a full calendar of Continuing Education classes here.