Recognizing, and Rewarding, Work Ethic
May 5, 2023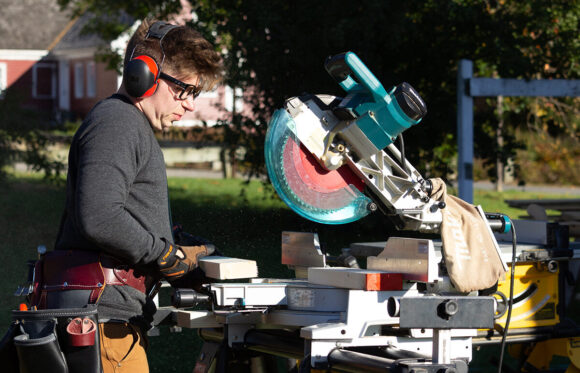 Svetlana Daneva CA '21, CF '23 had just gotten into the one-year Carpentry program in 2020 when Covid hit and she lost her job as a bartender. She wondered how she would afford the tuition, so she reached out to Director of Admissions & Enrollment Rob O'Dwyer—who encouraged her to apply for a mikeroweWORKS Foundation Work Ethic Scholarship. Rob knew other NBSS students who had been awarded the scholarship, and believed Svetlana would make a great candidate.  
"I encourage every single applicant to the three programs that mikeroweWORKS scholarships support to consider applying," Rob says.
Since 2017, the school has had a total of 25 mikeroweWORKS scholars, with all the recipients enrolled in one of the woodworking programs: Carpentry, Preservation Carpentry, or Cabinet & Furniture Making. The scholarships recognize work ethic, personal responsibility, delayed gratification, and a positive attitude. 
"I encouraged Svetlana in particular because her story is compelling," Rob says. "When I met her, she told me about the legacy of woodworking in her family history."
Svetlana explains her grandfather in Bulgaria, a carpenter, was her inspiration for the work she is doing now. "I grew up in his shop."
Because Svetlana is married with a child and another on the way, the financial support from mikeroweWorks allows her to focus on skill building. The scholarships help address some of the challenges and stressors that adult students face by foregoing an income stream while they are in school.
Happily, Svetlana was awarded $10,000—about 40% of the cost of tuition—which "helped tremendously, especially being out of work," she says. Between the Work Ethic Scholarship funding and need-based scholarships directly from NBSS, "I basically had a free ride."
In the upcoming school year, NBSS will award over $1.1M in the School's own scholarships. Through the Lives &  Livelihoods Campaign, donors have endowed $20 million to expand student aid.  
Private scholarships are an additional outside resource that students can individually apply for each year. In the case of the mikeroweWORKS scholarships, the awards range from $8,000 to $12,000, and can be applied toward any educational expense: tuition, fees, tools, materials, and/or living expenses. The School maintains a list of 40 private scholarships that prospective students can search to help offset the costs of their training.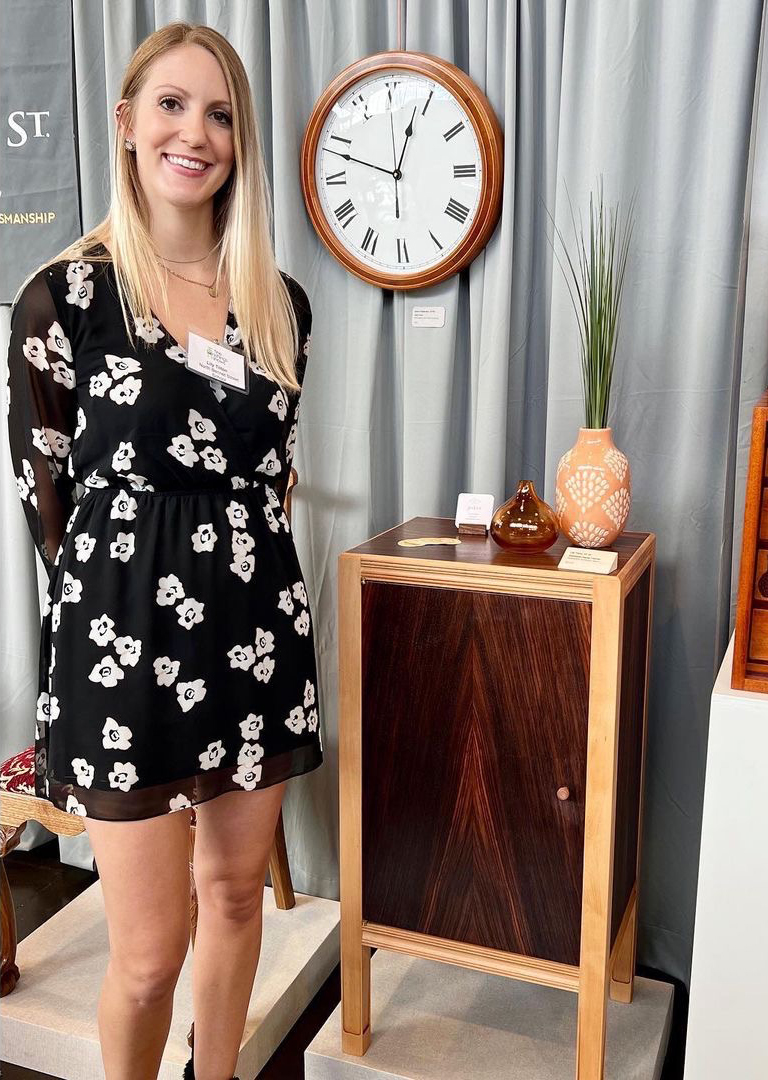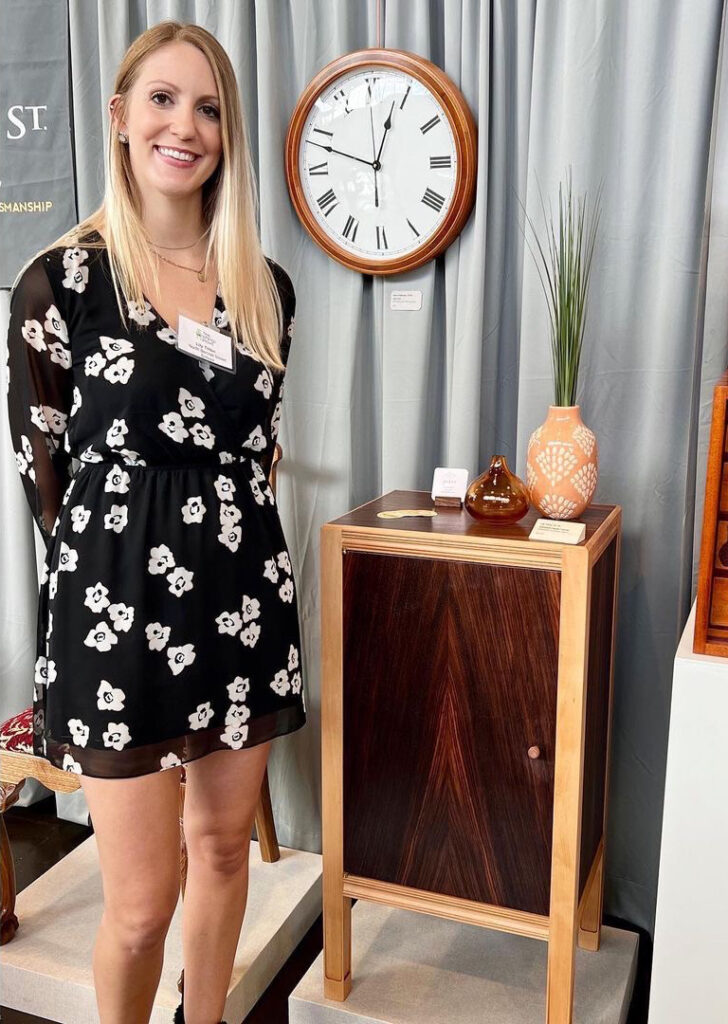 Svetlana was about a month into the Carpentry program in 2021 when she decided she also wanted to enroll in the two-year Cabinet & Furniture Making program the next year. She applied for and won a second mikeroweWORKS scholarship, this time for $18,000 over two years. "That was incredible help getting tools," she says.
At NBSS, Svetlana found a place "where everybody is so supportive. They just want to show and teach you and give you what they have." When she graduates in May, she plans to take a year off to be with the baby she is expecting, and after that, work on commission or find a shop where she can make furniture. "I love woodworking," she says.
Like Svetlana, Lily Tilton CF '23 wondered how she would pay for her dream to continue in her family's woodworking tradition. Her father was a woodworking teacher, and she had learned basic skills from him. And when the pandemic hit, she and her father decided to take a Community Education course together at NBSS, Introduction to the Router.
"I really enjoyed it, and I decided to take the plunge to quit my job and go to NBSS full-time instead," Lily says. She enrolled in Cabinet & Furniture Making in spring 2021.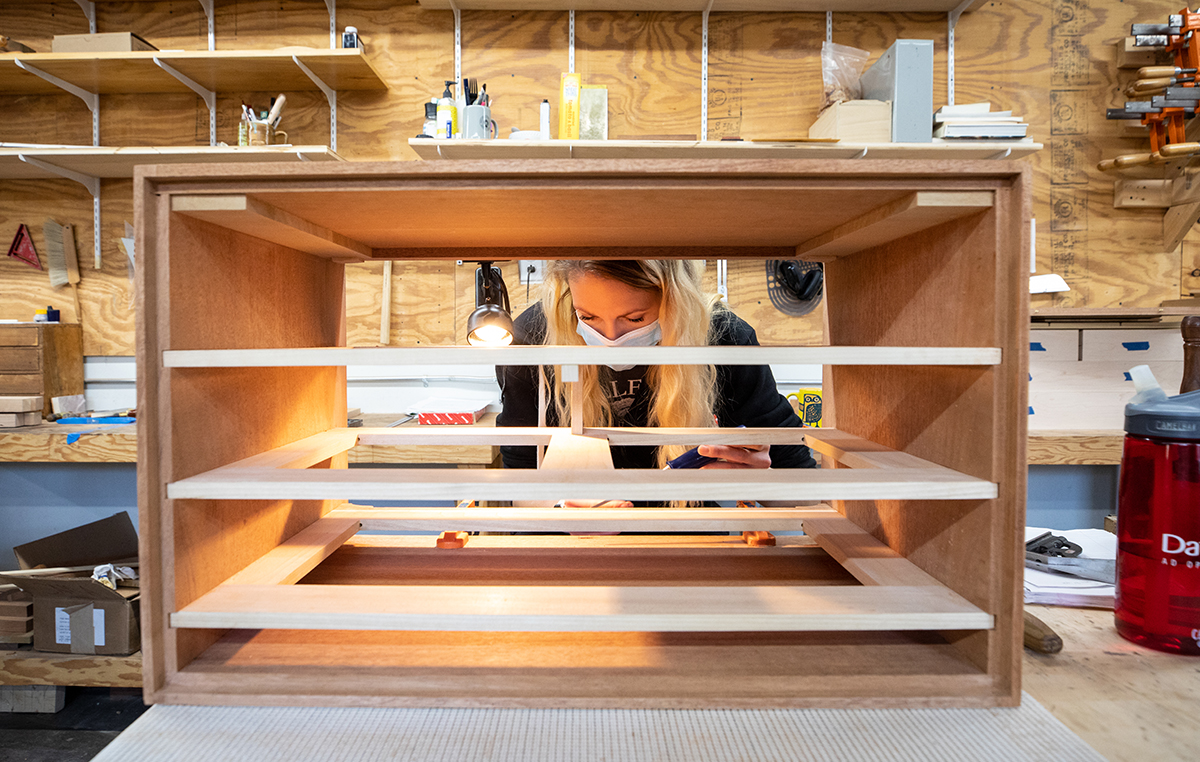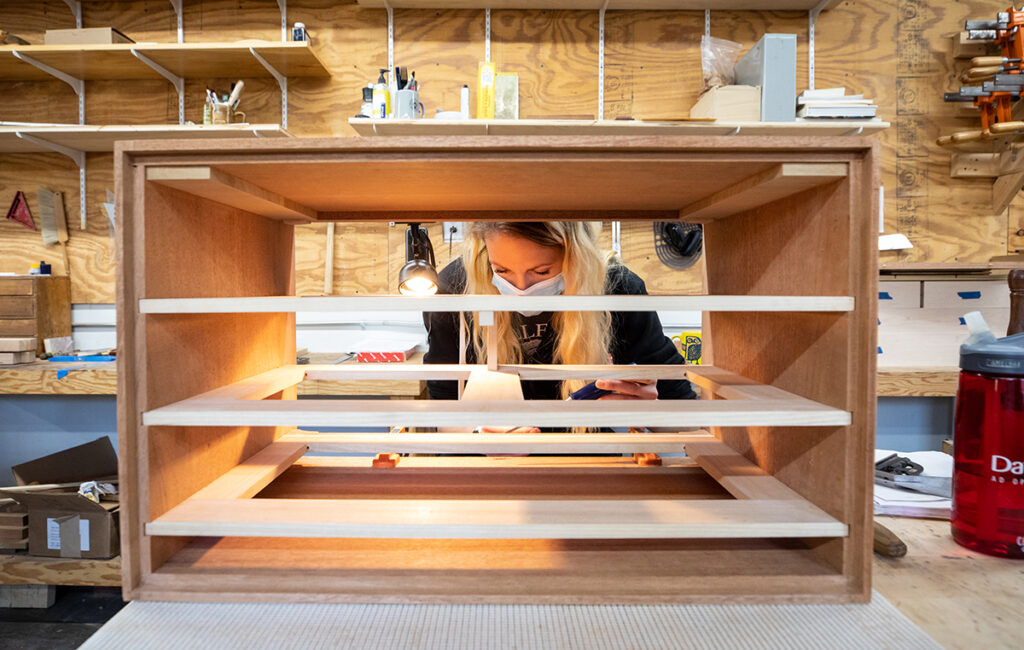 Lily applied for the Work Ethic Scholarship for each of the two years of the program, and was awarded $8,000 each year. "It made a world of difference financially," she says. 
Lily worked part-time through school, but thanks to the scholarship, was able to cut back on her work hours to focus more on school. "Getting the scholarship two years in a row really helped lessen some of that anxiety around financial status, and helped me focus more of my time on being at school." 
She completed the program in February, and is currently doing freelance work out of Needham Furniture Makers, a shared space started by two fellow Cabinet & Furniture Making, Hank Wyman '22 and Peter Stein '22. Lily takes commissions, and has an eventual goal of opening her own shop.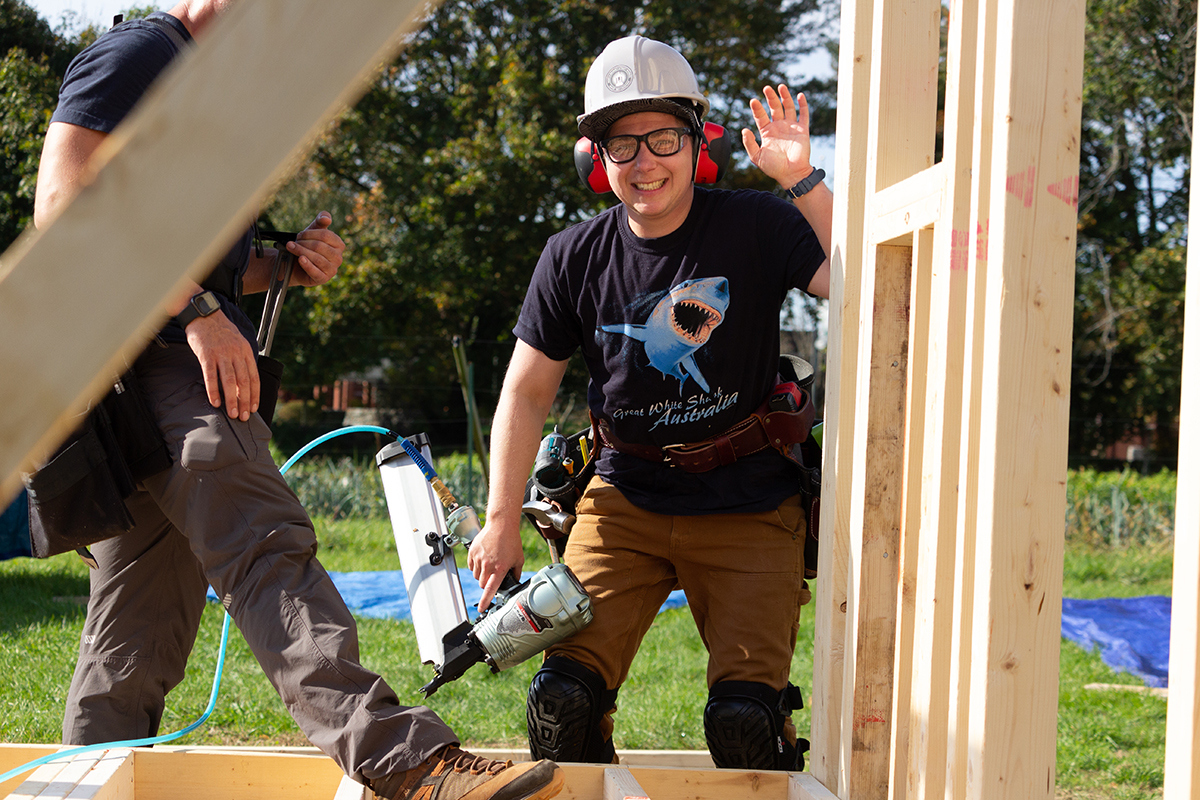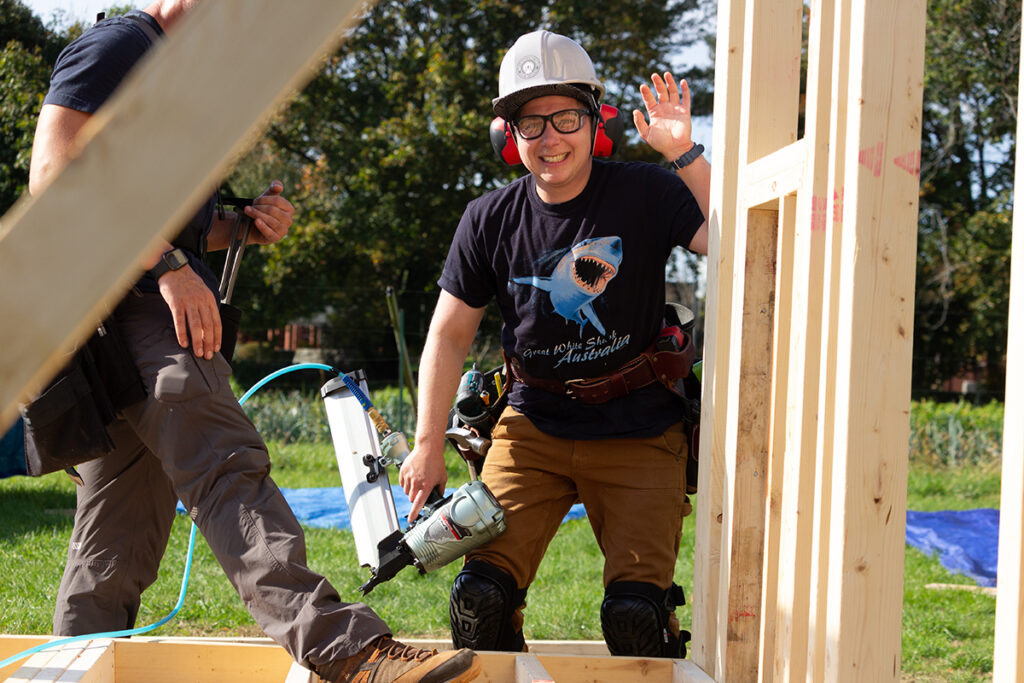 When Chris Pienta PC '23 fulfilled their dream of getting into NBSS, they too were not sure how they could afford it. 
When Chris was a child, their mother—who grew up in Boston's North End—would walk with them past NBSS, back when the School was located near Old North Church. "And she would say: 'I bet you would love going here," recalls Chris. 
Chris went to Oberlin College, where they studied studio art, but eventually realized they did not want to make and sell art, or teach it. But having grown up in a house built in 1750, they were drawn to old things. They also loved carpentry; in college, they volunteered for Habitat for Humanity, and after Hurricane Katrina, helped rebuild houses in New Orleans.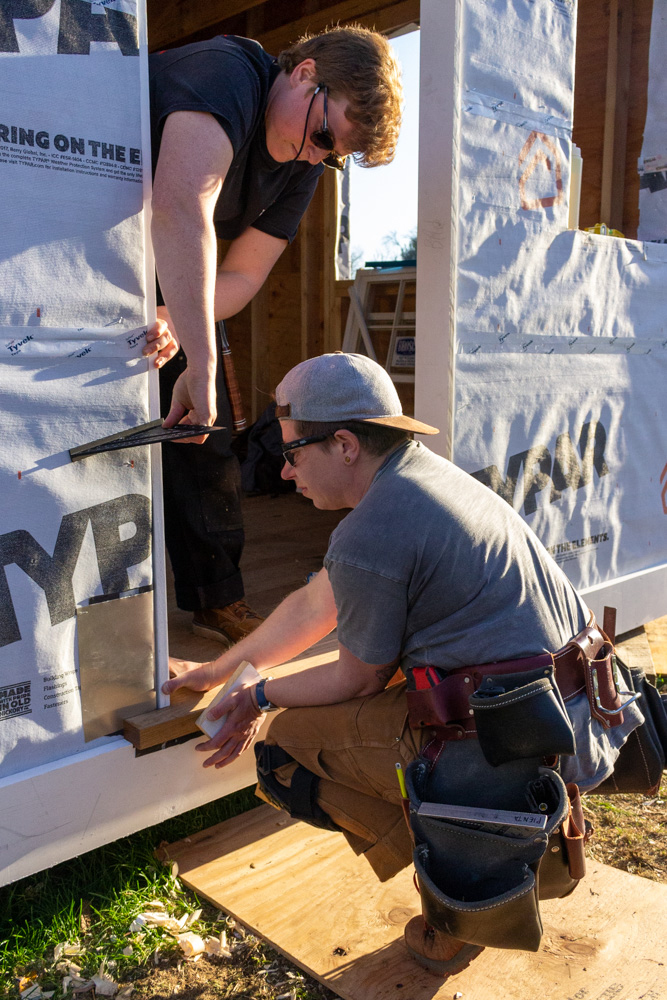 Then their career took a detour away from their love of carpentry and into retail, working at their families' antique coin shop. But all that time, for fifteen years after college, they kept thinking about the NBSS Preservation Carpentry program. When the pandemic hit, it was the final push they needed to apply. And for yet another student, the mikeroweWORKS scholarship made a big difference. Chris was awarded $9,000 for the first year, and $7,500 for the second year. 
Chris graduates in May, with a goal to eventually to start their own preservation business focused on employing women, transgender, and marginalized people not fully represented in the preservation carpentry field.
"We need new leaders within this field. Anyone can learn the skills to be doing this work. I feel really lucky and honored to have received this scholarship, and have the opportunity to learn everything at NBSS."