A New Chapter
January 6, 2023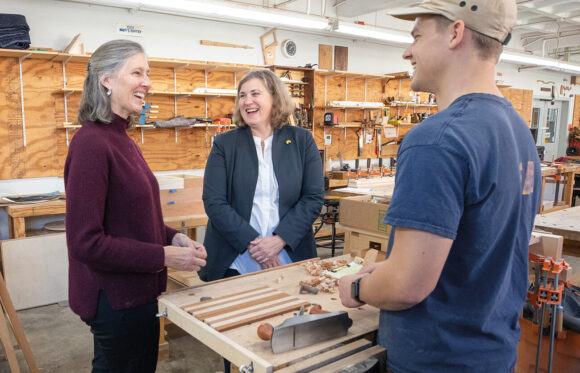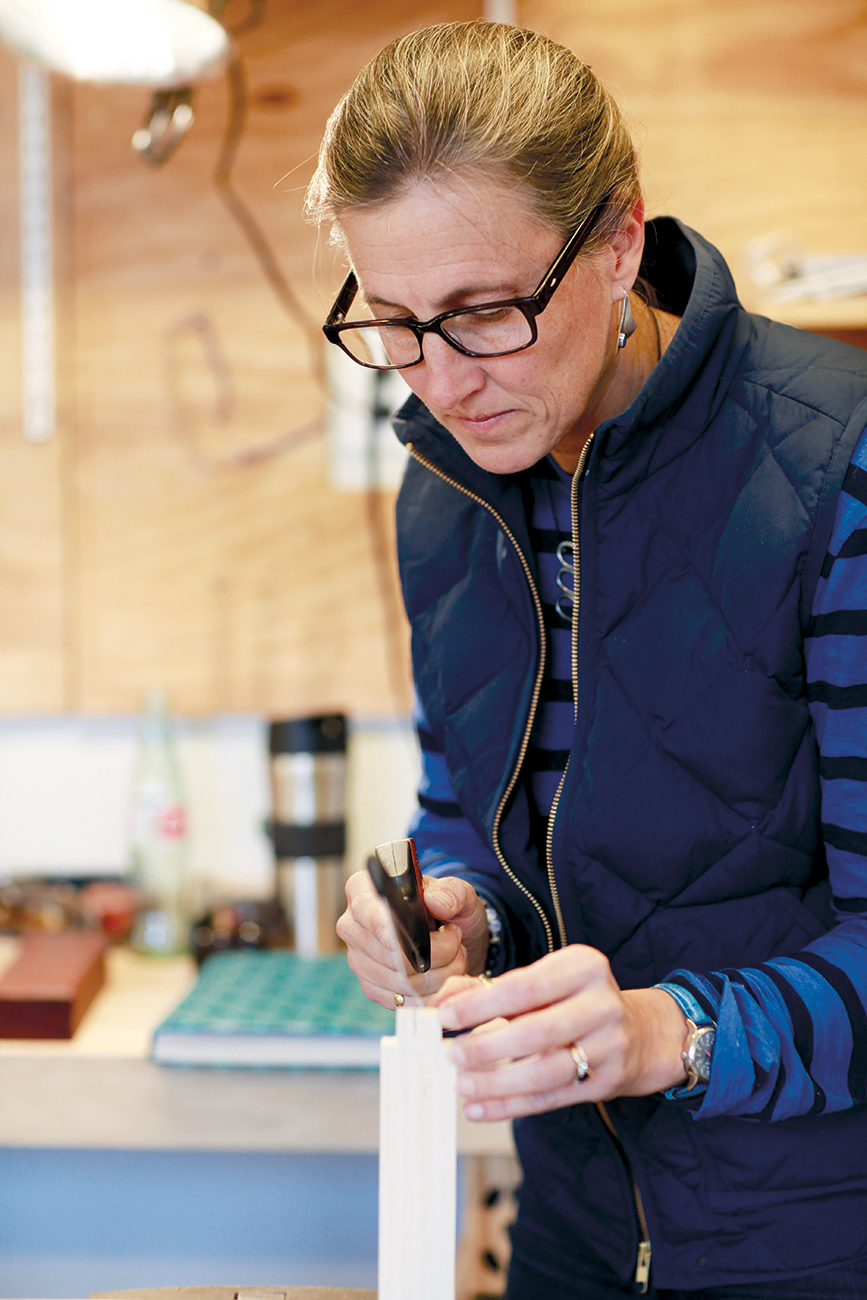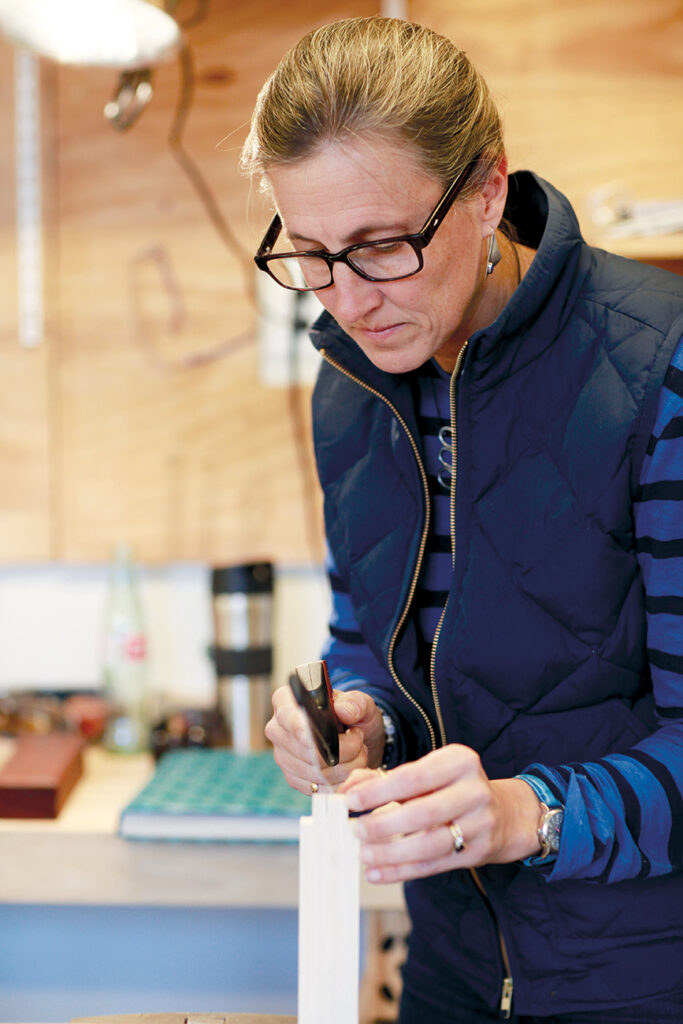 The incoming Board Chair, Genie Thorndike CF '16, was 52 years old when she graduated from North Bennet Street School. A full-time parent of two and former English teacher, she had changed directions and forged a new professional path as a furniture maker and woodcarver after her children were grown.
On the first day of class, she met a 19-year-old student to her right and a 65-year-old student to her left. "The breadth of experience was incredible, and the fact that we all connected over a common love of woodworking was thrilling," she remembers. "I found my people at NBSS." 
She went on to teach woodworking for one year to middle school students in the North End through the School's partnership with Boston Public Schools. She also helped create an online index to the Cabinet & Furniture Making program's library.
Though a seasoned Board member—Genie joined in 2016 and became Chair in 2022—she strives to keep the same "beginner" mindset as she had as a furniture student first learning how to bend wood and apply marquetry. To prepare for her new role, she started out her term with a listening tour of former Board Chairs and heads of the School.
Wanting to be both approachable and engaged, Genie hopes people will share their experiences with her as she continues to visit common areas this year. Speaking to members of the NBSS community, she says, "I would love to hear your story. I mean that sincerely. I really am curious about where people have come from and where they're headed."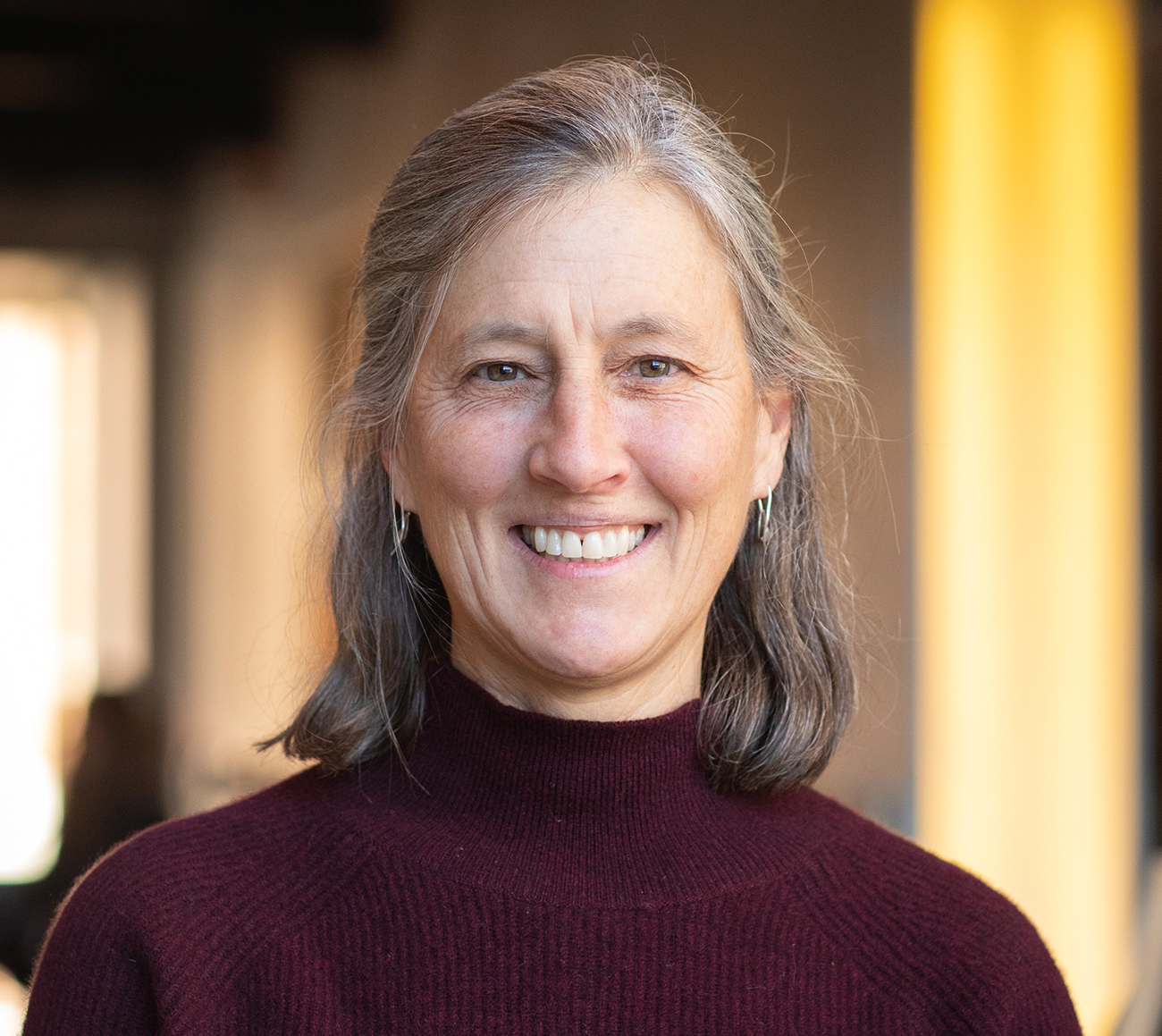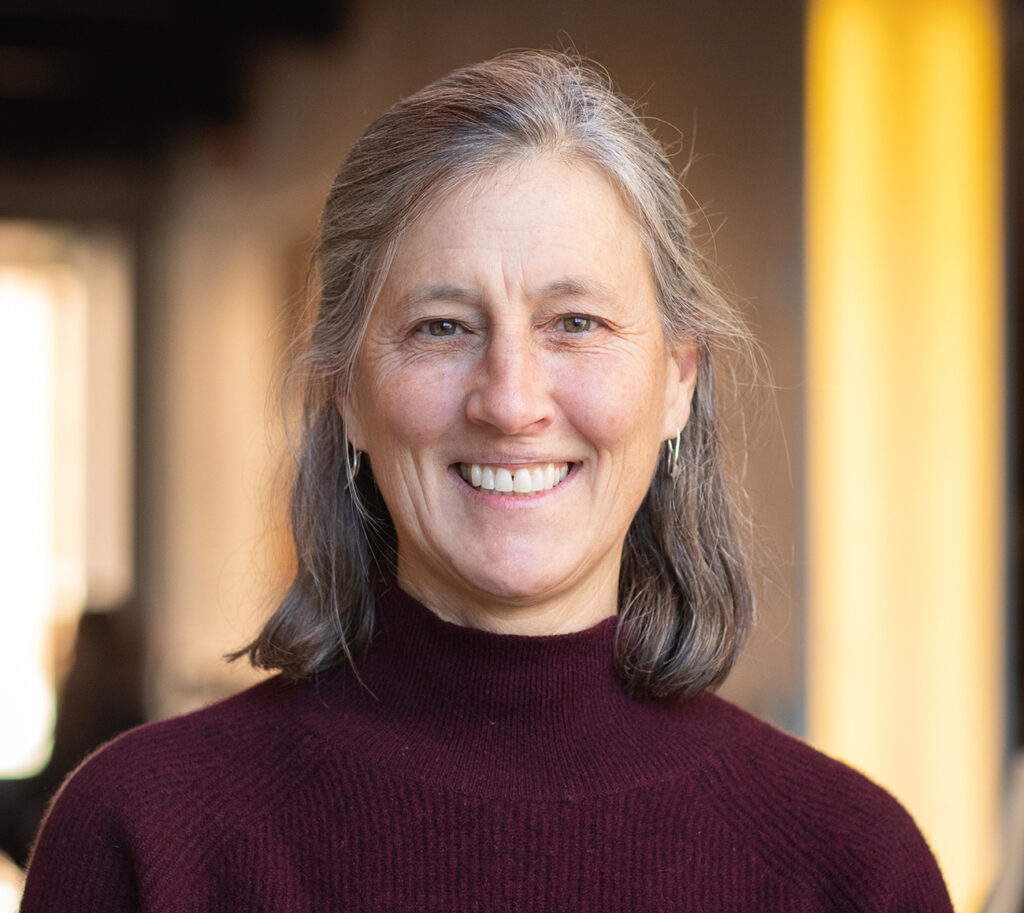 Notably, with Genie's appointment, all of the School's primary leadership roles will be held by women: Board Chair, Vice Chair (Lindsa McIntyre), President (Sarah Turner) and Provost (Claire Fruitman CF '96), a first for the School's long history. Always strongly representative of craft and trade disciplines, the current Board also includes professionals in education, design, accounting, law, and medicine, as well as donors and others who support the School. 
The multiple points of view present at the Board level reflect the School's focus on improving diversity, equity, and inclusion within its broader community. "I want to ensure that we're embracing and continuing meaningful, authentic, transformative DEI work," she explains. "NBSS seeks a more diverse population—and that includes students, faculty, and board members." 
The pandemic years have been challenging, to say the least—both for students who didn't have the chance to socialize between departments, and for faculty and staff who worked incredibly hard in new, demanding, and unforeseen ways. 
From her conversations, Genie knows there's a lot on people's minds. Namely, where exactly is NBSS headed next, nearly three years after the start of the pandemic, as life reaches the cadence of a new normal? 
Answering these questions in part is the School's next Strategic plan. It's currently being drafted point-by-point, after over a year of stakeholder meetings, public forums, and surveys of community members. The Board will share the final plan with the community in early 2023.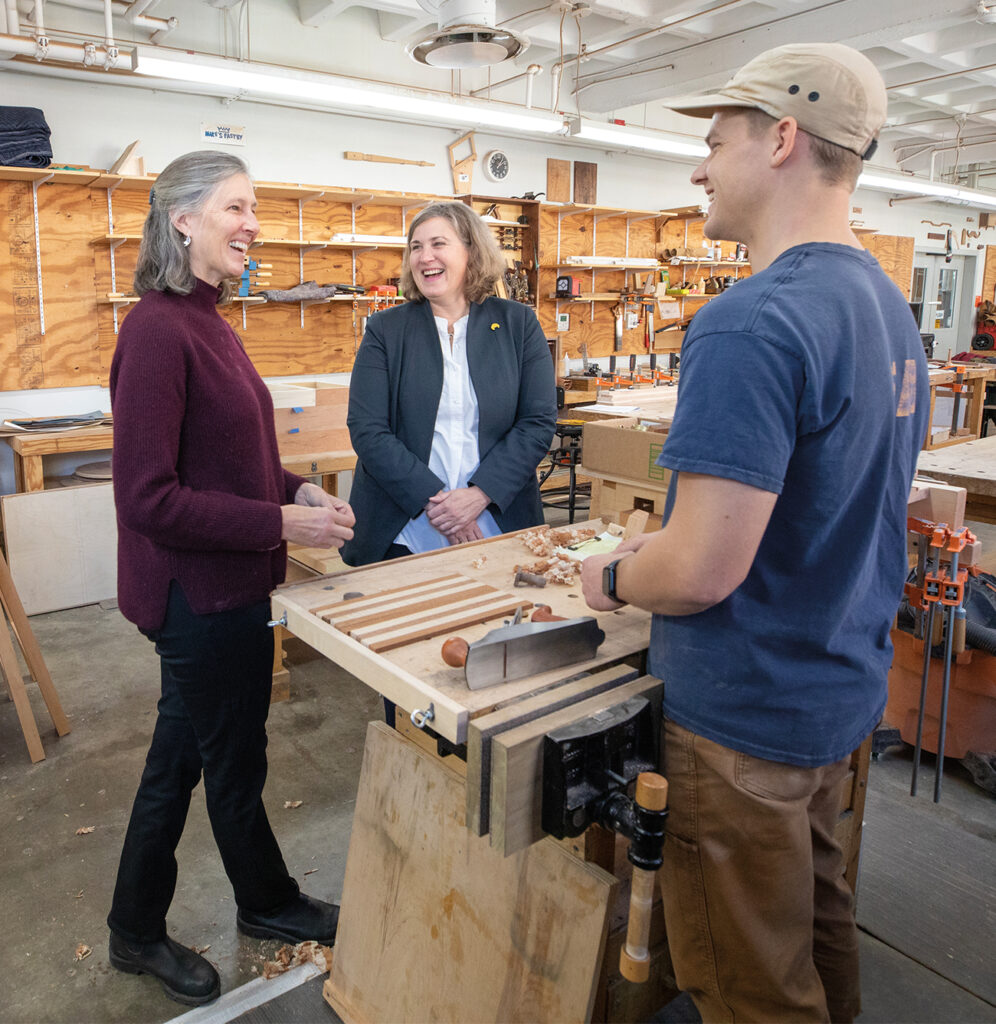 As Board Chair, Genie observes how the School functions behind the scenes. She says, "I appreciate the creativity of our talented faculty and staff, working with limited resources. I'm so impressed with the amazing, tangible, and public results." A priority for the evolving strategic plan is to make investments in these employees of NBSS, helping to further their impact across School communities. 
Another intentional change comes with Genie moving the Board's culture to become more interactive and discussion-based, after several years of largely virtual meetings. "I want to ensure that everyone feels welcomed, engaged, and comfortable voicing dissenting opinions or asking questions so that we can most effectively govern the School," she says. 
Marc Margulies, the outgoing Board Chair, feels certain that Genie is the perfect person to lead next. He says, "She's been on the Board a long time. She's been a deeper part of the School than I ever was. She went there. She graduated. She taught there… She's the real deal." 
A Principal architect at Margulies Peruzzi, Marc first discovered the School 15 years ago during a weekend bowl turning class. The meditative process brought him a transformative focus and a peace he'd craved. "This became my outlet. I am absolutely enthralled with woodturning, and it has so changed my life, that I really felt a duty to give back to the school for what it gave me," he explains. 
He hopes that the historic arc of his term will be remembered for forays into new types of learning as well as for the incredible fundraising campaign steered by previous NBSS President Miguel Gómez-Ibáñez CF '99. "The most important history of NBSS is the part that is yet to be written," he promises. "It's time to start the next chapter together." 
"I want to ensure that everyone feels welcomed, engaged, and comfortable voicing dissenting opinions or asking questions
so that we can most effectively govern the School."
To make the transition to a new chapter of Board leadership as seamless as possible, Marc and Genie collaborated closely for months. Together, they've ensured that the Board is grounded in the School's operation and mission. With its strong foundation in place after years of wise leadership, supportive community, and hardworking personnel, the School's future is both exciting and bright.
Genie says, "I'm excited to help NBSS build on its core strengths and bring its teaching, methods, and expertise to a broader population. I'm convinced more people can benefit from an NBSS education and discover that deep satisfaction that comes from working with one's hands."
---
This article is from our 2022 Annual Report. Read more stories from the issue or view more issues here.