Passing the Keys
January 5, 2023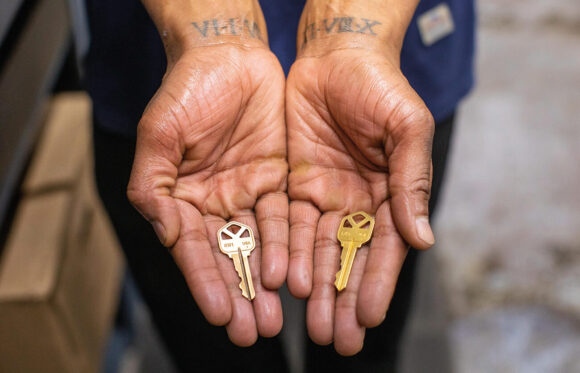 There are many benefits to North Bennet Street School's small size, from its tight-knit community to the one-on-one time instructors can devote to their students. But Claire Fruitman CF '96, Provost, says another, less obvious perk is how the School is able to thoughtfully approach the transition to new faculty members. 
"Our small size is a strength—it means that we can be nimble, and we can make decisions that are best for students and instructors," she says. "At North Bennet, we think creatively, not only to make sure students aren't affected negatively by a transition but also to ensure that the people we're hiring or who are retiring, for example, have a smooth experience."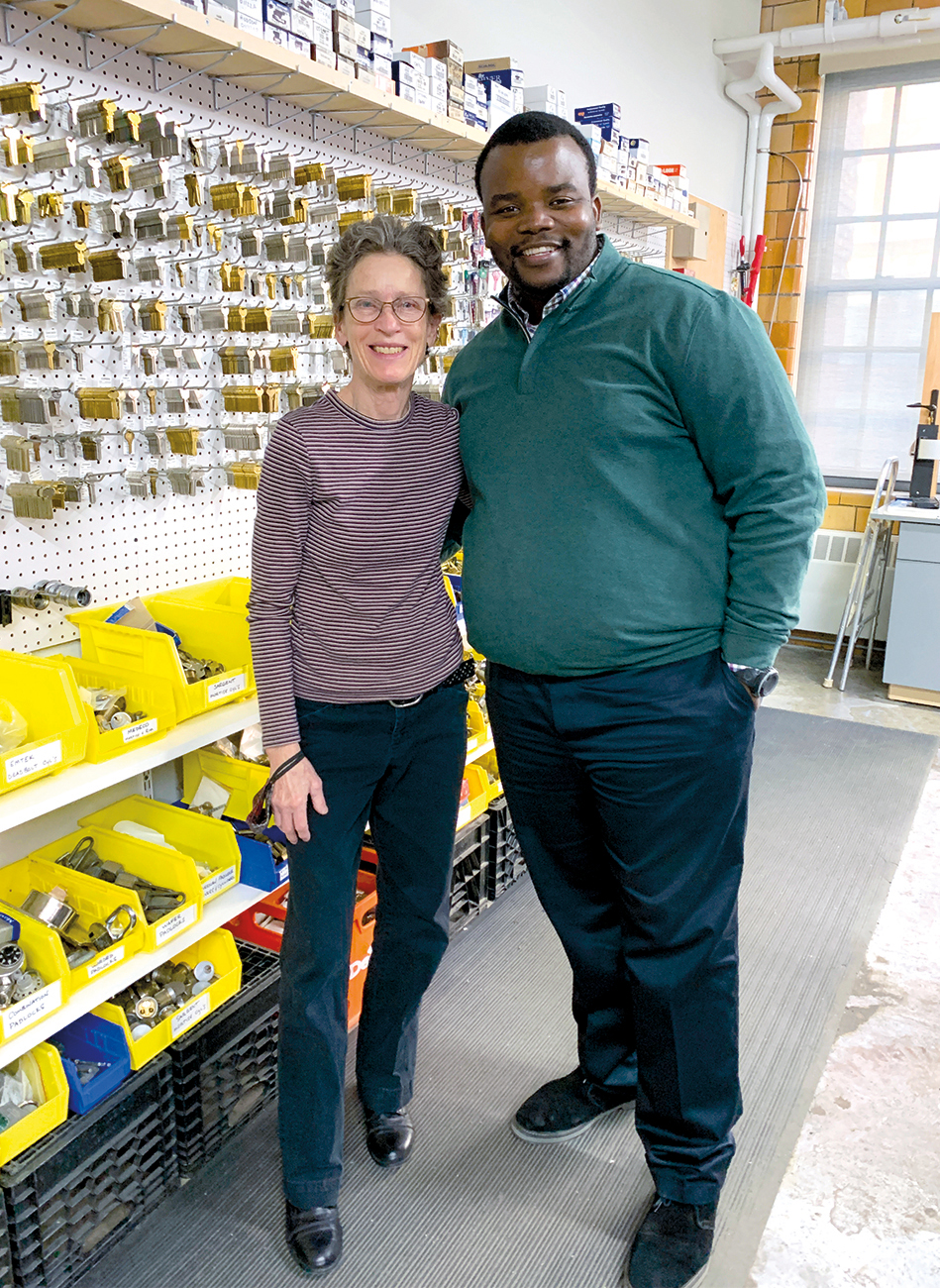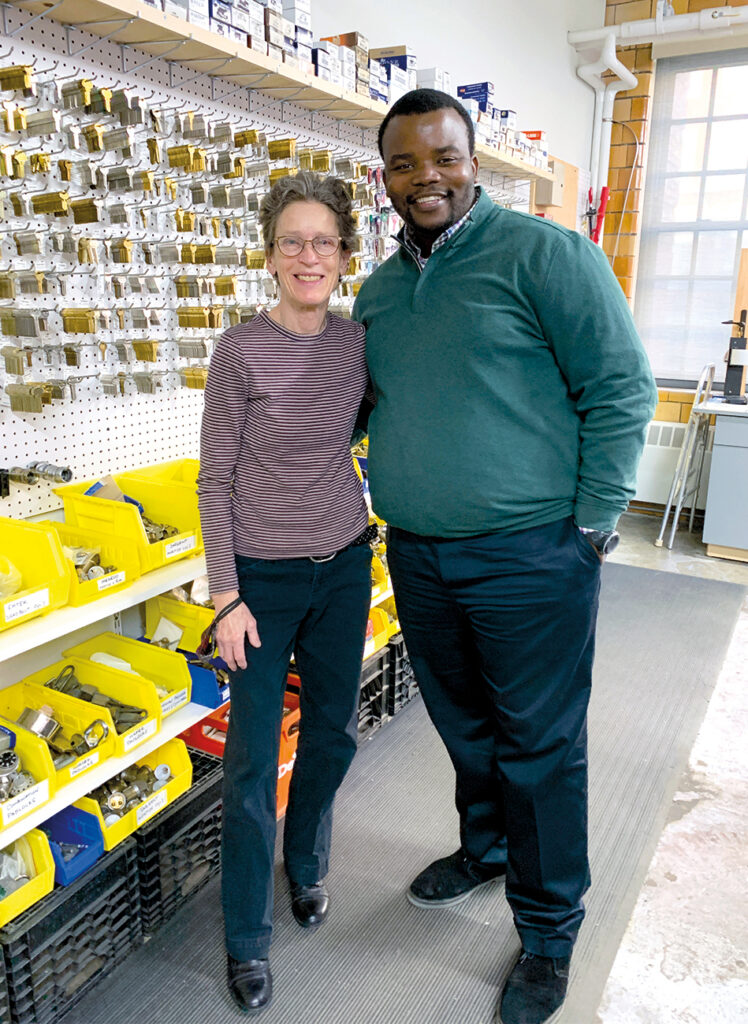 So when Barb Baker LK '04 announced her retirement as Department Head of the Locksmithing & Security Technology (LK) program, and Eddy Dacius LK '13 was hired into the critical role, Claire knew how valuable it would be for them to overlap for two months.
"Barb was meticulous," Eddy says. "I will add my own spin to the curriculum, but she gave me a template, and I'm keeping the core of what Barb put together. I respect her knowledge and intend to honor her legacy, too. Because, at the end of the day, I inherited this program from her."
When Eddy first came to NBSS as a student, he had recently immigrated to the U.S. from Haiti, following the country's catastrophic 2010 earthquake. He worked as an auto mechanic before a layoff led him to the LK program at NBSS. "My grandpa always told me to learn a trade first, then combine it with an associate or bachelor's degree. I wanted to give myself the opportunity for entrepreneurship."
Following his grandfather's advice, Eddy went on to earn a bachelor's in project management from Wentworth Institute of Technology. In 2018, he founded his company, Dacius Facilities Management, focusing on project and facilities management as well as locksmithing.
"Eddy's facilities management experience brings something to the table that we haven't had before," Claire says. "And his business background brings insights about marketing, prospective students, potential employers, and finding more pathways for students to get here."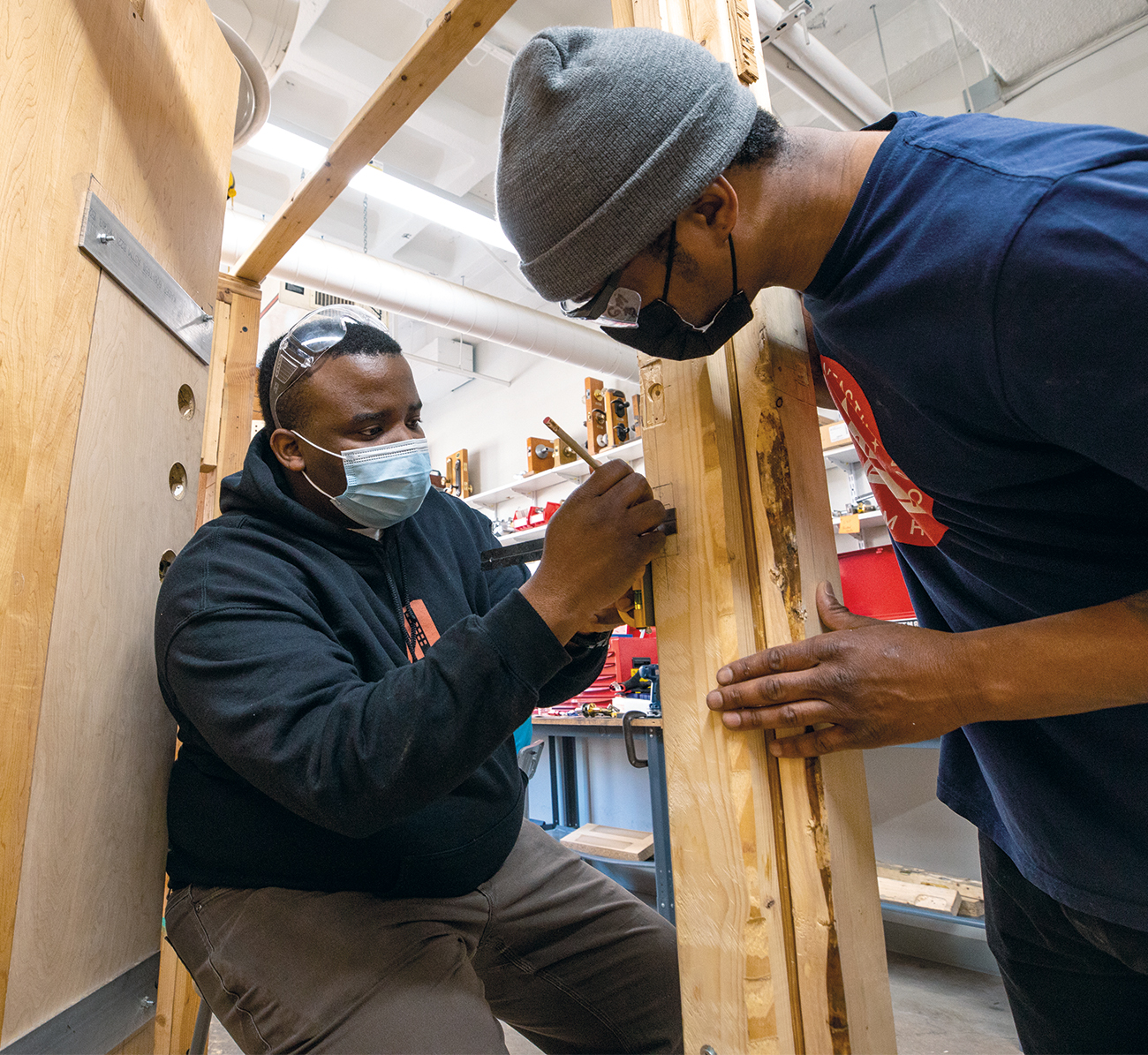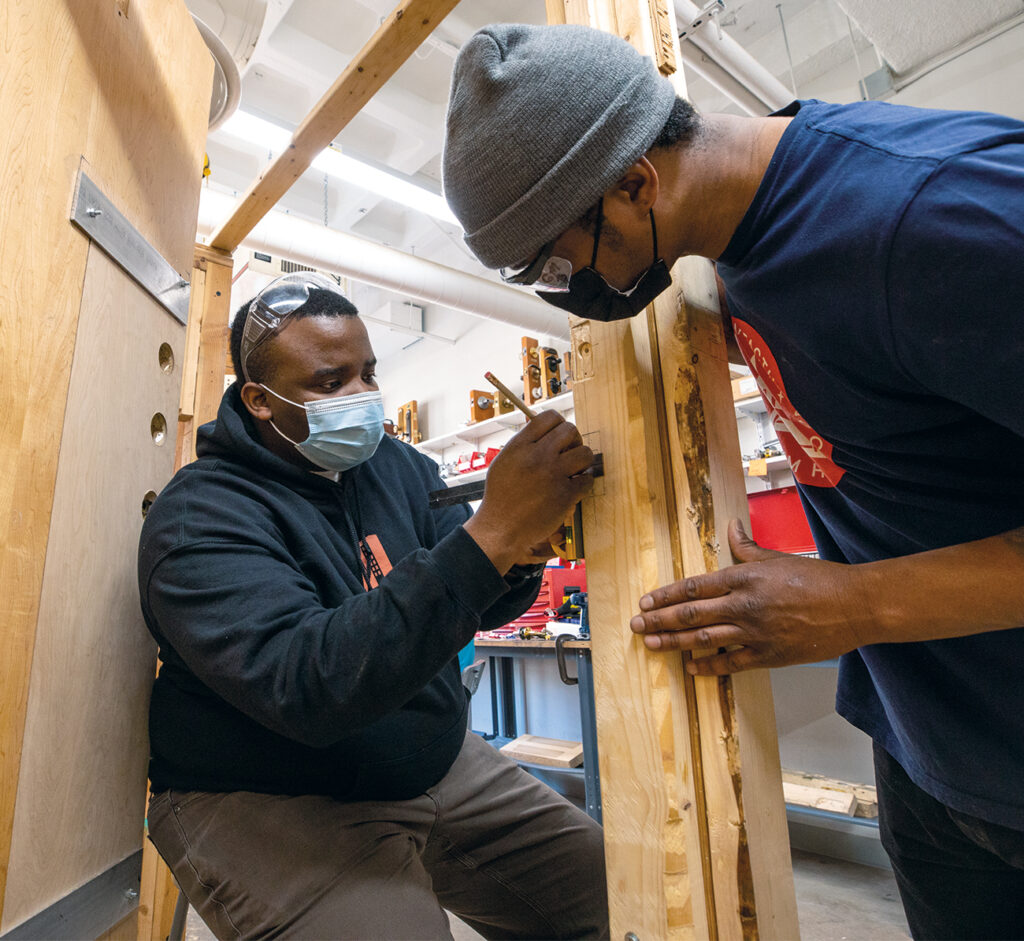 "Eddy is so enthusiastic about the industry," Barb says. "He brings in strengths from his background in facilities management as well as extra industry certifications. My experience was more in commercial and residential work, so I had my strengths. We were able to meld those together."
Barb notes, "I saw Eddy as a natural teacher. I know he cares about the students—and students, even those who appear stoic, need an instructor who cares."
In addition to teaching at NBSS, Eddy continues to run his company and, most importantly, he says, is a devoted husband and father of two. He also coaches high school soccer and basketball and brings a coaching mindset to the classroom.
"I challenge my students, but also make them feel comfortable. We like to joke around a bit in class, so everybody gets a nickname. Recently, we had Rock Star and King George," Eddy laughs. "And the students call me Coach."
During her six years leading the LK program, Barb worked with the Admissions Department to develop a problem-solving test—cleverly named the "Lockstacle Course"—to evaluate prospective students' skills. She also built a technology Access Zone, where students can work with electronic access systems and practice on an Electronic Access Control Training Door. "Access control is a big part of the industry," Eddy says. "I can now add in what I know and further enhance this aspect of the curriculum."
At the School, every program is built on the shoulders of talented instructors who came before, Claire says. "And each instructor puts their own personality and stamp on a program."
Since retiring from her role, Barb has been anything but idle. "The day we sold our house in Massachusetts is also the day my husband and I got on our motorcycles," smiles Barb, who relocated to Virginia. "We went on a 9,000-mile journey as a treat to ourselves for being newly retired. It was a great way to transition into retirement."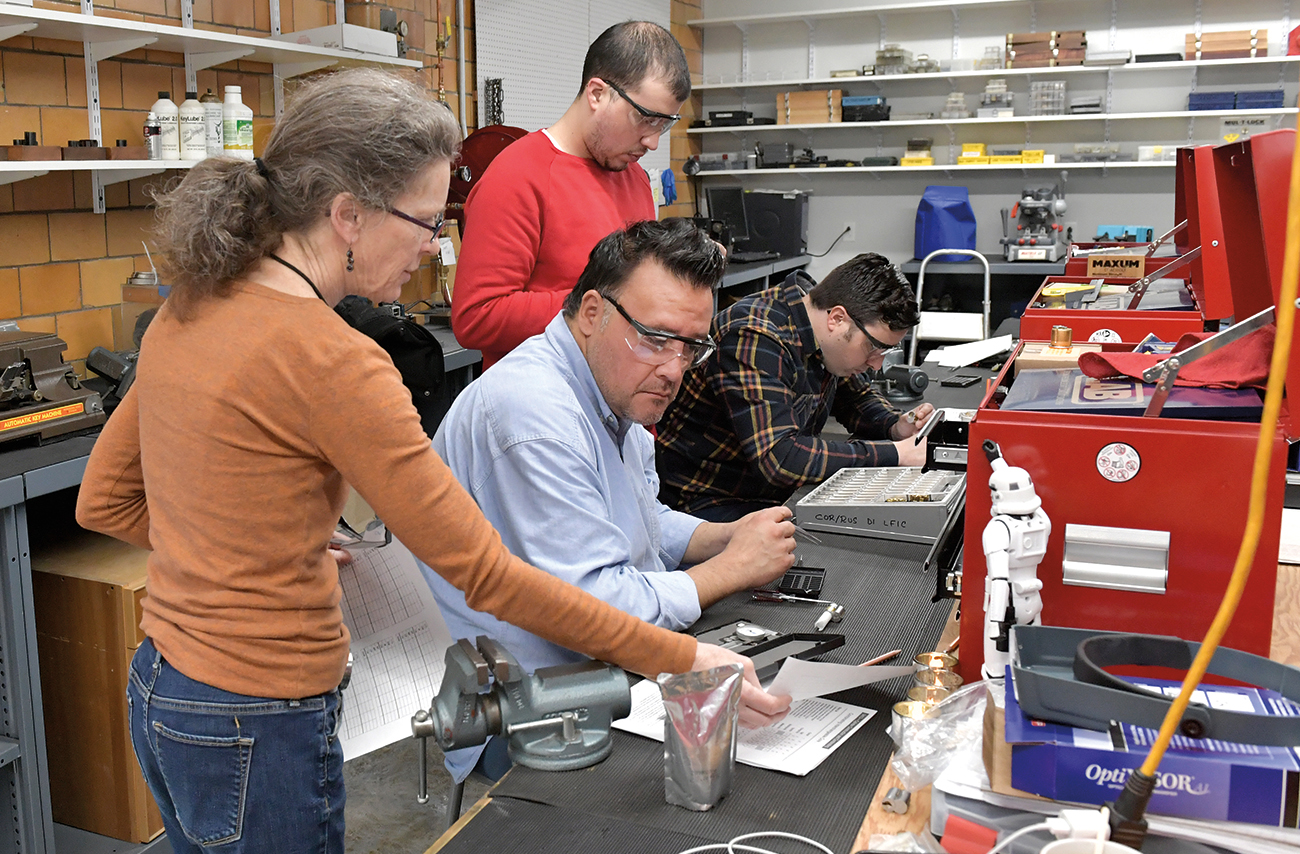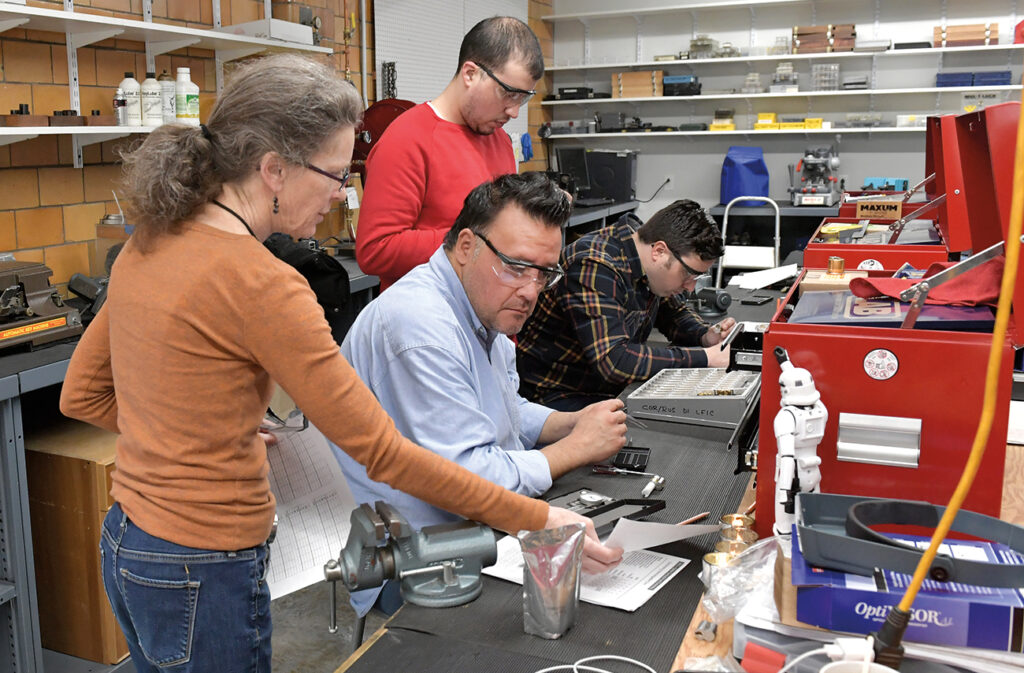 Recently, she joined a local makerspace, which she can ride to on her bicycle. "I'm trying to teach myself Inkscape, laser cutting, and eventually screen printing." Being a student has made her reflect again on the practice of teaching. "The other day, I felt like a wrung-out dish rag from trying to learn. It gives you empathy toward your own students. Eddy and I had conversations about that. For me, my transition into retirement has been all about learning."
Reflecting on his early conversations with Barb, Eddy says one of the most memorable was about their experiences as minorities in the locksmithing industry. "There have not been a lot of Black or Haitian locksmiths and instructors, and there have not been a lot of women locksmiths and instructors," Eddy shares. "We acknowledged some of the differences and the struggles in the industry. We connected over that, and I respect her so much for it."
Following that conversation, Barb put Eddy in touch with the trusted reps from locksmithing and security tech companies who routinely visit the School to give students insight into specialized sectors of the field, like safes or automotive key-cutting. Eddy says he's been busy expanding that network even more. "I do feel technology will be heavily implemented, so I'm always thinking about how we stay relevant," he says.
Despite changes and challenges to the industry, the jobs market for locksmiths is growing. "Everybody has been calling us for locksmiths. Usually, we get calls in January, but I started getting them in September. Construction is everywhere. Security and safety, which are tied to locksmithing technology, are so important. I feel very optimistic about the locksmithing field— keys aren't going anywhere."
This article is from our 2022 Annual Report. Read more stories from the issue or view more issues here.