Preservation Carpentry Students Rescue Former Plymouth Post Office
June 28, 2021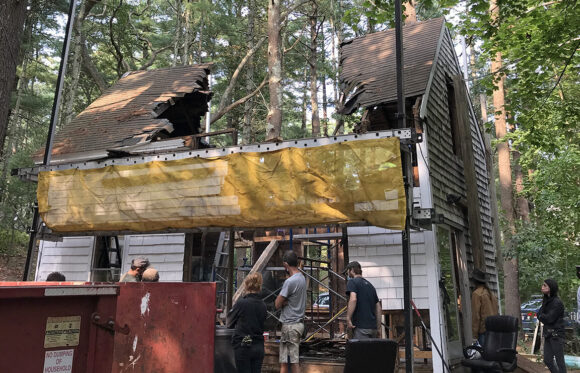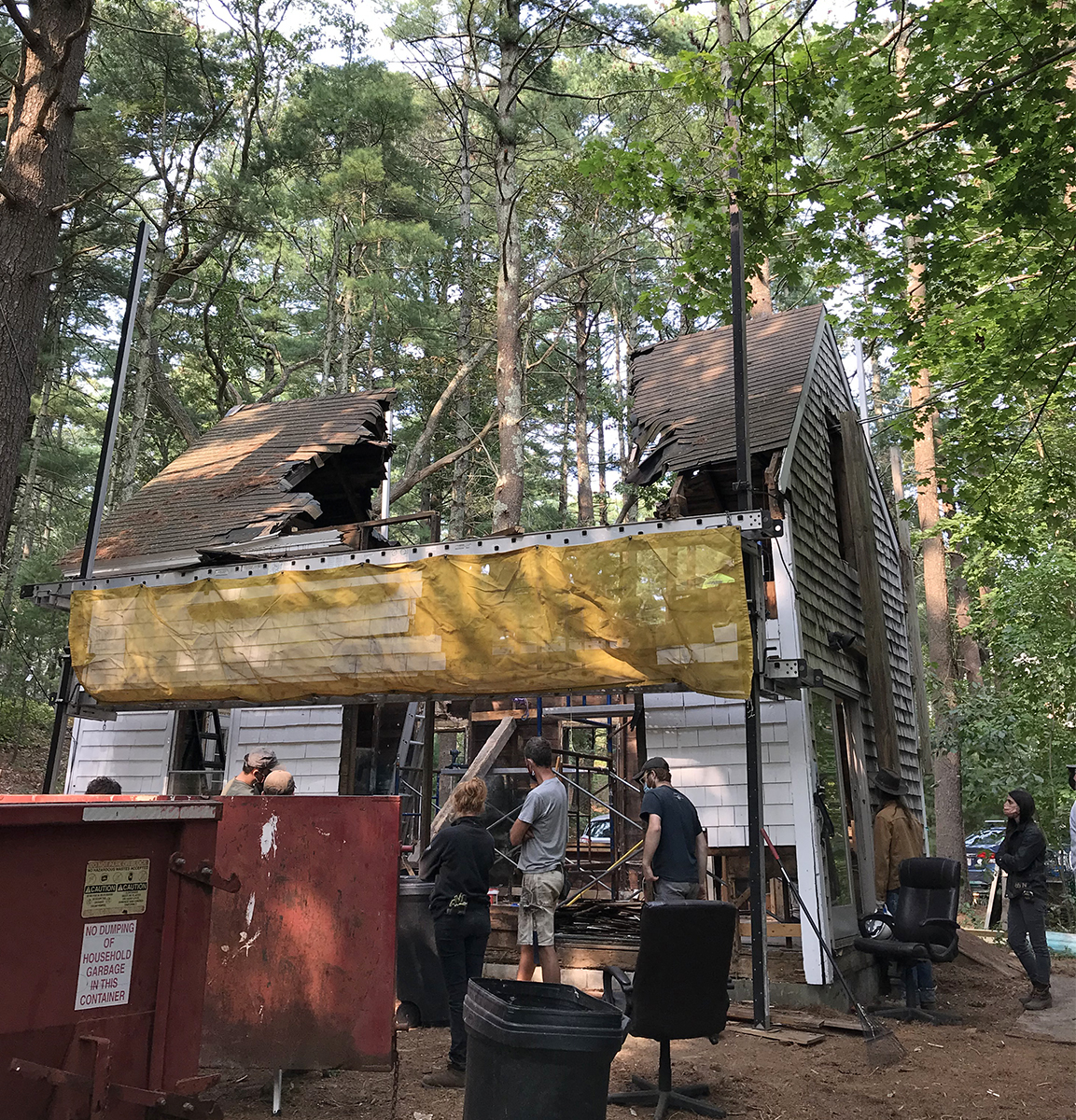 The scene at the former Plymouth Post Office left Preservation Carpentry (PC) student Emily Alexander confounded… bewildered even.
A giant pine tree fell on the middle of a small outbuilding, cleaving it into two sections—front and back. And at only 25 feet long and 15 feet wide, the diminutive structure didn't have much left standing on either side of the gaping hole.
Yet Michael Burrey, longtime PC program instructor at North Bennet Street School, was telling Emily and the seven other NBSS students that they were going to make it look as if nothing ever happened.
"I just didn't even know where we would start," Emily said. "My feelings were a mixture of being incredibly curious but also overwhelmed."
The shingle-sided building dates to the 1880s and sits at the foot of Catherine and Sean McKenna's driveway in the Chiltonville section of Plymouth, Massachusetts. According to local lore, it was once a post office. For almost 20 years, Sean has used it as a home office. Each year, he draped it with a big American flag during summer holidays and decorated it with Christmas lights in December.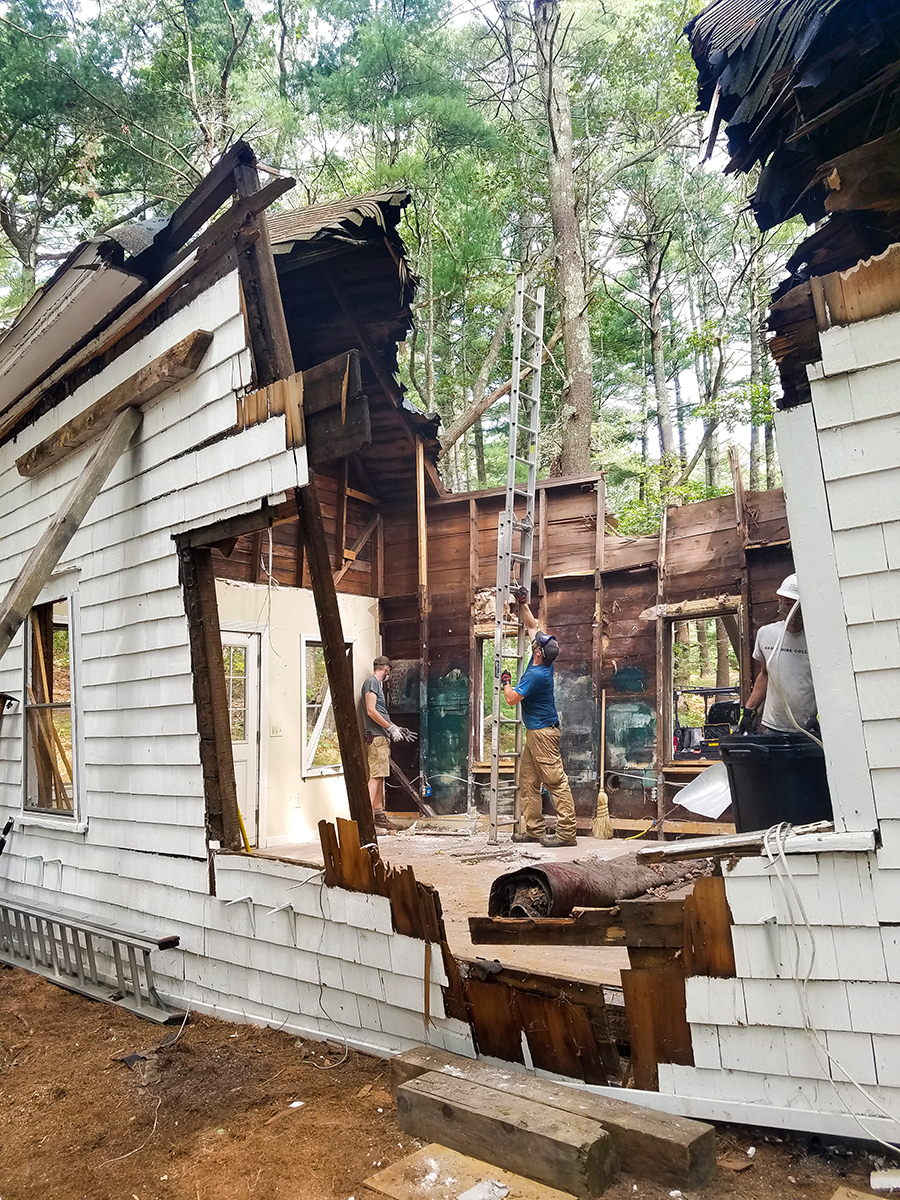 "Even people who didn't know us knew the building," Catherine said. "When this occurred, we got a lot of calls from people asking what happened."
The damage happened in an April windstorm. In the immediate aftermath, the McKennas planned on tearing down what was left of the old post office and rebuilding. They did not consider that the building could be repaired.
Then Michael approached them. He also lives in Plymouth, although he did not know the McKennas. Michael noticed the damaged building while driving past after the storm. "It looked pretty devastating, possibly even hopeless," he said.
Michael suggested to the McKennas that second-year students in the PC program would take the restoration on as a learning opportunity. He would even donate much of the lumber from three spruce logs that he sawed into boards himself. The family just needed to pay an affordable per-diem fee for student labor. The McKennas enthusiastically agreed.
The project started in September. In keeping with best practices for the pandemic, students wore masks, brought their own tools, and kept their distance from each other.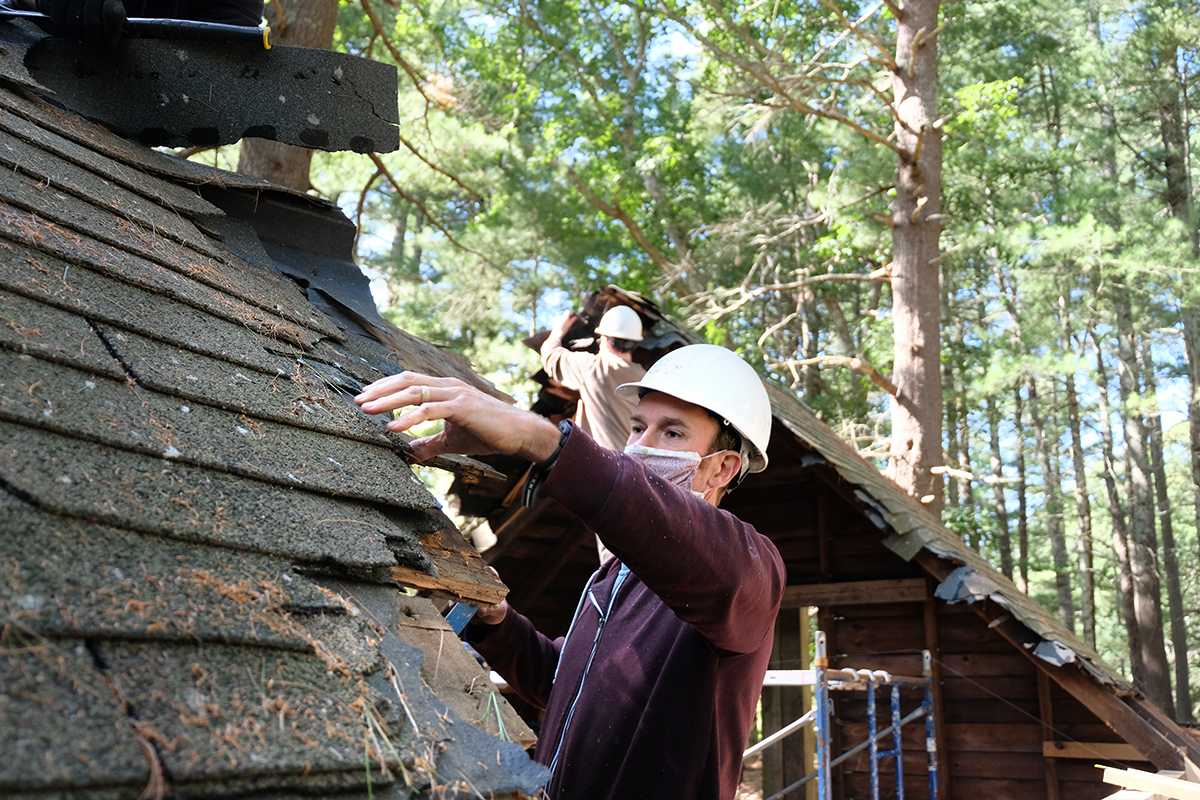 They first stabilized the building with screwjacks, come-along winches, and timbers. Then, they brought the framework into square, starting from the bottom and working their way up. Along the way, they cut away broken materials and replaced them.
"Michael really broke it down into helpful steps," Emily said.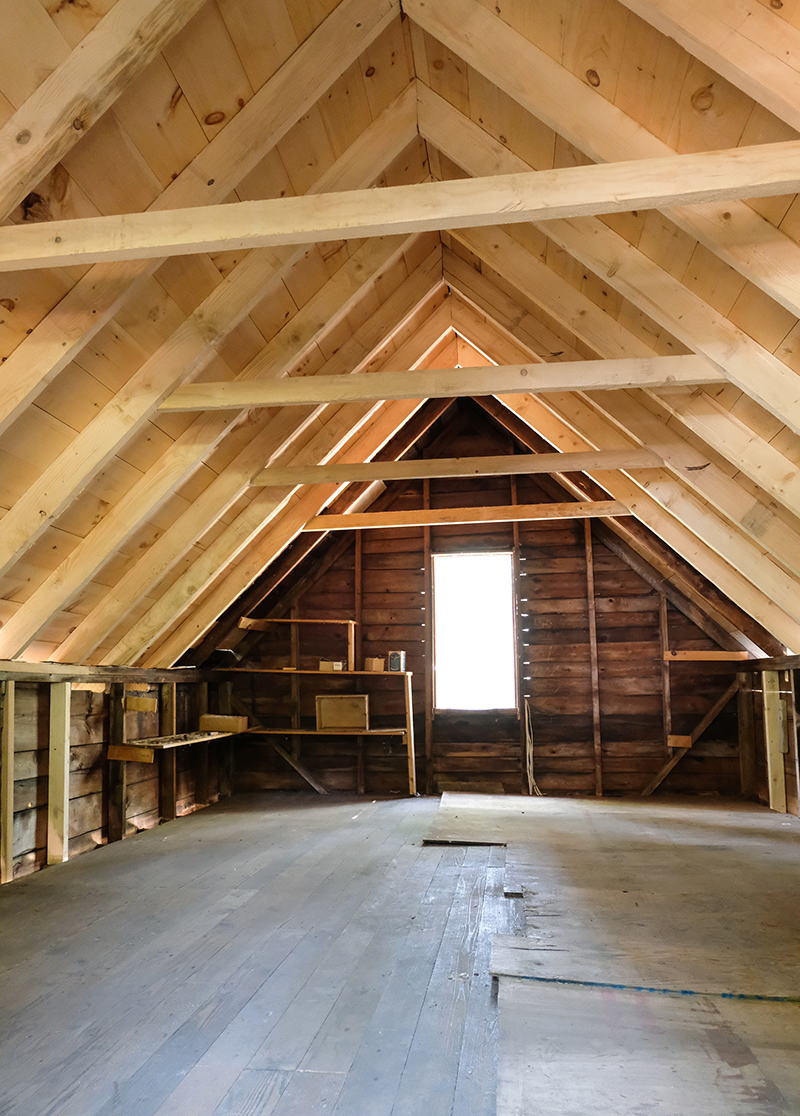 After seven days of work spread out over five weeks, the students closed the hole, sided the building, roofed it with tarpaper and made it weathertight, fulfilling their responsibilities. The owners planned on finishing the rest on their own.
Catherine described the students as "efficient, quiet, and methodical," which captures the program's focus on craft perfectly.
"We are so thankful," Catherine went on to say. "This wouldn't have been possible without North Bennet Street."
On the last day, the students reflected on their work. Emily said the general consensus was amazement that they had accomplished so much. Her instructor Michael agreed, sharing that the students not only honed existing skills, but also learned several valuable lessons. First, buildings are flexible. You can push and pull them into place with the right tools. The second lesson—and perhaps the most important one—was to not get discouraged, even in the face of tremendous structural damage.
Emily—a Sacramento, California native—graduated from the PC program shortly after wrapping up the Plymouth project in October 2020. She now works as a preservation craftsperson at Mount Auburn Cemetery in Cambridge.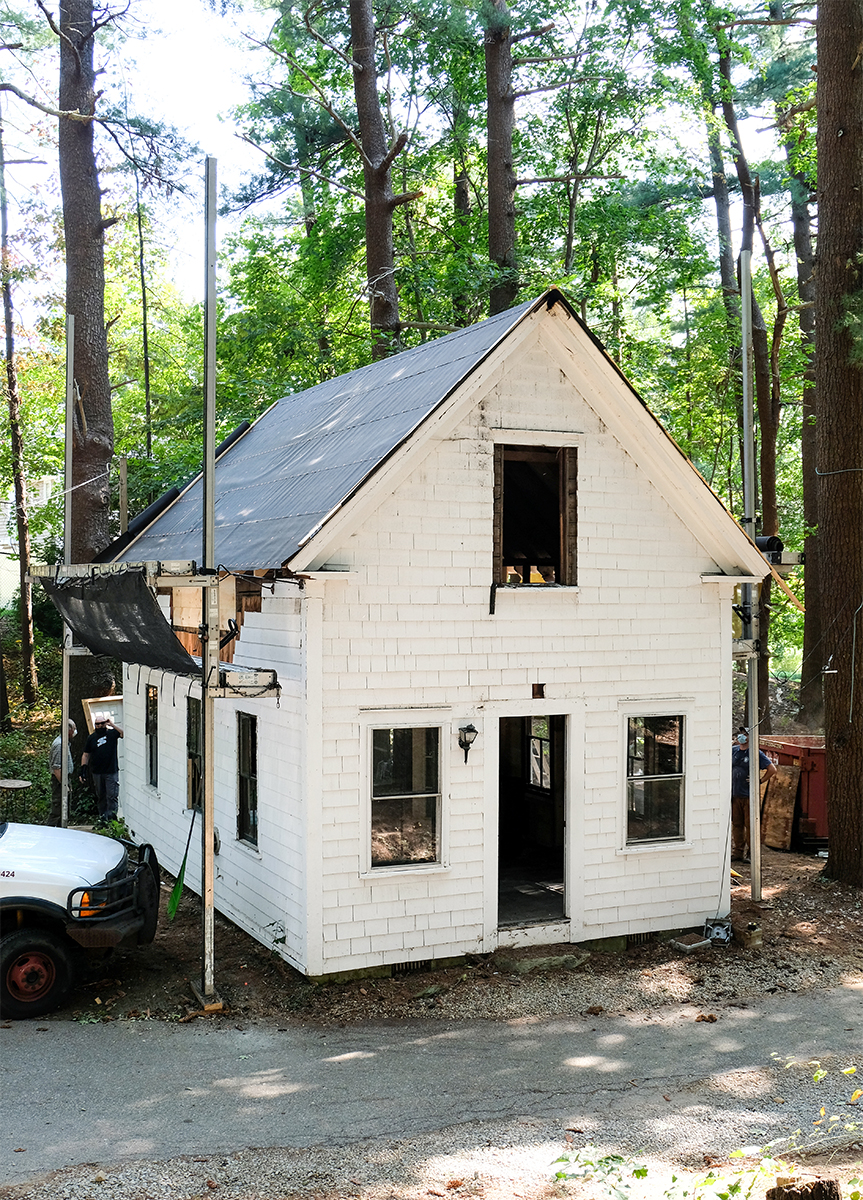 Before becoming a carpenter, Emily spent 10 years in the photography and graphic design business, having graduated with a bachelor of fine arts in photography from the Academy of Art University in San Francisco. The career change, she said, was prompted by a desire to step away from her computer and work with her hands. Preservation carpentry allowed her to merge that goal with her lifelong passion for history.
Projects like the Plymouth Post Office, she said, are proof that she discovered the right path.
"We were all so proud," she said. "By working on something like this, we're adding to the building's history, but also keeping it alive for future generations. Which is why it meant so much to me."
Images by Emily Alexander PC '20.
This story is part of the 2021 issue of Benchmarks magazine. View more Benchmarks stories, or download a pdf of the entire issue.