Preserving a 100-Year Old Cemetery Door
October 15, 2017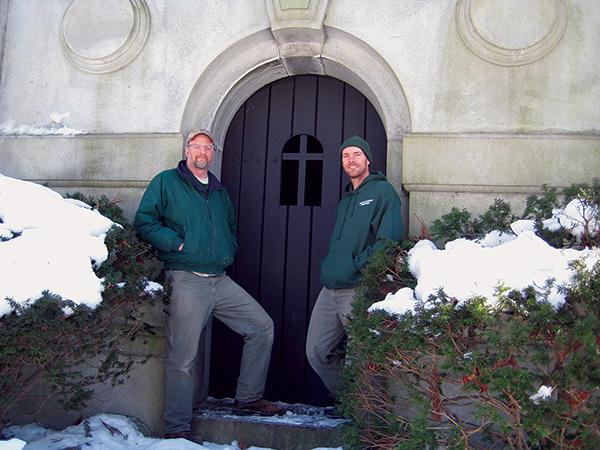 Two Preservation Carpentry alumni, Gregory Ghazil PC '10 and Stephen Brown PC '07 were recently featured in an article by Woodworker's Journal, highlighting their preservation work at the Mount Auburn Cemetery. First published in the October 2007 issue, a longer version was recently published on the Woodworker's Journal website as well.
"A century-old wooden door at one of the country's most historic cemeteries recently underwent a renovation to restore it to its former glory.
Mount Auburn Cemetery in Cambridge, Massachusetts, was founded in 1831 as the first "landscaped cemetery" in the United States. The cemetery does an annual survey to evaluate the state of the monuments and grounds, then prioritizes restoration projects, many of which relate to maintaining stone. However, a couple of years ago, a wooden door leading into the Bourne Family Tomb was chosen for a restoration focus.
Mary M. Bourne purchased a 2,073-square-foot lot on February 14, 1867. Construction began in 1867, and the tomb's first use was in 1881. It cost $30,000 and was the most expensive tomb at Mount Auburn at that time.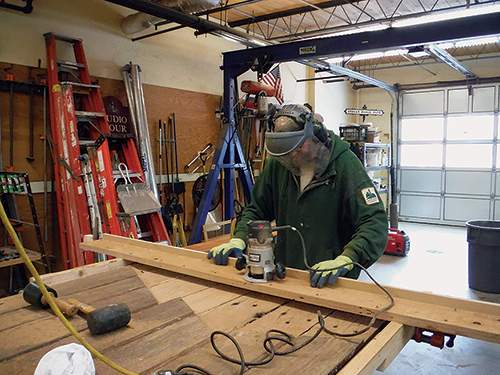 According to Steve Brown of the cemetery's preservation department, 'At some point in the first half of the 20th century, the heavy wooden door replaced an ornate marble door which was in bad shape.' The white oak door is 50″ wide by 96″ tall and 2-1/2″ thick. Moving it indoors for restoration 'was definitely a two-man job,' says Steve.
Steve and partner Greg Ghazil are both graduates of the Preservation Carpentry program at Boston's North Bennet Street School. That experience, Greg said, 'gave us a certain training and mindset towards restoration. Our goal was to remove the least amount of original materials.'
…Greg says, 'Our jobs at Mount Auburn are a nice balance of hands and brain. I love working with my hands, and the variety of projects here offers a constant challenge. Every project has a different set of issues to resolve.'
The Bourne Tomb, with its restored door, is located on Oxalis Path within Mount Auburn Cemetery. You can find more information about Mount Auburn here."
Read the rest of the article here.