Celebrating & Embracing Growth
June 21, 2023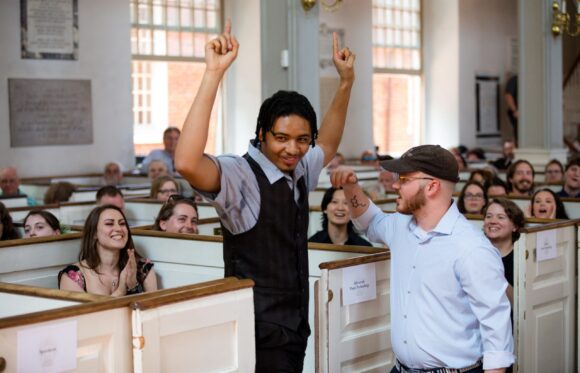 On June 2, a sunny Friday morning in the North End, a new group of graduates entered their professional crafts and trades careers, filling the air with excitement and energy. From the pulpit of Old North Church, we listened to heartfelt speeches recognizing the graduates' hard work and dedication, while stressing the need for community and connectivity. As graduates accepted their diplomas one by one—often with hugs and tears—the pride on the faces of every graduate and supporter was clear. Together, fellow graduates, friends, family, faculty, and staff shook the church with thunderous applause, ushering these 84 remarkable individuals into their next phase of their lives.
Commencement is a day of joyous celebration and of new beginnings, as our graduates embark on their hard-won career paths with newfound confidence and skills. They're eager to make their marks on the world, helping to sustain communities and cultivate success.
Like our graduates, North Bennet Street School is embarking on a transformative journey. In an era marked by strength and resilience, and with a dedication to our mission and an unwavering commitment to excellence, we seek to strengthen and expand our core programs while extending our reach to connect with people near and far.
At NBSS, we recognize that growth comes from meaningful connections with communities and partners. Looking back at our collaborations over the past decade, we understand the complexity and challenges involved, yet these are rewarding endeavors. They include restoration projects with nonprofits like Memorial Hall, commissions with organizations like the Home Base Foundation, programs with schools such as Madison Park Vocational Technical High School or MassArt, and internships with cultural organizations like the Boston Athenaeum or Decorative Arts Trust. Expanding our reach means not only enhancing our projects, workshops, and programs, but also forging new alliances with diverse community partners, employers, and alumni. Our goal is to have a broad impact and make a difference for all.
Central to these efforts are our students, both present and prospective, whose experiences are vital to both the School's and their individual success. We are committed to enhancing the student experience by providing increased support, from the moment of initial inquiry and application, through their education with our talented faculty, and beyond graduation into gainful employment. Through this work, we will empower our learners to unlock their full potential and become the skilled artisans and tradespeople of tomorrow.
Our achievements would be impossible without the dedication and expertise of our exceptional faculty and staff. They are the bedrock upon which NBSS's reputation for excellence is built. As an institution, we are committed to advancing as an employer, investing in the individuals who enable our best work to happen. By fostering a supportive environment, we create a virtuous cycle where our talented team members thrive, enabling them to further elevate the quality of education and experiences we provide for students.
The challenges of recent times have proven our resilience and adaptability as a vibrant learning community. Those same challenges further embolden our optimism—and our uncompromising ambition—to continue to provide an exceptional learning environment.
Today, like our graduates, we stand at the start of a new era, filled with limitless potential for growth and impact. At NBSS, we believe that through our collective efforts, we can shape a future that transcends boundaries, propels our programs forward, nurtures the success of each individual who passes through our doors, and unlocks the boundless potential of our exceptional School. 
I invite you to join us in this effort so that together, we will create bold new opportunities for our community, and leave an indelible mark on our shared world.
Best,
Sarah
Sarah Turner, President