Making Peace With a Leaking Roof
November 30, 2020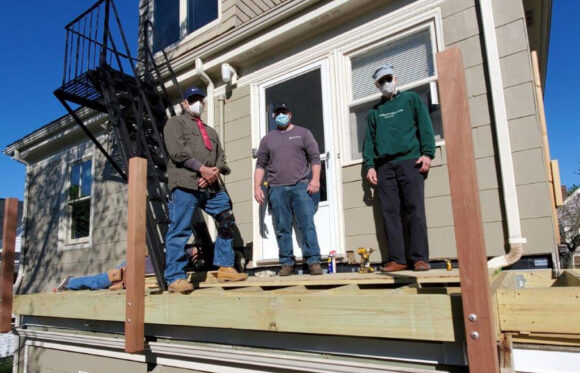 According to the hit song "Up on the Roof" by Carole King and Gerry Goffin, "On the roof, it's peaceful as can be. And there the world below can't bother me." In reality, however, a roof—especially when it leaks—is not always an untroubling place for a property owner. Just ask former NBSS Associate Director Walter McDonald and his wife, retired real estate lawyer Carol O'Hare.
"Near the end of last winter, we learned of what was first described as a leaking window in our first-floor tenant's apartment. When I checked it, I saw that it was actually a roof leak that was creating a pretty alarming puddle in the kitchen," said Walter, co-author of the 2018 book Rewarding Work: A History of Boston's North Bennet Street School.
He went on to explain that the kitchen roofing is a rubber membrane, on top of which sits a deck off of his and Carol's apartment. The deck provides access to the couple's back door, and is also part of the fire escape for the Cambridge triple-decker's third-floor unit.
"The first handyman who came out to the house said there wasn't much that could be done without replacing the entire roof," recalls Walter. "Naturally, we thought of Arthur Massaro, founder of Columbia Contracting Corp.— a member of the NBSS Carpentry Advisory Committee—who built the deck for us in 1983 and has done quite extensive work on both the front and back of the house, too.
"With that in mind, Carol contacted Arthur for a referral. These days, Arthur's company generally does high-end, bigger projects so Carol and I were pleasantly surprised when, instead of recommending other contractors, Arthur said, 'Well, maybe I'm interested in the job?'
During the first months of the Covid-19 pandemic, the Commonwealth of Massachusetts implemented an emergency-work-only construction shutdown. With the roof leak constituting an emergency, a permit was issued from the City of Cambridge, and the project was soon underway. And, given Columbia Contracting's extensive hiring of graduates from the School, it turned out to be a de facto NBSS community effort.
As Walter described the project, "Arthur assigned foreman Andrew Maloney CA '99 to supervise lead carpenter Jimmy Licata CA '93 and another carpenter to dismantle the existing deck, prep for the roofers, and then rebuild the deck and the first run of stairs with all new materials.
"They were on-site for about four weeks, during which time we all got accustomed to talking with each other daily through masks," says Walter.
Walter and Carol both have high praise for the Columbia Contracting team. "Their craftsmanship was exemplary," says Walter, while Carol adds that "their work was meticulous and top-notch."
Thanks to a job very well done, for Walter and Carol once again, as the song says, "Everything is all right up on the roof."
---
Seeking NBSS alumni to work on your small or large home renovation project? Submit your projects to our Jobs & Commissions Board.