A Second Chance to Shine
July 15, 2022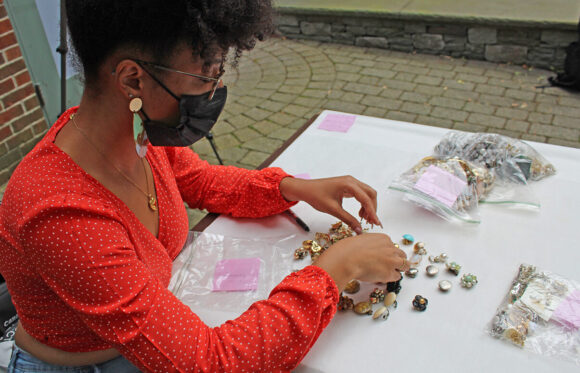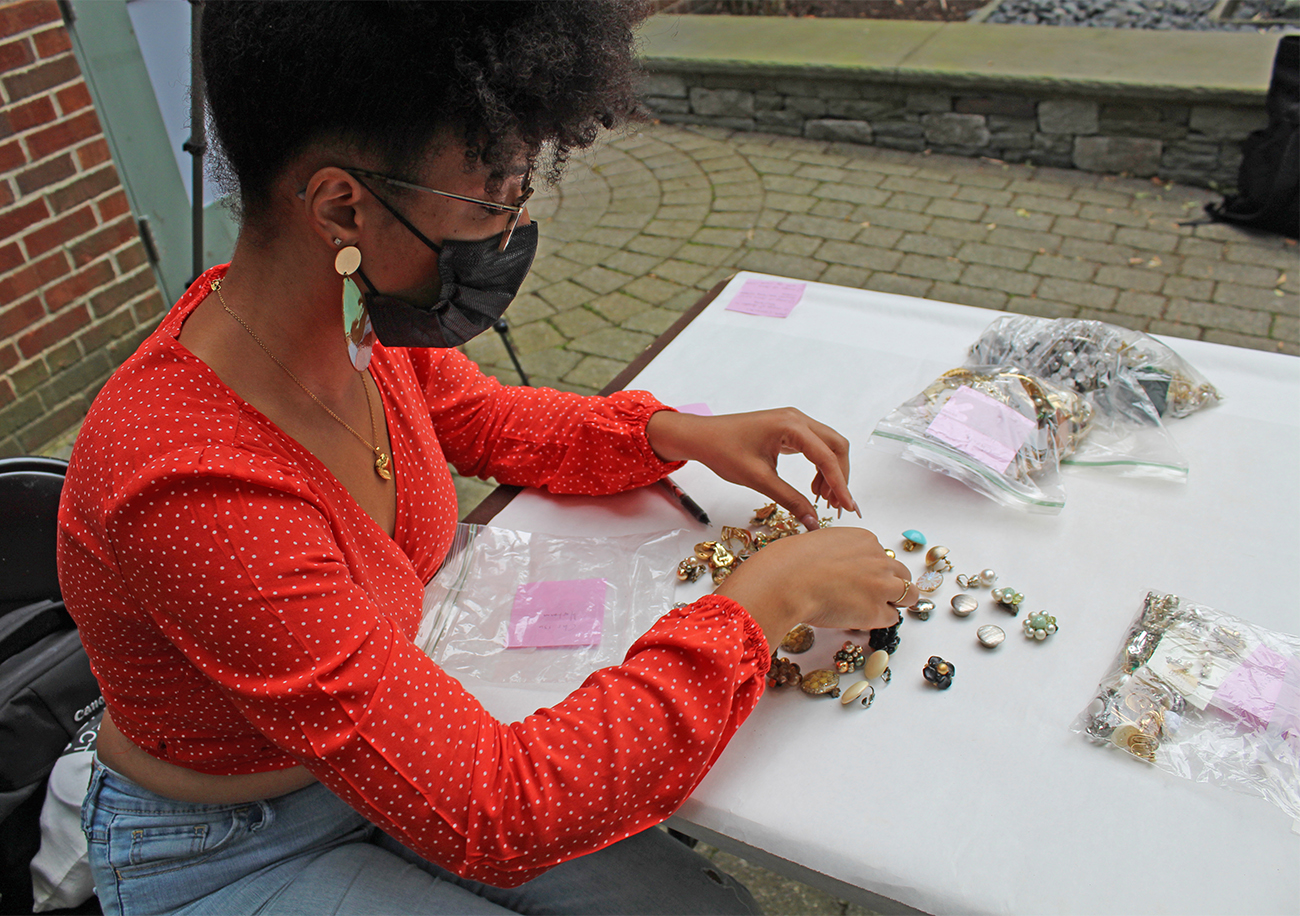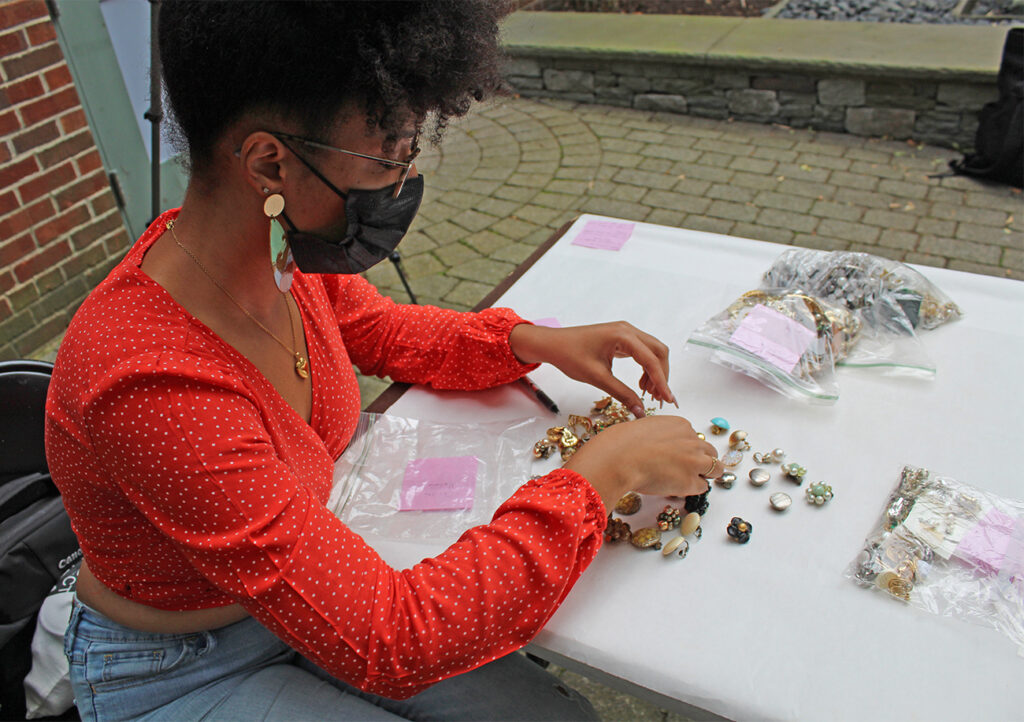 Ja'Hari Ortega JM '23 bent over a table that was covered in vintage clip-on earrings, methodically sorting imitation pearls, lime green rhinestones, and decorative fig leaves into piles. 
Each of the donated pieces had been worn by someone else, cherished or forgotten, tucked away and then offered up by more than 70 generous individuals for repurposing by Radical Jewelry Makeover: Boston (RJM). 
"What is radical about that?" Ja'Hari asked herself about the project's title as she thought through the process that lay ahead. "Access is a huge word," she concluded, thinking about who wore the original jewelry, and who would (or would not) be able to afford the new pieces. To others, the "radical" aspect of RJM, was the call to re-design the jewelry making industry to be free of exploitation and waste. 
A 2021 Massachusetts College of Art and Design (MassArt) graduate, Ja'Hari was a teaching assistant for RJM, which is how she reconnected with Melissa Gallin, who had known her as a young artist and is now Director of Institutional Support at NBSS. The two met up and spoke more about Ja'Hari's goals and the  NBSS Jewelry Making & Repair program. She ultimately applied and was accepted. "Add in the technical skills I'm picking up at North Bennet and I'm going to be unstoppable," Ja'Hari said from her bench in the jewelry making workshop.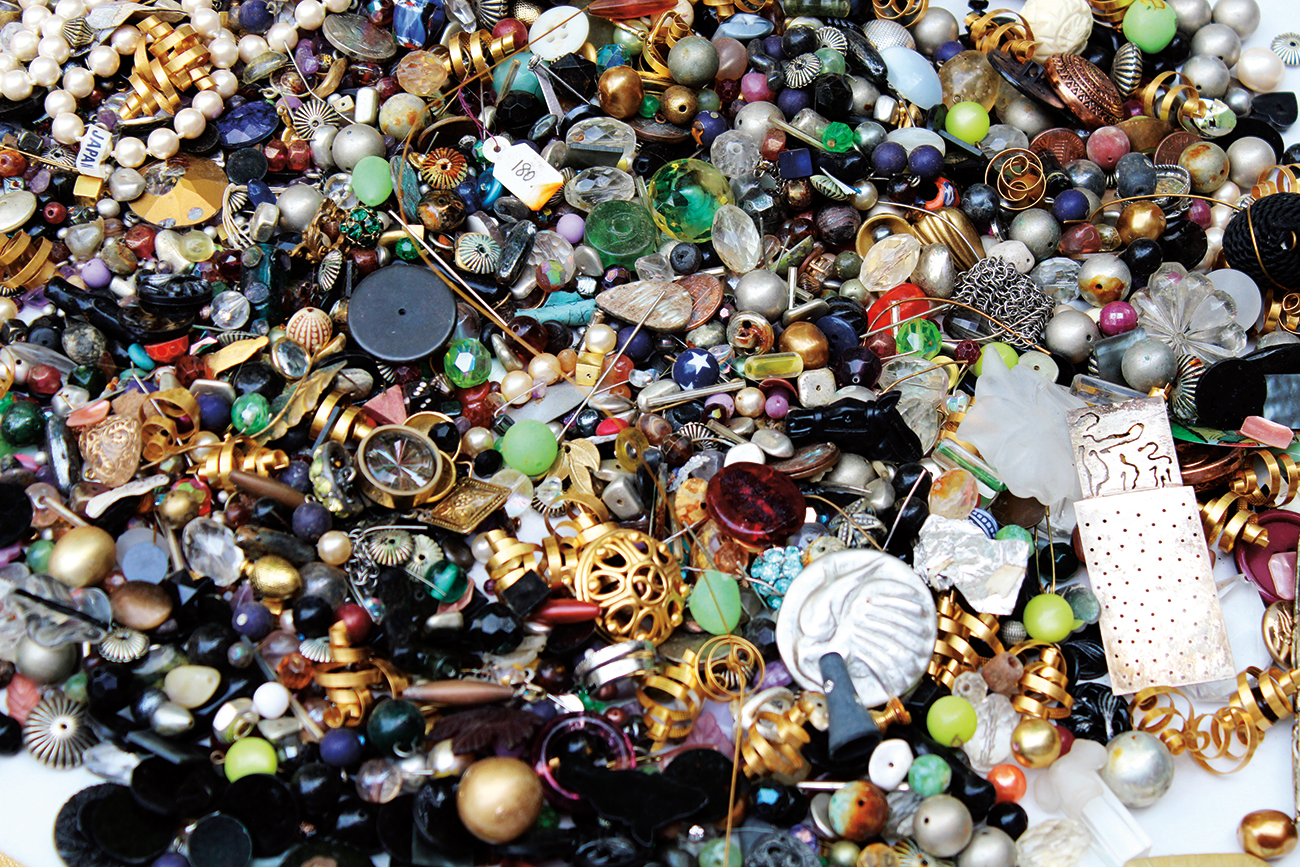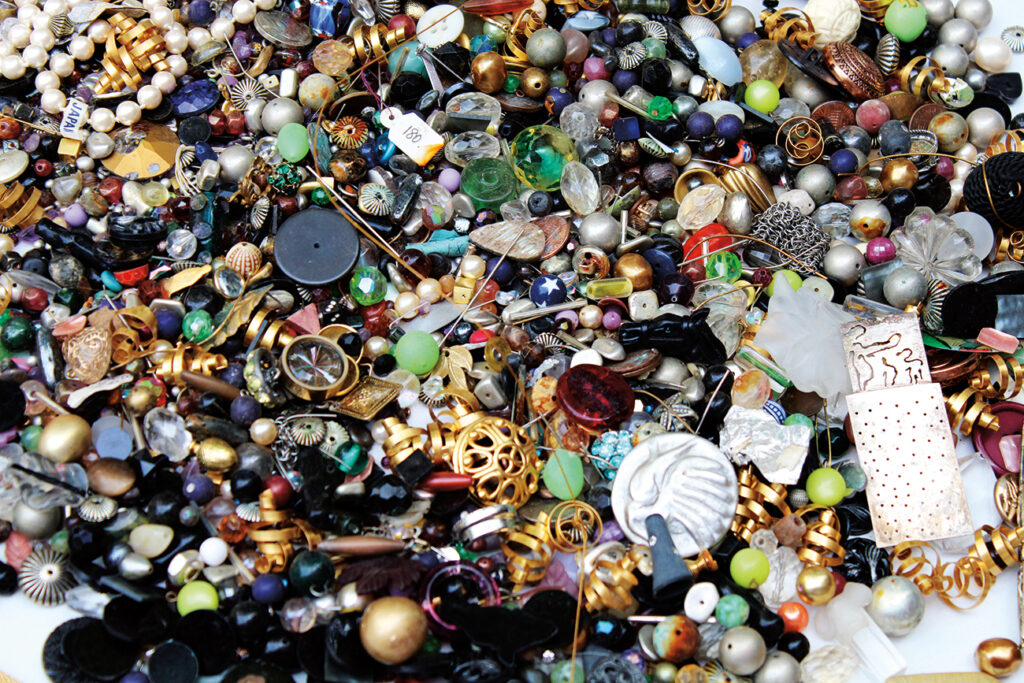 Founded in 2007, RJM is an international program hosted by different cities around the world to encourage responsible jewelry making practices. That includes bringing awareness to how gemstones, metals, and costume jewelry can be recycled and whether they were sourced and produced ethically originally. Donations are accepted, sorted, and taken apart to create new jewelry pieces to be exhibited and sold back within the community. 
The Boston installment was a creative collaboration between NBSS, School of the Museum of Fine Arts at Tufts University (SMFA), and MassArt. The project took place over the Fall 2021 semester, culminating in an exhibition on display in the NBSS Gallery & Store through January 2022. 
After several years of disconnect related to Covid-19, the partnership sparked reconnection among its participants—one clasp, bead, and chain link at a time. 
"When people dropped off a piece of jewelry, they also dropped off stories," said Tanya Crane, Professor of the Practice at SMFA, who co-taught a semester-long RJM course with Emily Cobb, assistant professor in jewelry and metalsmithing at MassArt.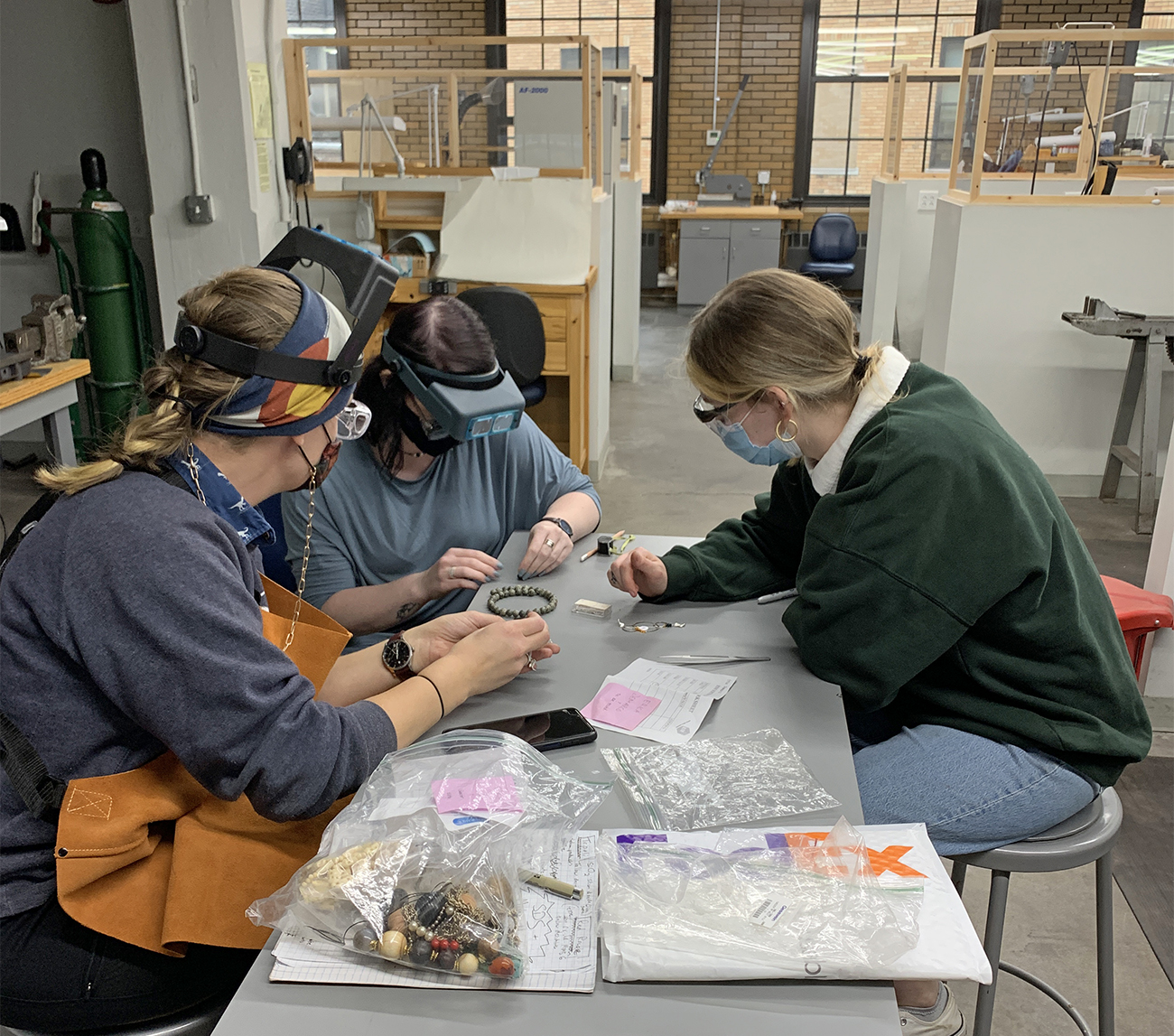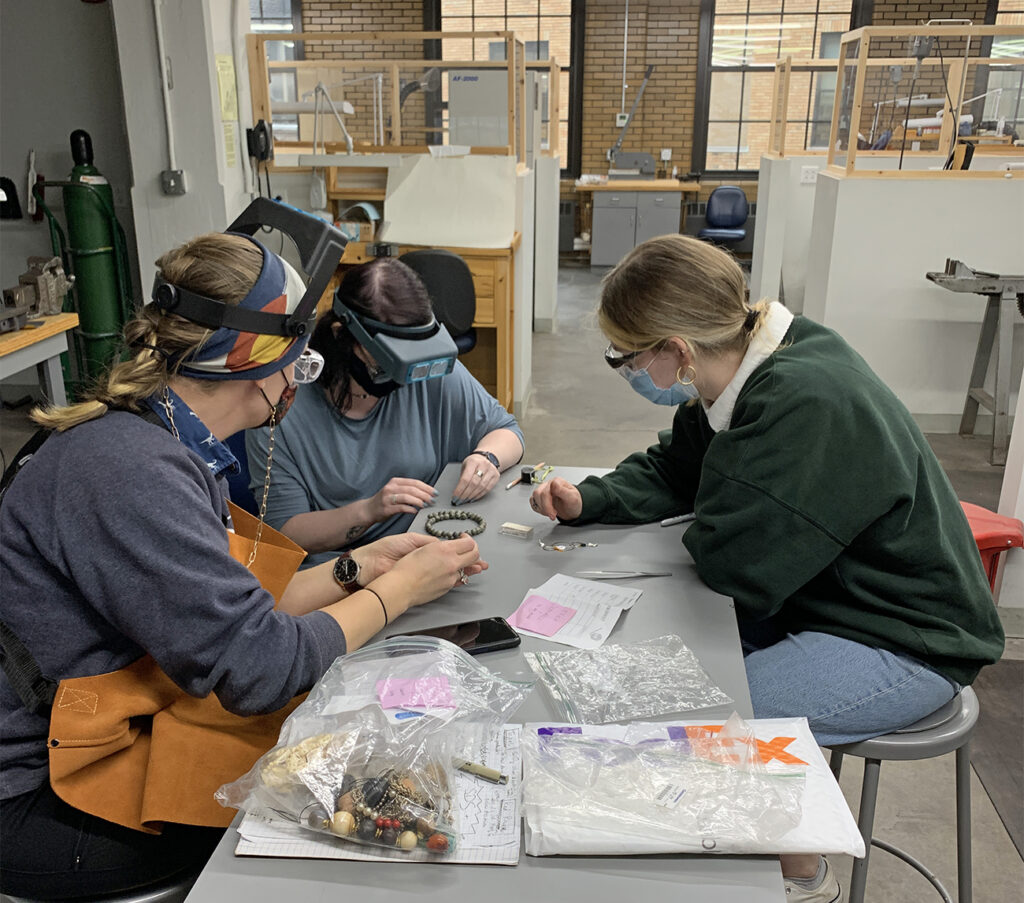 Over at NBSS, where the Jewelry Making & Repair program students log over 50 practical projects during their two-year journey, Department Head Ann Cahoon JM '02 and several of her students determined that they could be most helpful by lending their technical expertise as bench jewelers. Their skills complemented the passion for design that students from the other two schools brought to the project. 
Ann said, "We really dug deep and offered support in identifying materials." Those elements included metals and gemstones. But she also advised on the safety measures related to working with pieces containing lead, a potentially hazardous metal, and presented lectures on identification of jewelry hallmarks (a numeric or alphabetical mark on fine jewelry specifying purity), and other related topics. 
After the sorting stage, boxes marked "For inspection by NBSS" began arriving from SMFA. "They have expertise in analysis of material and source material," Tanya explained. "NBSS students could really put things under the microscope and analyze what kind of stone we were dealing with."
And though some (literal) diamonds in the rough were discovered in the gleaming mountain of costume jewelry, Ann was quick to clarify that "a strand of plastic beads that belonged to someone's grandmother is no less precious or important than the three-carat solitaire. What makes jewelry precious is not necessarily its content." 
Ja'Hari enjoyed seeing students overcome their hesitation about breaking down older pieces and getting the creative ball rolling. "Watching those things evolve was pretty awesome," she says.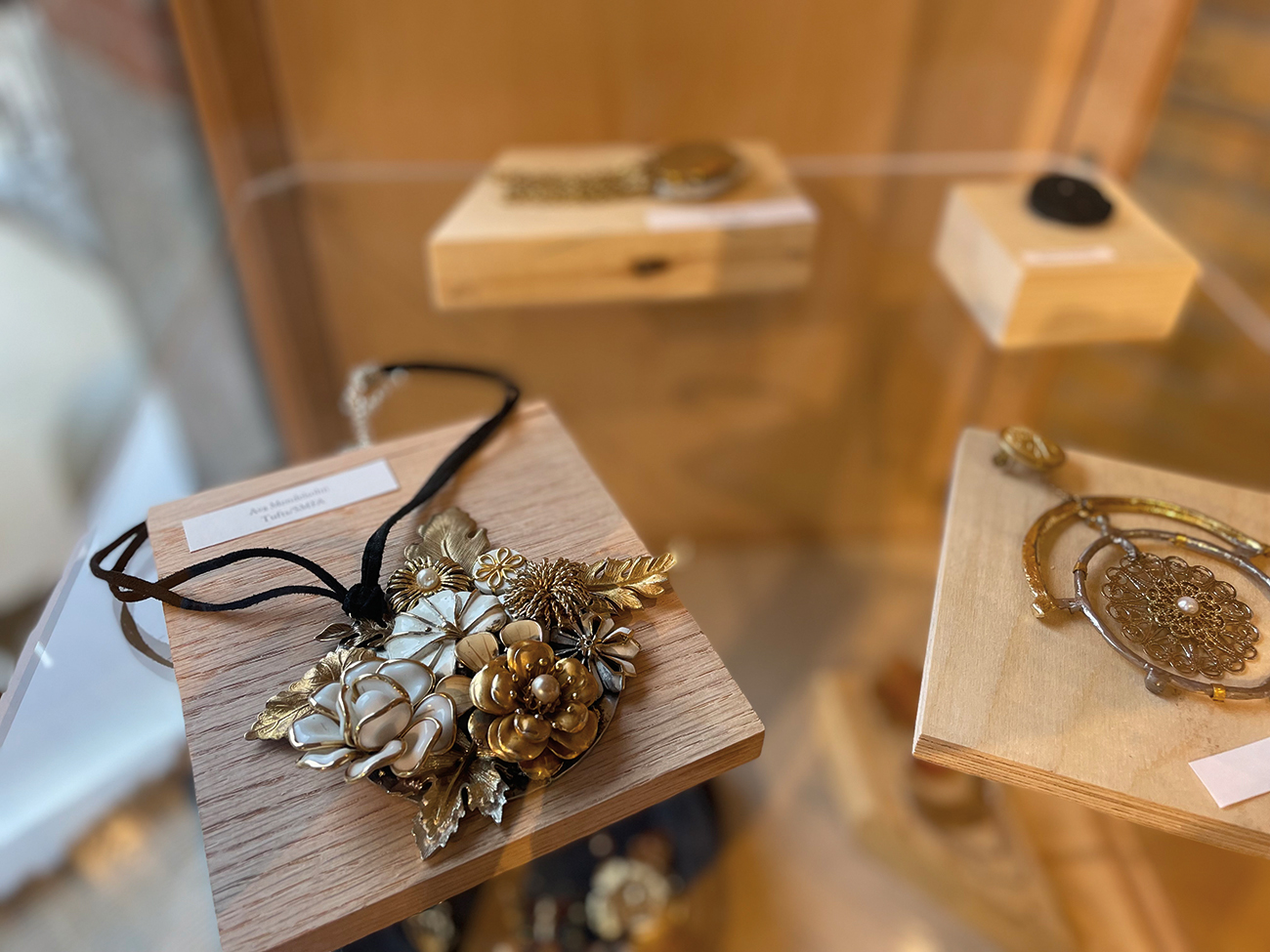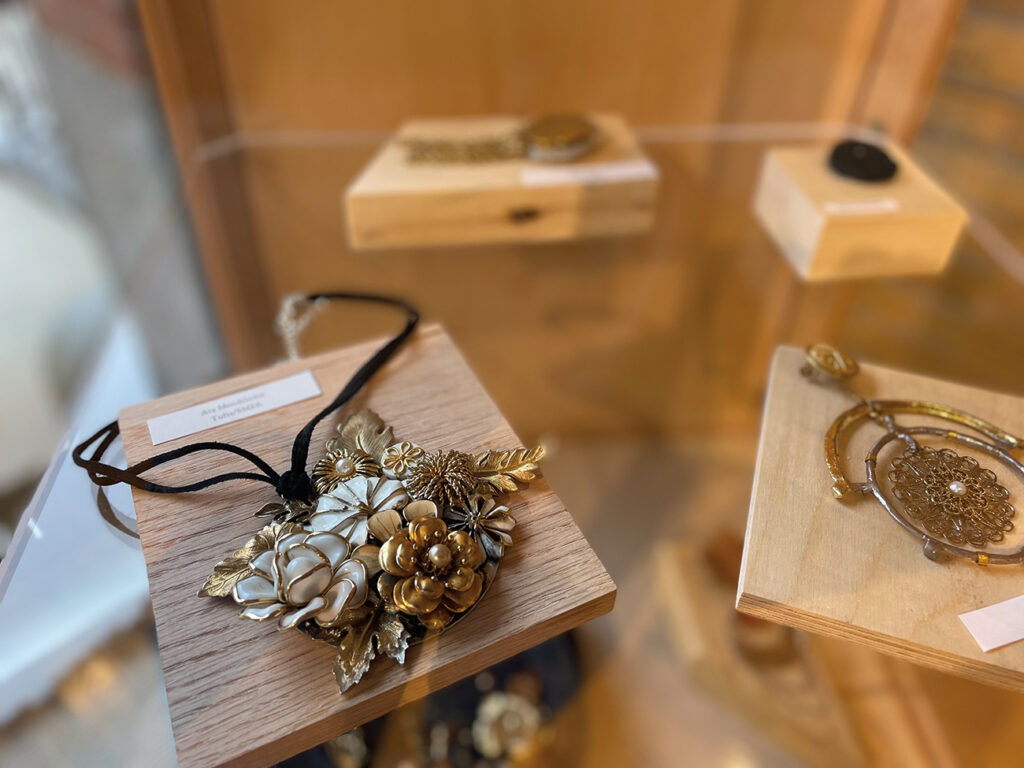 Rings, brooches, and several striking necklaces incorporating elements of human hair, beading, rope, butterfly, and other animal motifs, made for contemplative viewing as well as reflection on fast fashion, what is wasted, and what is treasured. 
Ann appreciated that the jewelry was "sophisticated in inception and execution," and that getting to showcase them at NBSS provided a nice moment for her students to see the value of "the craft side of the house" where handwork is purposefully made to be sold for a profit. 
It also provided a launchpad to discuss methods of preserving, handling, and recycling materials and objects. And across town at SMFA, Tanya notices that as a result of the project, "The students now think about the amount of waste that objects in general create, all the waste that comes from mining and every material that we use." 
Meanwhile, the impact of RJM continues to ripple out into the wider community. The jewelry piece that Ja'Hari made was purchased by an artist living and working in Roxbury, her own neighborhood in Boston.
This story is part of the 2022 issue of Benchmarks magazine. View more Benchmarks stories here, or download a pdf of the entire issue.