Timeless and Original: Emily Scott Surette JM '07
May 2, 2019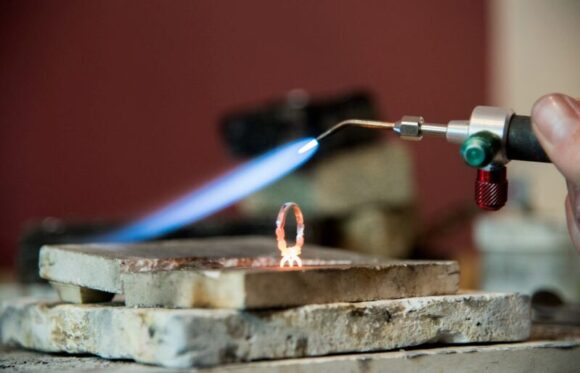 The work of Emily Scott Surette JM '07 aims to be timeless: a ready-to-wear style that's functional while still elegant, found everywhere from the hands of local brides-to-be, to the inside of swag bags at the Oscars.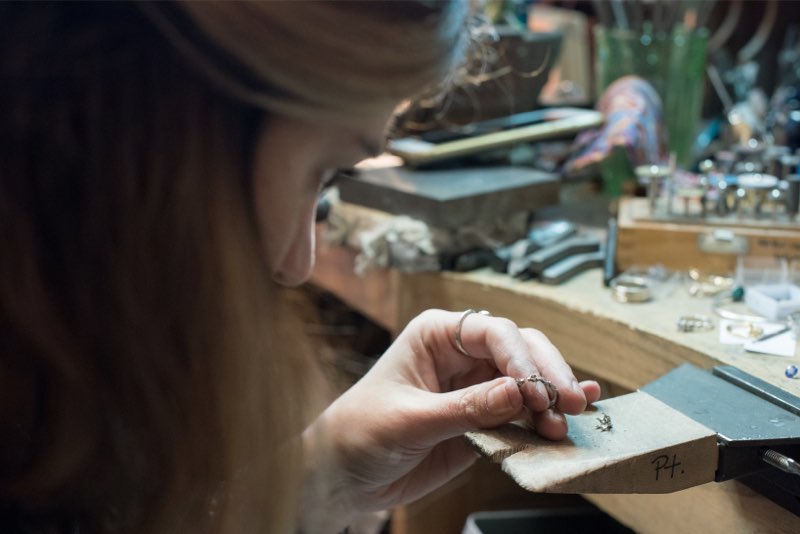 While in her junior year at Boston University, Emily found herself realizing that a career in advertising was, unfortunately, not as creative in the way she had hoped, nor as hands-on as promised. Emily had long been drawn towards making jewelry, and after some thought, she decided to go all-in and turn her hobby into a career.
"I always kind of made jewelry," says Emily. "People just liked it. While I was waiting tables I sold the beaded stuff I made on the side. But what was missing was my ability to use fine materials and sophisticated techniques," she shares. "I had my own designs and concepts in my head, but I couldn't make them. I had never actually done metalwork."
Emily searched for a program that would combine practicality and creativity, allowing her to hone her skills in the field. She eventually stumbled upon North Bennet Street School's Jewelry Making & Repair program, which over two years prepares students to become professionals in the industry.
"North Bennet was by far the most practical program I found, and it was very much focused on teaching students the kind of knowledge that can be translated into a career," says Emily. "It was perfect for me."
"Working with your hands has a bearing on your self-esteem. Making a tangible product that you can hold and can say 'I made that' is huge. It does a lot for someone's self-confidence. I wouldn't trade it for anything."
Emily still remembers what it was like to first make the leap from the corporate path to being an artisan, working with her hands. "Making the transition from advertising to jewelry was big. Even though I was pursuing my passion, I also needed a career that would support me," she explains.
Emily reflects back to the beginning of the program, where everything was completely new. "When I was in school it took me a good six months to figure out if it was going to work or not. I had a hard time right off the bat, and then eventually something just clicked—I found myself getting faster and more confident. At that point I knew that I could make this into a career."
For incoming students, whether they are just starting their education, or planning to make a bold career change, Emily points out that it takes motivation. "NBSS is definitely a place where you get out what you put in," she says. "I learned various ways to approach my work, and also applied a go-getter attitude to the task."
Emily connected with her teachers about jobs in the industry, and found herself first working for a small jeweler before moving onto a larger one to produce higher-end work. She even picked up some projects through the School's Jobs & Commissions Board, working on custom projects for clients. "People would approach the School and ask for rings or a pendant, and I responded. Simple as that. That's how I got started."
After graduating in 2007, Emily launched her own small business, e. scott originals. Today, she has a brick-and-mortar shop in Somerville, Massachusetts, where she continues to produce original work (alongside her dog, Mayble). She's returned to NBSS as a member of the School's Program Advisory Committee, which helps share state-of-the-industry expertise with faculty. Emily's also a member of the Artisan Group, which has brought her work some A-list celebrity recognition.
But it's her dedication to her craft that keeps Emily going, and her jewelry business thriving. "Working with your hands has a bearing on your self-esteem," Emily says. "Making a tangible product that you can hold and can say 'I made that' is huge. It does a lot for someone's self-confidence. I wouldn't trade it for anything."