Shop Tour: e. scott originals in Somerville, MA
July 16, 2019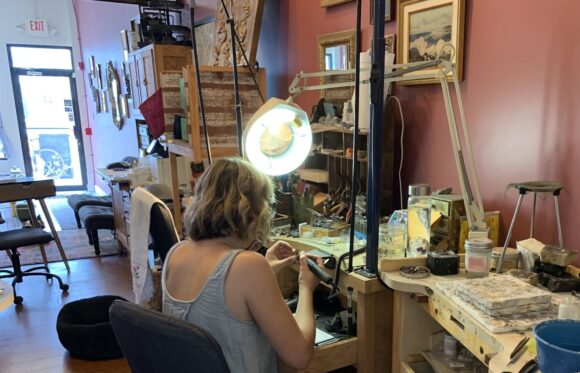 After graduating from the Jewelry Making & Repair program in 2007, Emily Scott Surette JM '07 opened her own small business, e. scott originals. The cozy 415 sq ft space in Somerville, Massachusetts, is filled with vintage furniture and hand-crafted jewelry of all kinds for sale. A small showroom and consultation area fill the front, and you can see straight through to Emily's workspace in the back. There's no wall or curtain that separates the making from the product—you feel you're right there with her at her bench.
Emily has operated this boutique storefront for nine years, growing into a local go-to for unique, handmade, custom jewelry. She says her neighborhood – and greater Somerville – has been supportive of small businesses like hers, and feels there is a growing demand for locally-made products here. She's also watched the neighborhood grow up around her: when she first opened, hers was one of just a few businesses on a quiet residential street. Now, there's a bustling set of shops in her row, including a local butcher shop, pet supply store, funky hair salon, and small bakery/coffee shop.
When she first opened her business, Emily ran it out of her home, meeting clients in coffee shops and cafes for consultations. She knew pretty quickly that couldn't be a long-term solution, as she was bringing expensive stones and juggling inventory during these meetings. Right about the same time, she also got a Boston terrier, which she named Mayble. She investigated shared artist spaces and studios, but couldn't bring a dog with her, so kept looking. When she spotted the "for lease" sign in the window of a space near her apartment, she knew she'd found the right spot.
Emily says her business is now about 60% word-of-mouth, as her clients tell their friends and the network grows. Her style is a blend of vintage and modern, and organically-inspired. Every piece is molded, carved, and shaped by hand, giving them a one-of-a-kind feel. The majority of her sales are currently custom wedding and engagement rings, though she also sells necklaces, earrings, tie pins, bracelets, and more.
Over the years, Emily also sold her work at craft shows and tried selling wholesale, but felt the high level of promotion and salesmanship needed to be successful didn't fit her personality or the type of business she wanted to run. She wanted to create a welcoming space where customers could touch and try on the jewelry, so in her storefront she cultivated a homey, relaxed vibe that puts her customers at ease. While she doesn't get a ton of walk-in traffic, her customers tell her like having a physical shop to walk into as they're searching for meaningful jewelry.
Mayble the shop dog contributes too: "She loves everyone—men with beards, older people, everyone. If someone is buying an engagement ring, she seems to sense they're nervous and will come right up and sit on their lap."
Read more about Emily's background and journey to becoming a professional jeweler.
We love seeing shops, stores, and studios of all kinds. Send a note to info@nbss.edu to have your shop featured in this series.