Sanctuary & Symphony
August 13, 2020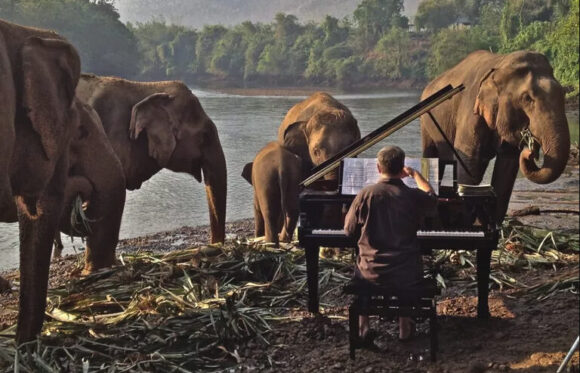 Reprinted with permission from the January 2020 issue of Piano Technicians Journal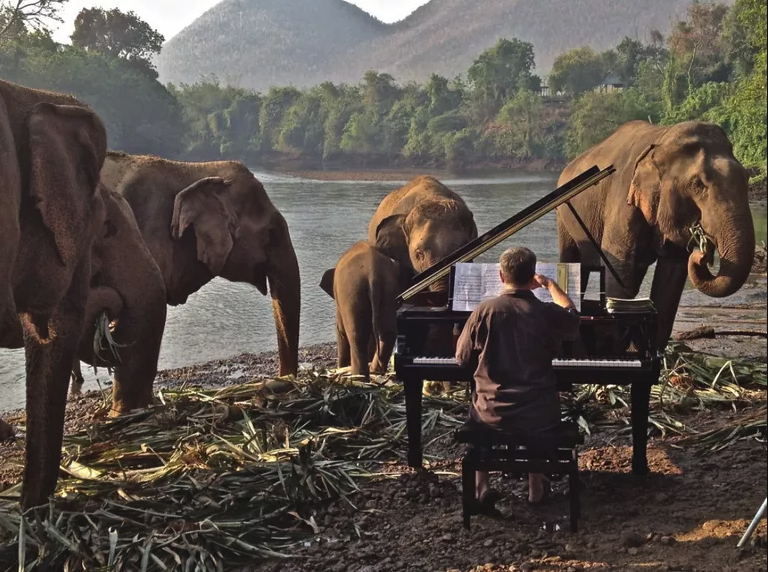 "Wow, this is amazing." I was reading the Taiwanese newspaper on my grandfather's small sofa. The article was about Paul Barton, a pianist from the United Kingdom who had played classical and contemporary piano repertoire for elephants in Thailand's sanctuary for many years. He had dedicated himself to bringing tranquility to the souls and minds of those injured, blind, abused, and long-ignored creatures of beauty. Having been an animal and music lover since my youth, I believed there must be something I could also do for them.
Setting myself to the task, I reached out to Paul and just two months later, arrived in Bangkok with bags and tools in hand. Traveling from the airport was a challenging affair, as it's easy to get lost within one of the most notoriously congested cities in the world. After several hours of navigating and hand gesturing with the cab driver though, I finally arrived.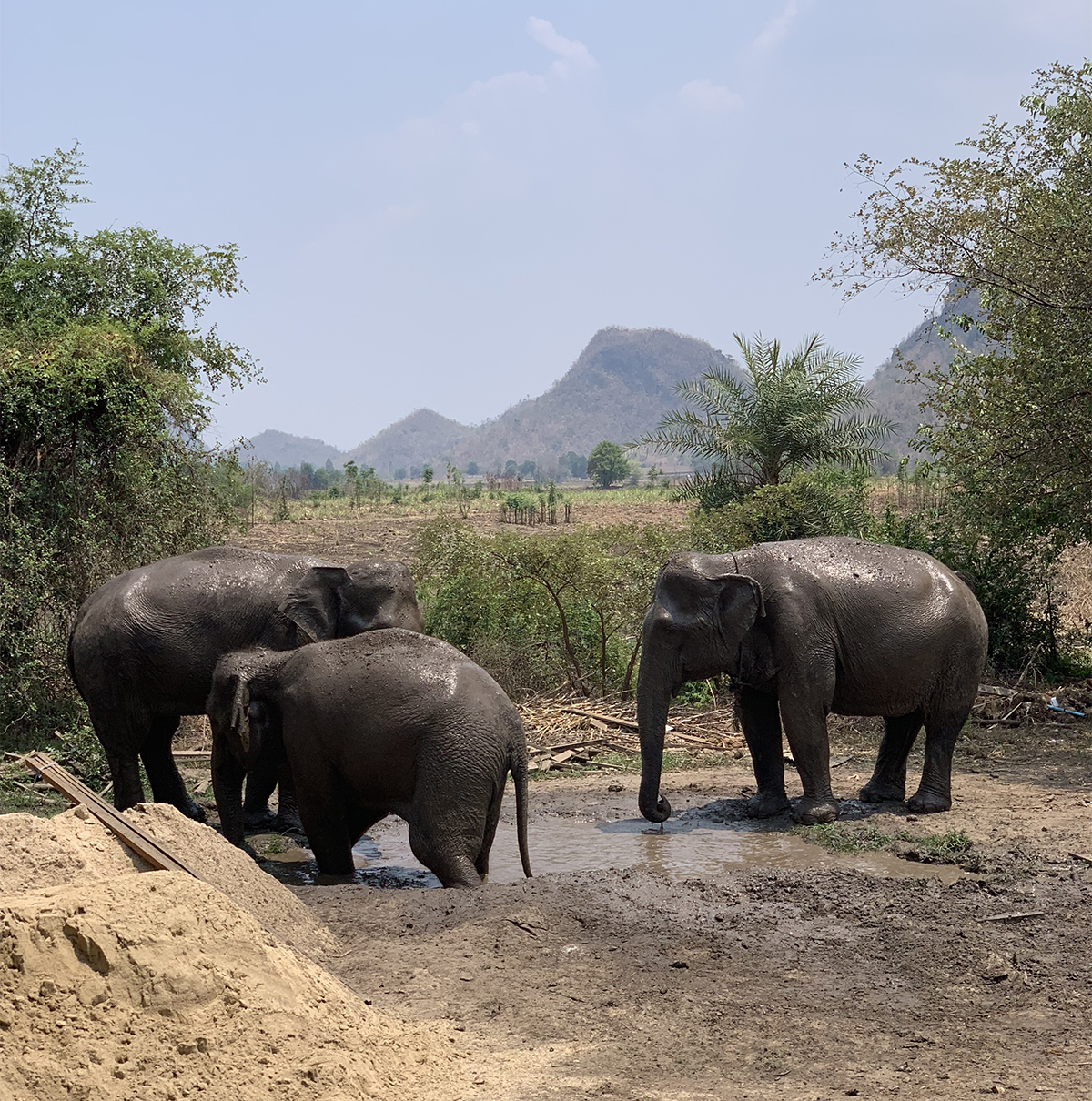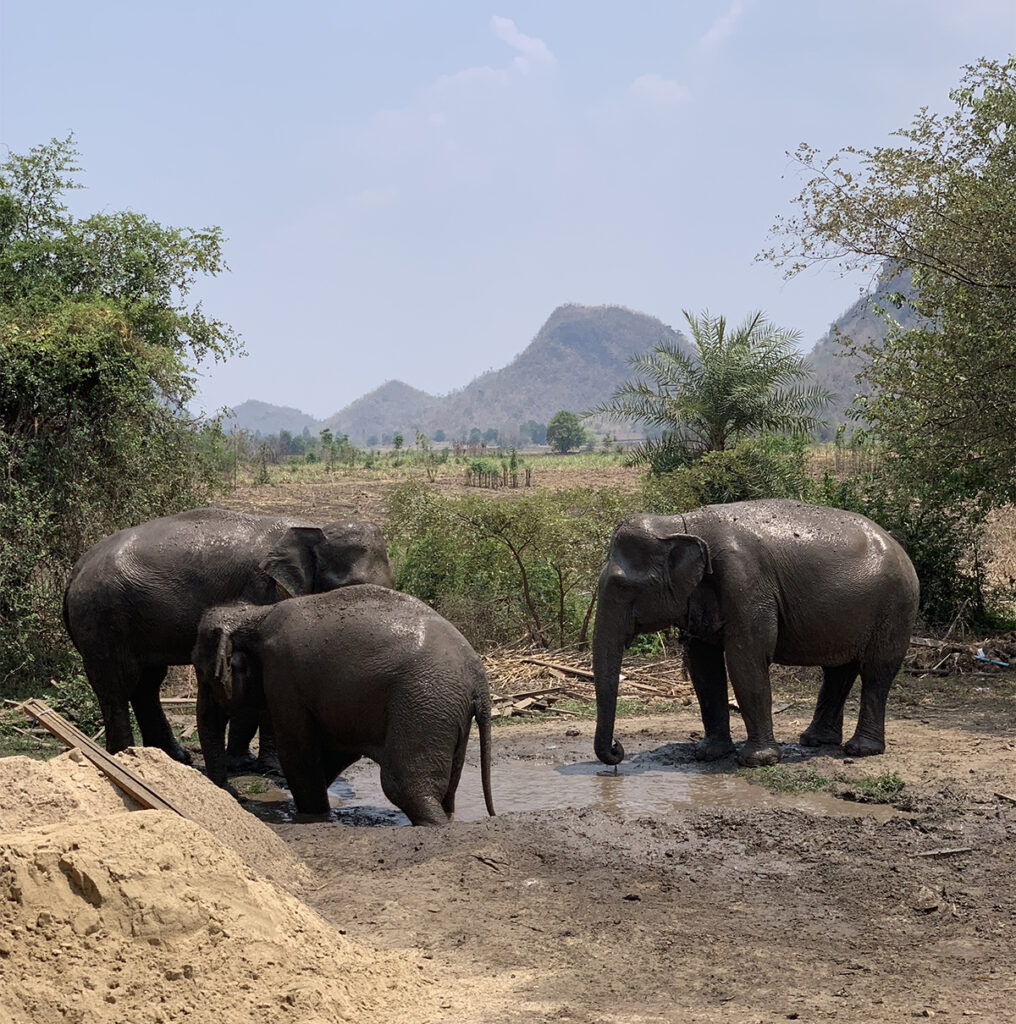 As soon as I saw Paul and his six adopted dogs, I gave him a big hug. Paul introduced his wife Khwan, and his daughter, Emilie, and we all began talking about how he came up with the idea to communicate with the elephants through music. We spoke late into the night, sharing our love of animals and our life stories before deciding to call it a day. With eager anticipation for the sanctuary, I fell asleep with the lullaby of trees rustling under the moonlight.
The next day, we headed to Elephants World, an environmental conservation organization located on the hillsides of Kanchanaburi, with the iconic River Kwai flowing by. "It's beautiful, isn't it?" said Paul as we arrived at the solid-wood gate in the afternoon. The pristine, tranquil atmosphere had the fresh scent of grass.
After meeting some of the staff there, Paul introduced me to the first piano housed in a small cottage: a glossy black upright which was being "played" by a curious elephant named Rom Sai (which means sacred tree). Sadly, Rom Sai's left eye had been impaled by a sharp tree branch while he was used as a logging tool in Northern Thailand's forest, leaving him visually impaired.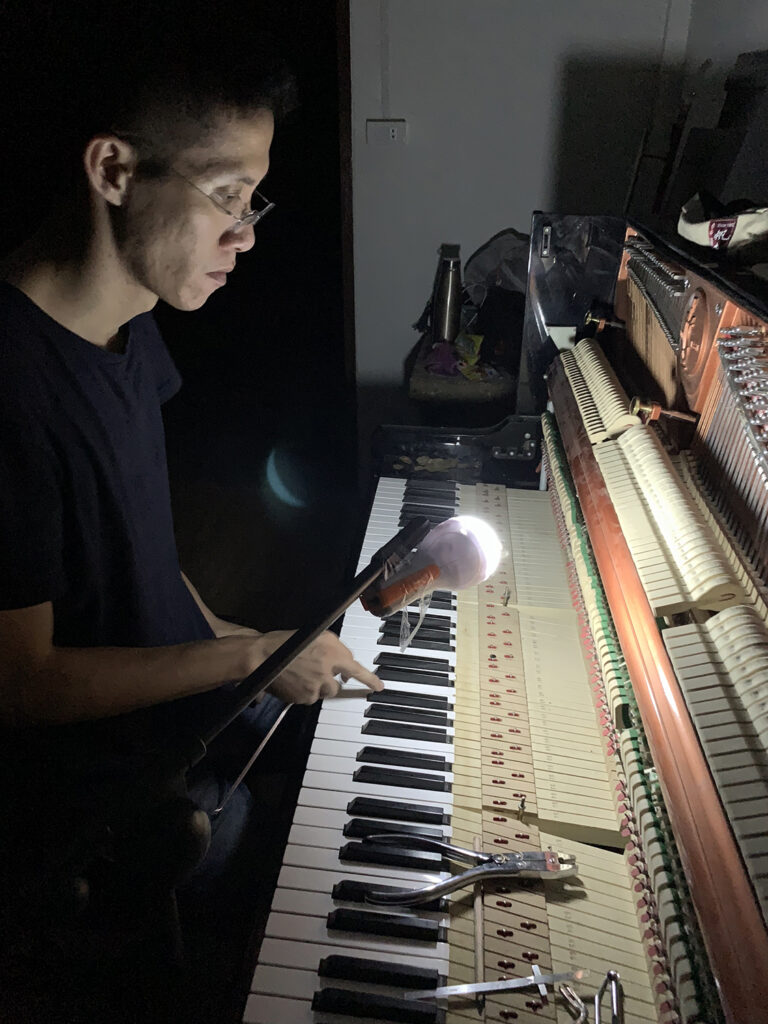 Paul and I moved the piano away from the wall and did a thorough assessment. The bottom front panel was squeezed deep into the cavity, one of the back posts was damaged, and a few treble keys were jammed and shifted to the right. After undertaking a quick fix, I realized that bigger technical problems remained. All things considered, the piano needed urgent maintenance and serious regulation.
I told Paul it would take a while. In clients' houses, you would not usually encounter a piano this far out of regulation, but this was an instrument being played by elephants weighing up to 6,000 kilograms. Fueled by the desire to get the piano in good order, I began my work right away.
After a couple of hours, everything turned dark— an absolute pitch-blackness, with the exception of the shining stars and galaxy above. (We had been told that power would be switched off at 10:00 pm for generator rationing, and I'd lost track of time.) As one could imagine, it was extremely challenging to regulate damper spoons in the dark with moths and mosquitoes flitting in front of my eyes, and crickets and other insects singing in my ears. Paul managed to make a temporary torch, attaching it to the side pole of his recording microphone stand. By taking full advantage of the remaining time left, I completed as much work as I could before hitting the hay around midnight.
It was extremely challenging to regulate damper spoons in the dark, with moths and mosquitoes flitting in front of my eyes, and with crickets and other insects singing in my ears.
Misty dawn and the soothing sound of a river symphony woke me the next day. I went straight to the cottage and continued working on Rom Sai's piano. After a morning of regulation work, Paul drove me to the sanctuary's dining hall and introduced me to other staff and several friendly baby elephants and dogs. After finishing our plates, we were offered a chance to walk with almost 20 elephants and their mahouts to the banks of the River Kwai.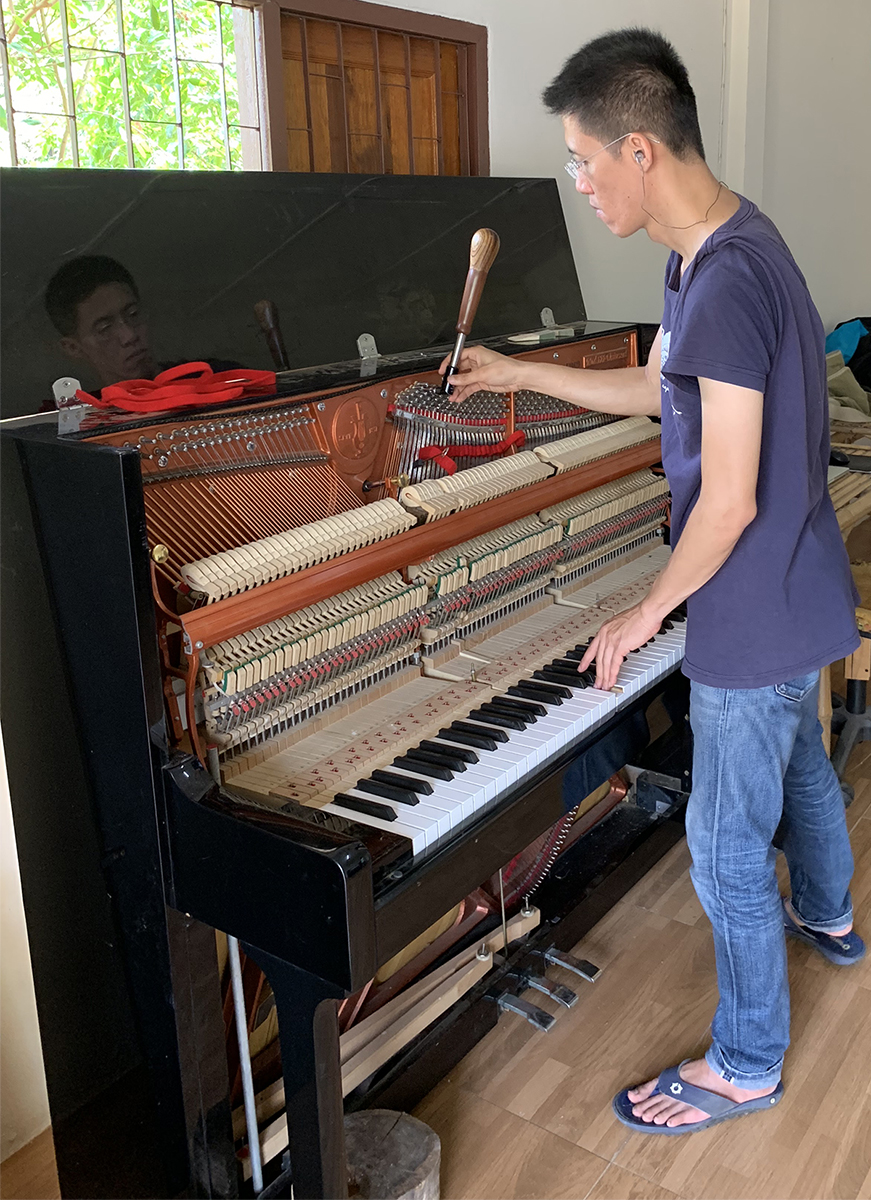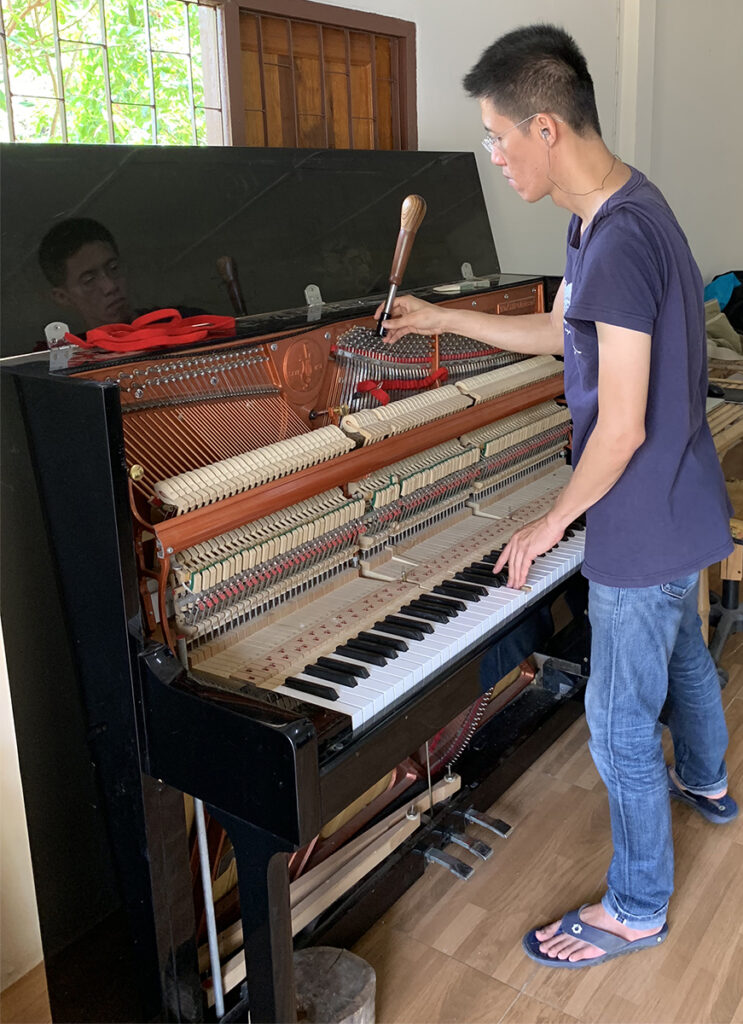 To see how the elephants enjoy themselves in the river was such a privilege, especially after learning about their troubled lives before the sanctuary. These sensitive creatures shipped lethal weapons for countries, helped loggers deforest their own habitat, and acted as toys in the tourism industry. My heart broke as I thought about their past. While their physical captivity and pain has been relieved, what mental scars might remain?
While collecting my thoughts, I went back to tune the "played" piano. Just as I'd guessed, the pitch dropped again. "Okay, let me do a few tunings and stabilize you as much as I can," I said to the piano. During the tweaking and setting, more issues would become apparent. But eventually I got the instrument to a good place; I hoped it would stay firm at least for a few weeks, or even months.
For my last day on site, Paul and I had lunch with the founder of the sanctuary, who was obviously passionate about caring for these gentle creatures. In reflecting on our conversation, I found myself thinking that we humans are just little beings on Earth, and I truly hope no matter what kind of profession we have at present, we can all do something to care for the world around us.
As a concert pianist and a painter, Paul chose a very different path, and I do see and appreciate its value. Although I am sad for what these elephants have suffered in the past, I am grateful to have had a chance to see what has been done to bring the elephants a better quality of life, and to have a played a minor part in their amazing rehabilitation.
In clients' houses, you would not usually encounter a piano this far out of regulation, but this was an instrument being played by elephants weighing 6,000 kilograms.
Tzung-Shiun (Shin) Wu PT '16 lives in Taiwan and graduated from the Basic Piano Technology program in 2016 and the Advanced Piano Technology program in 2022. Besides his love for piano technology, he also has a passion for traveling, cultures, nature, music, and animals. Shin was also interviewed by Taiwan's National Taipei Broadcasting Station (Taipei Radio) in October 2019 about his work as a piano technician.

Images: Tzung-Shiun Wu PT '16 & Paul Barton
---
This story is part of the 2020 issue of Benchmarks magazine. See more Benchmarks stories, or view more issues.