Would-Be Lawyer to Woodworker
October 21, 2019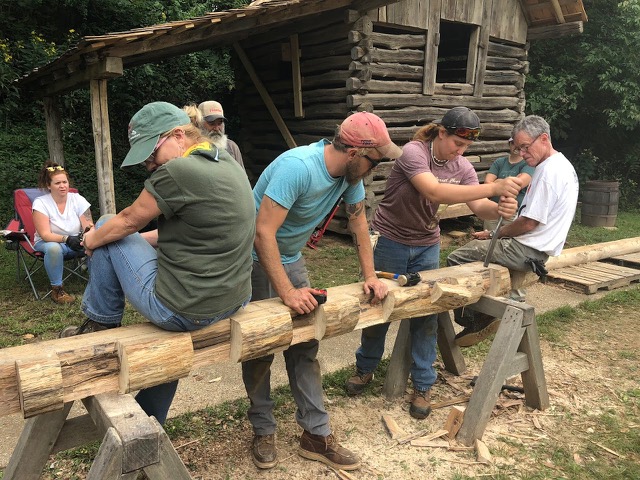 When Kyle Bernard PC '16 tells how North Bennet Street School changed the trajectory of his life, he explains that it's Nick Offerman's fault.
"I had been in the Navy and needed a new hobby," Kyle says. "I went to see Nick Offerman at one of his shows, where he always says that one of his rules is that you should do something with your hands."
Kyle recalls how the actor, comedian, and woodworker stood in front of his Boston audience.
"He waved his hands in an easterly direction and said, 'North Bennet Street School is right here – you have the best in the country!' Until then, I was going to go to law school."
Kyle is now the West Coast and Southwest Project Manager at HistoriCorps, a historic preservation organization active in 29 states. Originally from southern California, he moved to Boston to attend Northeastern University. After a stint as an Aviation Electronics Technician in the Navy, during which he was deployed to the Middle East, he moved back to Boston and prepared for a legal career.
"My wife and I talked about it after that Nick Offerman event. As a lawyer, I would work long hours, and maybe not feel so personally fulfilled. I decided to apply to NBSS and, the night before I was scheduled to take my LSAT (Law School Admission Test), I got a letter saying I had been accepted to the Preservation Carpentry [PC] program."
Kyle never thought about a legal career again.
"For me, the best part of being at NBSS was the culture of craft. It's something you can't explain until you're there, in a collaborative environment. You learn why a building was built the way it was, why wood reacts the way it does, why a machine is not giving you the result you thought it would. You learn that there is not one right way to do something – there are many ways."
During his time at NBSS, he left the classroom for hands-on learning with a horsehair plaster specialist on Nantucket and a sash maker's shop in Marshfield that uses 19th century hand planes. He learned to love the Shingle Style when he took part in the School's effort to salvage parts of the doomed Loring House in Beverly, Massachusetts. "The window we rebuilt was acquired by the National Building Museum in Washington, DC," Kyle says proudly.
After graduation, Kyle found a career at HistoriCorps, where he puts his education to practical use. He's even recruited fellow NBSS grads Brock Leiendecker PC '16 (now an instructor in the School's Carpentry program) and Maia DiLorenzo PC '16.
'With the help of volunteers, we do historic preservation projects on public land and publicly accessible lands," he explains. "We work with the United States Forest Service and the National Park Service to identify buildings, develop the scope of the work, and to execute it."
From the Eastern Regional Office in Petersburg, Virginia, he has headed up restoration projects at sites as diverse as the Pleasant Hill Shaker Village in Harrodsburg, Kentucky, and Bodie State Historic Park, an abandoned mining town in eastern California.
"The climate there is extremely dry in the summer and snowy and dry in winter," Kyle says. "That has preserved the old buildings, but they are deteriorating. We rebuilt and stabilized the Hoist House, the Changing Room, and the Railroad Office."
His NBSS experience gave him an eminently practical outlook on work like this.
"One of the biggest things about the PC program," he says, "is that it never tried to sugar coat things. You don't know what's behind a wall until you open it. You learn to roll with it; you don't expect perfect conditions. It's very honest."
Kyle was lucky enough to be present when Nick Offerman—who's also an NBSS Board Member—addressed the graduating class in 2015. He even has a grainy photo (right) to prove it.
"Hearing Nick speak about what he referred to as the "refined masochism" of preservation carpentry illustrated that both the discipline and NBSS were the right choice for me."