Boston Mayor Michelle Wu: Graduation 2022 Keynote Speaker
June 11, 2022
On June 10, 2022 we celebrated all the graduating students from our nine career training programs at the historic Old North Church. There, we were honored to have Boston's Mayor Michelle Wu as our graduation speaker. A champion of educational investment, she has long been a driving force for helping people of all backgrounds find pathways to enrich their lives.

Having her as our speaker reflects the long relationship between NBSS and the City—from our founding, to our current partnerships with the Boston Public Schools, as a neighbor to City Hall, and like the Mayor, in our commitment to education and training as avenues for access and mobility.
Read a full transcript of the Mayor's speech and watch a video below. View a full video, check out great photos, and read through remarks of the entire event on our 2022 Graduation Ceremony page.
---
Graduation Speaker Michelle Wu, Mayor of Boston
Hello, and good afternoon everyone! Thank you President Turner; Chair of the Board of Directors, Genie Thorndike; and congratulations, Kurt Fieldhouse, Distinguished Alumni.

I also want to acknowledge all the parents and grandparents, guardians and caretakers, siblings and children; all the families we're born into, and the families we choose. The friends and mentors who are here this afternoon, whose care, and support, and community made this day possible. We join you and share your pride in saying congratulations to the class of 2022!
When I first received the invitation to speak here today, I was a little overwhelmed. And not just because I'm actually an introvert who's now invited to speak publicly more times in a week than in the first 36 years of my life combined.

But because it brought me back to some of my earliest days here in the City of Boston, long before I ever imagined that one day I could be serving in public office and representing the entirety of this incredible city. The first place that I ever lived after graduating from college was on Salem Street, almost directly across from this school when it was actually on North Bennet Street!

In the mornings, I'd walk down the brick streets of the North End, and be almost lifted off my feet by the smell of fresh baking bread at Bova's Bakery on Salem Street.

And, often, as I was leaving my apartment, I'd see all the people streaming into the school—or leaving for the day, some looking quite tired, all looking quite energized, covered in sawdust, or with the faint outline of safety goggles imprinted on their faces. Sometimes, there'd be an open house, and I'd always love stopping by to peek inside, admiring the different pieces of furniture, and instruments, displayed in the windows, at the incredible craftsmanship.
(I'll also note that when I was living here in the North End was when the Celtics last won the finals, so I'm wearing green today in solidarity!)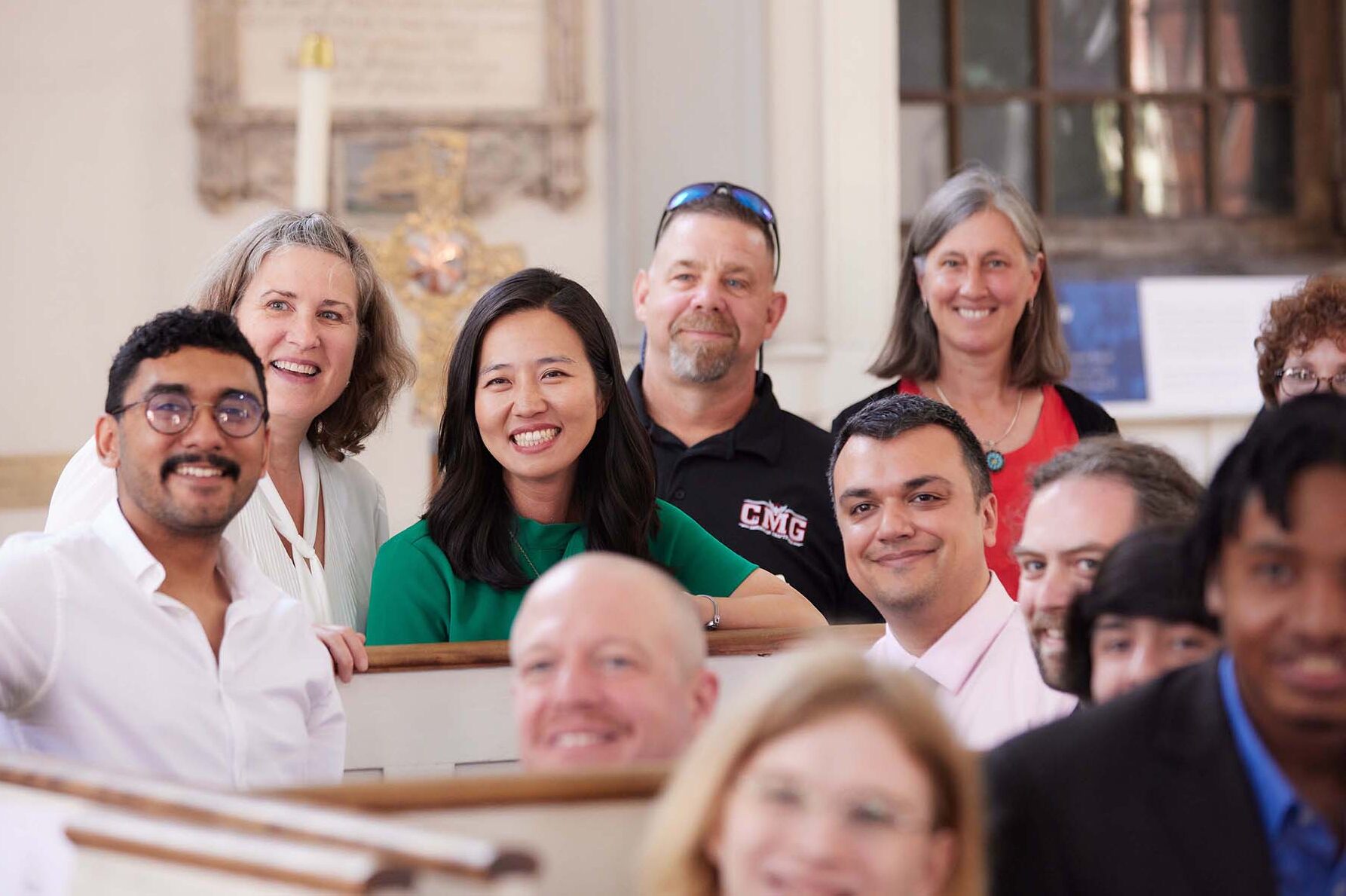 There's something about this neighborhood, this community that makes you want to *immerse* yourself in it. I didn't want it to just be the place where I happened to sleep and eat my meals. I really wanted to live here and be a part of this community. I even signed up to take Italian classes that were offered in the neighborhood, and tried as much as possible to wander the amazing side streets and get to know all of the organizations here.

I felt the way I think so many of us feel when we really begin to know, and feel at home, in a place. Like I had discovered a hidden treasure—and that this little corner of Boston was my own. Connected to the history and long legacy of what so many before have done through grit, through hard work, and through a relentless belief in what can happen when we all come together and do our best for the next generation.
If you'd told the 23-year-old version of me that I'd be back in this neighborhood all these years later as mayor of the city that I fell in love with, I would've never believed you.

See, I grew up in a family where my immigrant parents told us over and over again to get jobs that were stable, paid well, and won't get you in trouble. So city government wasn't exactly what they had in mind.

In fact, my parents spent many, many years in this country feeling invisible—discovering, over and over again, that our systems and institutions weren't created to serve people like them. They tried to shield us from politics. They themselves were the children of immigrants, as my grandparents had fled civil war in mainland China. Our job was just to keep our heads down, and to stay safe and comfortable on our own.

But if there's anything that we have seen during this pandemic, it's that no matter how much we try to stay on our own, in our separate little boxes or screens, unless we understand the ways in which we are all deeply connected and intertwined, we won't achieve the health, opportunity, and prosperity that is possible and that we all deserve.
So many of the institutions in the city are designed around that very idea, including this one. Which is why, this place—this school—is so special, so visionary. Founded more than 140 years ago, North Bennet Street is the oldest trade school in the country.

And, in many ways, even then, it was an institution far beyond its time. Established by suffragette and education champion Pauline Agassiz Shaw, it was created for people like my parents. Its original mission was to provide training in various trades to the North End's immigrant communities. So they could get stable jobs, support their families, and find their footing here in this country.
It was a mission grounded in the understanding that the best way to support any community is to invest in, and empower, its members, to give them the skills and tools to build for themselves the lives they deserve. So the school provided social services, functioning as a settlement house and offering English-language classes on top of vocational training.

And it was unique in its inclusivity—training people of all genders, and all ages. In many ways, it was the engine behind the growth and vibrancy of this neighborhood. The neighborhood that came to be my first real home in Boston, so many years later.
And, as our city has continued to grow, so has this place and its impact. Today, North Bennet Street touches every corner of every neighborhood in Boston. And today, as then, the people who come to this place do so with the intention of building a better life. Not only for themselves, but for all of our communities.
Today, North Bennet Street touches every corner of every neighborhood in Boston. And today, as then, the people who come to this place do so with the intention of building a better life. Not only for themselves, but for all of our communities.
And I want to acknowledge all the ways in which many of you all have already begun to do that in your time here. From crafting and tuning the pianos and violins that reach the ears and hearts of more than 400,000 people at the Boston Symphony Orchestra every year, to framing art that moves and inspires visitors at the MFA, repairing instruments used to teach music in classrooms throughout our Boston Public Schools, and restoring historic homes, churches, and mills across the Commonwealth.

You all are engaged in the work of preserving not only the history of our buildings, but also the artifacts and the heartbeats within them: old cookbooks, and storybooks, and bibles. Pages that open windows into the narratives of our past.
And, of course, you've done that work under extraordinary circumstances. There's not an industry or educational experience that COVID didn't disrupt, but for your work and your learning in particular—the challenges of not being able to learn in person are hard to overstate.

And yet, you overcame. You logged onto Zoom, picked up tools that your teachers handed you through open windows, and made dovetail joints at your kitchen tables. And when classes resumed in person, some of you woke up at 4 or 5 in the morning to commute in to this place that was once again humming with activity: the buzzing of saws, the roaring of torches, the rustling of paper. I've also heard that the apple juice and pop tarts in the food pantry didn't hurt, as far as reasons to look forward to coming back in person!

But you all also balanced this work with the work of living full lives outside this place—flight attendants who flew flights on weekends, teachers, and accountants, parents and children, caregivers. All of you waking up early, staying up late, coming together to put in the work necessary to learn the skills that go into building and preserving the heart and soul of a place.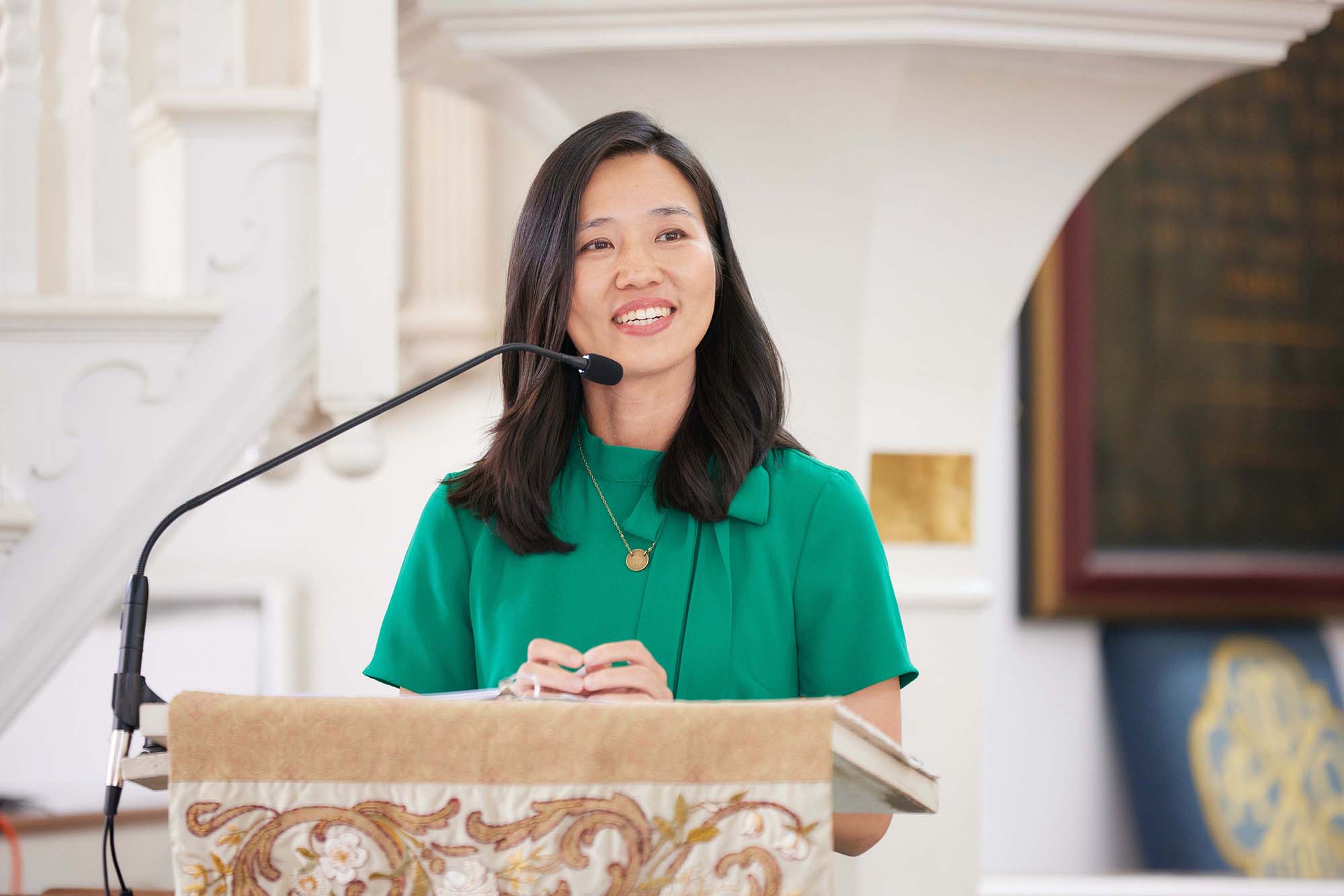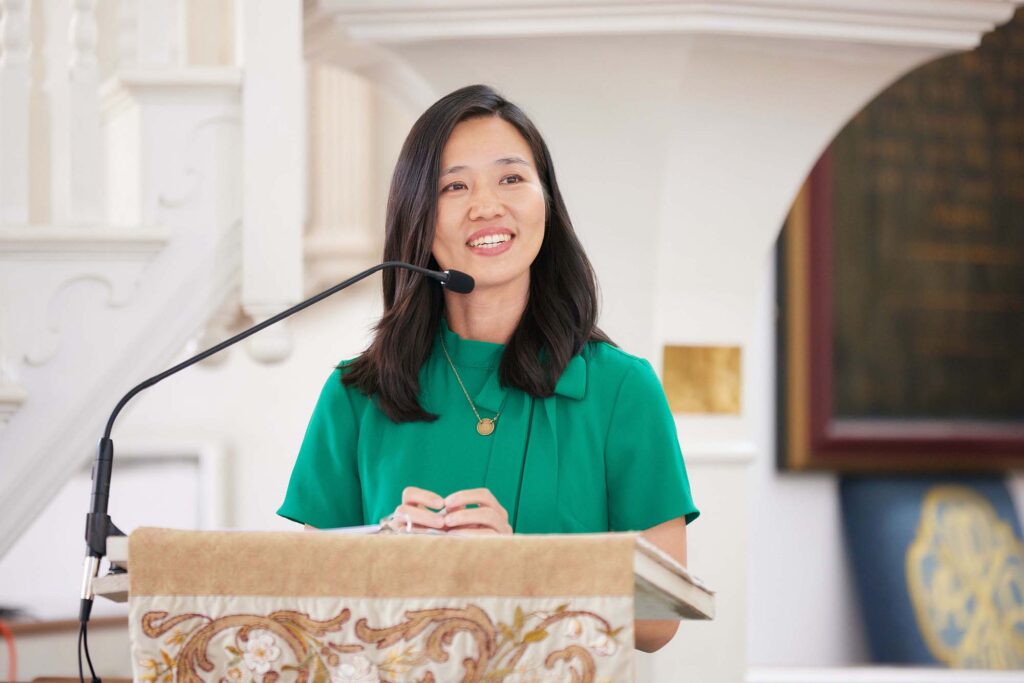 That's what you've done here. And, now, each of you are now uniquely—expertly—prepared to do that work out there, in our communities. Work that mends and weaves the threads that hold our city together. That makes this place so special.

Because when I look back on my time in the North End—and in any place, really—the things I remember are the details: the finer, littler things that you often don't even realize you're noticing until they've become a part of you.

In the same way that, one day—during your time here—you all reached for a tool without really having to think about it: it had just become a natural extension of yourself, of the work and the art that is now so deeply infused in you. Yours are the hands that shape, and restore, and connect us.
And, right now, as our city—like so many cities around the country—continues to try to emerge from this pandemic and mount an equitable recovery; as we battle so many different challenges—from attacks against our democracy, the rolling back of legislative protections for vulnerable communities, systemic racism and impending climate change—we need all of you—and the work that you do!

Because the little things, the little moments of awe, and wonder; how it feels to hold a beautifully bound book in your hands, the perfect curve of a violin's scroll, or a piece of jewelry that catches the light in just the right way. These little things, in concert with one another, define what it is to live in a specific time and a specific place…and for that place to feel like home.

And, like all art, they give us the energy and will to move forward. To do the big things and fight the big fights. We need that energy now. We need it today, and tomorrow, and everyday thereafter for many days to come.
This school is a place of such intention—such choice. You all are here because you chose to be here. Now, as you leave, I'd like to ask you to bring that intention with you. Bring the community you've built, and bring the skills and knowledge you've acquired. Bring your perseverance and your artistry and your vision.
This school is a place of such intention—such choice. Now, as you leave, I'd like to ask you to bring that intention with you. Continue to build and mend and weave here, in our neighborhoods and communities, where there is so much building and mending to be done.
Choose our city. Continue to build and mend and weave here, in our neighborhoods and communities, where there is so much building and mending to be done.

You all have accomplished something incredible. And we are here to celebrate that. But, really, we are here to celebrate you, and all that's ahead in our community because of you. And, in addition, to being skilled craftspeople, you are parents and children, friends and mentors, neighbors and support systems.

And it's your love for each other, your values—the things you hold dear; your devotion to creating and protecting and preserving the beauty in our world—that will take you further than anything else. And these are also the ways in which we need our city built. The ways in which we need you.

To the Class of 2022: Congratulations. On all that you've done, and thank you, in advance, for all the incredible things that you will do, for the people you will help, and the people you will be. Thank you!