Graduation 2022
June 10, 2022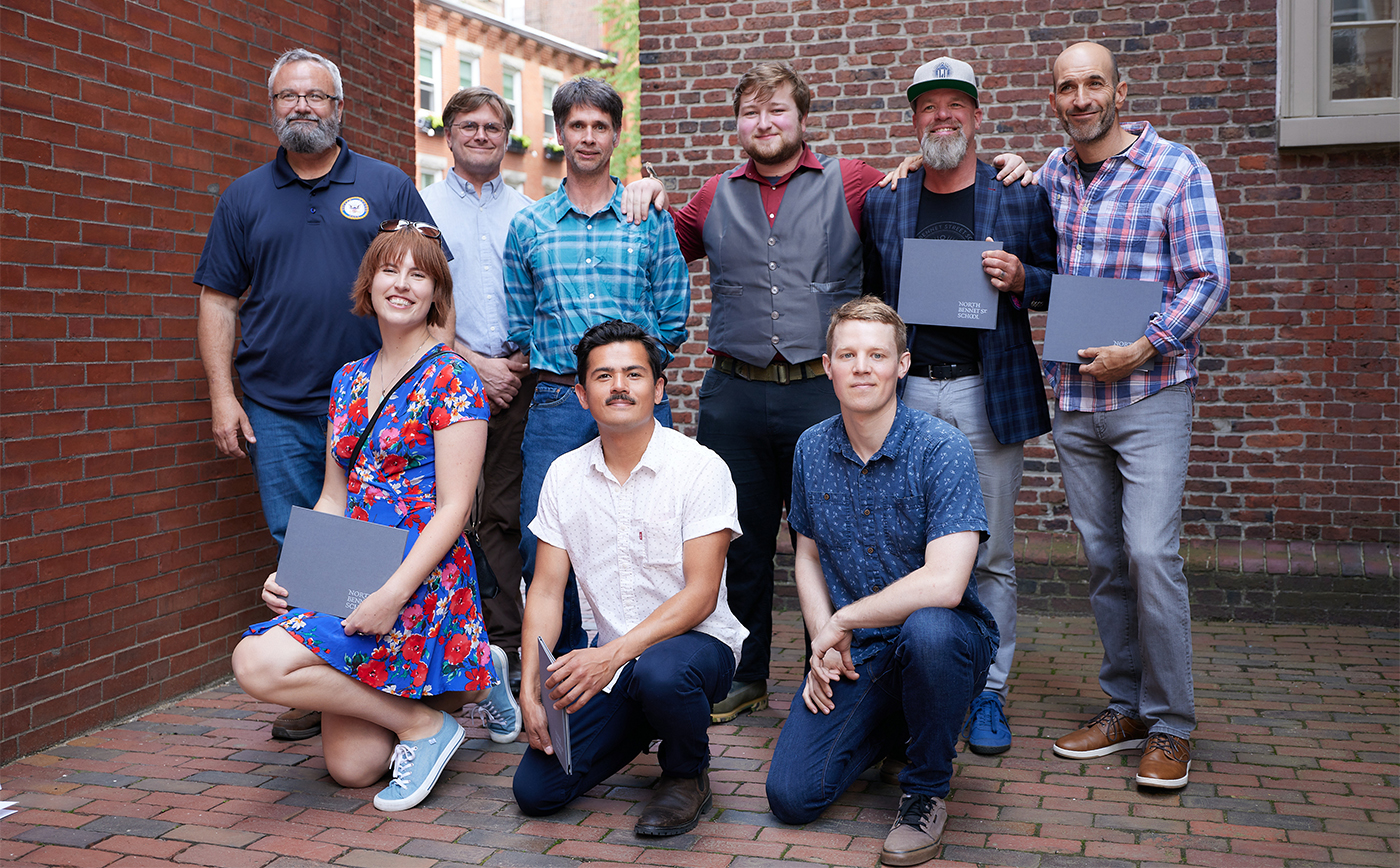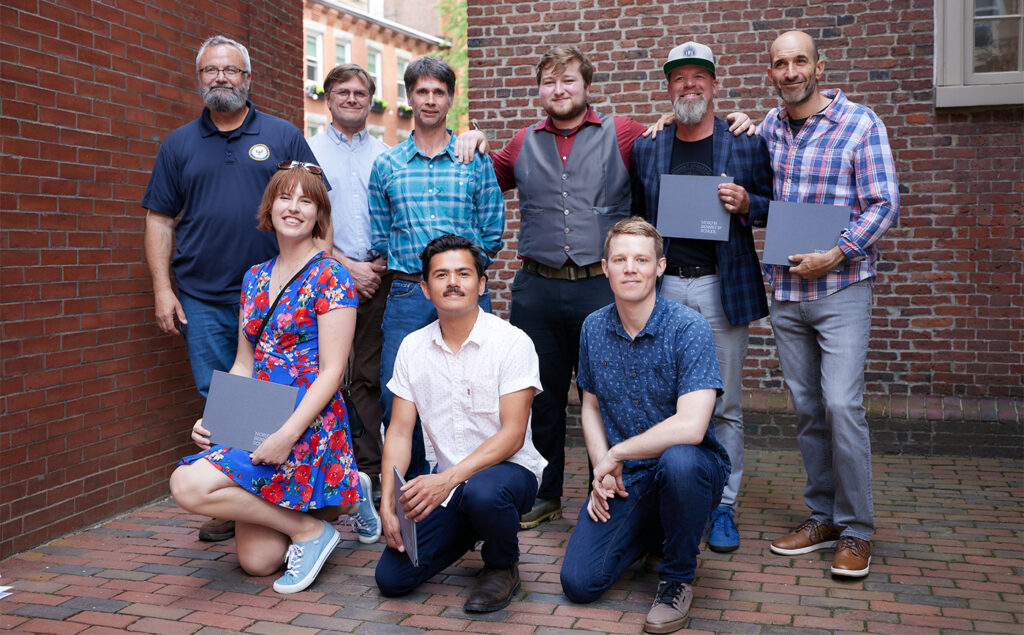 Finishing the requirements for graduation at North Bennet Street School takes hard work, commitment, and dedication at the best of times. Our 2022 graduating class demonstrated these qualities and more, staying the course through the significant challenges of the last two years. We couldn't be more proud of all that they have accomplished.
On Friday, June 10, our assembled faculty and staff—along with family, friends, and supporters—celebrated the joyous graduation of 83 students at the historic Old North Church. We were honored to have our Mayor deliver an inspired commencement address, and also delighted to hear our Distinguished Alumni Award winner Kurt Fieldhouse CA '93 share his insights in a rousing speech to graduates.
---
Watch the Full Ceremony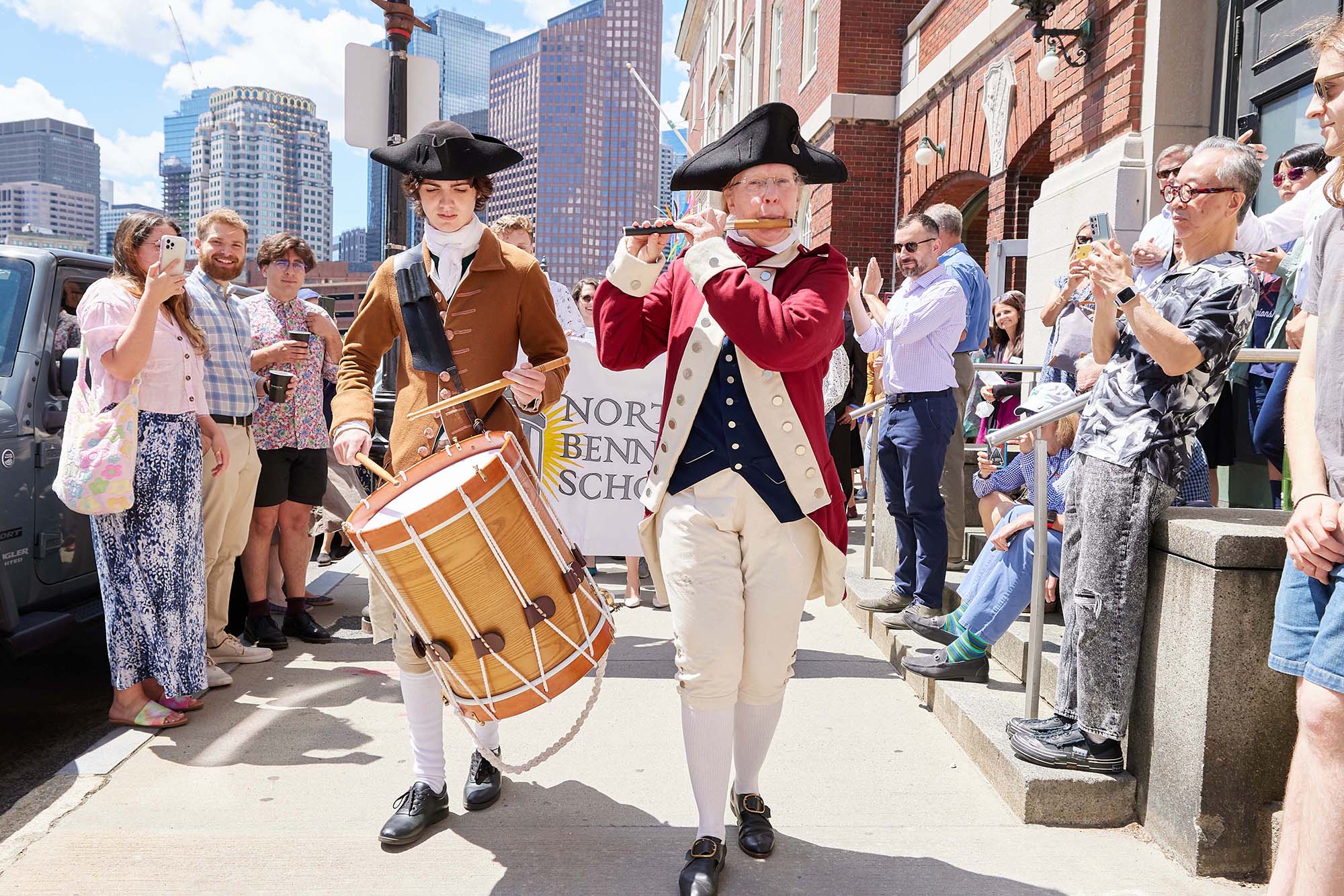 Hello and welcome. My name is Sarah Turner, I'm the President at North Bennet Street School—and it is always such a special day when we get to be here, together, in the Old North Church. This is a group of do-ers and makers—active people—but I hope you'll take a moment to be still in this amazing building, with such history and legacy, and feel the accomplishments of your day. We're here in a church built in 1723, that has seen incredible history. We know it best for its role in the American Revolution, but there are so many stories of people's lives entwined with this place.  

The Church has done a wonderful job of sharing that history, of looking honestly at it. I encourage you to read more on their site: there's a wonderful series describing the people who sat in these pews many years before you. After all, history and progress is made by individuals, often as a part of a collective, each making our own contribution; which seems like a fitting thought for today. 

We are, of course, here to celebrate your efforts, your collective: our 2022 graduating class. And we're celebrating with families, friends, and fans. For those of you not able to join us in person, thank you for joining from a distance. In recent years, we've had people tuning in from around the country and around the world, to cheer on their loved ones. Thank you for all the ways you helped make this possible for our graduates. We know that you deserve our appreciation too. 

Perhaps closest to our students here, at their bench, at their piano, in the field is our faculty. Each year our Instructors amaze us with their ability to teach, mentor and lead… all while they work—hands on, up close. Our faculty share their networks, their professional experience, wisdom and learning that help do the projects that contribute to our communities—through good work, done well with care and skill. They were joined this year by new members—Teaching Assistants—who help prepare materials, give extra attention to students, and support parts of the process. We're glad to be growing another group of newer mentors and teachers, to the benefit of our students, School, and fields. Thank you, faculty and TAs.  

Appreciation also goes to our staff: every day the staff make the parts come together to connect the strengths of our programs. You bring new voices and new people to us, you link us to craft and trade partners and supporters, you help our students navigate the balance of life and school, and you always have an eye for how things can be better, what opportunities exist, and how NBSS can truly function as a whole community.  

I'd like to recognize the return of Tony Malionek at the organ today. Tony is a graduate of both our Basic and Advanced Piano Technology programs. Things like Tony's playing are the markers of coming back to "normal," filling out the ceremony with enduring traditions. We're so glad to hear you play.  

Gathering to launch our graduates into a new chapter, it gives us a moment to reflect on the path to get here. We know that the last years have had some particular bumps and challenges, but together, we were able to stay focused on the work. Students repaired buildings (there seemed to be a lot of trees crushing roofs in the last two years, giving good projects to our builders). Our students built furniture for friends and clients, you learned from historic instruments, collaborated with local Schools to revive and recycle old jewelry. Our programs visited small locksmith ships and large hospitals to see work at all scales. We experienced exhibitions again, bringing guests back to the building to see books and pianos, even part of the Notre Dame cathedral at small scale. In other words: we worked, we learned, and we experienced how our work can be a part of other people's lives.

This was also the year of the "Great Resignation," though this seemed like more of an act of optimism to me than one of resignation. And so, I saw it—through our students—as the "Great Redirection."
This was also the year of the "Great Resignation," though this seemed like more of an act of optimism to me than one of resignation. And so, I saw it—through our students—as the "Great Redirection."  
This year, a pilot and an immigration attorney became piano tuners. A software engineer is becoming a furniture maker. A former cake decorator has become a bookbinder. And we've had urban planners, high school teachers and administrators all become carpenters. (Everyone wants to be a carpenter).  

This is not a new story for NBSS, people have been changing careers here for decades. But, it did mark a moment when what North Bennet does was suddenly aligned with the zeitgeist: NBSS's steadfastness met great upheaval. And you used that to create opportunities.

These opportunities start your next chapters, you'll be in places like the State Archives of North Carolina, at the Boston Athenaeum, and at the Conservation Lab of Haverford College. You've found opportunity in architecture, building and construction companies all around the area, for both contemporary and historical preservation work. You'll be at Pasek Security and at Advanced Lock + Key in Brockton. You'll be working at Cornell University, at the Aspen Music Festival, and at Steinway and Sons.  

Already, even before we hand you your diploma, so many of you have found your next steps, your Great Redirection. You'll be working nearby and all across the country; and you'll even be working for our faculty and alumni, who help us create a virtuous circle of opportunity. 
Some of this opportunity exists because NBSS is truly in a dynamic and generous community of people who want to see our students succeed: an extended network of advisors, volunteers and champions who help to make so much possible. You'll meet some of them today. So, let me thank the Board of Directors and Advisors for always being on hand, smartly guiding and planning how NBSS will grow and thrive. There are so many things that can distract during a year, but the Board is always clear-eyed about progress for students, supporting faculty, valuing staff. They keep us focused, with a larger context for all of us in mind.  

Now, a time that seemed in the distance when you started has arrived. An opportunity that you hadn't yet pictured is in front of you. And you built this moment—with your hard work, your openness to change and growth, your commitment to your projects and programs. We're excited to get to know you now as alumni and to experience, through you, all the North Bennet can be in the world. Congratulations graduates.
Congratulations talented graduates of Violin Making & Repair, Preservation Carpentry, Basic and Advanced Piano Technology, Locksmithing & Security Technology, Jewelry Making & Repair, Carpentry, Cabinet & Furniture Making, and Bookbinding! 
I still recall what it feels like to sit where you are today feeling excited, proud, and grateful. You've learned an extraordinary amount from master teachers, you've been stretched to reach high standards you may not have known were possible, you've made mistakes and learned from the depths of frustration, and you've worked hard, persisted, and learned to achieve tolerances that escape the naked eye. Your fingers and your ears might now be your best friends because they've learned to feel and listen for imperfections. They certainly know when success has been achieved. 

It takes courage to now step out and share your skills and knowledge with potential clients, employers, colleagues, friends, and family because you know you still have lots to learn. But I urge you to take confidence knowing that today you join NBSS's expansive network of alumni which means you now have colleagues all over this country and internationally. 
Seek out our graduates for advice, inspiration, and business opportunities. Stay in touch with your classmates and others you've met at school. Find reasons to return and visit your instructors who will always be your mentors and curious about your work. Do something as simple as buy a decal and put it on your truck or car, wear a NBSS hat or t-shirt, and you'll be surprised whom you meet in the most unexpected places. 
 
We all know you've attended school during difficult times for which I believe you deserve extra acknowledgement and recognition. Likely your ability to build North Bennet Street friendships and professional connections has been hampered. However, it's never too late to build new relationships within our network which will lead to others. Personally I would love to meet each and every one of you, hear your story, and learn where you are headed.
 
Go forth and share your knowledge. You've learned an enormous amount. In many ways your education is just beginning. Graduate curious and continue to learn.
Good afternoon distinguished guests, faculty, and now alumni.

Does me speaking first make me the keynote speaker of this graduation, or just the opening act for the Mayor? I also wonder if the mayor is thinking, "OMG, I'm sharing the stage with the Distinguished Alumni Kurt D. Fieldhouse from NBSS?"
It has been said to me over the years that North Bennet is the "Harvard" of the trades, I am now thinking that I can now reply to anyone who asks where I went to school I can say I went to "Harvard," and when they ask what program I will say I graduated from "the Pauline Shaw school of carpentry and craftsmanship." This is simply error by omission!
When I found out I was to indeed to receive this award, she gave me this name tag for my desk with a smirk of sarcasm, never expecting me to utilize her humorous gift as a prop—to show that I truly am a "BIG DEAL." As such I will attempt to deliver my less than 5 minute speech without being… so me.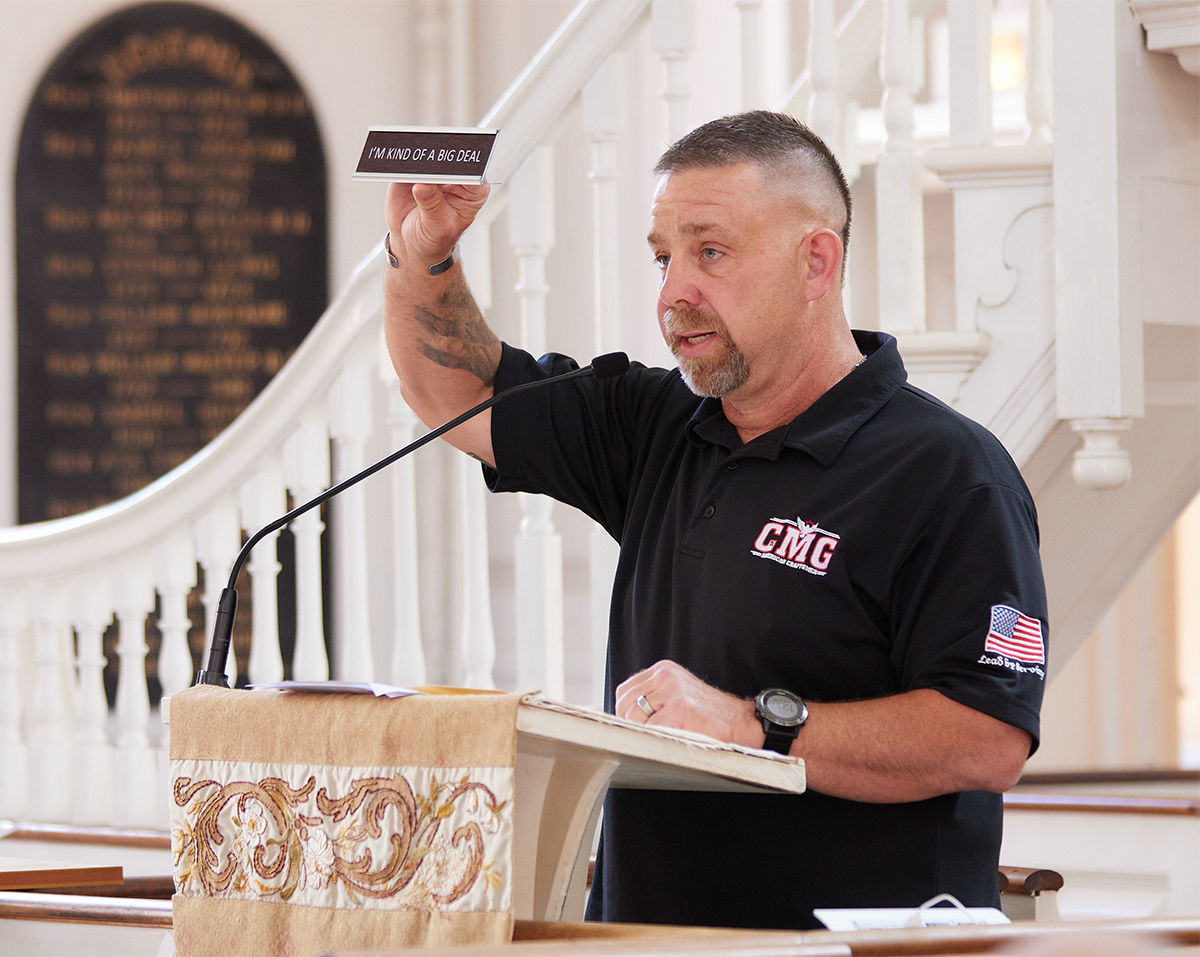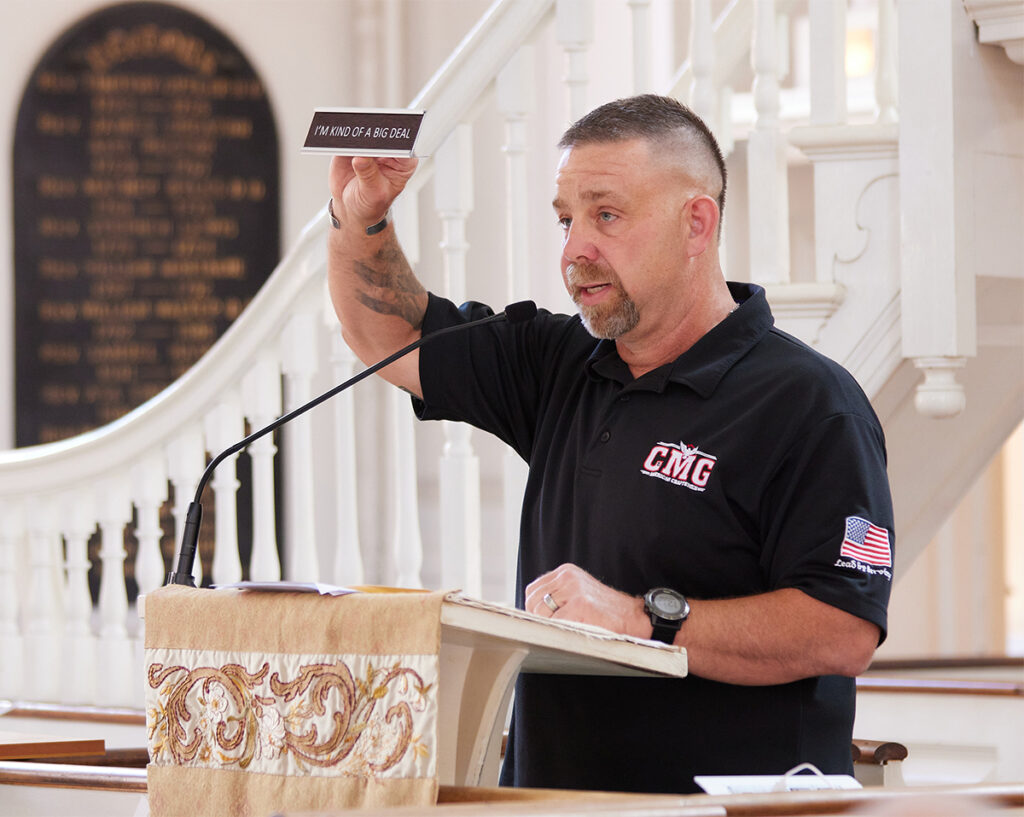 On second thought, I'm just going to be me. Brace for impact!
I am so thankful for my time and ongoing affiliation with the School, and I have clearly received more than I could ever give back. I was introduced to the School from an Army buddy, Jamie Crawford, that I am still friends with today. Jamie came to visit me from Ohio back in the early 90s, and wanted me to take him to the school when he was visiting. I had never heard of the school prior ,and it was my friend from Ohio that lead me to the school. I went… he didn't.

I have been given a career that I love, friends that I cherish, mentors that have guided me along the way. And truth be told, my receivership of this award is really more about those people than myself. Without those people guiding me, leading me, directing me, showing me, and correcting me, I for sure wouldn't be here today. All these things I am of the belief bestowed by my creator as I know to be God. I am thankful to just be here and speak in such a historic house of God.
A quick note of thanks to my wife Jane and all my kids that I get to go home to every night. A special shout out to Jim Bochetti and my entire office staff: you are the backbone, and get the distinct privilege of catching all the balls I throw into the air. Jimmy, know that you are the spine of the company and your insistence and dedication to accuracy never ceases to amaze. To all the guys in the field grinding it out on behalf of the company, a great word of thanks. You all are the epitome of the bible verse that states "Iron sharpens iron." Lastly, to our clients we serve, many thanks for entrusting us with your projects large and small.
I thought about long and hard about topics I could speak about, and arrived at grit.

Grit in the dictionary is defined as courage and resolve, strength of character.

I believe this piece is every bit as important in your career and journey into the trades as cutting rafters, coping crown, and building staircases. It's also a part of the craft that can be learned and developed just as the aforementioned.
I look for grit when hiring new employees, I look for grit in meetings, I develop grit in my company culture, and at a fundamental level, I understand that grit will overcome any obstacle no matter whether personal, professional, financial, or spiritual.
 
Why grit? I'm glad you asked. I believe grit in the trades seems to be vanishing, and that to be in the trades requires a certain level of it. Why? Construction is hard, at times hot, cold, wet, difficult, heavy, tiring, challenging—all overcome with possession of grit in your toolbox.
Cutting rafters 20 feet in the air, while snow is blowing sideways: Grit gets it done.
Sharpening the block plane to the point of releasing that thin wire off the blade: Grit gets it done.
Helping to unload sheetrock with the plasterers off a crane on Marlboro Street because you only have so much time: Grit gets it done.
Dealing with your boss when you made a mistake and going to him or her to let them know: Grit gets it done.
Staying late for a deadline: Grit gets it done.
You coming to the School shows your willingness as well as your passion to not only invest, but learn your craft. You have been taught skills at NBSS that exceeds the norm, giving you a leg up in the trades. My challenge to you distinguished Alumni: Find your grit.
 
Find your grit, and you'll find your way.
I am so honored to introduce our Graduation speaker to you. It is a thrill to have our Mayor—Boston's Mayor—celebrate our graduates today. It reflects the long relationship between North Bennet and the City; from our founding, to our current partnerships with the Boston Public Schools, as a neighbor to City Hall, and like the Mayor, in our commitment to education and training as avenues for access and mobility. 
And there are also less formal reasons why it seemed so fitting to have her speak to us today. Many of us have gotten to know Mayor Wu through her work across the city, not just as Mayor, but through her path to get here: her position on the Boston City Council, where, after just three years of service, she was elected President of the Council, becoming the first woman of color to serve in that role. Her accomplishments are many—both professionally and personally—but it is less these things that I want to focus on, but rather: her approach. 
Earlier, I spoke about the many paths that brought all of you to NBSS; the choices and work and risk that you took to do this. And at most graduations, I talked about how a life and career moving forward is built not by a grand plan, but by steady, daily work—connecting and relying on others—and offering what you can do well to the communities you're a part of. This is what is so inspiring about Michelle Wu. 
Throughout her work and her campaign to become Mayor, it was so clear that this was good work… building. Hers was a sustained effort at showing up, offering her talents, listening to people's needs and putting concrete projects in place to address them. I am struck by how much her position is informed by her commitment to communities all across Boston, to engaging the partners and fellow-leaders with whom she can collaborate. And while she leads ambitious plans for the City, she does this by enfranchising others, by focusing daily on both the big picture and the small steps it takes to get there. Somehow, she does this with unflagging optimism: with a true belief in what is possible, what is essential, what we should strive for and create. 
If these themes and approaches sound familiar, it's because these are the efforts—no matter your occupation—that will help you build your career, your path. No matter whether you are working in a neighborhood building a home, working on a complicated conservation project, helping families or churches or schools with their instruments, or working as Mayor: you'll be embedded in the shifting nuances and the great rewards of community. And you'll navigate this by listening, by finding strong collaborators, and by showing up, daily, to offer your skills to what is at hand. Following our Mayor's lead, you'll be in very good company. And I hope our Mayor will draw inspiration from the work you do, just as we find it in hers. 
Mayor Wu, thank you for your work, thank you for bringing good people together to serve our City, and thank you for joining North Bennet Street School today. Welcome.
Hello, and good afternoon everyone! Thank you President Turner; Chair of the Board of Directors, Genie Thorndike; and congratulations, Kurt Fieldhouse, Distinguished Alumni.
I also want to acknowledge all the parents and grandparents, guardians and caretakers, siblings and children; all the families we're born into, and the families we choose. The friends and mentors who are here this afternoon, whose care, and support, and community made this day possible. We join you and share your pride in saying congratulations to the class of 2022!
When I first received the invitation to speak here today, I was a little overwhelmed. And not just because I'm actually an introvert who's now invited to speak publicly more times in a week than in the first 36 years of my life combined.
But because it brought me back to some of my earliest days here in the City of Boston, long before I ever imagined that one day I could be serving in public office and representing the entirety of this incredible city. The first place that I ever lived after graduating from college was on Salem Street, almost directly across from this school when it was actually on North Bennet Street.
In the mornings, I'd walk down the brick streets of the North End, and be almost lifted off my feet by the smell of fresh baking bread at Bova's Bakery on Salem Street.
And, often, as I was leaving my apartment, I'd see all the people streaming into the school—or leaving for the day, some looking quite tired, all looking quite energized, covered in sawdust, or with the faint outline of safety goggles imprinted on their faces. Sometimes, there'd be an open house, and I'd always love stopping by to peek inside, admiring the different pieces of furniture, and instruments, displayed in the windows, at the incredible craftsmanship.
(I'll also note that when I was living here in the North End was when the Celtics last won the finals, so I'm wearing green today to represent, and hoping this is a good omen!)
There's something about this neighborhood, this community that makes you want to *immerse* yourself in it. I didn't want it to just be the place where I happened to sleep and eat my meals. I really wanted to live here and be a part of this community. I even signed up to take Italian classes that were offered in the neighborhood, and tried as much as possible to wander the amazing side streets and get to know all of the organizations here.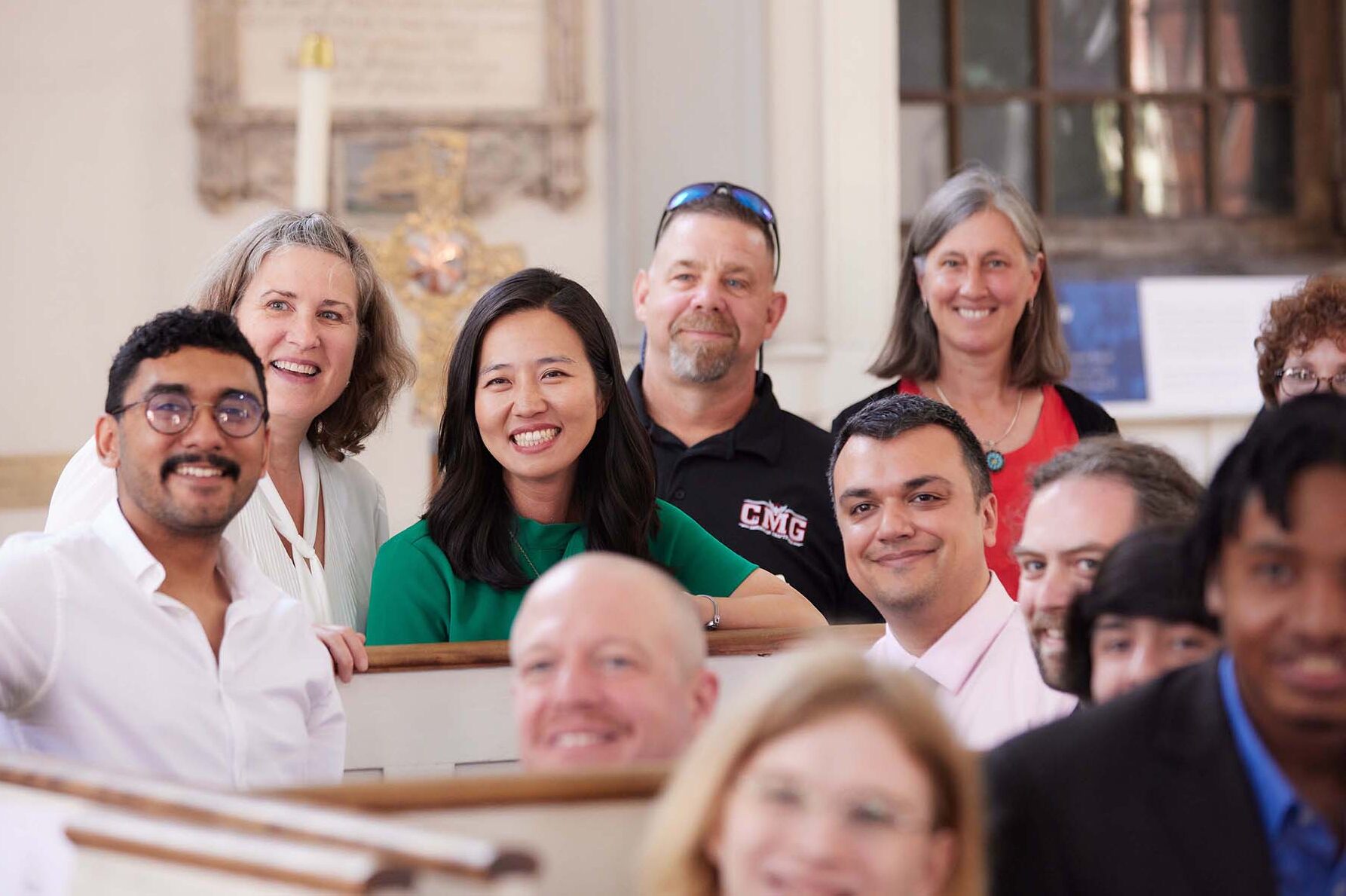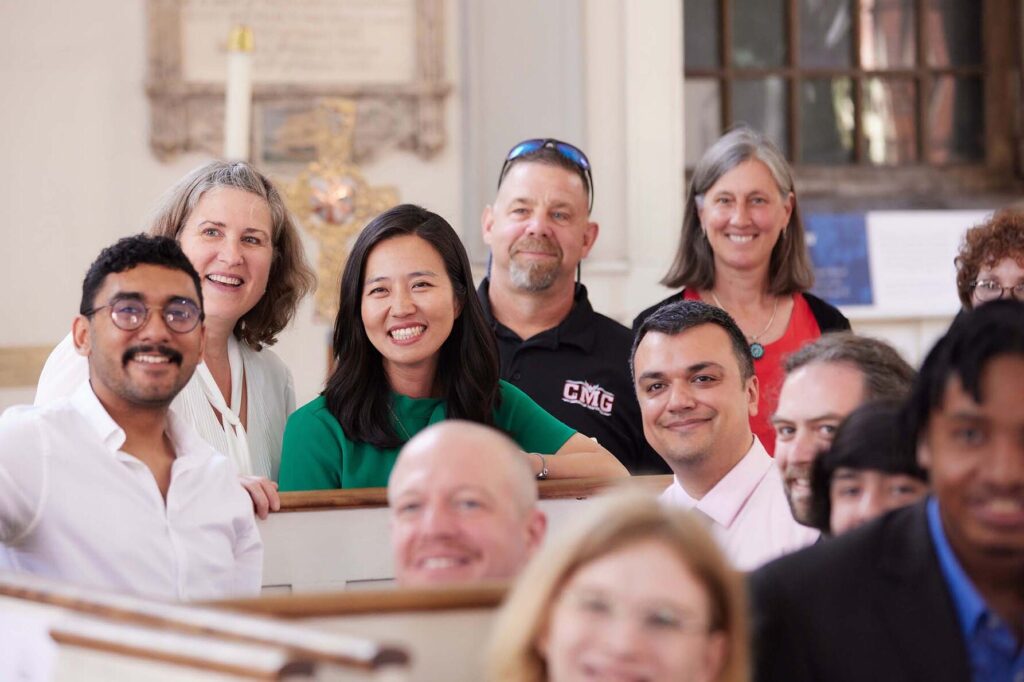 I felt the way I think so many of us feel when we really begin to know, and feel at home, in a place. Like I had discovered a hidden treasure—and that this little corner of Boston was my own. Connected to the history and long legacy of what so many before have done through grit, through hard work, and through a relentless belief in what can happen when we all come together and do our best for the next generation.
If you'd told the 23-year-old version of me that I'd be back in this neighborhood all these years later as mayor of the city that I fell in love with, I would've never believed you.
See, I grew up in a family where my immigrant parents told us over and over again to get jobs that were stable, paid well, and won't get you in trouble. So city government wasn't exactly what they had in mind.
In fact, my parents spent many, many years in this country feeling invisible—discovering, over and over again, that our systems and institutions weren't created to serve people like them. They tried to shield us from politics. They themselves were the children of immigrants, as my grandparents had fled civil war in mainland China. Our job was just to keep our heads down, and to stay safe and comfortable on our own.
But if there's anything that we have seen during this pandemic, it's that no matter how much we try to stay on our own, in our separate little boxes or screens, unless we understand the ways in which we are all deeply connected and intertwined, we won't achieve the health, opportunity, and prosperity that is possible and that we all deserve.
So many of the institutions in the city are designed around that very idea, including this one. Which is why, this place—this school—is so special, so visionary. Founded more than 140 years ago, North Bennet Street is the oldest trade school in the country.
And, in many ways, even then, it was an institution far beyond its time. Established by suffragette and education champion Pauline Agassiz Shaw, it was created for people like my parents. Its original mission was to provide training in various trades to the North End's immigrant communities. So they could get stable jobs, support their families, and find their footing here in this country.
It was a mission grounded in the understanding that the best way to support any community is to invest in, and empower, its members, to give them the skills and tools to build for themselves the lives they deserve. So the school provided social services, functioning as a settlement house and offering English-language classes on top of vocational training.
And it was unique in its inclusivity—training people of all genders, and all ages. In many ways, it was the engine behind the growth and vibrancy of this neighborhood. The neighborhood that came to be my first real home in Boston, so many years later.
And, as our city has continued to grow, so has this place and its impact. Today, North Bennet Street touches every corner of every neighborhood in Boston. And today, as then, the people who come to this place do so with the intention of building a better life. Not only for themselves, but for all of our communities.
Today, North Bennet Street touches every corner of every neighborhood in Boston. And today, as then, the people who come to this place do so with the intention of building a better life. Not only for themselves, but for all of our communities.
And I want to acknowledge all the ways in which many of you all have already begun to do that in your time here. From crafting and tuning the pianos and violins that reach the ears and hearts of more than 400,000 people at the Boston Symphony Orchestra every year, to framing art that moves and inspires visitors at the MFA, repairing instruments used to teach music in classrooms throughout our Boston Public Schools, and restoring historic homes, churches, and mills across the Commonwealth.
You all are engaged in the work of preserving not only the history of our buildings, but also the artifacts and the heartbeats within them: old cookbooks, and storybooks, and bibles. Pages that open windows into the narratives of our past.
And, of course, you've done that work under extraordinary circumstances. There's not an industry or educational experience that COVID didn't disrupt, but for your work and your learning in particular—the challenges of not being able to learn in person are hard to overstate.
And yet, you overcame. You logged onto Zoom, picked up tools that your teachers handed you through open windows, and made dovetail joints at your kitchen tables. And when classes resumed in person, some of you woke up at 4 or 5 in the morning to commute in to this place that was once again humming with activity: the buzzing of saws, the roaring of torches, the rustling of paper. I've also heard that the apple juice and pop tarts in the food pantry didn't hurt, as far as reasons to look forward to coming back in person!
But you all also balanced this work with the work of living full lives outside this place—flight attendants who flew flights on weekends, teachers, and accountants, parents and children, caregivers. All of you waking up early, staying up late, coming together to put in the work necessary to learn the skills that go into building and preserving the heart and soul of a place.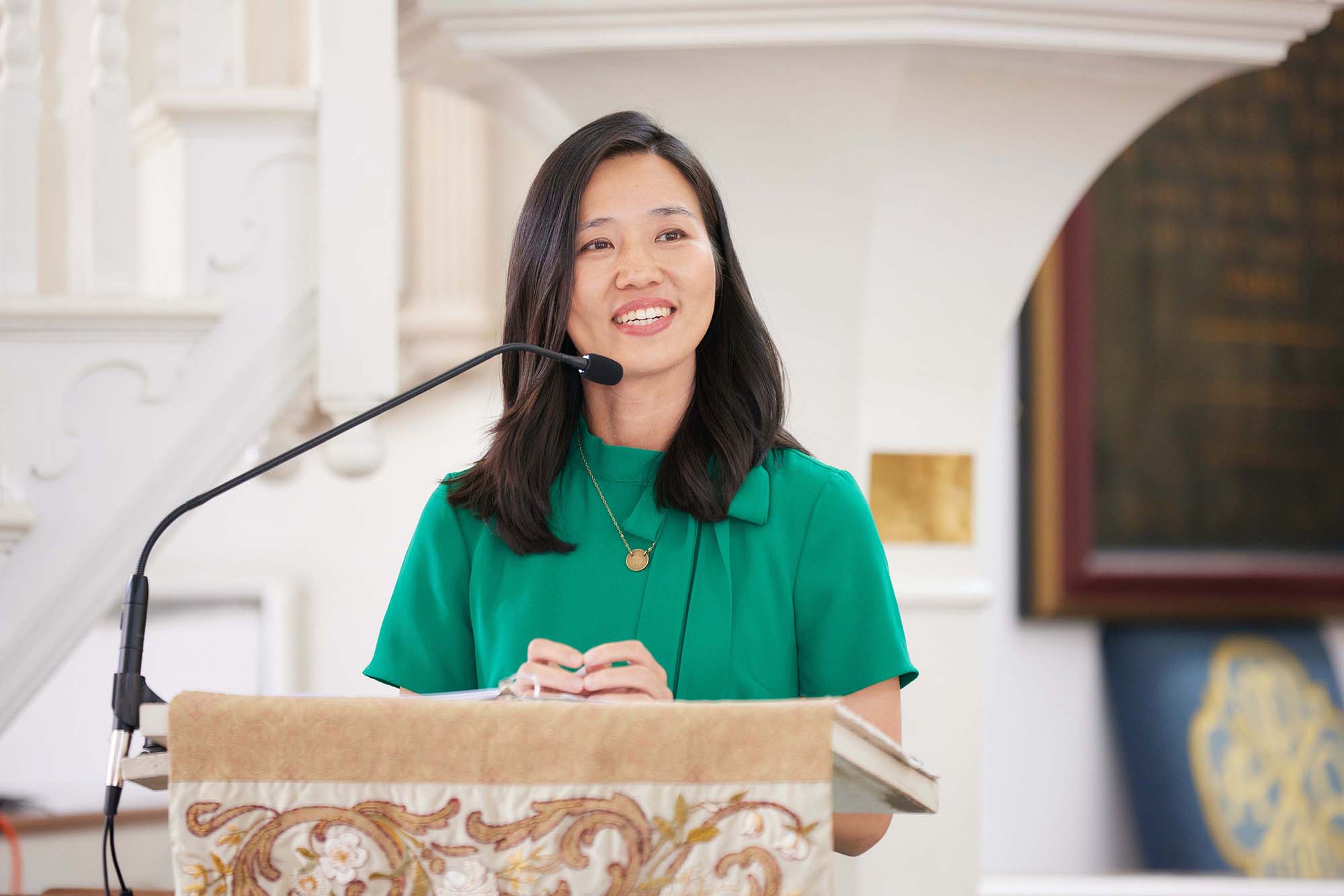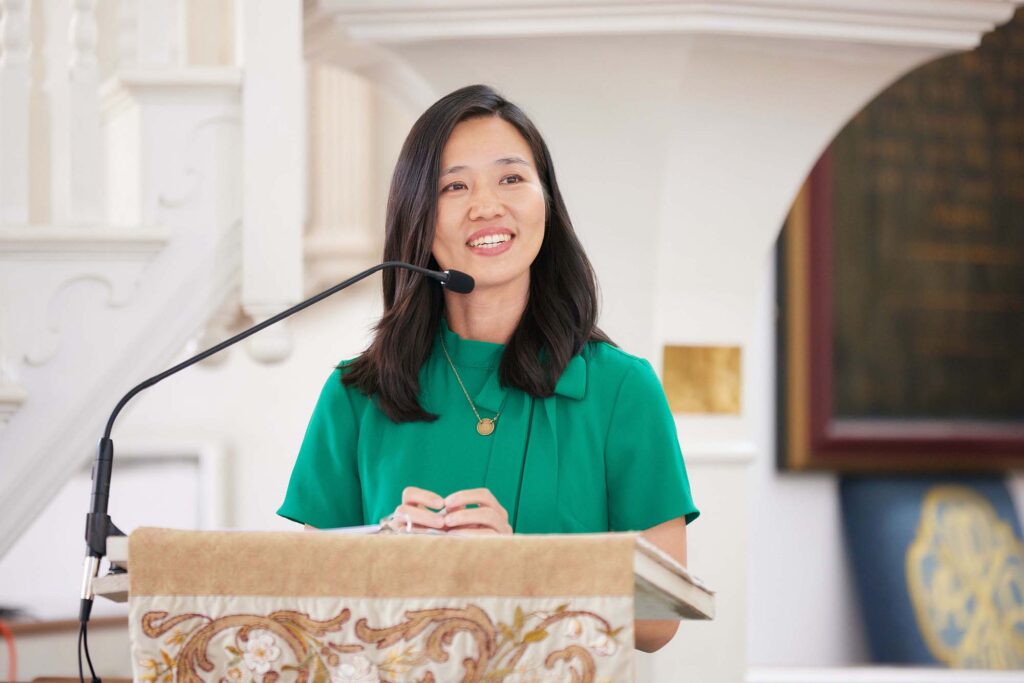 That's what you've done here. And, now, each of you are now uniquely—expertly—prepared to do that work out there, in our communities. Work that mends and weaves the threads that hold our city together. That makes this place so special.
Because when I look back on my time in the North End—and in any place, really—the things I remember are the details: the finer, littler things that you often don't even realize you're noticing until they've become a part of you.
In the same way that, one day—during your time here—you all reached for a tool without really having to think about it: it had just become a natural extension of yourself, of the work and the art that is now so deeply infused in you. Yours are the hands that shape, and restore, and connect us.
And, right now, as our city—like so many cities around the country—continues to try to emerge from this pandemic and mount an equitable recovery; as we battle so many different challenges—from attacks against our democracy, the rolling back of legislative protections for vulnerable communities, systemic racism, and impending climate change—we need all of you—and the work that you do!
Because the little things, the little moments of awe, and wonder; how it feels to hold a beautifully bound book in your hands, the perfect curve of a violin's scroll, or a piece of jewelry that catches the light in just the right way. These little things, in concert with one another, define what it is to live in a specific time and a specific place…and for that place to feel like home.
And, like all art, they give us the energy and will to move forward. To do the big things and fight the big fights. We need that energy now. We need it today, and tomorrow, and everyday thereafter for many days to come.
This school is a place of such intention—such choice. You all are here because you chose to be here. Now, as you leave, I'd like to ask you to bring that intention with you. Bring the community you've built, and bring the skills and knowledge you've acquired. Bring your perseverance and your artistry and your vision.
This school is a place of such intention—such choice. Now, as you leave, I'd like to ask you to bring that intention with you. Continue to build and mend and weave here, in our neighborhoods and communities, where there is so much building and mending to be done.
Choose our city. Continue to build and mend and weave here, in our neighborhoods and communities, where there is so much building and mending to be done.
You all have accomplished something incredible. And we are here to celebrate that. But, really, we are here to celebrate you, and all that's ahead in our community because of you. And, in addition, to being skilled craftspeople, you are parents and children, friends and mentors, neighbors and support systems.
And it's your love for each other, your values—the things you hold dear; your devotion to creating and protecting and preserving the beauty in our world—that will take you further than anything else. And these are also the ways in which we need our city built. The ways in which we need you.
To the Class of 2022: Congratulations. On all that you've done, and thank you, in advance, for all the incredible things that you will do, for the people you will help, and the people you will be. Thank you!
From longstanding remarks given by former NBSS Associate Director, Walter McDonald.
We may be almost finished here, but it's far from over.
There's a lot more to do. There will be mistakes from which you will learn. There will be customers you hope never to see again. New methods, equipment, and materials will change the way you work. You will get better and faster.
If you don't get it right, you have a chance to do it better the next time.
There will be wonderful customers for whom you will do work over your entire career, and they will recommend you to their friends, and they will become your friends because of your work.
There will be a time when you finish a job, look at it and realize that a short time ago you could not have done it, and you would not have even known where to start. And you will realize how far you've come.
So in closing: May your tools stay sharp. May your work be scheduled a year in advance. May your customers always be satisfied, pay in a timely manner, and without argument.
You have skills and knowledge that few people share. You can use these skills to make life better for others. You can be justifiably proud of jobs well-done.
Now we're finished here. It's time for you to go out there and do great work.