Getting the Job Done
August 6, 2020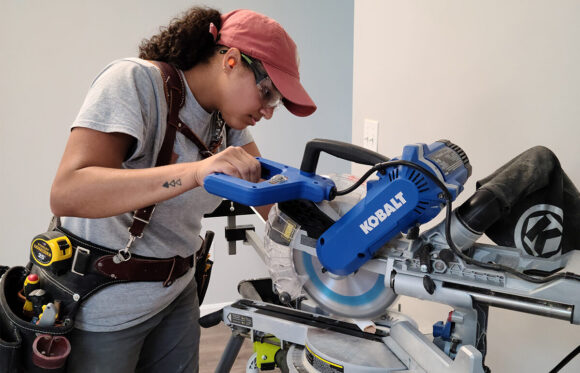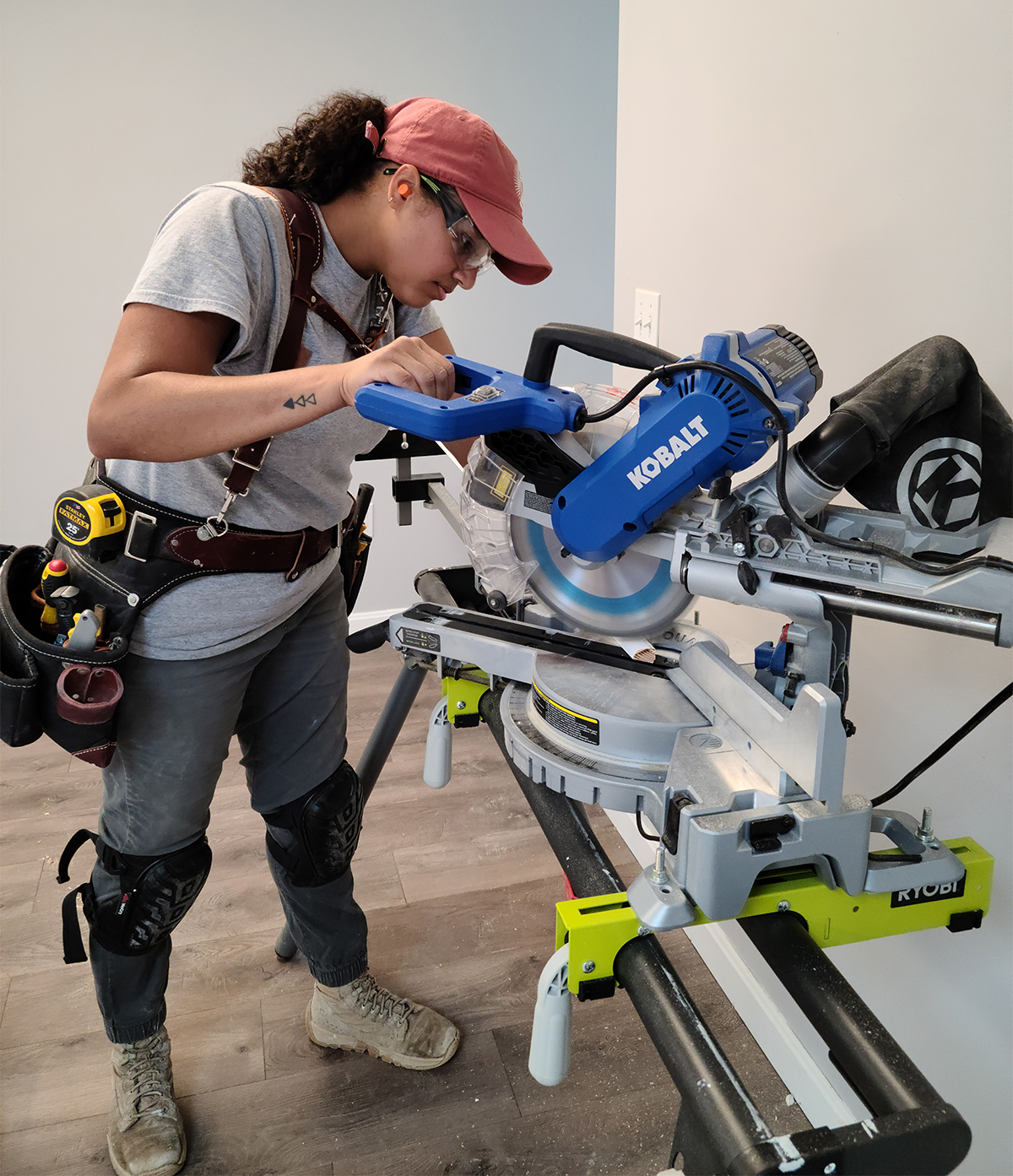 After serving in the Army, Luz Brenz CA '20 was ready to build something new
NBSS Carpentry Department Head Peter Smith PC '04 says Luz Brenz "has real leadership qualities. She's a team player who knows how to lift up the whole environment. There's a quiet confidence to Luz. She asks smart questions, brings people together, and gets the job done."
We talked to Luz Brenz by phone from her home in Lawrence, MA—where she's always lived, except for a stint in the Army. Because of the pandemic, her coursework in the Carpentry program moved online in March, and she looks forward to finishing up her training in the fall. Rather than a typical interview, we asked Luz her thoughts on a range of topics, from work in the program to her plans for the future.
Her early inspiration: I've always liked to build things. My mom got me a model car for Christmas, and I built it from scratch. When we ordered furniture, I'd be the one to assemble it. Even now, my friends call me when they need something put together. To me, at a young age, I was like: "Wow. I started with a bunch of pieces, and I made them into something real, almost like art."
Making the choice: The first time I saw the NBSS website, I knew this was the place for me. So many contracting and carpentry companies come to NBSS looking for employees; they know how well the students are trained and taught. When I looked at NBSS, I could see the process and the results.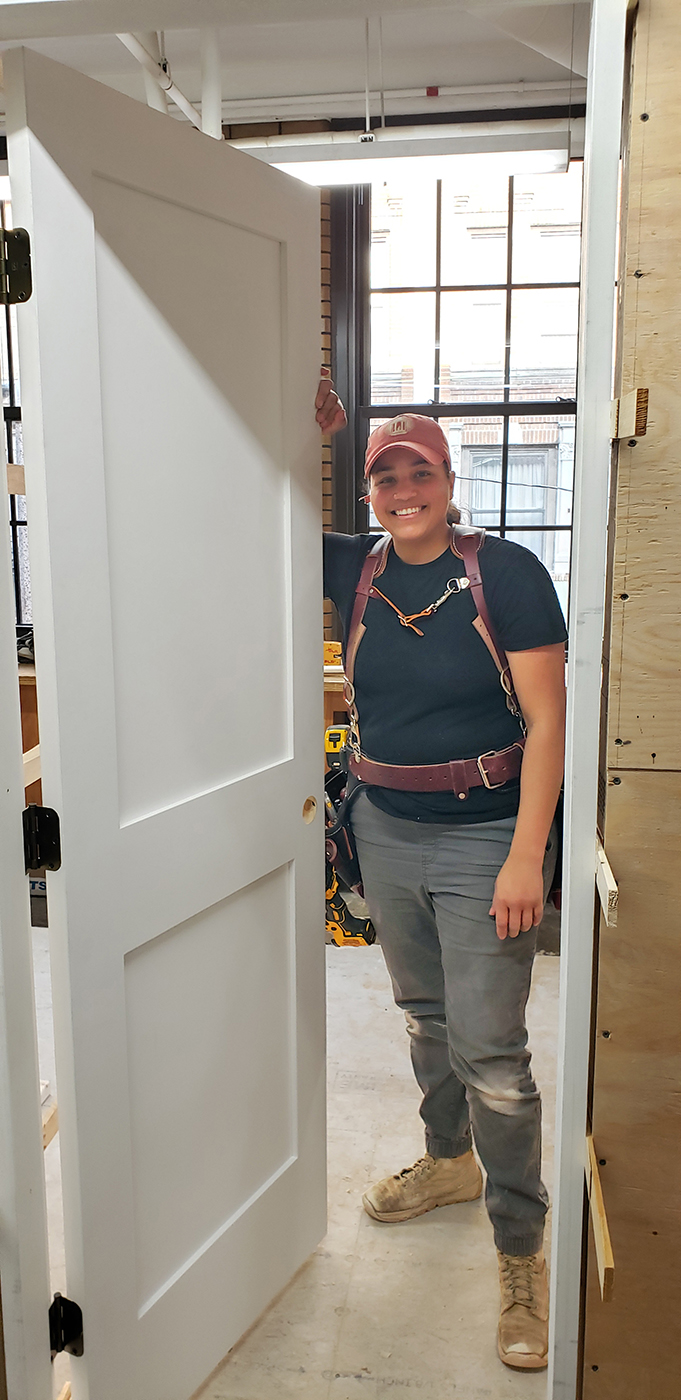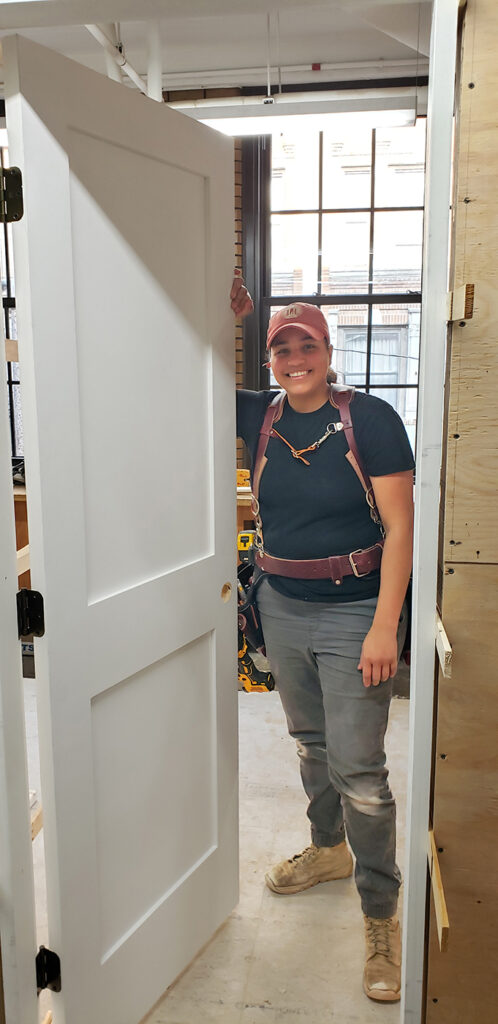 Making it possible: A lot of vets come back from serving, and they're not in great financial shape. I knew the School accepted the Post-9/11 GI Bill®; and Rob O'Dwyer in admissions told me about the NBSS Yellow Ribbon Program. I was incredibly grateful to also receive an NBSS scholarship from the Kennedy Family Scholarship Fund. I applied for anything and everything I could—and I ended up in a position where I can graduate without any student debt. Which is amazing.
Building Bennet Town: Carpentry is team-based, so you have to find that cohesiveness where you're not stumbling over each other. Our first big project was "Bennet Town," where different groups are building rooms in different parts of the workshop. It's cramped, it's hot, and we're just learning how to work with each other. It takes a lot of patience, a lot of understanding, a lot of listening. In the end, you're all reaching for the same goal, and it's so fulfilling to get there.
Peak experience: The owner of a contracting company called C2MG (who's also a member of the School's Program Advisory Committee) reached out to Peter about our class helping his carpenters on a project in Dover. It was a full-scale house remodel. The builders were incredibly helpful, almost like extra instructors. It was just a great, one-of-a-kind, real-world experience.
In the future: My siblings and I have thought of starting a house-flipping business. My sister is in real estate, and my brother is an apprentice electrician. But to start, I want to work for a contracting company, honing my skills and learning from the best in the business, so one day I can become the best in the business.
---
This story is part of the 2020 issue of Benchmarks magazine. See more Benchmarks stories, or view more issues.