Shop Tour: Third Year Studio in Boston, MA
July 16, 2019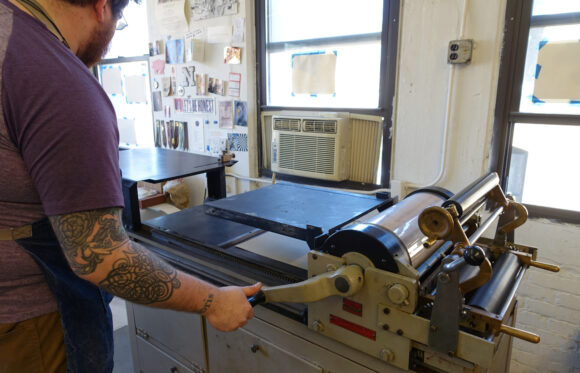 Boston's Fort Point neighborhood has a remarkable history. Its name referring to the cannons that originally lined its borders during colonial times, by the mid-1800s the Boston Wharf Company had established the former swamp as a center for wool manufacturing and warehousing. With industry in decline by the middle of the 20th century, artist enclaves and smaller artisan workshops began to take hold, a defining feature of the neighborhood that lasted through to the early 2000s.
However, in just the last ten years the area has undergone a radical transformation as financial, legal, and pharmaceutical companies have moved into gleaming new towers. Luxury housing, bustling retail, and a new waterfront park have completed the about-face, and Fort Point no longer resembles the scrappy neighborhood it once was. Still, some vestiges of the district's artisan community remain.
Colin Hill Urbina BB '11 signed a lease on his 1,200 square foot studio space nearly ten years ago, before tower construction and cranes became a way of life in Fort Point. The building retains the gritty character of the former manufacturing district, and is a bastion for other artists and makers, as well as for a brewery. Though the cheap rent has brought some minor issues over time, it's also allowed Colin to build out the bindery with various equipment and custom-made benches—built to match those at NBSS.
He's also added studio mates and fellow NBSS grads Erin Fletcher BB '12, Kate Levy BB '17, and Lauren Moon-Schott BB '13. Together, their individual binderies make up Third Year Studio, one of the neighborhood's last active workshops, and a reference to their shared background at the School's prestigious two-year Bookbinding program.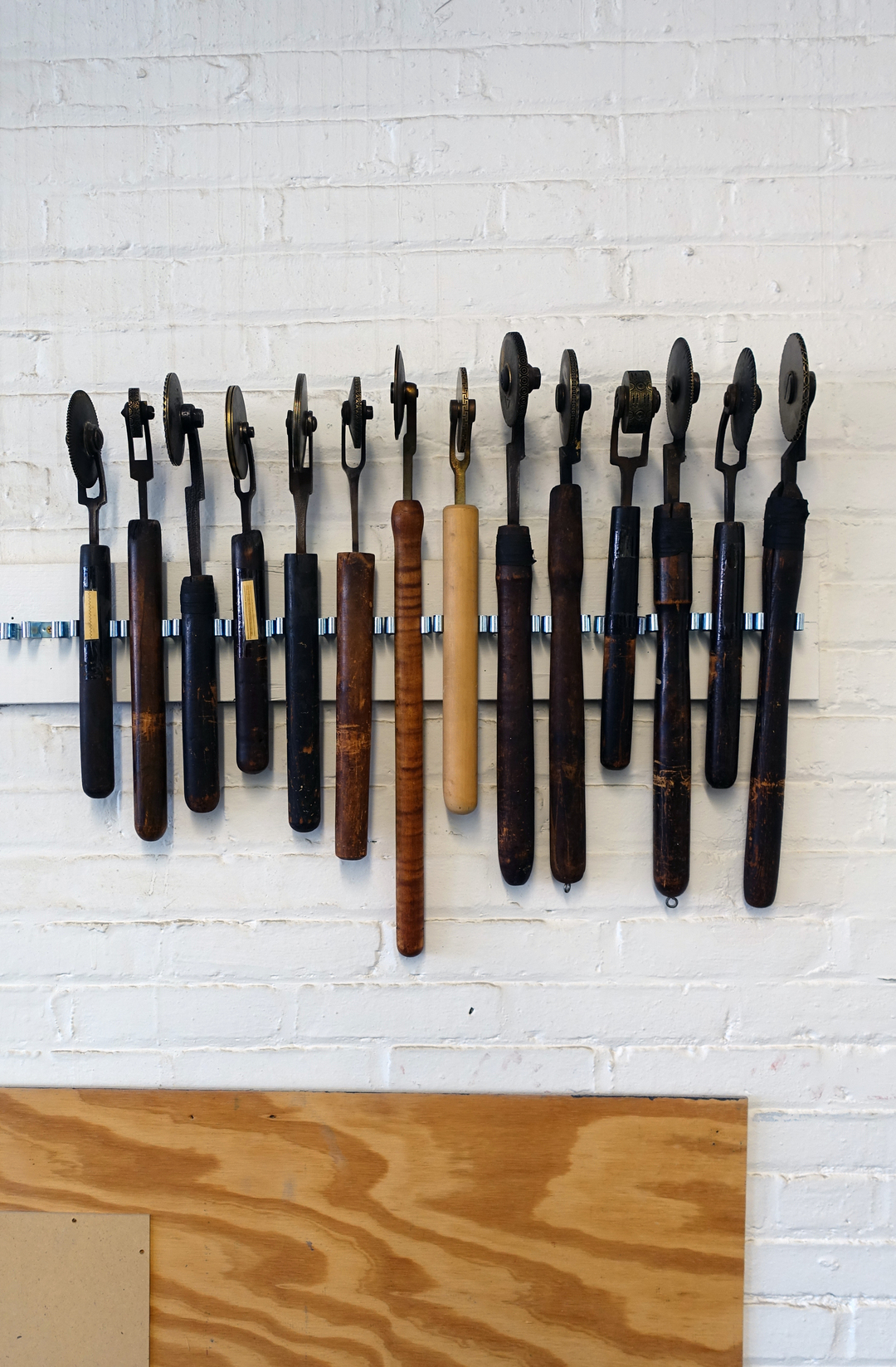 Third Year Studio boasts the following binderies:
Launched in 2011, Low Mountain Bindery is the workspace of Colin Hill Urbina BB '11. He is a proud alum of Hampshire College and of Simmons College's GSLIS program. Since graduating from NBSS, Colin has taken workshops with a variety of talented and innovative binders. He's also an instructor of the books arts program for middle school students at NBSS. In his shop he makes and repairs books, crafts boxes to hold special books, and spends his spare time doodling.
Erin Fletcher BB '12 opened Herringbone Bindery in South Boston, shortly after graduating from the NBSS Bookbinding program in 2012. Her interest in bookbinding began during her studies at The School of the Art Institute of Chicago, where this initial exposure created a desire to cultivate a deeper understanding of the craft. Erin's design binding work has been exhibited both domestically and internationally, and her work is among both private and institutional collections. Erin teaches Continuing Education workshops at NBSS for adults and classes for kids in the Middle School Book Arts Program. She also teaches workshops across the country.
Kate Levy BB '17 grew up in Albuquerque, NM and attended Wesleyan University. She moved to the Boston area just after school and worked at various independent book publishers for six years. After graduating in 2017, she opened her eponymous shop where she offers binding, box making, and repair services.
Lauren Moon-Schott BB '13 has held internships at the Library of Congress, the National Archives and Dartmouth College Library, each of which informed her eventual decision to become a bookbinder. After a year of volunteering on an urban farm and community garden in AmeriCorps, Lauren enrolled in the NBSS bookbinding program. She currently holds a position at the Rare Book Room in the Boston Public Library, and works on various projects via Third Year Studio.
We love seeing shops, stores, and studios of all kinds. Send a note to info@nbss.edu to have your shop featured in this series.
This story is part of the Summer 2019 issue of Benchmarks magazine. See more Benchmarks stories, or download a pdf of the entire issue.