Wood Samaritans
October 5, 2020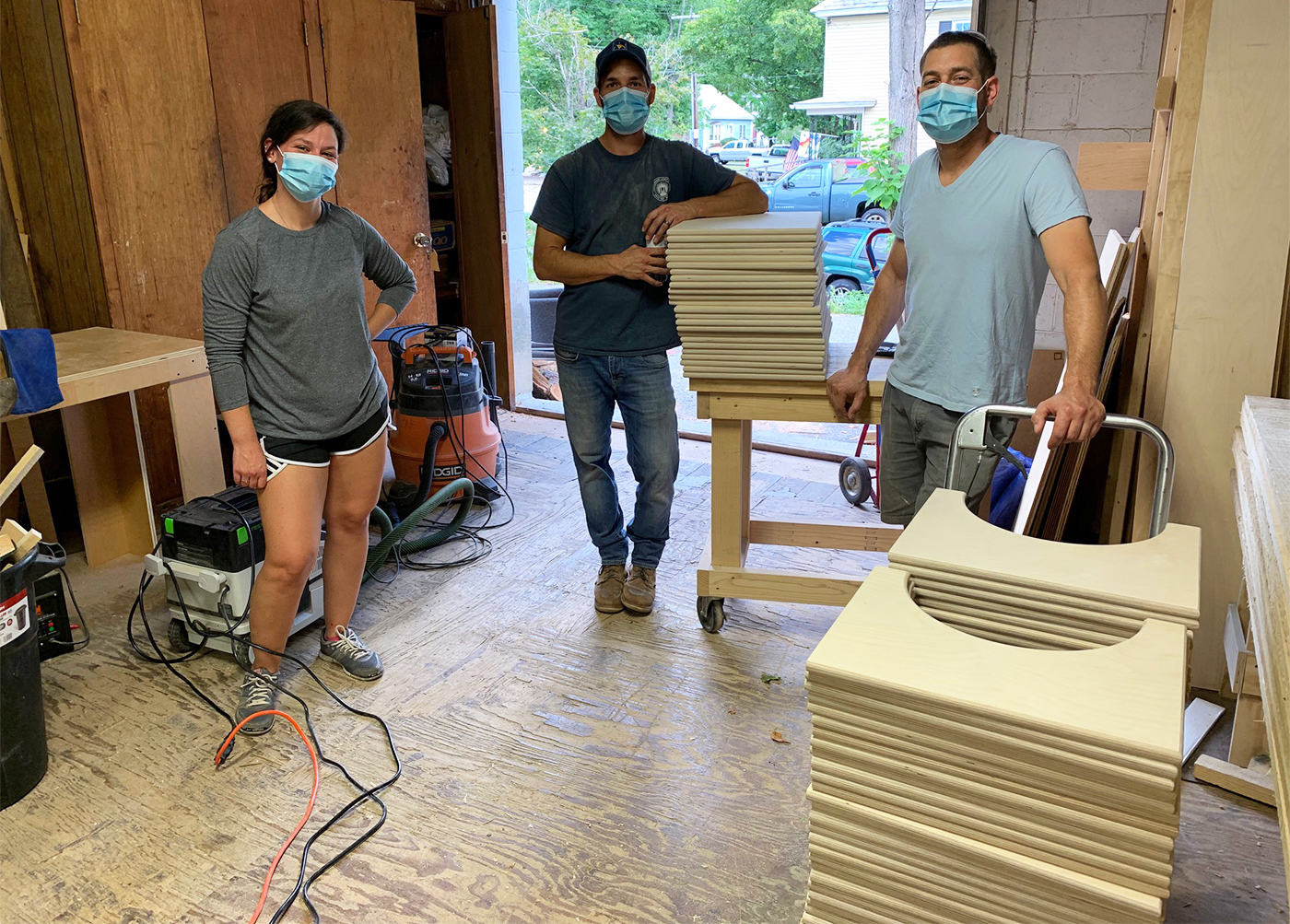 Above: NBSS alumni and shop mates Emily Goff, Mike Turner, and Jeff Woods about to start assembling the desks.
When a pre-K classroom needed desks to reopen, two Cabinet & Furniture Making alumni stepped up.
You can't exactly fight Covid-19 with a table saw and an orbital sander… Or can you?
Woodworking partners Mike Turner CF '20 and Emily Goff CF '20 used the design and building skills they picked up in North Bennet Street School's Cabinet & Furniture Making program to help keep 45 preschoolers safe as they returned to class this fall. "I wanted to help," Mike said. "This was the only thing I could do as a woodworker."
The story of these kind-hearted craftspeople started as St. John School in Boston's North End prepared to re-open for in-person classes on September 9. In a typical year, the three- and four-year-old pre-K students at the Catholic school would sit six-at-a-table.
But, of course, 2020 is not a typical year, and with physical distancing requirements, the close seating arrangements were potentially harmful to student health. Instead, St. John needed 45 tiny desks, one for each of their tot-sized students. But there were two problems—they needed them fast and they did not have much money.
"Equipping a classroom with all that new furniture is not inexpensive," Principal Claire Cassidy said. "And we are a Catholic school, our budget is modest to say the least."
Fortunately, St John is both near and dear NBSS. In fact, some of its older pre-teen students take woodworking and bookbinding classes for credit in partnership with the School.
With that relationship in mind, Cassidy reached out to Katie Theodoros, NBSS Director of Continuing Education. She immediately posted the situation on the School's Job & Commissions Board, which connects a community of over 3,000 students and alumni with work and other opportunities. Mike spotted the listing and decided he would volunteer the labor if St John School could cover the cost of materials. He then asked Emily, his friend and shopmate, if she'd be interested in joining the project.
"I was like, absolutely, yes," Emily recalled. "It's for the kids, and everyone is having a hard time this year. Whatever you can do to help out, you should."
Mike and Emily both graduated from NBSS this year, with a variety of newly acquired skills at the ready. They run separate woodworking businesses out of a shared 3,400-square-foot shop that Mike owns in Leominster, Massachusetts. For both of them, woodworking is a second career. Mike graduated from Assumption College in Worcester, MA in 2004 with a degree in accounting and worked for years in finance. Emily graduated from Norwich University in central Vermont with a degree in communications in 2011. She worked the last nine years as a server at Union Oyster House, located just a few blocks away from NBSS and St. John School.
"I say all the time, I'm so glad I went to North Bennet Street," Emily shares. "The people you meet, the experiences you gain… it's a once-in-a-lifetime opportunity."
It's an understatement to say the project timeline was ambitious. After some emailing, the two woodworkers first met with Claire, the principal, on Monday, August 31. They delivered all 45 desks, plus three extra ones for good measure, five days later, on Friday, September 4.
"They completed the job extremely quickly," Claire said. "It was unbelievable."
Mike designed the desks and the pair crafted them from attractive Baltic birch plywood. The students, Claire said, absolutely love the desks. They feel a sense of ownership, and each desk has its student's name on it.
Claire lauded Michael and Emily as innovative, purposeful craftspeople. But she also complimented their hearts. "It was clear to me that they were two people who believed firmly in the education of children," she said. "The project seemed to bring joy to them."
The pair are making 12 additional desks for St. Johns. And at SHED Children's Campus, they are building eight desks, some benches and a rolling cart, all to accommodate distancing guidelines as well. Mike, a father of two young children, said he understands how important that furniture is to helping schools reopen safely, helping working parents get back to work, and helping families get back to normal.
"It makes me feel good too," he said. "It's kind of a win-win."
Above: Mike's daughter tries out one of the desks.
---
Learn more about Mike and Emily, or commission them for your furniture project:
---