Skills for a Better World
July 20, 2022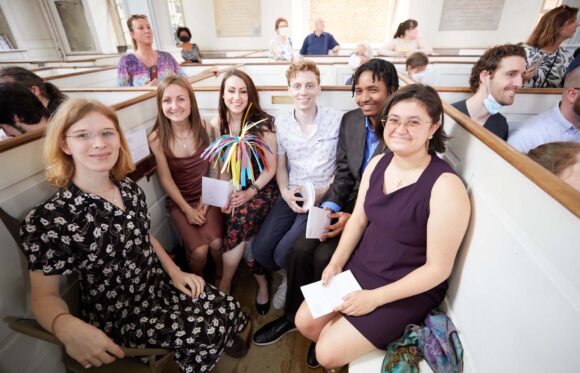 Last month, we celebrated the accomplishments of our 2022 graduating class. It was a day of beaming students, happy families and friends, proud faculty and staff. At graduation, we heard our Distinguished Alumni Award recipient, Kurt Fieldhouse, talk about grit: the strength of character that helps us face obstacles with commitment and passion. Then, Boston Mayor Michelle Wu addressed the crowd, noting that NBSS is a place of intention and choice, a place that trains perseverance. 
Our graduates, ready with new skills and supportive networks, are already bringing their ambition and talent to neighborhoods and communities, expanding what's possible for themselves and for others. Our time calls for this. On that sunny day, full of high spirits and hope for the future, we momentarily set aside the struggles of our world and the deep sense of responsibility we feel. Bright moments like those can be fleeting, as we face the collective fatigue of the pandemic, the dizzying succession of violent and heart-breaking events here and abroad, and social divisions that challenge our values. Stepping out of our celebration, the world feels more fractured, more in need of our collective courage, perseverance, and grit. 
Just as we did two summers ago, we embrace our unique responsibility to address the struggles of our time. Like many others, we are working—to leverage our resources, expertise, and talents toward a more equitable, inclusive, and diverse School. We believe that one antidote to a fractured community is what can be made, built, or repaired by hand, at a human scale. And so, we continue to offer this agency to more people.  
At graduation, I took note of how our 2022 graduates, like our broader community, inspire us to lead with integrity and heart. This summer, I'll be in conversation with alumni and partners who are working for community strength, cohesion, and repair. Person-by-person, one step at a time. 
It takes all of us, working not with grand gestures, but with earnest, daily efforts to bring about change. As we make our way from summer to the fall, I'd love to hear your stories, big or small, of how your skilled work makes people's lives better. Please, be in touch.  
Sincerely,
Sarah Turner
President